arks wrote:I googled a bit to see if I could find some other examples, and found several, including

this one

(scroll down 2 posts for francoisd's ID) right here on our forum!
Well well well. There you have it. francoisd is your man!
"Weaseling out of things is important to learn. It's what separates us from the animals ... except the weasel." -Homer Simpson
---
I recently visited Intaka island in Cape Town and came across some bird that I would like and ID or confirmation on:
and these 2 I would be guessing a some sort of weaver.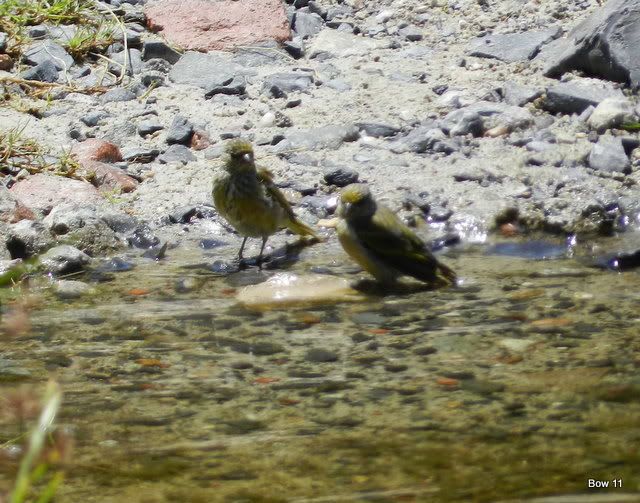 I only have a very old Ian Sinclair's field guide with photos that are not great and a Sasol guide, so am a bit limited in identifying the different birds based on eye, beak or leg colour or juvenilles, so thanks for all your help.
---
Blimey! You don't do it by halves do you?

Pass on the "Weavers"!

Hard to reply as the photos are not visible in this window!
"The greatness of a Nation and its moral progress can be judged by the way its animals are treated."
---
Wow Maxwell, well that would be about 5 firsts for me (it is easy to get firsts when you are new to birding)!
Thanks so much for taking the trouble to ID these for me.
---
Senior Virtual Ranger

Posts: 3645
Joined: Sun Mar 20, 2005 5:53 pm
Location: Cambridge, MA (and home from home in Darling, WC)
Rookie, I think your 'some sort of weavers' are actually Cape canaries, a juvenile (or possibly a female) on the left and an adult on the right.
RSA 2016
4,5 April Melville
6-19 April KNP: Croc Bridge, Olifants, Shingwedzi, Pafuri Border
20-24 April Mapungubwe: Leokwe
25 April-28 May Darling
29 May-19 June Cape Town
* * *
21 September-21 November Darling
---
There's a big flock of these canaries at Kirstenbosch at the moment.
canary cape
by
jansp
, on Flickr
---
Legendary Virtual Ranger

Posts: 4736
Joined: Thu Dec 02, 2004 10:27 am
Location: Chasing down the rarities
A youngster:
675
Latest Lifer(s): Burchell's Courser, Cory's Shearwater, Wilson's Storm-Petrel, European Storm-Petrel, Great Winged Petrel, Grey Waxbill, Cape Rock-jumper
Follow me as I bird on Twitter
@wildtuinman
---
---
Return to "Birding in Southern Africa"
Who is online
Users browsing this forum: No registered users and 4 guests