Legendary Virtual Ranger

Posts: 2545
Joined: Wed Sep 06, 2006 3:33 pm
Location: Jam Street
When one sees the brilliant colours of this bird you cannot believe that the common quail is one of the most secretive of all the savannah birds and is more often heard than seen. Shy and wary, the quail spends most of its life among dense cover. Reluctant to fly even when disturbed, it usually goes unnoticed unless flushed from hiding. Startled in this way, a quail springs suddenly into the air, often giving a low trilling call. It flies fast and low before dropping down into cover, effectively melting from view. If you keep tabs on the spot where the bird landed, you may sneak up on it and get a small opportunity to photograph it, but this strategy requires immense patience as one often misses seeing the bird until it is flushed again virtually from under your feet.
I have never had a decent opportunity to photograph this species, most often getting poor quality shots of a bird departing the scene! That is until this male bird got hoodwinked by the Roberts VII sound bytes into performing a close-up inspection. Being in full breeding regalia, it is easy to understand the bird's curiosity affording me this magnificent chance to take some good shots of it.
It actually occurs in abundance within its range with the South African polulation estimated to be over 10 million birds!
Quails can have large broods with up to a dozen of more chicks. It is one of the most endearing sights in nature if you chance upon a number of chicks being led by its parent across an open patch.
Staple foods include seeds of grasses, cereals and weeds, but the quail also eats beetles, bugs, ants, earwigs and grasshoppers, as well as spiders, snails and worms.
728 Latest lifers: Hartlaub's babbler, Coppery-tailed coucal, Red-billed spurfowl, White-browed coucal, Scharlow's turaco, Copper sunbird, Long-toed lapwing, Eastern bronze-naped pigeon, Malagasy pond heron, Soft-plumaged petrel, Orange-winged pytilia.
---
What a lovely little quail, beautiful colours!
Thanks for your patience on finding, photographing and sharing with us.
Latest lifer
Wandering Albatross, Sooty Albatross, Atlantic Yellow-nosed Albatross, plus other pelagic birds. Land birds - Cinnamon-breasted Warbler, Yellow-throated Woodland Warbler, Agulhas Long-billed Lark, etc
---
Magnificent!

A superb photo in all senses...well done!
A bird in the hand...belongs in the bush!
Canon 7D / Canon 100-400mm 4.6-5.6 IS EF / Canon 28-85mm 2.8 EF
---
Junior Virtual Ranger

Posts: 511
Joined: Sun Mar 05, 2006 4:34 pm
Johan van Rensburg wrote:the common quail is one of the most secretive of all the savannah birds.
Secretive for sure, but at least in South Africa the Common Quail is more of a grassland than a savannah bird. The less trees and bushes the better. The opposite holds true for the Harlequin Quail.
Has anybody positively identified a Common Quail in Kruger?
Very nice photo, by the way.
Johan
---
Legendary Virtual Ranger

Posts: 6526
Joined: Sat Feb 18, 2006 10:36 pm
Location: Lausanne (Switzerland)
I've got one in Addo
Common Quail/Caille des blés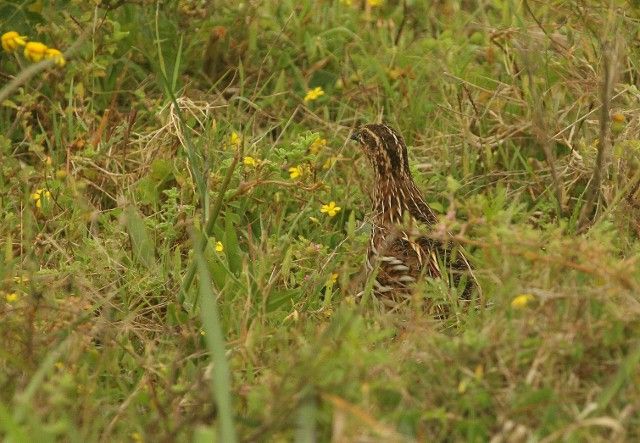 It is only with the heart that one can see rightly, what is essential is invisible to the eye
Le Petit Prince
back home...
---
---
Return to "Birding in Southern Africa"
Who is online
Users browsing this forum: No registered users and 4 guests