Junior Virtual Ranger

Posts: 795
Joined: Sun Aug 29, 2010 10:07 am
Location: Under African Sky !!!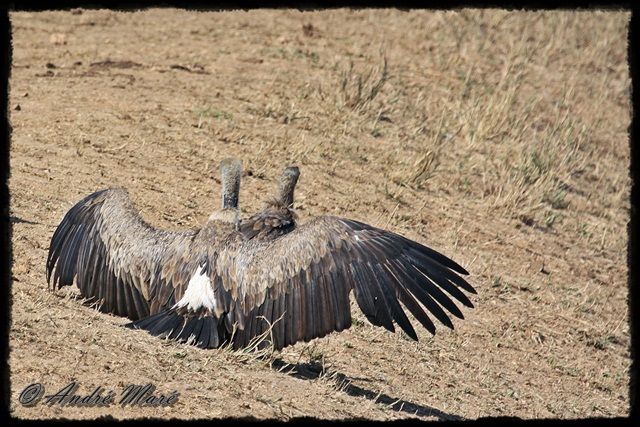 "A roaring lion kills no game."
"Until lions start writing down their own stories, the hunters will always be heroes."
"If you kill a tree, you are killing a bird."
"When the sun has set, no candle can replace it."
---
Legendary Virtual Ranger

Award: Birder of the Year (2015)
Award: Birder of the Year (2014)
Posts: 2329
Joined: Wed Sep 06, 2006 3:33 pm
Location: Jam Street
Here is a "Did You Know" that does not bring feel-good information...

Huge numbers of our vultures have fallen prey to indiscriminate poisoning practices during the past year. The most recent mass poisoning incident was reported last week (21 November 2013), when wildlife rangers came across the carcasses of 37 white-backed vultures in the Hluhluwe-iMfolozi Park. The vultures were found in the immediate vicinity of a carcass of an elephant that had died a month previously, almost certainly poisoned. Twenty nine of the vultures had their heads removed, most likely for use in the traditional medicine trade, which makes this incident look like a deliberate act on behalf of the muti trade. At least three of the vultures were adults, which means that additional juvenile birds may die on their nests from starvation.

The Vulture carcasses have been taken for toxicology analysis to determine the type of poison used and the Organised Crime Unit has investigated the scene. The remains of the elephant and the vultures have now been burnt to ensure further deaths from scavenging from the poisoned elephant carcass do not occur.

During July 60+ vultures died in the Eastern Cape when a farmer laced lamb carcasses with poison intended for jackal.

In August near 1000 vultures were killed in the north of Namibia as poachers put out poison around elephant carcasses as part of their strategy to avoid detection.

In September an unknown number of vultures fell prey to poison after the poaching of 41 elephants in the south of Zimbabwe killed by 'poison salt'. This was the first report of such a poaching technique. It has wide-ranging results for all scavengers.
685 2016 lifers: Spotted crake, Lesser jacana, Burchell's courser, Double-banded courser, Rufous-tailed scrub robin, House crow, Manx shearwater, Antarctic prion, Northern giant petrel, Northern royal albatross
---
Forum Assistant

FAC Member (2015)
Posts: 4124
Joined: Fri Sep 08, 2006 6:06 am
Location: Boons NW
So sad, so unnecessary, so wrong
During July 60+ vultures died in the Eastern Cape when a farmer laced lamb carcasses with poison intended for jackal.
---
Hi all you experts,
Could anyone give me an ID for this vulture I saw near Nsemani dam on the H7 - Satara to Orpen in late November.
I couldn't match it with anything in my Newman's book
thanks
bondm
---
Legendary Virtual Ranger

Award: Birder of the Year (2015)
Award: Birder of the Year (2014)
Posts: 2329
Joined: Wed Sep 06, 2006 3:33 pm
Location: Jam Street
Looks like a juvenile white-backed vulture
685 2016 lifers: Spotted crake, Lesser jacana, Burchell's courser, Double-banded courser, Rufous-tailed scrub robin, House crow, Manx shearwater, Antarctic prion, Northern giant petrel, Northern royal albatross
---
Kruger, May 2016

Sawubona
Dalene
---
---
Return to "Birding in Southern Africa"
Who is online
Users browsing this forum: No registered users and 4 guests