Junior Virtual Ranger

Posts: 530
Joined: Wed Feb 22, 2012 1:49 pm
Location: Tooooo far from Kruger
.......some of you may have a vague recollection of my Addo and Kruger quickies. In hindsight (and on my recollection) I never even finished writing them
Very very very poor style!!
Now then, since those quickies I have been privileged to do a Karoo National, Camdeboo and West Coast National quickie.................and just returned from a Mokala quickie.
The Mokala visit was such a great surprise and so pleasurable that I have decided to share it with you. This time I will see it through, and being a quickie, I should have the stamina to write it all down and add some pics. Mokala was a real treat and I hope that this quickie report will jolt you into considering a stop over in this beautiful park
While you decide if you're going to read this thread I will start organizing my pics and will post more later today and over the weekend.......
---
Junior Virtual Ranger

Posts: 530
Joined: Wed Feb 22, 2012 1:49 pm
Location: Tooooo far from Kruger
OK - just a little bit of background and context to my Mokala quickie (I'll keep the boring stuff short and won't be posting just the feathered ones
).......
I left Pretoria on Monday 19 Nov and headed for Gariep Dam Nature Reserve as a stopover for the first night. Got there quite late and had to leave early the next morning, so did not get to really enjoy the reserve. The accommodation there is good, but the lack of marketing and general public knowledge related to its existence is cause for concern.........Gariep can be a really great place to stop over - it is right next to the N1 and seems really beautiful, if only it were better known!!!!
A bit of birding around the houses/chalets was a nice break from the car journey:
Mrs and Mr Malachite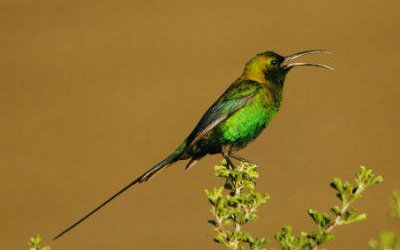 Butcher Junior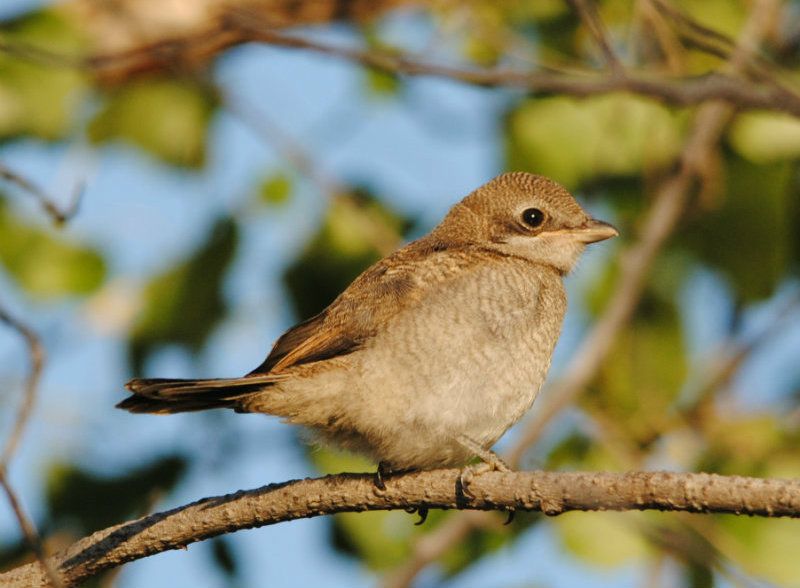 View from the houses/chalets
Mr (or Mrs) Mus - of the field clan.....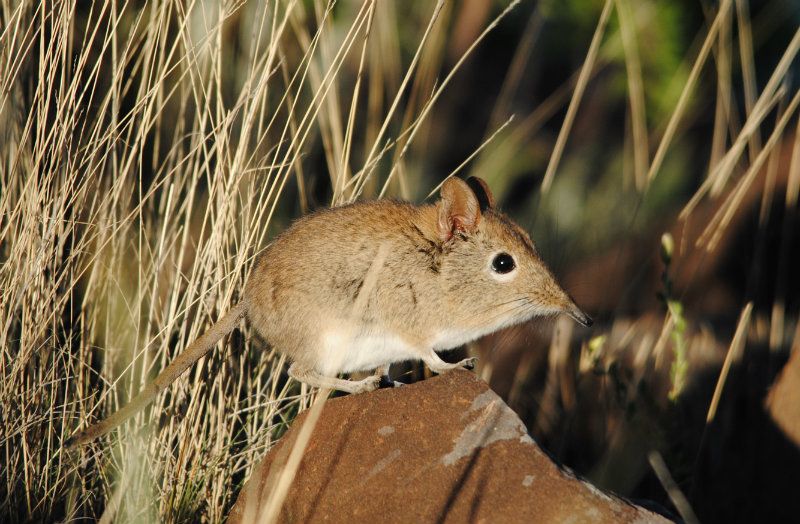 And in the morning, one of the treats of the trip (although I didn't really get close and could only shoot a poor shot) - Osprey!!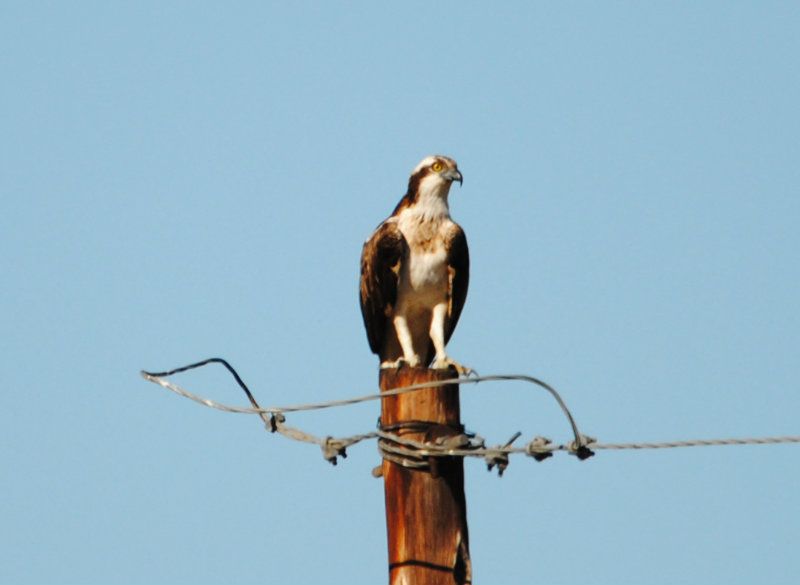 Tuesday saw me leaving Gariep, travelling via Van der Kloof and Hopetown for work and heading for Mokala. The blistering heat did not distract from the interesting dust road between Colesburg and Van der Kloof. Driving between some game farms I saw a bunch of Sable and Roan......really a nice treat
Before I get to tell you more about Mokala.......
I spent Tuesday night and Wednesday night in the reserve, with an excursion Wednesday to Priska via Douglas for some work (distance in the Northern Cape does not have the same meaning as in Gauteng - felt like I drove forever and ended up doing 2500 km in three days
)........
Now I can get to the good stuff about Mokala........
Last edited by
Waterbuck
on Wed Nov 28, 2012 5:59 pm, edited 6 times in total.
---
Junior Virtual Ranger

Posts: 530
Joined: Wed Feb 22, 2012 1:49 pm
Location: Tooooo far from Kruger
.....filled up at Modderrivier (about 40 clicks south of Kimberley) and headed for the gate closest to Lilydale Camp. The dirt road is not that long and it's in a good condition, but I was a bit apprehensive as I though Lilydale was some sort of revamped excuse-for-a-camp meant for people that fish with flavored miellie pips as bait
........... I wanted to book at Mosu, but there was no space on account of some group
Got to the gate - it only has a two-way radio handset from which you radio in to the camp office, explain who you are and then have the electric gate opened for you. To be honest - this sort of adds to the bush feeling and the adventure, but probably not a system that will work in Kruger
In the park we immediately started seeing game - kudu, gemsbok, pumba's, steenbok, black wildebeest, springbok and tsessebe (
). I found this handsome Ant-eating chat waiting for me....
And the one animal with more nose-hair than I have
And this shy lady tucked in the grass besides the road (Namaqua Sand "
hen
") on the verge -
The day closed off with 4 behumuth Kori's flying close by, but the BIG surprise was Lilydale Camp itself. If, like me, you love the quaint quite corners of Kruger and the bush-camps, then a visit to Lilydale is a must!! But that is for the next installment of the quickie.......
Last edited by
Waterbuck
on Wed Nov 28, 2012 6:04 pm, edited 1 time in total.
---
Junior Virtual Ranger

Posts: 530
Joined: Wed Feb 22, 2012 1:49 pm
Location: Tooooo far from Kruger
Thank you to all that have commented on the TR
Now then, let's get on with it.......last time I left off just before driving into Lilydale Camp. As I said, I was not expecting much.......
To my surprise I drove into a newly built camp sitting on a ledge overlooking the Riet River. Walking down the path to reception it did not take me long to feast my eyes on a nice swimming pool and the well kept surrounds. I was greeted in reception by arguably one of the most efficient and friendly people I have met in all of 2012! Sadly I have forgotten his name, but he was new to Lilydale after having taken a promotion from Nossob, where he apparently spent 10 years. Without letting his white teeth stop shining, he was able to sort out my reservation, man and respond to the radio linked with the access gate, organize me firewood and a cold beer and banter about the fact that the dividing fence in the park had been removed to allow all the game to roam across the entire area.
The camp was quite empty, so I could really pic and choose which bungalow I wanted. Having said this, it seemed that all of the units offered stunning views over the Riet River and the Karoo plains. The restaurant at the camp is not currently functional but apparently this is coming soon. They do however sell cold drinks and beers and the atmosphere is wonderful.
The welcome views from my veranda were restful and pleasing: upstream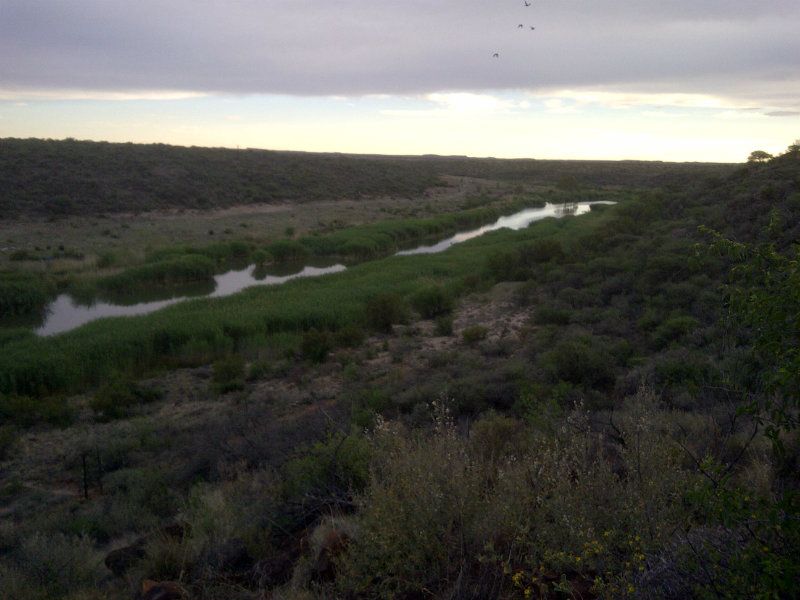 ....and downstream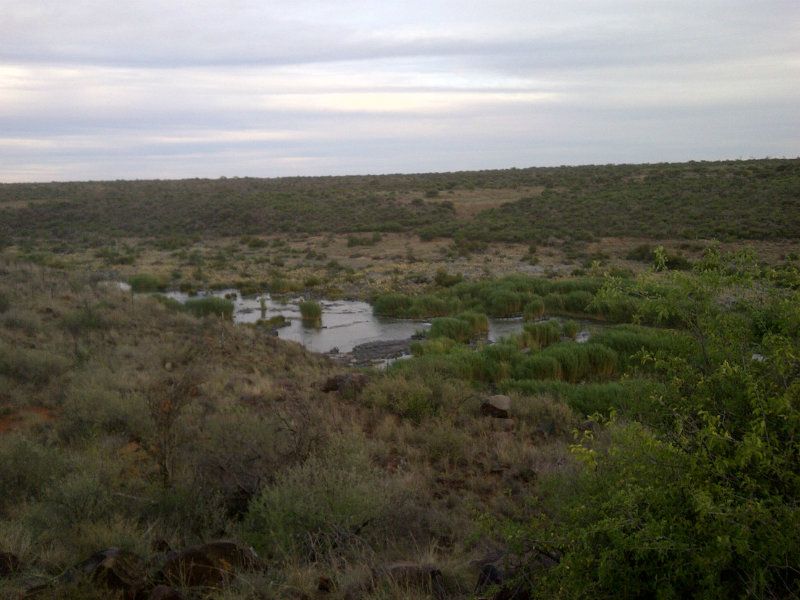 I found my unit clean, well equipped, tidy and a great resting spot after a long day's travels: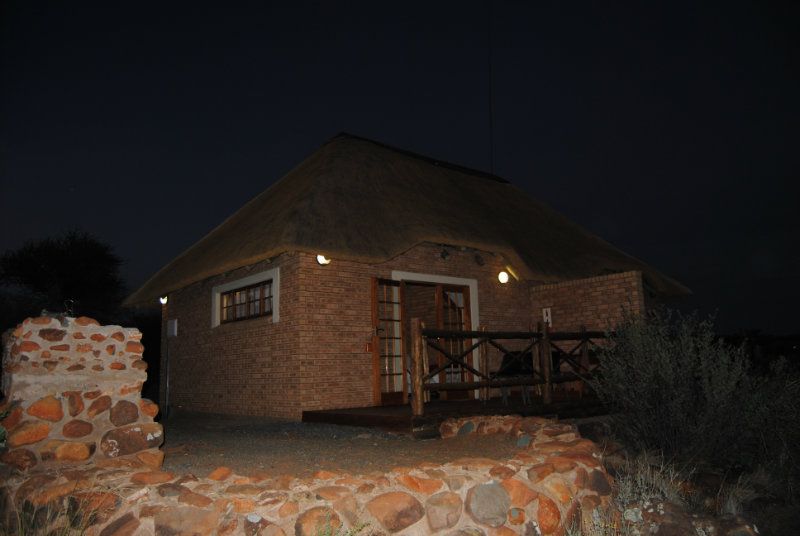 The cosy and homey inside......
The great outside (my braai area)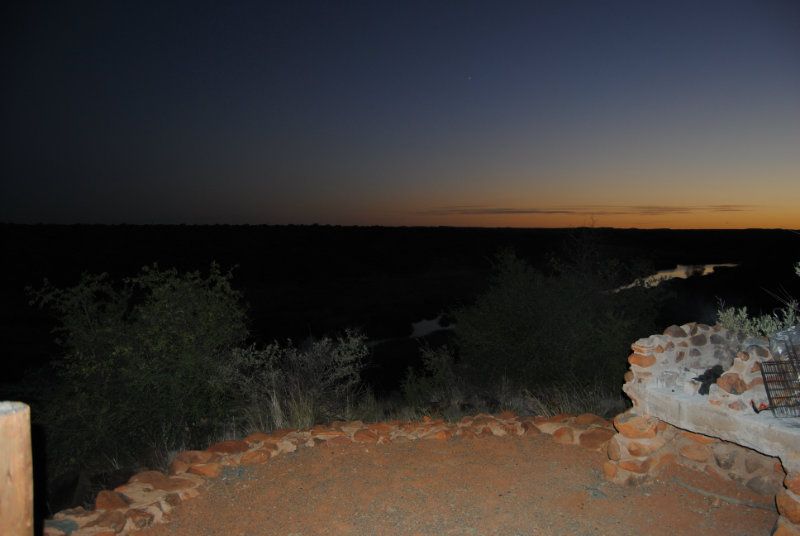 Next I will start sharing some of the game (and bird) sightings.......
but just perhaps this one last pic of my barbecue, butter, feta, sweet chili, tinfoil jacket potatoes before I go (for now)
---
Junior Virtual Ranger

Posts: 530
Joined: Wed Feb 22, 2012 1:49 pm
Location: Tooooo far from Kruger
....maybe a quick (quickie
) sunset pic for Lilydale - before we get to the A-N-I-M-A-L-S
....and sunrise...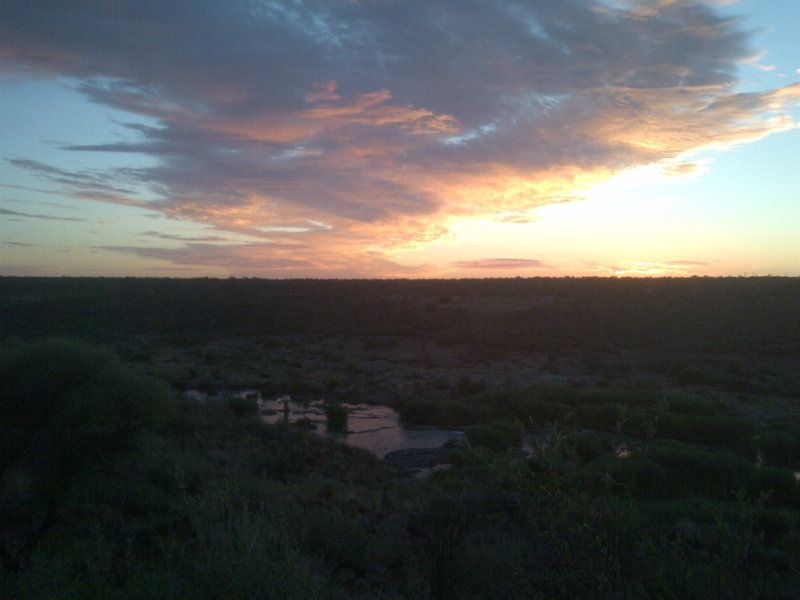 ---
Junior Virtual Ranger

Posts: 530
Joined: Wed Feb 22, 2012 1:49 pm
Location: Tooooo far from Kruger
OK Mites!! Some of you may have gathered that I do my quickies while travelling for business
. So having spent a night at Lilydale, I was off early the next morning, heading for the main gate (near Mosu Lodge). A bit of game viewing along the way and then the long road to Prieska via Douglas (meeting 1) and then back to Douglas (meeting 2) before completing the day back to Lilydale via Mosu.
Perhaps a good time for me to indicate that the roads in Mokala are generally in a good condition, but there are one or two spots where your low profile types on your BMW will give you some troubles. Sadly I was limited to the shortest route through the reserve as I was running a tight schedule on the quickie.........
But I was really impressed with the amount of game in Mokala.
Cutting a beeline out of the park to get to my first meeting, I got some great sightings along the way:
First, plenty of Red Harts like this beaut.......and also saw some Tsetsebee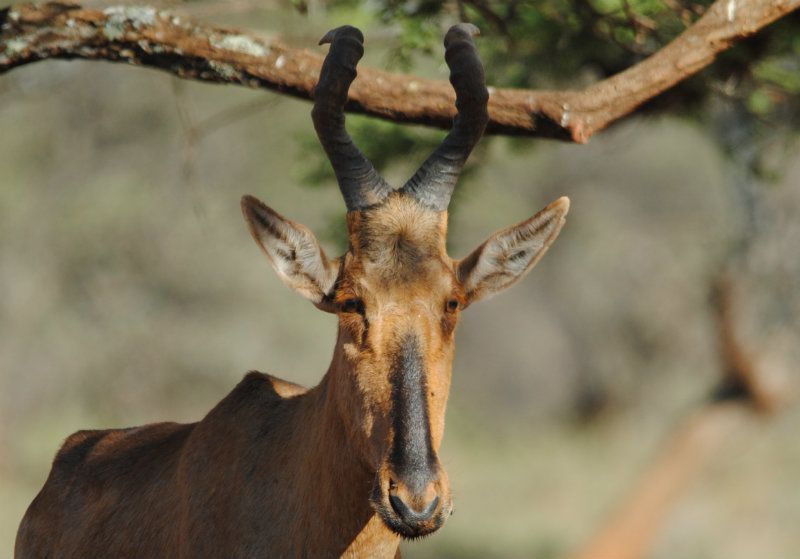 This handsome White-browed Sparrow-weaver having a wee bit of breakfasf: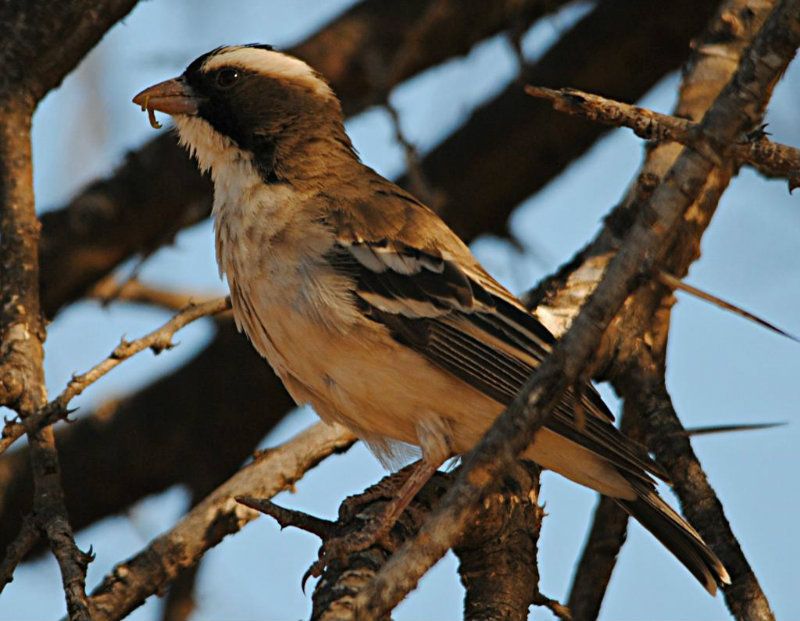 Mrs Ku-Dowww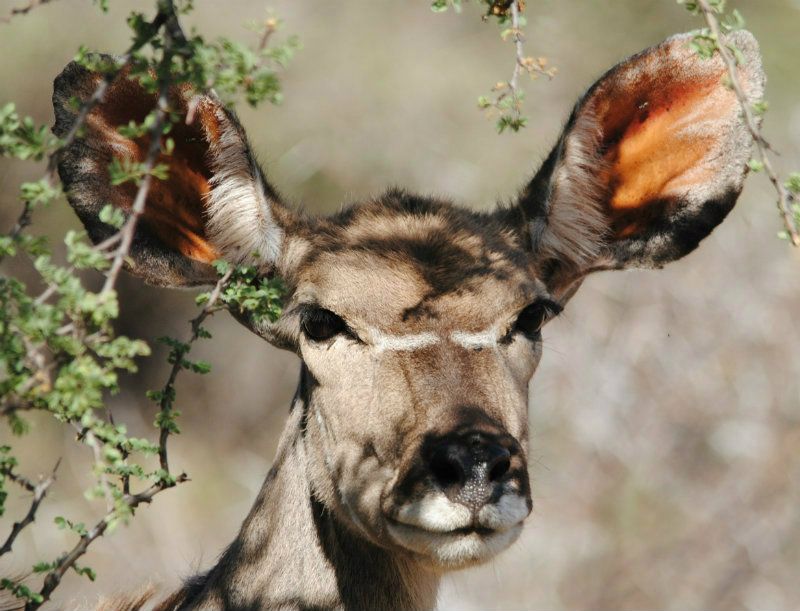 And then some members of the Dagga Gang.....able to give the Daggas of Kruger a lesson in looking mean and mud bathing.......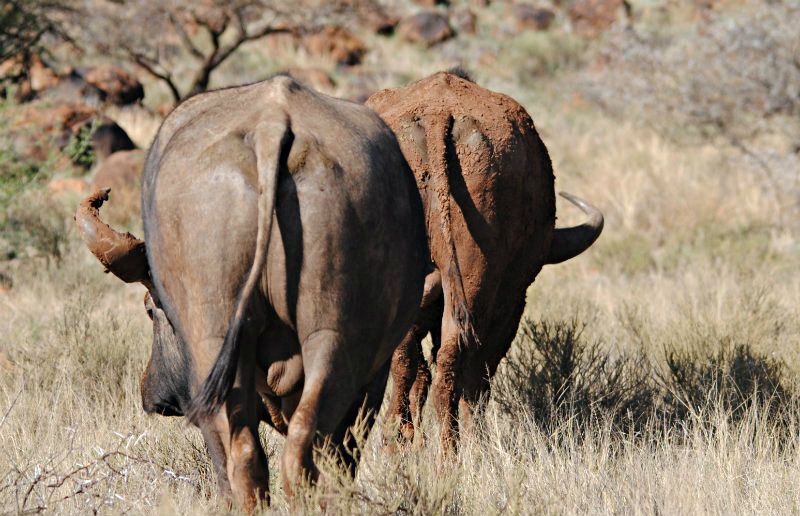 ---
Junior Virtual Ranger

Posts: 530
Joined: Wed Feb 22, 2012 1:49 pm
Location: Tooooo far from Kruger
Hi all......its happened again...... when I get midway through writing a quickie I get so carried away and bewitched that I go on a new quickie
.....so I better get this one wrapped up over the next few days as I wondered to Kruger last week for a night to find that
Madagascar Cuckoo (the birdie people will know what I am talking about). Entering Malelane gate......50 m into Kruger and without the sight of a single Imp yet.......there it was......Mr Spots in the tree........but more about that once I finish this Mokala quickie.
Last I left the Mokala TR off with me leaving the park for a day via the main Mosu gate......it was a long, hot dusty trip to Douglas and Prieska, but if you are ever in that part of the world, make the effort to stop over at the Landzicht Wine Cellar in Douglas. Nice people, good wine and about the only cellar I know where the tasting is still free
Entering the park again late afternoon I had a few minutes to stop off at Mosu camp to look around and to take a few pics. These pics I will be posting soon.........
---
---
Who is online
Users browsing this forum: No registered users and 4 guests