Senior Virtual Ranger

Posts: 1298
Joined: Wed Nov 18, 2009 6:22 pm
Location: Centurion
Those of you who know the Bushbuddies - know of our experiences in our favourite place on earth: KNP. We have always been true Southerners. Being from Pretoria - Malelane gate is a mere 4 hours away - and we reach our heaven on earth. So we often visit this area of Kruger - teaming with wildlife. And we love it!
Now last year June - we decided to leave our comfort-zone and explore the North of KNP. We didn't expect to see any animals...
So we incorporated a bit of Satara into the end of that holiday - to make up for the little wildlife we were expecting from the North. And we were pleasantly surprised!
We actually enjoyed the North - and saw some nice sightings, some beautiful scenery and lovely birdies. But we were not yet converted. The certainty of seeing the elusive cats, painted doggies, and SO's favourite - lions - was just always there in the South!
This year - we had leave coming up for the last week of September. And we were really tired and in need of REST! Now we always enjoy our times in KNP - you forget all about the stresses of life and get mentally refreshed like nowhere else. But we often returned from KNP feeling a bit tired physically. You see - if you want to see the nice sightings - you should get up early, hit the road first thing and be out there as much as you can! Lately we've tuned in on BBM groups - giving you the freshest updates on the best sightings. So if you get the info - you hit the road and hope you'll still get the action! Although enjoyable - this can get exhausting...
I did not feel like another rushed holiday in search of the big 5...
I needed to REST!
But I also didn't want to go to another place than my favourite Kruger. So SO and I decided to do something that was very unlike us. We changed our whole gameplan...
We decided to first treat ourselves to some luxurious rest in the far North of KNP - at Pafuri Camp. A lodge in the Makuleke Concession where the big 5 is not hunted down for tourists to see - but rather - the bush is experienced in its beauty and what the bush reveals is enjoyed. After 3 nights in Pafuri - we would go onto Shingwedzi for 6 nights. And during that time, we decided beforehand, we would REST. No BBM groups, no hunting down of lion and leopard sightings. Sleep late if we wanted to, or not take afternoon drives if the morning drive took long, and take afternoon naps EVERYDAY!
We decided we would enjoy the bush and the birdies in the area, we would rest, relax and even if we do not see a single cat - we'll be happy!
The question was: Would this approach work for us....
22-25 July 2016 - Pafuri Border Camp
25-31 July 2016 - Shingwedzi
---
Senior Virtual Ranger

Posts: 1298
Joined: Wed Nov 18, 2009 6:22 pm
Location: Centurion
Pafuri Camp
Let me start with the place called Pafuri Camp. It is a private Lodge on the Makuleke concession - which comprises all of KNP North of the Levuvhu river.
Pafuri Camp is situated on the Levuvhu river, and consists of luxury tents overlooking the river. It is situated in one of the most beautiful and quiet corners of the park - and one is really treated to a luxurious stay!
We have stayed in 2 other concessions in the park before. Both of them were situated in game rich areas, and the guides tried their best to show the people as much of the big 5 as possible. Pafuri is completely different. The guides here are very knowledgable of the area and its trees birds and animals. They drive slowly through the bush and show you the magic of Fever Tree forrests, Ana Tree forrests, Lebombo Iron Tree forrests...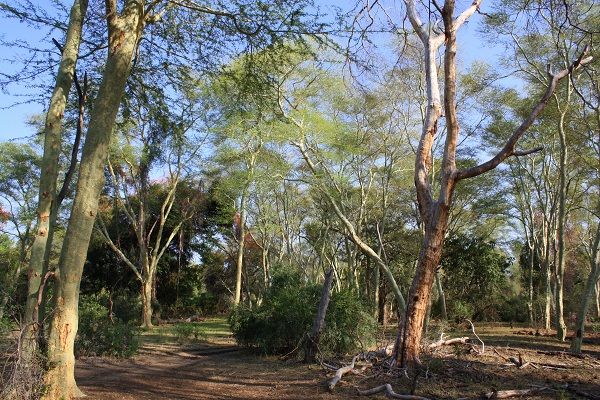 ...not to mention the majestic Boabab Trees of the North!
Sunset:
Sunrise: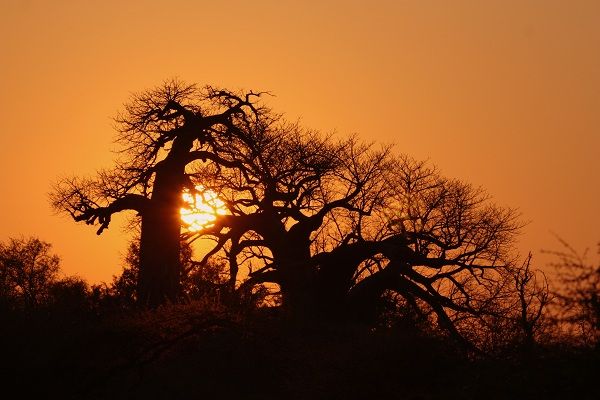 That's my SO in the white T-shirt...
This place is actually breathtaking in its scenery. Around every corner another beautiful place awaits to be discovered. Pafuri area is officialy the most beautiful place in Kruger!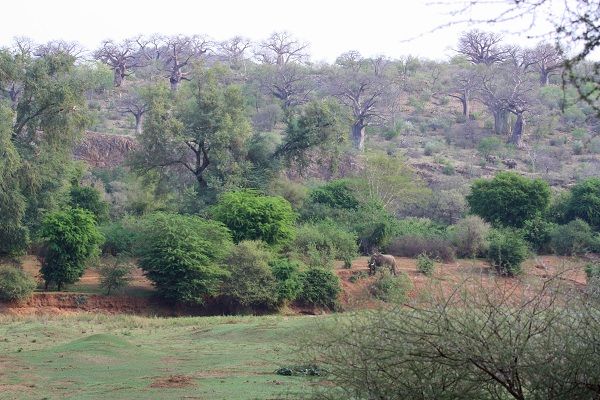 And one of the best scenes - that you will find nowhere else in Kruger is also found in this concession - Lanner Gorge! Imagine having sundowners while appreciating this view...
This was the setting for our first 3 nights of our trip. Being in this beautiful place was just such a privilege!
22-25 July 2016 - Pafuri Border Camp
25-31 July 2016 - Shingwedzi
---
Senior Virtual Ranger

Posts: 1298
Joined: Wed Nov 18, 2009 6:22 pm
Location: Centurion
The Birds
The far North is renowned for its birding. And the guides at Pafuri Camp are skilled at identifying and finding special birdies - as a lot of their guests come there - purely for birding purpouses. We are birders ourselves and stiffnecks proud of waving our red ribbon. But we are no experts and are pretty new at the business.
We had quite a few birds on our wishlist that we were hoping to see in the area - and we were rewarded with many lovely sightings. I'll share but a few with you. Unfortunately the stabiliser on my lens got switched off somehow - and I only realised it 2 or 3 days into our trip...
So please excuse some of the blurry pics...
One of the birds on my wishlist last year when we visited the North - was the Crested Guineafowl (Kuifkoptarentaal). But we did not manage to spot any last year. This year we were rewarded with many sightings of these beautiful and odd-looking birds!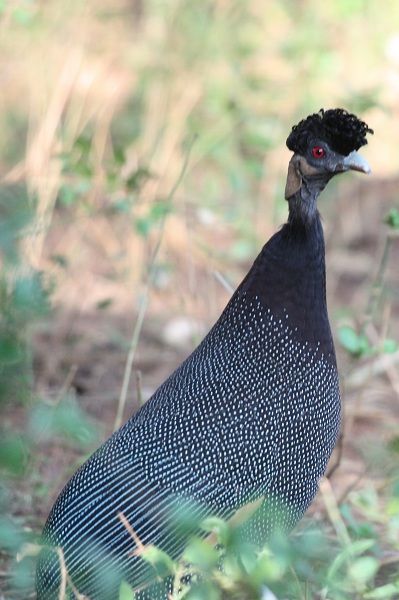 On my husband's wishlist since the previous year, was the Trumpeter Hornbill (Gewone Boskraai). We were also lucky with a few sightings of these this year. And hearing their calls - what an experience!
The biggest bonus, however, and seriously on our wishlist - I did not manage to get photographic proof of. The Pel's Fishing Owl (Visuil). We told our guide that we really wanted to see one. When we arrived at the main deck of the camp the evening - he quickly called us - and showed us the owl, sitting on the other side of the river on the riverbank. It was dark, but with a spotlight an binoculars we could see it clearly!
We also saw a few new and special little birdies:
Yellow-Breasted Apalis (Geelborskleinjantjie):
White-browed Scrub-Robin (Gestreepte Wipstert):
Grey-backed Eremomela (Grysrugkwekwevoel):
After a lot of searching - the GORGEOUS Bush-Shrike (Konkoit):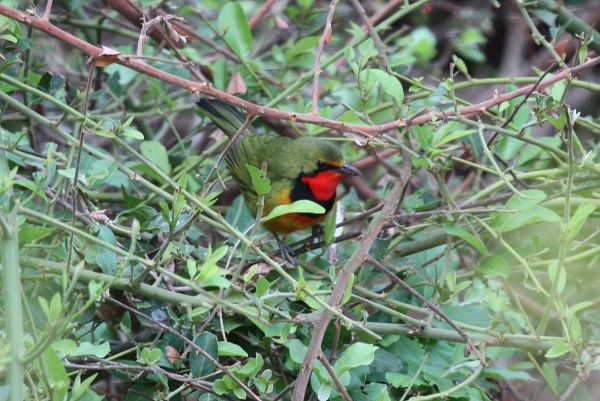 And the Yellow-spotted Nicator (Geelvleknikator):
There were also a few old classics - like this Swainson's Spurfowl (Bosveldfisant):
Hooded Vulture (Monnikaasvoel):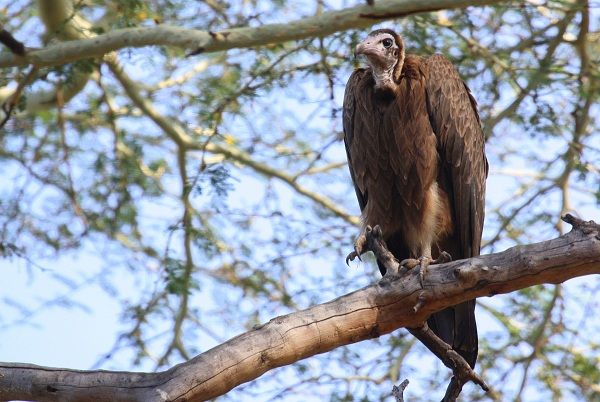 White-fronted Bee-eater (Rooikeelbyvreter):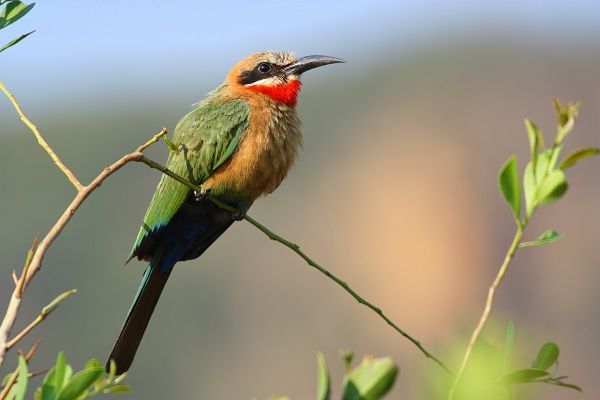 African Hawk-Eagle (Grootjagarend):
All-in-all we ticked off 21 new birds on our lifelist in the 3 days at Pafuri!
22-25 July 2016 - Pafuri Border Camp
25-31 July 2016 - Shingwedzi
---
Senior Virtual Ranger

Posts: 1298
Joined: Wed Nov 18, 2009 6:22 pm
Location: Centurion
The Animals
Okay - so I'm sure by now all the non-birders are getting bored with this TR...
So let me tell you about the animals we saw at Pafuri Camp.
And if you're a big fiver - I'm going to have to disappoint you...
In terms of big 5 - we only saw 2!
Buffalo and elephant... But it actually did not bother us at all!
We luckily knew not to expect any cats from this part of the trip. And we enjoyed the scenery and the birdies so much - we were just happy with being in the bush. That said - I should mention that I woke up one morning at 4:00 to the sound of lions roaring (very close to our tent). AND that the other guides/vehicles had leopard sightings on more than one occasion during our 3-day stay - so don't be fooled - there are cats in the concession. But it is a bonus if you see them!
The one special animal sighting that we did have up in the far North - was actually a majestic Eland! Our first sighting in the park ever!
He was not a fan of human attention, however, and did not stand still for a photo opportunity - so you'll just have to take my word for that one...
Let me share some of my animal pics from the 3 days at Pafuri with you:
Some shots taken from the deck at the lodge:
Majestic Kudu bulls:
A young ellie coming to drink:
Buffalo: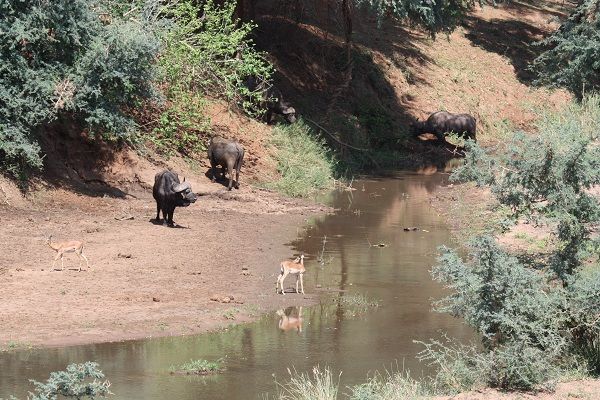 Pafuri camp is built on wooden stilts and the rooms and deck are all connected with a walkway on stilts. While walking around on this walkway - one also gets the chance to look at a lot of animals living around the lodge. The one night after dinner, while walking to our room - we spotted a white-tailed mongoose. The next evening we spend a few minutes with a civet - quite close and personal (without a camera...
) During the day many nyalas, impalas, bushbuck and baboon are found in the area. I got this close-up of this lovely nyala bull from the walkway:
Another big treat was drinking sundowners one evening at Crooks Corner in the riverbed - yes - the same riverbed one looks out over when visiting the Crooks Corner viewpoint from the SANParks side. An Ellie shared the Limpopo side of the riverbed with us: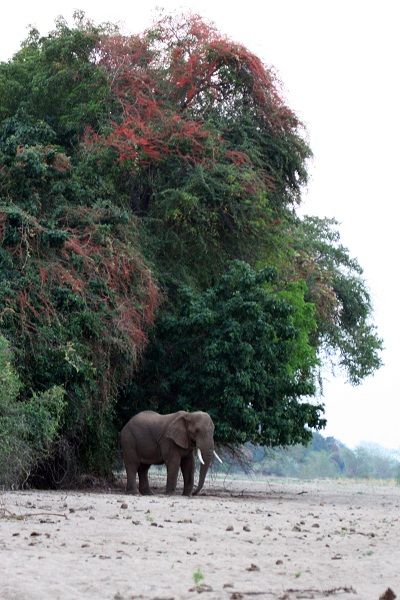 And then we also stopped and appreciated the small creatures:
So even though we did not see any of the big cats in the area - we were more than happy. We saw Civet, White-tailed Mongoose and Eland - 3 special creatures not often seen. And we just enjoyed the experience of spring in the bush: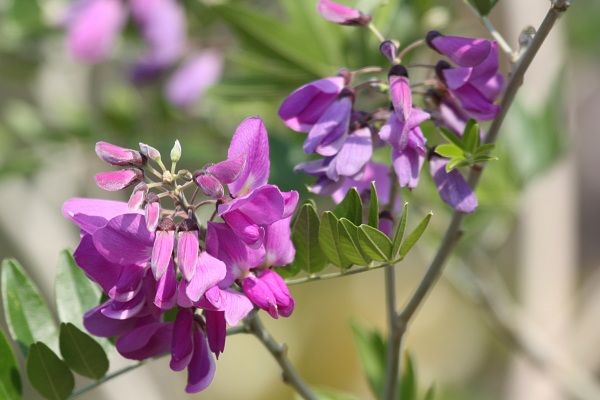 22-25 July 2016 - Pafuri Border Camp
25-31 July 2016 - Shingwedzi
---
Senior Virtual Ranger

Posts: 1298
Joined: Wed Nov 18, 2009 6:22 pm
Location: Centurion
On to Shingwedzi - Elephant Country
After 3 wonderful days at Pafuri camp we had to say goodbye. We enjoyed magnificent scenery, beautiful birdies and our first Eland ever in the park. But all good things have to come to an end...
Luckily - it was not the end of our holiday yet. We were moving on to the next good thing - 6 nights at Shingwedzi!
Those of you who know the area, will know that this is elephant country. And also TUSKER country!
Our first big sighting after heading South from Pafuri, was this tusker - taking a midday nap under a tree right next to the Babalala Picnic Site. Aat helped me identify him - and according to his website - this is currently the 7th biggest tusker alive in the KNP!
Ladies and gentleman - I introduce to you - Mavatsani: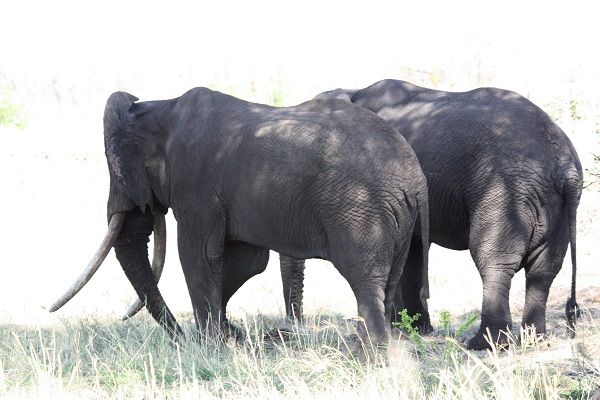 Taking a nap...
All in all - we saw 6 tuskers during our trip - and Aat helped me ID them all - thanks Aat!
This one-tusked collared tusker - Mpenza - we saw just North of Shingwedzi in the riverbed:
Later during our trip, in exactly the same area - we saw another collared tusker - Nkombo:
While we were looking at this majestic animal, we realised there was another tusker just across the road! Mandzemba:
And then we were lucky to spot a two in one!
Two tuskers drinking from the riverbed along the Red Rocks loop. The one in front is Riceho, and the one at the back - the 4th biggest tusker alive in KNP
- Machachule:
Unfortunately Machachule did not look to be in good condition anymore. His ribs, shoulder and hip bones were very prominent...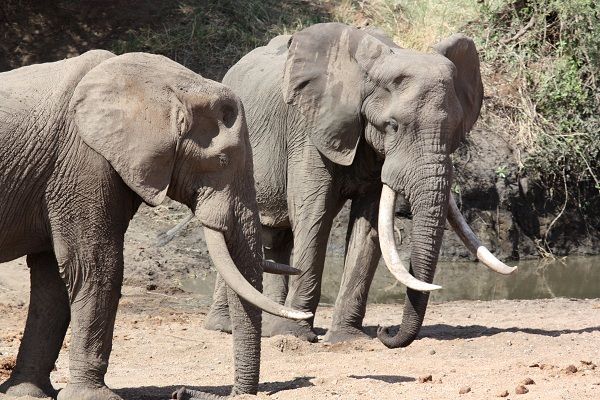 So if it's tuskers you want to see - pack your bags and head up to the North!
Of course we had many other entertaining encounters with elephants. Like this one taking a mud bath, or should I call it a mud SHOWER
: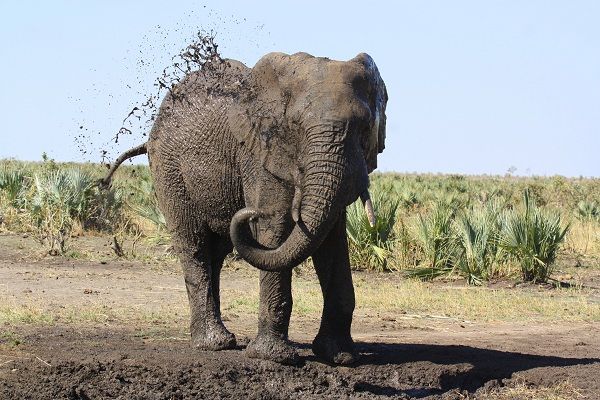 And then this whole family of young cows and calfs coming for a mud bath. What fun! The big old guy had to stand to the side as they all arrived and jumped into the "pool"!
See the little one in the front? He absolutely loved it! And after his bath was running around like a naughty child whose mom is trying to catch him with the towel after a bath...
Eventually - mom got her way, and Junior got back in line.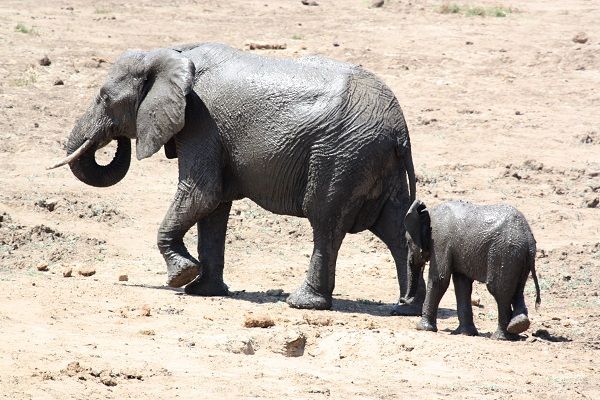 The other thing that these ellies in the North can do well - is to block a road. Here is one blocking the low water bridge at Shingwedzi. Note how dry the river bed is...
It was extremely dry in the Shingwedzi area, and the feeling of spring had not arrived quite yet. Our 6 days at Shing was spent relaxing. This also meant taking relaxing drives - either 2 short drives in the morning and afternoon, or just one longer drive and then spending the afternoon in camp. Let me tell you how that panned out...
22-25 July 2016 - Pafuri Border Camp
25-31 July 2016 - Shingwedzi
---
Senior Virtual Ranger

Posts: 1298
Joined: Wed Nov 18, 2009 6:22 pm
Location: Centurion
Hyena Dens
I know there are quite a few forumites always asking for places to find hyena dens. Well if you ask me - I'll direct them in one direction: The main road between Shingwedzi and Mopanie. I don't think we've driven that road once during early morning without seeing hyena. And that is exactly where we spotted these guys again druing our trip this year around:
Greeting the morning after a long night:
The younger ones are so much better looking than the older ones:
This little one was also hanging around - but one could see he was ready to go to bed already:
But first he had to come a bit closer to investigate...
...before he could nod off to sleep!
These hyenas we found on their old site - just next to the tar road just South of Joao waterhole. A few km's further on this old one was also seriously in the mood to sleep:
Just a quick look to see who we were, and then - off to sleep again:
Our last day in the park - as we were heading out to reach the Phalaborwa gate - we met up with the hyenas again. This time mom was nursing one of the younger ones:
It seemed that there were 2 siblings. The one just stood by and watched as the other suckled away! The mom decided to get up and out of the road - and the one drinking made a terrible noise - crying like a piglet!
Untill his mom stood still for a second - and he took his chance again:
The other sibling had to fall in line - and entertained us with some nice shots:
It is so nice to spend time with these relaxed and inquisitive animals. BUT unfortunately not so nice to spend any time around their odour...
22-25 July 2016 - Pafuri Border Camp
25-31 July 2016 - Shingwedzi
---
Senior Virtual Ranger

Posts: 1298
Joined: Wed Nov 18, 2009 6:22 pm
Location: Centurion
The Prides of Shingwedzi
During our 3 days at Pafuri Camp, we did not see any lions or leopards. And for our first 3 days at Shingwedzi, we still did not see any lions or leopards.
Now to be honest - we did not decide on this trip to the North in order to see cats. So we were not disappointed. After all - we are Southerners - we have seen plenty of lions and leopards in our favourite territory before!
Last year when we stayed at Shingwedzi - we experienced some magnificent lion roaring one morning early, while getting ready to be at the gates when they opened. It sounded like they were just outside camp. We were out of the gate,1st or 2nd car, but we could just not find the lions. And from what we gathered - no one saw them that day! So these Shingwedzi lions were really hiding from us...
We had a history with Shingwedzi's lions - and we wouldv'e liked to see them. And after 6 days of no lions - we really would not have minded a bit of cat-action...
SO was just starting to get grumpy..."no lions...."
Then on our fourth morning at Shingwedzi, we decided to head down on the Red Rocks loop for a nice morning drive. It was a quiet drive down. We stopped at Tshanga Lookout Point - and had some rusks there. On our way back to camp - we saw a car parked on the side of the road - the people were looking through binoculars... They were looking at the Red Rocks Pride:
There were 3 lionesses with 3 tiny cubs on the other side of the riverbed.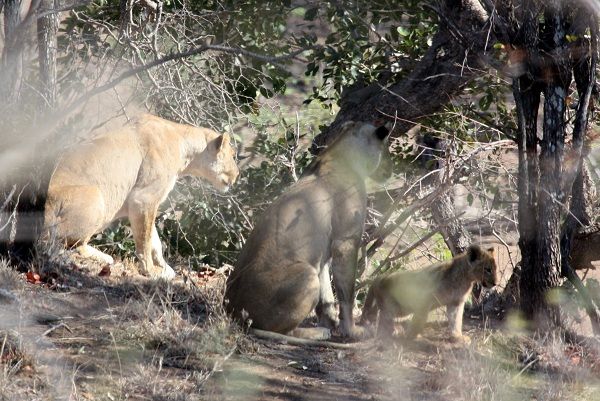 SO's sexy smile started returning as he looked at them...
After a few minutes - they were off to the other side.
We drove to the other side of the river - but had no luck in spotting them again. We headed back to our original route. And before long we saw the same car in front of us as what we saw at the lion sighting. It stopped as some Impala rams were crossing the road. But wait a minute - a leopard also crossed the road!
The whole herd of impala rams were actually chasing a leopard off!It was such a quick sighting - there was no time for pictures - but wow - did Red Rocks deliver!
We decided that the people in that car had just become our newest best friends!
We returned to camp, had a nice nap, and enjoyed the camp itself while resting. That afternoon we decided to do a short drive down on the S50 or Kanniedood road. On our way back to camp - small traffic jam. Especially small compared to the South!
This lady was lying in the riverbed:
And she was looking at that bushbuck:
We were hoping for some action - but it was not to be. The usual problem - the gate was about to close!
I'm sure some of you understand and know that problem all too well! Why is it that all the action happens when the gate closes!
Anyhow - we pushed on towards the gate - only to hit another car pile-up! A few hundred metres further up the riverbed, was the majestic king: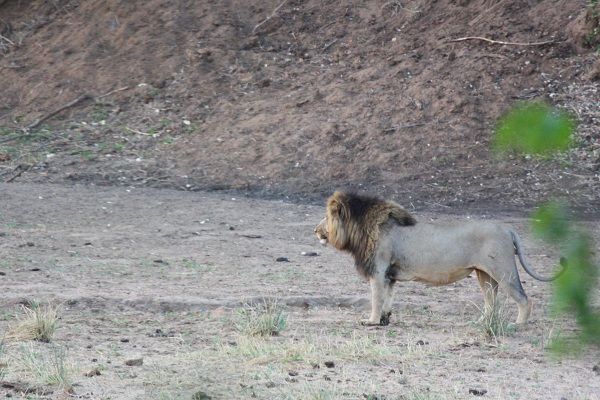 The light was terrible at this stage - and we were on our way to the gate - remember? So a last proof shot...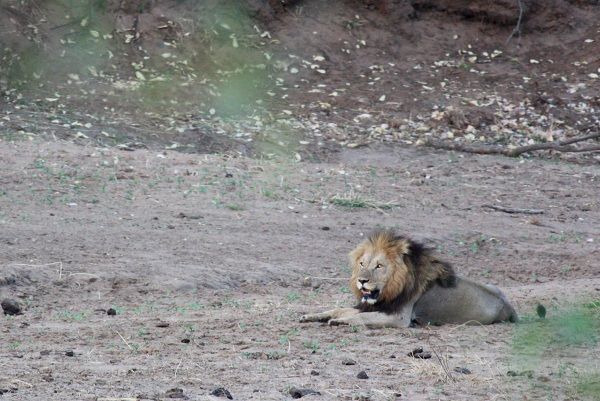 ...and off to camp we go. What a day! We got to meet the Red Rocks and the Shingwedzi prides. That night we again heard the lions roaring.
We slept peacefully - not even knowing that the next afternoon - we would have our best sighting of a leopard in KNP ever...
(This is just how it started...)
22-25 July 2016 - Pafuri Border Camp
25-31 July 2016 - Shingwedzi
---
Senior Virtual Ranger

Posts: 1298
Joined: Wed Nov 18, 2009 6:22 pm
Location: Centurion
Shingwedzi's Birds
Now this is a TR of the North - let's not get hasty about leopard sightings...
Let's first enjoy some of the lovely birdlife found around Shingwedzi. This is still part of the North and abundant birdlife is found in this area. During our trip - we identified 150 birds in total. Not bad!
One of the birds that Shingwedzi itself is famous for, is the Giant Eagle Owl / Verreaux's Eagle Owl (Reuse-ooruil). One morning we met this youngster, sitting right next to the tar road outside Shingwedzi - calling his parents (who were sitting in a tree just across the road). It was a great sighting for
:
He was sitting there calling all the time. I wish I could add sound to this pic: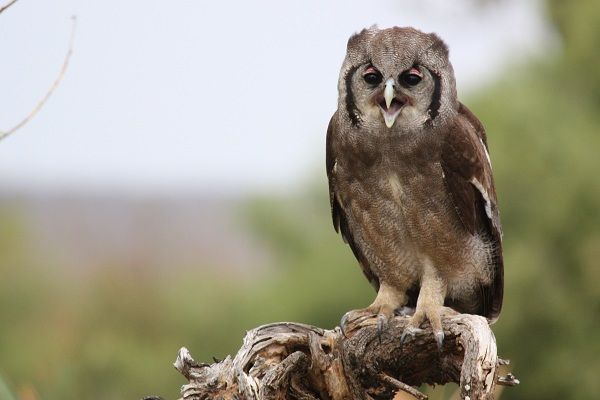 This one, we met on another day - while driving the road down to Kanniedood Dam. He was fast asleep...
...but did manage to open one eye a little bit to see what this "clicking"
was all about:
Other lovely birdies we saw along this route was:
The Kurrichane Thrush (Rooibeklyster):
Our first ever Grey-headed Bush-shrike (Spookvoel):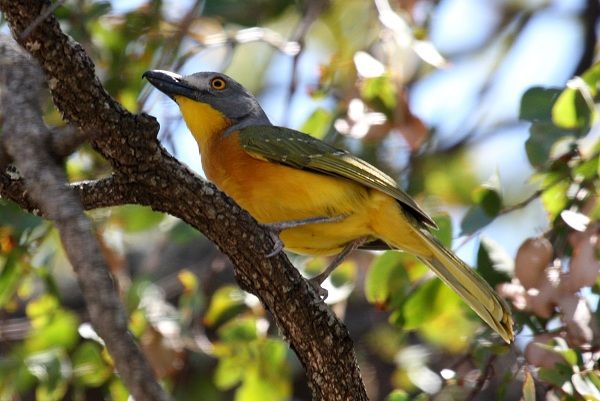 And the ever-present Fish Eagle (Visarend):
Along the Red Rocks loop this lighter morph of the Wahlberg's Eagle (Bruinarend) had us puzzled for some time: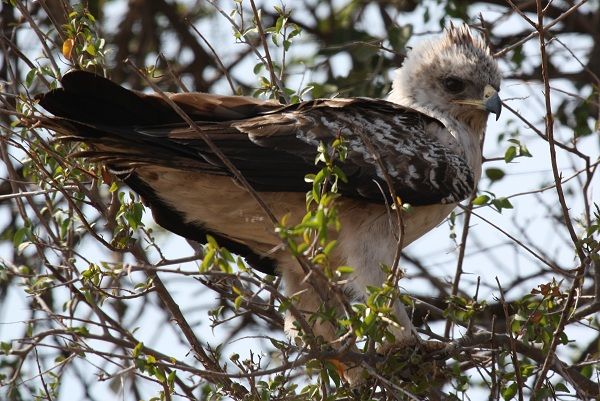 In the Mopanie area, we were treated to some waterbirds. The Green-backed Heron (Groenrugreier):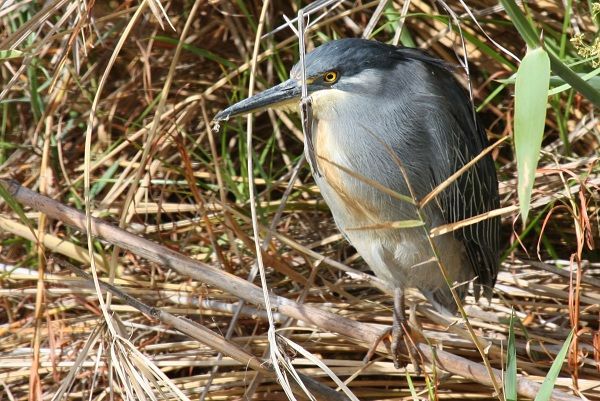 And some Egyptian Geese (Kolganse) doing a dance for us:
Leopard sighting to follow next installment - because that is how the North works!
22-25 July 2016 - Pafuri Border Camp
25-31 July 2016 - Shingwedzi
---
Senior Virtual Ranger

Posts: 1298
Joined: Wed Nov 18, 2009 6:22 pm
Location: Centurion
THE Leopard Sighting
Yes - I refer to it as THE leopard sighting as I cannot compare this sighting to any other leopard sighting we've had before! It was on a short afternoon drive. We decided to just drive down and up on the Kanniedood Dam drive for the last 2 hours of the day - before the gate would close. A short drive down - and we came across 2 or 3 cars on one of the loops to the riverbed. They told us that there was a leopard - just there. We couldn't see it...
"Wait" one of the ladies in the other car told us,"he is going to come out towards your side now - just wait and you'll see!" So we waited. It wasn't long untill the spotted head emerged from behind a bush...
...and started walking along our side of the dry riverbed!
He stopped again just behing a tree, and gave us a look...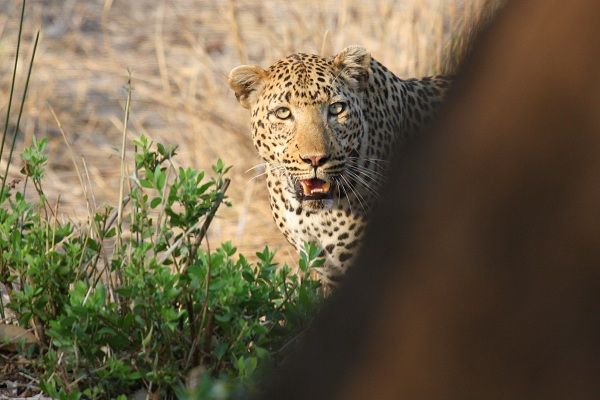 ...before heading on further down the riverbed.
We decided to try and follow him. That meant driving out of this loop and back to the previous riverloop. By now a few cars started accumulating...
All of them tried to drive into the previous loop. So all the cars piled up, and we were only half-way down the loop...
I thought we'd not see our leppie again! But then we all of a sudden realised - he was right there - in the bush just a little distance from us and we had a perfect view.
And not only that - he was starting to stalk some impala...
He gave me the opportunity to take some of my nicest leopard shots yet...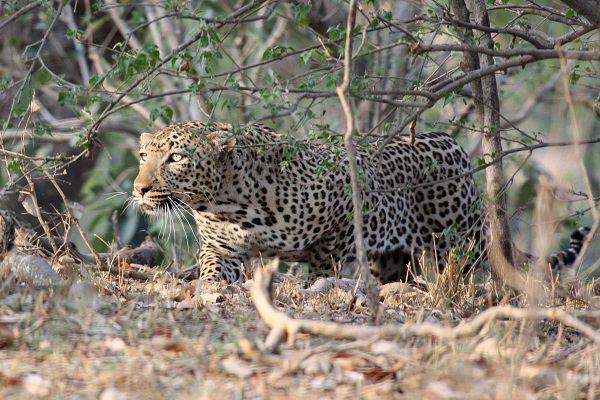 Can you hear my camera "rapid firing"?
Now that's what I call "leopard crawling"!
He moved into a position in which he was safe to assess his prey:
To be continued...
22-25 July 2016 - Pafuri Border Camp
25-31 July 2016 - Shingwedzi
---
Senior Virtual Ranger

Posts: 1298
Joined: Wed Nov 18, 2009 6:22 pm
Location: Centurion
THE leopard sighting - continued...
So we were sitting in a prime position, watching this Shingwedzi leopard stalking a herd of Impala...
...but the impala got a sniff of predator and his cover was blown...
So our leopard got up, and starting moving North, towards camp once again...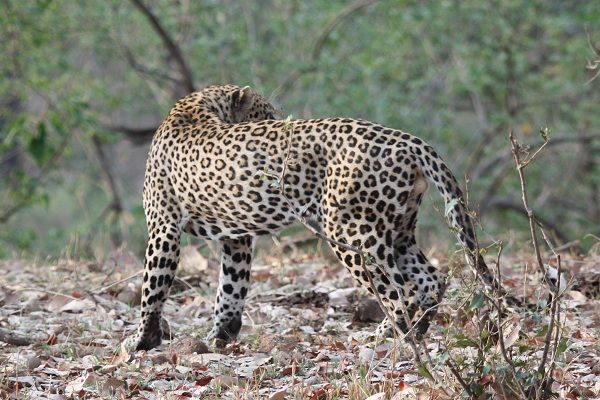 And again - the bushbuddies, together with a lot of other vehicles
, decided to follow our leopard - once agian. So out of that loop and Northwards we go to the previous loop again. And lo and behold - but after a bit of searching, seeing a spot here and there and being a bit patient, the leopard came out of the riverbed once again, shot across the road, and started stalking - AGAIN!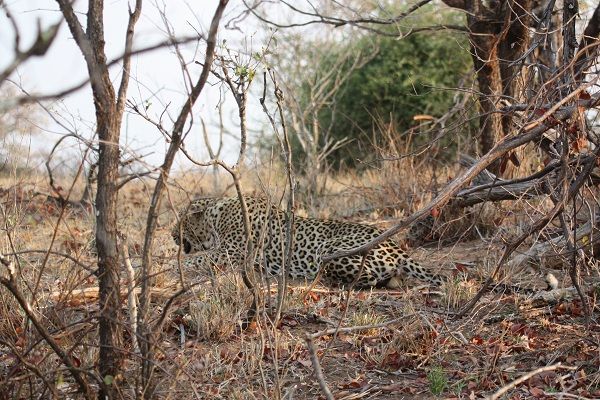 And after the car in front of us moved a little forward, and the leopard also - we got in a perfect position to see this leopard up close. He must have been 3-4m from us!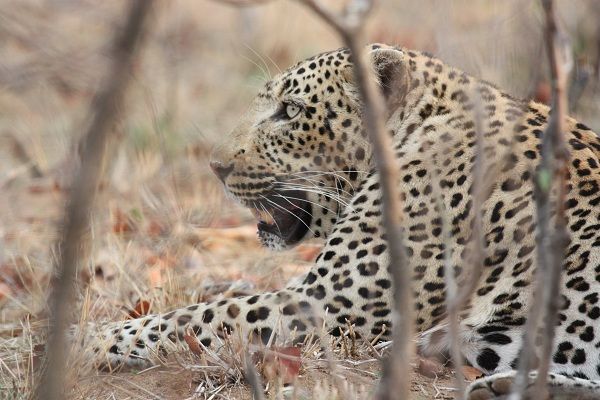 Unfortunately for the poor leopard - the impala's saw him, and the hunt was off again - with our leppie moving on again.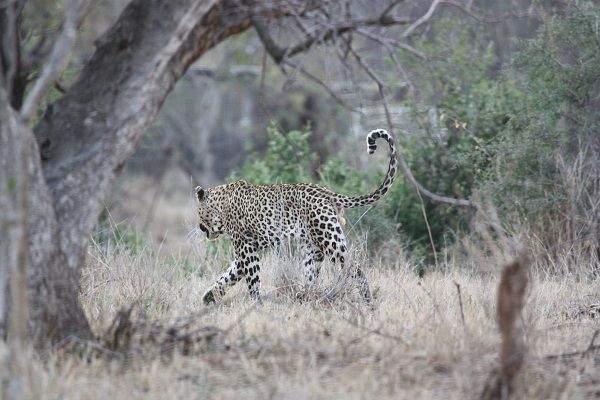 It was now just before gate-closing time, and he settled in for a rest just South of Camp. You can imagine how much traffic had accumulated by this time. It was JUST outside the gate - JUST before gate closing time...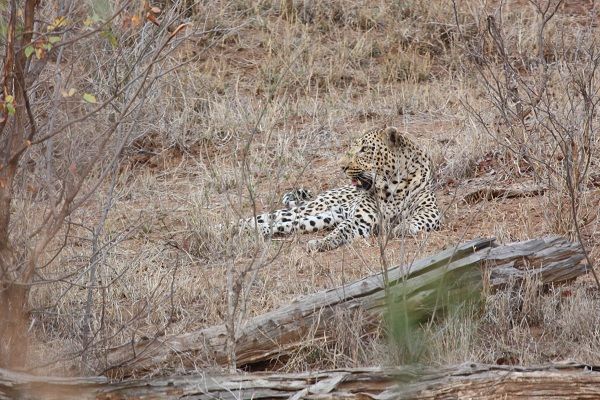 ...and a last glimpse from our leopard. It was a lovely one and a half hours spent with this beautiful male! What a privilege!
Another beautiful sight at this last part of the sighting - was a family that just arrived from the camp side. They asked us where the leopard was - and while we chatted to them, pointing out the leopard they told us their story. They (parents with 3 boys) were in the shop, and an older "Oom" walked in and started chatting about the nice leopard sighting. They said they had not yet seen a leopard. Then the Oom gave them his carkeys, told them not to waste time to first go get their own car - but to use his car - and quickly go check out the leopard just outside the gate. How nice is that? Thanks Oom!
People like you make the North such a nice place.
During our 6 days in the North - we also got some oranges from another oom at a sighting - just because we had a nice chat to him. The neighbours brought us some eggs and avo's fresh from the farm before they left Shingwedzi. And Phineas from Mooiplaas Picnic Site actually recognised our yellow ribbon - and we were treated like celebs (and reminded to vote for him!
).The people in the North are just NICE!
Now back to leopard sightings....
A leopard tortoise: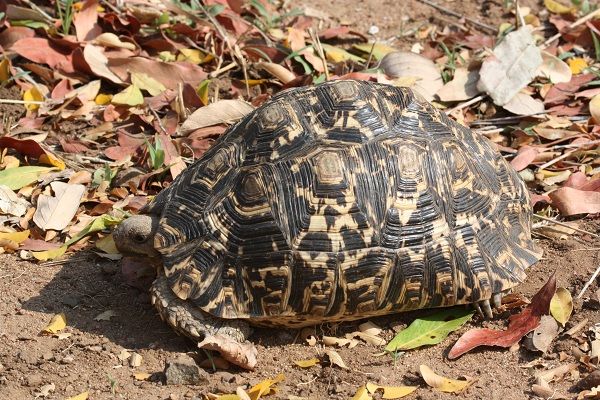 But really guys - I'm not finnished with our leopard sightings. On the day we left the park we had another 2 leopard sightings!
While driving down the H14 to Phalaborwa Gate, and enjoying the lovely scenery along the Shikumbu river - we both spotted him at the same time: "LEOPARD!!!" And if this guy was next to the road - he probably would've run away at our screaming...
We were so excited!
He was walking along the other side of the riverbed. A HUGE male leopard - it must have been the biggest one we've ever seen!
We didn't have a lot of time with him - but we had him all to ourselves - he was beautiful!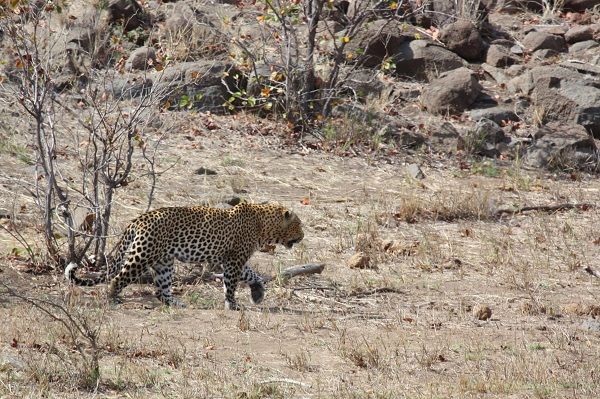 And then just before Phalaborwa gate - on the S51 just off the tar road - a huge car pile-up - for this:
4 sightings of leopard in the North - not bad.... The North scored some serious points!
22-25 July 2016 - Pafuri Border Camp
25-31 July 2016 - Shingwedzi
---
Senior Virtual Ranger

Posts: 1298
Joined: Wed Nov 18, 2009 6:22 pm
Location: Centurion
The others...
And last but not least - the other animals around Shingwedzi. You've met the lions, the leopards, the tuskers and their families. You've seen the birdies and the scenery - but you have not seen the big herds of the North. The big herds of Buffalo that is...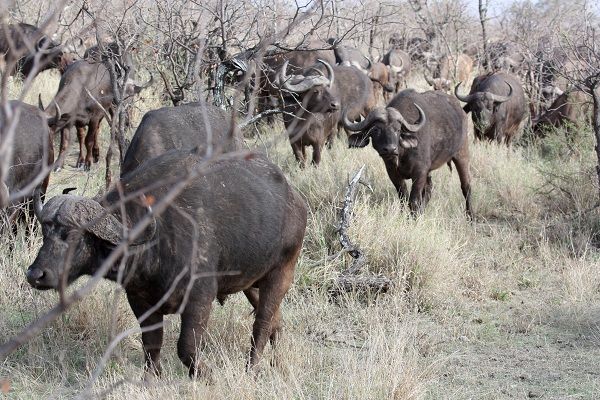 Big herd outside Mopanie Camp
The North is well known for their big and healthy herds of buffalo. One often gets stopped by these roadblocks: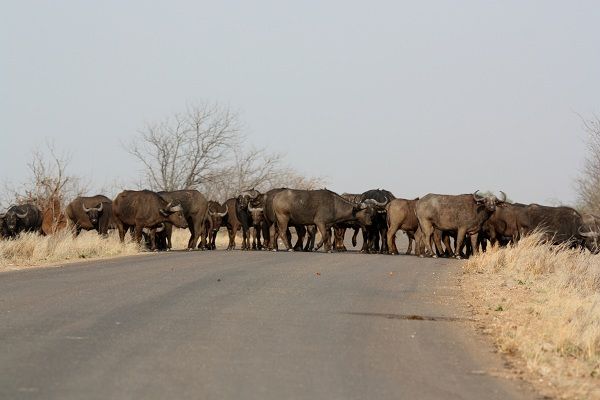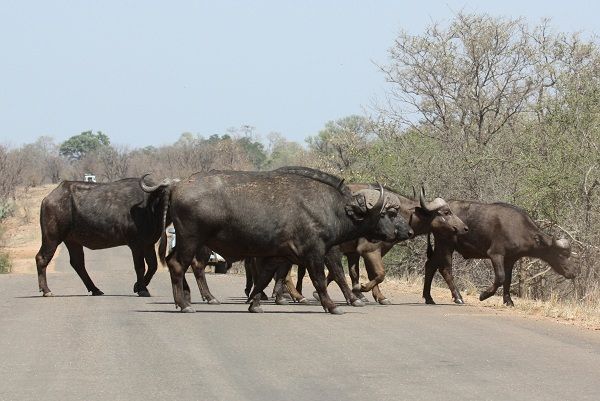 And if you're lucky - you might even see them coming to drink and creating beautiful scenes - like this one at Red Rocks Viewpoint:
Sometimes one gets the chance to meet up with the old dagga boys - and they tend to like to pose for pictures...
Another known fact of the North is that you get to see certain herbivores up there that one does not see in the South. Like the Tsesebe:
And the Sharpe's Grysbok: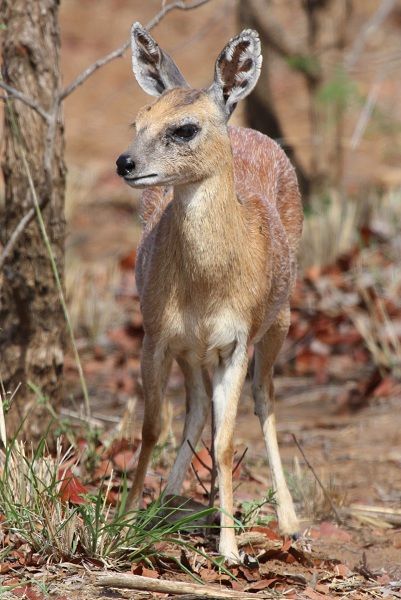 We also had 2 other "fisrt sightings" while in the North. Our Eland up at Pafuri, and also a very shy Roan on the Kanniedood drive South of Shingwedzi!
It is amazing to see how big the roan antelope is!
So great carnivore and herbivore sightings in all!
My conclusion to follow soon...
22-25 July 2016 - Pafuri Border Camp
25-31 July 2016 - Shingwedzi
---
Senior Virtual Ranger

Posts: 1298
Joined: Wed Nov 18, 2009 6:22 pm
Location: Centurion
Conclusion
As I started writing this TR, and decided on the name for the TR: "Northern KNP... are we converting?", I looked at my fellow Bushbuddy and asked him what he thinks the answer is. I wasn't sure how to answer this question myself. The trip was still fresh in my mind - as we had just returned from a lovely trip - well rested mentally and physically this time.
We were spoiled with luxury at Pafuri Camp, with amazing accomodation on the banks of the Luvuvhu River. The food was great, the guides very knowledgable and the scenery spectacular. Many new birds were ticked off on our lifelist and special moments were shared in one of the most beautiful parts of Kruger Park.
At Shingwedzi we caught up on rest. We really enjoyed the peace inside the camp, took naps, and just relaxed about sightings. We met the most amazing and friendly people and got treated to great conversations with the most down-to-earth people. Sout van die aarde mense... (Salt of the earth kind of people...)
And then came some amazing sightings. We finally got to meet some of the Shingwedzi Lions, and the Red Rocks Pride. We had our best ever 1 and a half hour with a leopard - and got great stalking shots!
We saw Roan and Eland for the first time and called out our first sighting of a Spookvoel (Grey-headed Bush-shrike).
So I looked at my loving hubby and asked him - "So, ARE we converting?" His answer summed up the way I feel exactly. "I don't know. I won't say we are Northerners now. But we are definitely not just Southerners anymore. I think we are finally complete Krugerians!"
If I have to decide on where to go in Kruger for our next trip, the choice is definitely more difficult. We have now fallen in love with the South, the Central and the North of KNP. And more important than that - we have learned to rest and enjoy the peace in KNP - something I am eager to try on our next trip to the South....
... or should we rather go North again next time...
Thank You all for sharing this trip with us!
Bushbuddies
22-25 July 2016 - Pafuri Border Camp
25-31 July 2016 - Shingwedzi
---
---
Who is online
Users browsing this forum: Birgitta and 4 guests