Can anyone tell me what kind of ant this is ? They are huge , about 2 cm long , ( head , thorax and abdomen ) , and very aggressive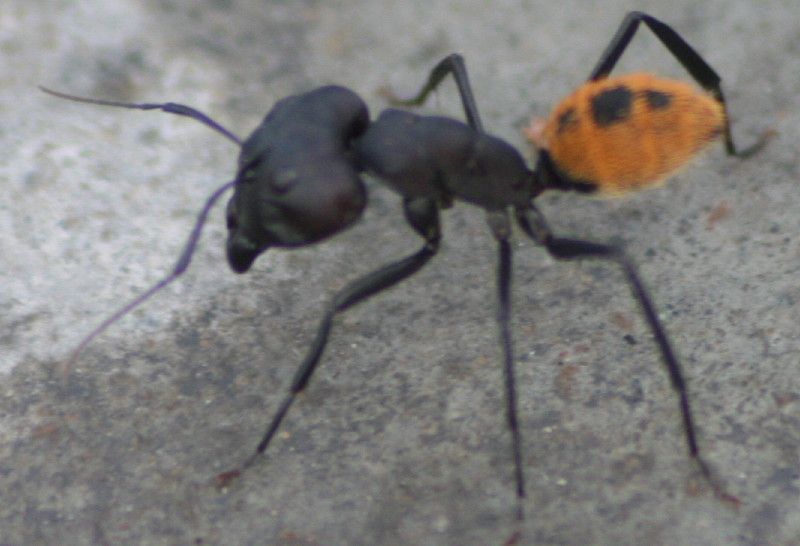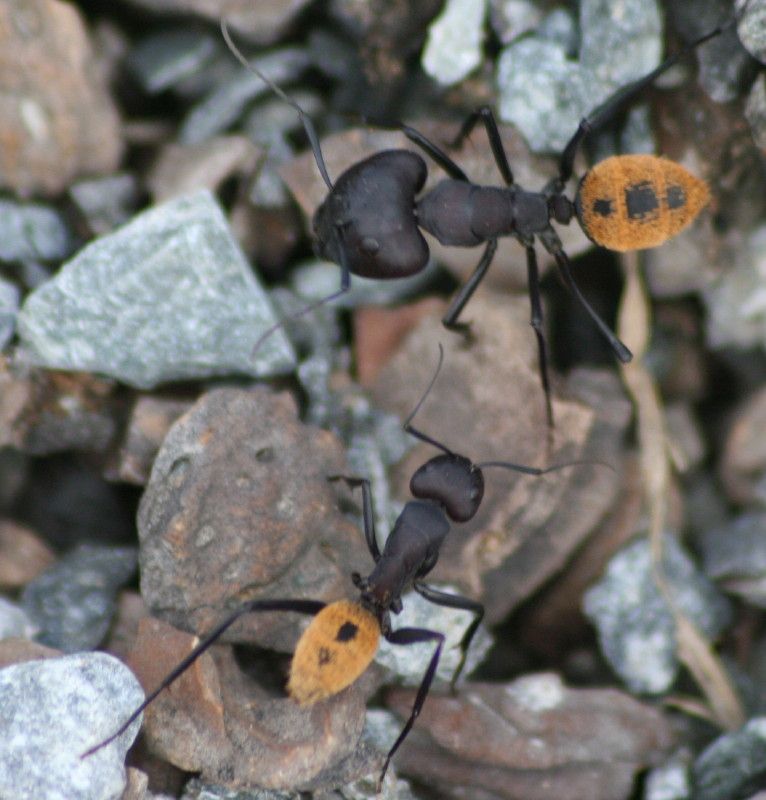 Tread softly , and let your departure not be spoiled by the damage of your arrival
Next :
3 - 6 Sept 2013 - Punda.
7 - 10 Sept 2013 -Shingwedzi .
11 - 13 Sept 2013 - Balule .
14 - 17 Sept 2013 - Satara .
---
I don't know where you found this, but it looks like Camponotus fulvopilosus, or a species in that genus. The workers are 10-18mm and the queens are 20mm. The species is very aggressive, and the majors can inflict a painful bite! Apparently, their sting contains a 45% solution of formic acid, and have a tendency to bite after running up your legs!
(I suppose that's from whence it's common name "Bal-byter")
They visit mealy bugs on bushes for the honeydew produced , prey on termites and other insects and collect bird droppings.
Most of this info. came from "Field Guide to Insects of South Africa"
Here's a similar looking one I took in the KTP, as they're found in arid savanna or woodland w/ sandy soil.
---
Forum Assistant

FAC Member (2017)
FAC Member (2016)
Posts: 5003
Joined: Fri Sep 08, 2006 6:06 am
Location: Boons NW
agree AFRICAT and what an awesome shot!
---
Thank you Africat
I found them here in Worcester . Not many around . They are aggressive , and the soldiers do run after you , and I can very well believe getting a painful sting/bite from those mandibles
These guys are however quite bigger than the " bal-byters " I knew as a youngster in the old Transvaal
Tread softly , and let your departure not be spoiled by the damage of your arrival
Next :
3 - 6 Sept 2013 - Punda.
7 - 10 Sept 2013 -Shingwedzi .
11 - 13 Sept 2013 - Balule .
14 - 17 Sept 2013 - Satara .
---
You're welcome okie. If you get a chance look at the picture in the Insect Guide mentioned. It looks almost identical to yours, complete w/ the bare areas on the abdomen. Also, you say it's 2 cm, and the guide says they are up to 20 mm (= 2 cm), so the size is w/in range. My photo may well be a different species or subspecies, just posted it as a member of the general family. You were very fortunate to find one of the larger specimens, and thanks for sharing.

Also, thanks Rosemary H for your confirmation and nice comment.
---
---
Return to "Insects and other invertebrates"
Who is online
Users browsing this forum: No registered users and 2 guests