Junior Virtual Ranger

Posts: 695
Joined: Sat Jan 15, 2005 1:29 pm
Location: Durban, Kwa Zulu Natal, SA
In September / October 2010 we saw 11 different leopards in 14 days - is this one enough to qualify as "close"!
NO BAIL - JAIL AND NO TRADE IN RHINO HORN EVER!
[color=#FF0000]NO TO BUILDING OF HOTELS IN THE KRUGER NATIONAL PARK[/color
24 Sept 2015 Hlane, 25-2 Burchells, 2-4 Elephant Plains, 4-7 Satara, 7-9 Pretoriouskop, 9-15 Ngwenya, 16 Hluhluwe
The addiction is fed once again
---
Junior Virtual Ranger

Posts: 490
Joined: Tue May 06, 2008 4:49 pm
Location: Busy planning my next trip
leo21 wrote:i was wondering and please excuse me for maybe sounding stupid, but is there a distinct way to tell the diffrence between a male and a female leopard?
Look for the 'toolkit' under the tail (or lack there off)
---
Good Day to all.
Just got back from a wonderful 3 night Safari in Kruger National Park.
So i got back home and couldn't wait to brag about an amazing sighting i had of
5 LEOPARDS TOGETHER
at the same place and the same time
So i shared this amazing sighting via telecommunication with some friends namely Bilaal from Benoni and Ishtiaq and Niru from Cape Town.
Upon telling them of this strange and rare sighting, they actually laughed at me.
and demanded proof via pics of this AWESOME sighting.
Firstly this was the lucky Guests on board the Safari Vehicle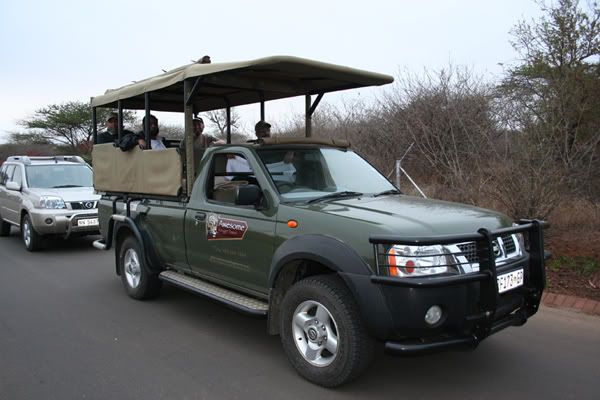 So we ventured out for the day and returned to Lower Sabie to pick up Ranger Patrick from Lower Sabie. We drove on the tar towards Skukuza. We passed Lubye Lubye and approximately 1.5 km from this point we saw many cars
and myself and Patrick both called it "Leopard". So we proceeded towards the traffic and we were greeted by 5 leopards all together at the same place and same time. Problem is that i couldn't take a pic of all 5 leopards together in one pic but individual pics of them.
So i need any forumite who was there to please confirm this sighting.
I managed to show Bilaal the pics and he spoke to Patrick who confirmed the sighting
but it will be virtually impossible to convince the 2 from Cape Town. So if anybody has seen this sighting please confirm and add pics as well.
Here are some of my pics.
First pic shows 2 leopards.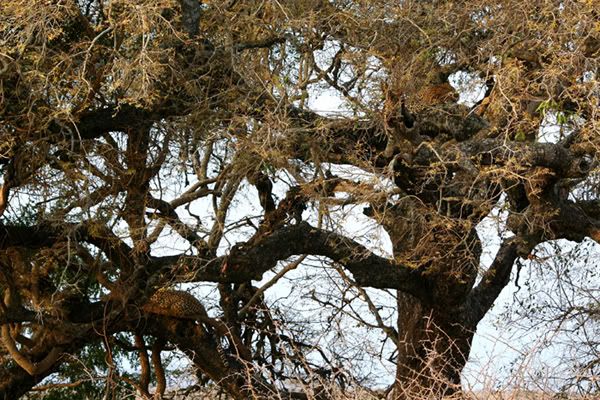 this pic shows a close up of the Leopard on the left of the tree
this pic shows the leopard to the right of the tree
this pic shows the 3rd leopard at the bottom of the tree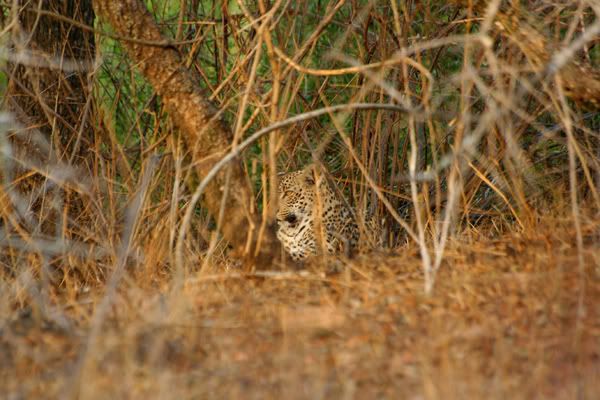 this shows the 4th leopard about 3 meters away to the right of the first 2 leopards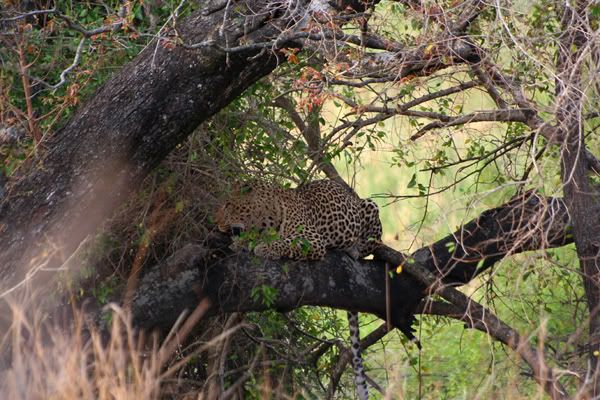 and the last pic shows the 5th leopard higher up on the tree.
Myself and Patrick calls it as such that the sighting is that of the mother with 3 adolescent cubs and a breeding Male.
Enjoy.........
Last edited by
TINY
on Sun Oct 02, 2011 8:38 pm, edited 2 times in total.
A.K.T.
---
Had 2 weeks in KNP at the end of August and up until the 2nd last day our Leopard sightings were ahead of Lion sightings by 7 to 6. Then (boring!) 2 lion sightings made the final score 8-7 in favour of the Lions - Sounds like a Currie Cup summary....

Anyway in addition to the 'usual' spots reported previously (Lower sabie and Satara) and to put another hotspot or two on the map, here goes:

Near Olifants on two successive days - one on the S44 between the camp and the Olifants Lookout. Then the next day on the S93 just south of Von Welligh's Baobab. Also near Olifants - nearer Balule in fact we saw two in a tree with a kill on the S92.

On the S29 about 7km off the H10 we saw a Leopard and a Serval within about 15 mins of each other!!

Sometimes you get lucky - sometimes not, but for sure your sighting chances improve when you drive s-l-o-w-l-y and look carefully all over.
---
Moderator

Posts: 16297
Joined: Tue Mar 22, 2005 6:31 pm
Location: Tinley Manor, KZN North Coast, South Africa
Wow, definitely a Leopard convention there that day!
Surely not something one sees every day.
Lucky you.
---
Distinguished Virtual Ranger

Posts: 3958
Joined: Wed Nov 03, 2010 9:51 am
Location: Johannesburg SA
HillBilly wrote:Well, it was the opposite for us; instead of rushing out with the rest of the morning traffic, we decided to stay home. We stayed in one of the Lower Sabie tents close to the fence. While brushing our teeth on the stoep, a leopard walked right past our tent and spent about a minute staring at us, wondering what on earth we were doing
NICE!
Also heard a couple weeks ago there were two leopards under the resturant deck at LS.
Moral of the story ... don't leave LS if you wanna see leopard
Kruger 2014!!!
16-23 August - Lower Sabi!!!!
---
Junior Virtual Ranger

Posts: 1042
Joined: Fri Apr 03, 2009 10:18 pm
Location: johannesburg (but soon in Kruger)
Hi all,
From my recent trip to Kruger last week, here is probably the most rarest leopard interaction I'll probably ever see at the same place! From Skukuza deck!
Great footage of the mating leopards seen from the Skukuza viewing deck!
Please let me know what you think!
---
Posts: 32
Joined: Thu Aug 28, 2008 10:42 am
Location: Annlin, Pretoria
To add to the amazing sighting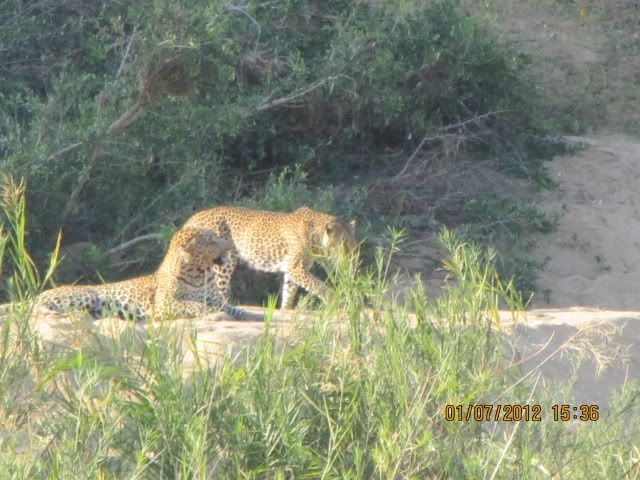 We all were very
9 - 17 December 2017 - Camping @Lower Sabie
---
Posts: 145
Joined: Wed Nov 19, 2008 9:36 pm
Location: Rustenburg
I should have been there! Unbelievable sighting!
---
---
Who is online
Users browsing this forum: No registered users and 2 guests