Junior Virtual Ranger

Posts: 1042
Joined: Fri Apr 03, 2009 10:18 pm
Location: johannesburg (but soon in Kruger)
DAY 1
Hi, Im happy to tell everyone that I recently got back from yet another trip to the Kruger National Park.
This time we stayed in Skukuza. We haven't stayed there in years!
We woke up early and were able to watch the African Sunrise on the way!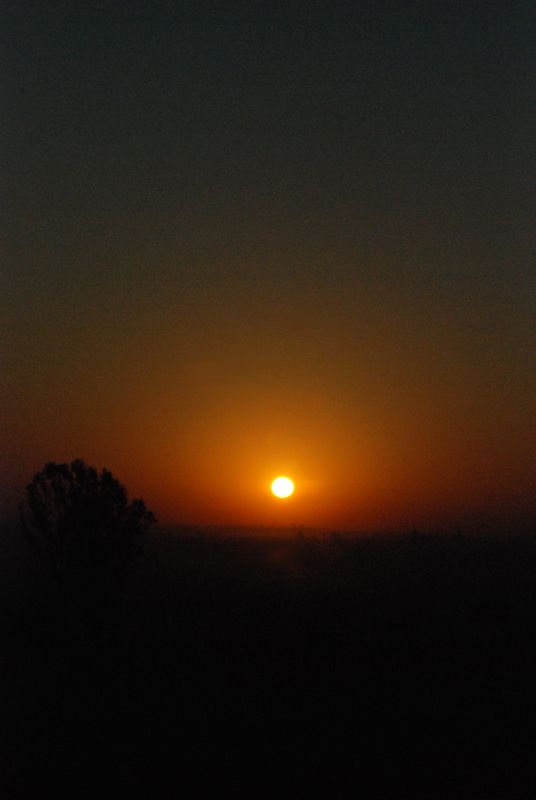 We decided to go in through Malelane Gate.
We arrived there and everything was perfect!
We were now on our way for our 2 night Kruger Vacation.
The first animal that welcomed us was this cute warthog busy eating the grass.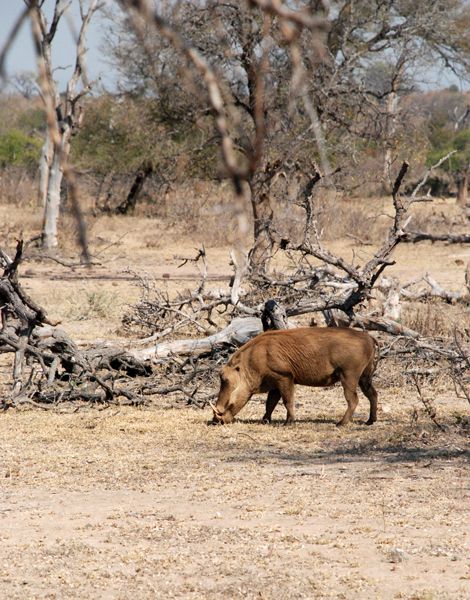 These are always near by!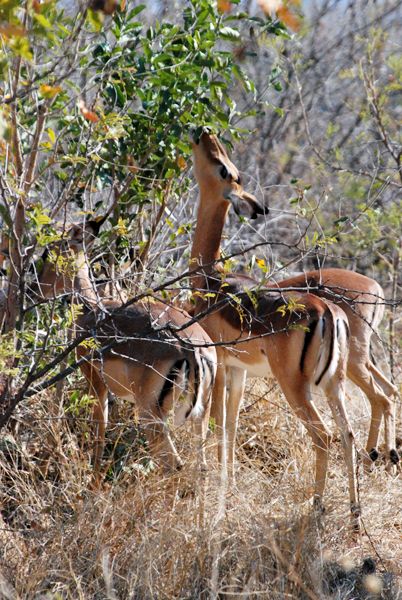 After a small stop at Afsaal we caught up with this herd of elephant.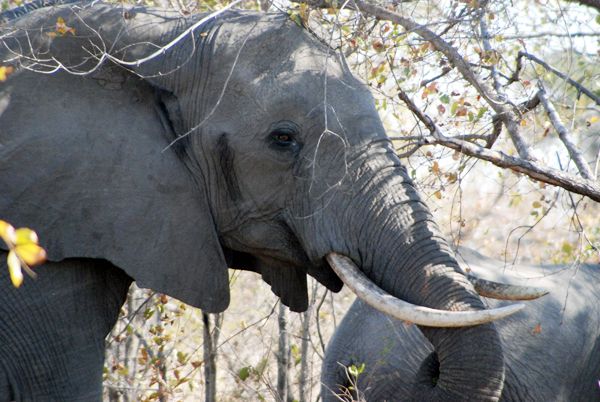 Like mother like daughter.
A long way from the herd we came across this lonely bull.
We stopped at Kwaggaspan as we always see great game there.
This time we saw a ground hornbill:
And (I think, please help me) a Pearl Spotted Owl relaxing on a tree near by.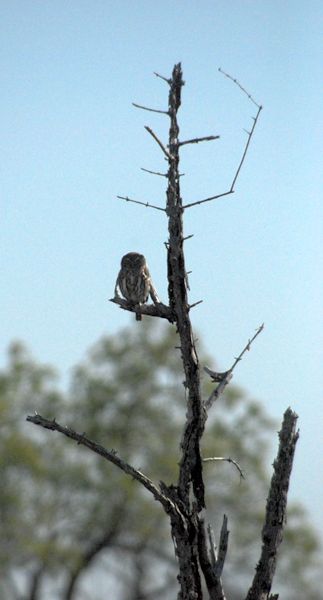 We had planned to go to Mathekenyane lookout point and meet Grant Beverly (EWT wild dog researcher) so he could take us tracking for wild dogs.
While we were waiting for him, we decided to take a small break and relax on the Koppie.
This is a view from the lookout point.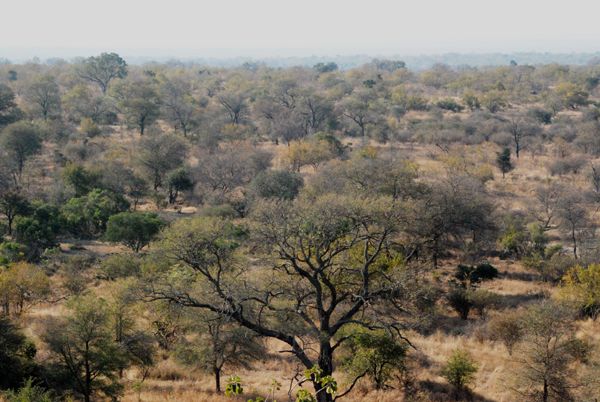 Soon while we were still on the Koppie I got a report of a leopard who had killed a warthog and was now sleeping next to the road with it's kill.
When Grant arrived he said our tracking would take us past there anyway, so lets hope for the best.
Grant continued to tell us more about how to track wild dogs and where their den was.
During the tracking we saw this beautiful zebra with great lighting on it.
And we finally got to where the leopard was.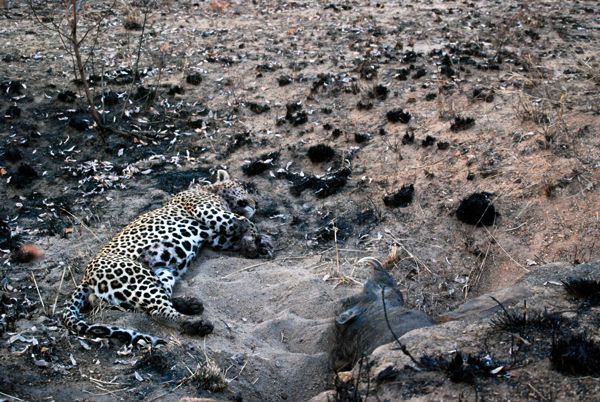 Sadly the wild dogs were still waiting around at their den so we didn't see them.
But what a great way to end our first day in the park: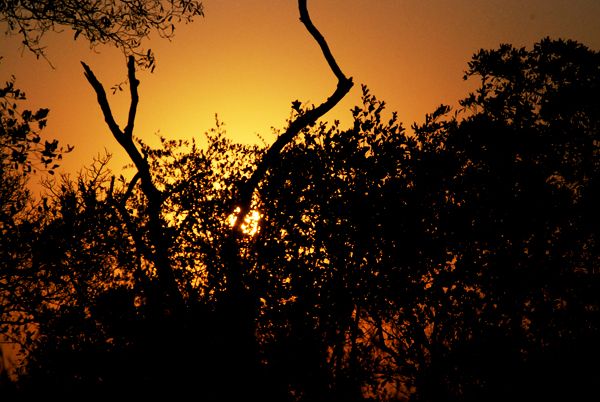 We then checked in and had a great braai!
The next day was awesome with kitties everywhere!
Stay Tuned...
---
Wow stunning sunrise and sunset photos
and yes it is a pearl-spotted owlet
Leopard doesn't seem to be disturbed by the cars at all
---
Forum Assistant

FAC Member (2015)
Posts: 8701
Joined: Tue Aug 03, 2010 8:49 am
Location: Brecon Beacons National Park
ossendryver wrote:The leopard was definitely not dead!
I saw it roll over and yawn a couple of times.
But it was a bit injured
Oh dear, poor Leopard!!
Hope he recovered!!
---
Junior Virtual Ranger

Posts: 1042
Joined: Fri Apr 03, 2009 10:18 pm
Location: johannesburg (but soon in Kruger)
Thanks so much to all of you for your wonderful comments!
And just to clarify, yes the leopard was alive.
DAY 2
This day was our only full day in the park.
We had already had amazing sightings on our first drive. Especially the beautiful leopard. So today we needed to find lions to show my cousins from Australia the big five!
Which road did I decide to take them on? None other than the lion road... Eloff Street! (H4-1)
So we wake up, they are not too used to waking up in the bush so we couldn't get to the gates as they open.
This actually did't seem to matter as today was FULL OF CATS!!
We left the camp at about 6:20am (20 mins after the gates open) this to me felt like being late to a meeting by hours!
Anyway as I said it didn't make such a big difference in the end.
We turn onto the H4-1 and I immediately see a traffic jam!
Could our first sighting of the day complete the big 5 with only lion left?
YES!
We stopped and watched a pride of 2 lionesses with 7 cubs!
They were so cute!
And of course I couldn't resist filming the cute cubs playing with their mommies
So after about 10 minutes of cuteness the mommies obviously got a bit tired of playing and moved off.
~Lion sighting number 1~
We then continued towards Lower Sabie to have some brunch.
When I saw my favourite bird I couldn't not stop and look at it's beautify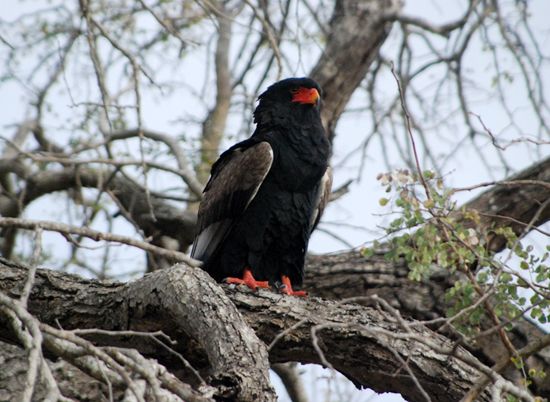 After that it was getting quite hot and the animals showed less of themselves.
So we decided that we were hungry and went straight to have some brunch.
While waiting for my lunch I posted on Kruger Sightings: "Waiting for my lunch at Lower Sabie, wishing for the resident leopard to come out"
The next minute I get this reply:
"Sorry, no leopard but 2 male lions! Come and I'll show you"
I went and there they were!
A bit far so I had to zoom into the picture a bit.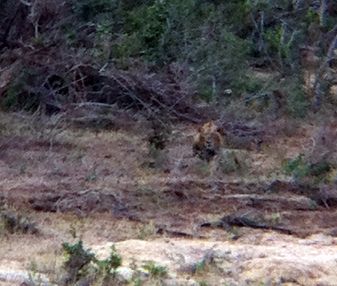 This was truly amazing! to have lunch while watching lions that I would never have spotted myself!
~Lion sighting number 2~
After lunch we decided to take a quick detour towards the H10 Lower Sabie Bridge.
We had a better view of the other male lion from there but we also got to see some rare Vulture species
This one looked to me like a hooded vulture? and notice the skull in front of it. Anyone know what it looks like?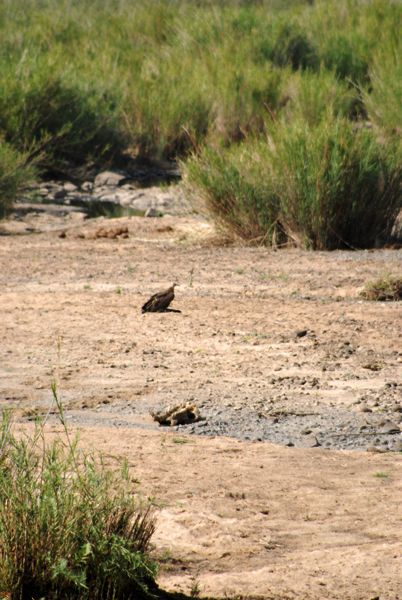 After the lions disappeared we headed to sunset dam for a quick snack break. Yes I know we just had lunch, but still!
About 8kms from sunset dam we see 2 cars stopped. We drive up to them and see a tree full of vultures.
We thought that was interesting until they called us and told us that we missed 2 lions crossing the road, they said that they were walking parallel to the road so if we wait a bit further on we might see them.
We did just that!
We went a bit forward and parked off. Us all looking in the direction of the riverbed waiting.
Suddenly we all unanimously shouted LION!
I turn around to get the camera out, by the time I looked back he was gone.
But none the less the sighting counted!
How amazing! on a road I had never found anything on, we had had 2 different lion sightings in one morning.
~Lion sighting number 3 = 12 for the day~
The rest of the drive was a bit quiet besides for a giraffe and a beautiful male Kudu right next to the road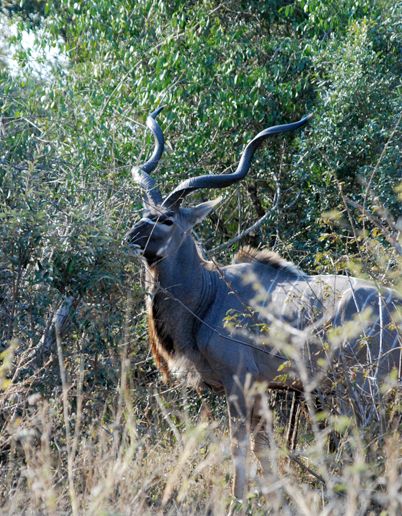 We were getting really close to Skukuza and I asked if they wanted to take a quick pop into renosterkoppies or go straight to skukuza?
Grant just then asked me if I wanted to go tracking again with him that afternoon for wild dogs.
How could I decline such an amazing opportunity.
So our decision was to go to the camp. I'll meet Grant at the viewing deck and my cousins go to sleep as they were tired of driving the whole day.
So I get to the viewing deck and I see a family busy looking excited and taking photos upon photos.
I remembered from Kruger Sightings that the previous week there had been a pair of mating leopards seen from the camp.
Could this be them? Could that family be watching the mating leopards?
One question would answer it all!
"Hi, can you see anything interesting?"
"YES! Mating Leopards!!"
So I quickly set up my binoculars and tripod and I let them point it at the leopards as it was hard for me to spot it.
"There look through it now, you should see the sighting of a life time!"
I look through and can you believe it? 2 leopards!!
From skukuza deck!!
The one got up and moved a bit closer so I got my camera out and called my cousins.
This was truly the best time I have ever had in the camp when I'd rather stay in than go out.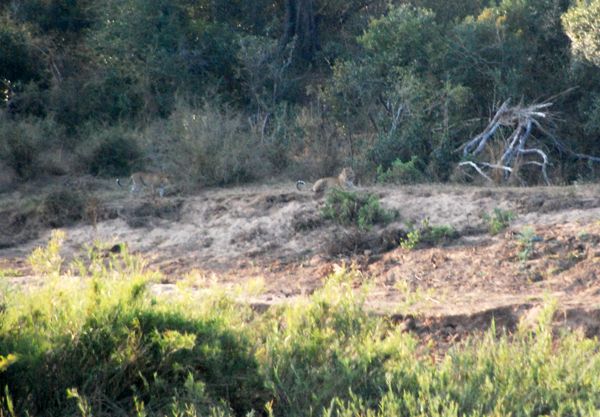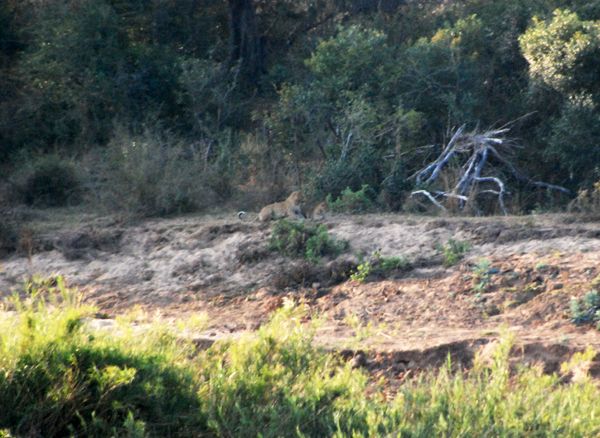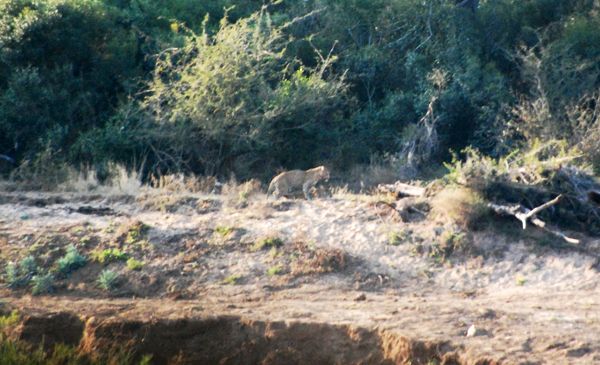 Again a bit cropped as it was on the other side of the river, but what a sighting of a life time it truly was!
I also couldn't resist filming it!
The next thing Grant arrives at the deck ready to pick me up to go tracking.
He came just in time to watch the leopards walk off.
Our drive was great but sadly no doggies for us.
But we did see this big herd of elephants crossing the road.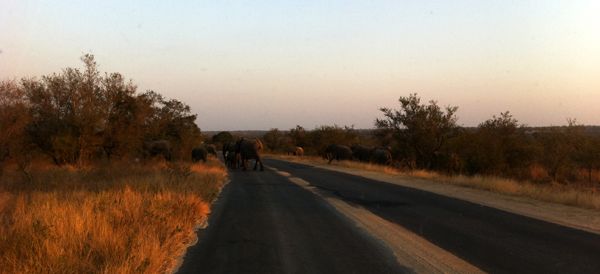 At about 6:10pm (40 minutes after closing time) he said "Lets go back, but I want to show you the staff village."
This was amazing! I couldn't wait to see it!
We arrived and he gave me a tour.
He took me to a hyena den in the back of someone's garden! That was amazing!
When it was time for me to go back to camp, we couldn't because this little thing blocked off the road and just wouldn't move!
After about 20 minutes of him freezing in the road we decided that we needed to take a different route to get to Skukuza.
I finally got back to my bungalow with a lekker supper waiting.
What an amazing day we had in Kruger!
12 lions and 2 leopards.
Of which 2 of each we could have just seen from the camp itself!
I hope you enjoyed day 2 as much as I did!
Stay tuned for my last day.
---
---
Who is online
Users browsing this forum: Bing [Bot] and 5 guests