Legendary Virtual Ranger

Posts: 2545
Joined: Wed Sep 06, 2006 3:33 pm
Location: Jam Street
The Chaffinch's
,
Fringilla coelebs
, introduction from Britain into Cape Town during the late 19th century is attributed to Cecil J Rhodes who released hundreds of birds of six well known English species (Rooks, Nightingales, Blackbirds, Song Thrushes, common starlings and Chaffinches) at his grand Groote Schuur estate on the slopes of Table Mountain. Apart from the starling that flourished, the chaffinch barely managed to survive. The other CJR colonists eventually died out. The Chaffinch is atypical in that it has neither gone extinct, nor become invasive as have most other introduced aliens have done. It also seems to have had little impact on indigenous flora and fauna, occupying plantations, alien woodlands, parks and gardens, rarely moving into mountain fynbos.
Although it is supposedly common from Rondebosch to Tokai, I spent much longer than anticipated running around in the Tokai pine plantations before getting a glimpse of a few of these reticent colonists.
The chaffinch has a unassuming diet that encompasses invertebrates, seeds, fruit and green vegetation; probably the reason why it has managed to survive in this corner of the Cape.
Its typical lifespan is around three years, but birds have been recorded exceeding 11 years in age. Chaffinches usually only have one brood a year, typically rearing four young.
Although the Chaffinches' song is a short and simple repetition of notes ending in a flourish they are persistent singers and a male bird will utter his song five or six times a minute, up to 3,000 times a day.
728 Latest lifers: Hartlaub's babbler, Coppery-tailed coucal, Red-billed spurfowl, White-browed coucal, Scharlow's turaco, Copper sunbird, Long-toed lapwing, Eastern bronze-naped pigeon, Malagasy pond heron, Soft-plumaged petrel, Orange-winged pytilia.
---
Very nice looking bird!
Latest lifer
Wandering Albatross, Sooty Albatross, Atlantic Yellow-nosed Albatross, plus other pelagic birds. Land birds - Cinnamon-breasted Warbler, Yellow-throated Woodland Warbler, Agulhas Long-billed Lark, etc
---
Distinguished Virtual Ranger

Posts: 1697
Joined: Sat Jan 29, 2005 12:52 pm
Location: My business...
This is a very common garden bird for us.
It has a beautiful song too!
Satara and Biyamiti booked for May 2018.
---
Seen at Kirstenbosch today.
Not the greatest photos, but a record none the less.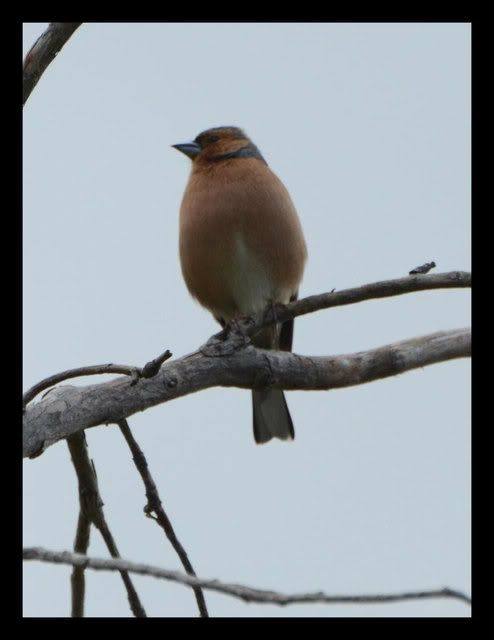 ---
Here's an English one!
13041140412 035
by
jansp
, on Flickr
---
Hi friends..... some help please. Sorry for the poor pictures. Photo's was taken at the botanical gardens Cape Town in the beginning of July 2009.
1
13/6 tot 16/6 2015 Mopani
17/12 tot 21/12 2015 Onder Sabie
27/12 tot 2/1 2016 Letaba
---
Legendary Virtual Ranger

Posts: 6884
Joined: Wed Mar 16, 2005 12:38 pm
Location: In the shadow of Table Mountain
Hey KobusF,
Looks like you got a common chaffinch.
I still need a chaffinch
Can you remember whereabouts you saw it?
Whatever (according to BB): "You are correct but I don't want to admit it".
In a world of grey, be
RED
---
Hi Bush Baptist

It was in the Botanical Gardens Cape town rely far in right hand side close to the koppie
13/6 tot 16/6 2015 Mopani
17/12 tot 21/12 2015 Onder Sabie
27/12 tot 2/1 2016 Letaba
---
---
Return to "Birding in Southern Africa"
Who is online
Users browsing this forum: No registered users and 4 guests