Wednesday 13 December cont …
So after our lekker brunch at Tshokwane, we continued north …
On the way …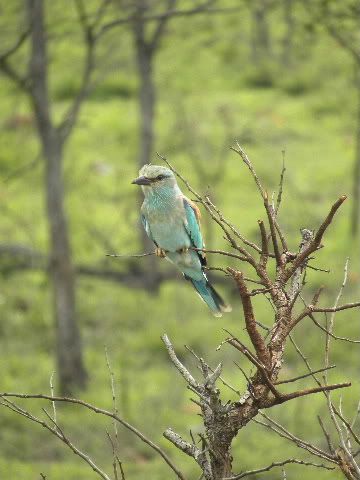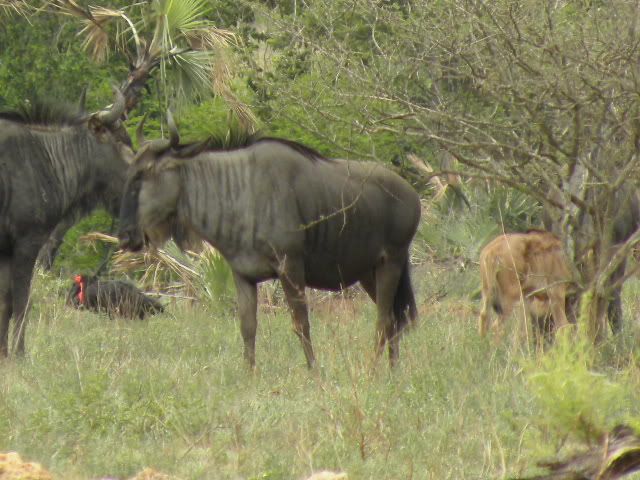 Rich got to see the Boabab tree in its splendour …
A little further on there was a buffalo kill … no lions on the scene but loads of vultures …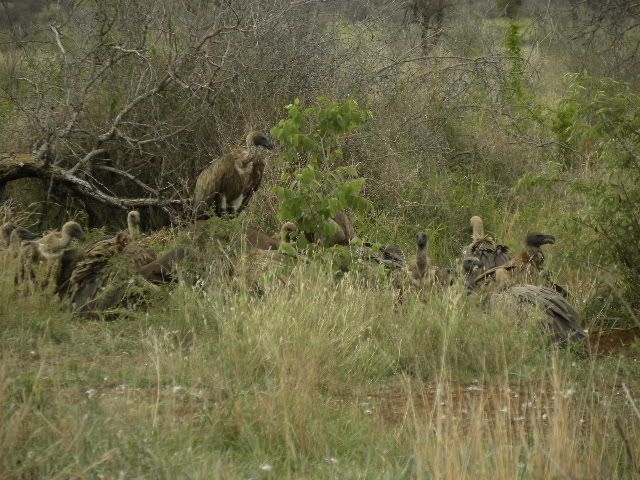 And these three guys …
At Satara we had a drink by the waterhole, unfortunately though, no animals were about (so here's a pic of Rich by the fence instead …)
On the road back to Lower Sabie another Nat Geo Wild moment to end the day …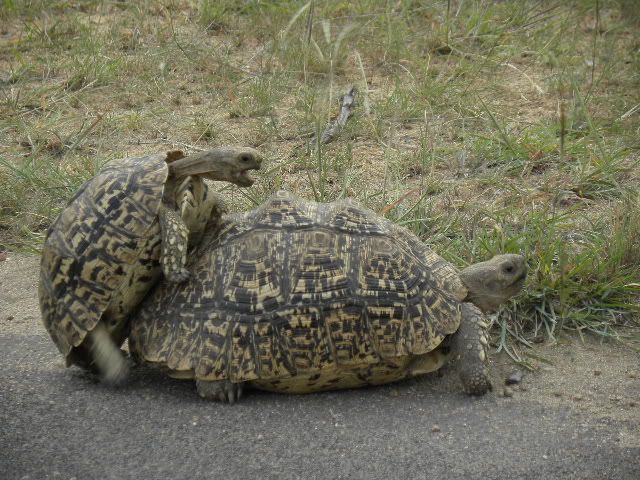 ---
Thursday 15 December … D-Day (Departure Day)
So we'd been driving 3 days in the park in the Honda CRV we'd hired. We'd filled up in Hazyview and apart from yesterday, when we'd driven to Satara and back, we hadn't really done a lot of mileage. Rich had been asking every day "How are we doing for gas?" and I kept assuring him we were fine. Yesterday we'd said that we'd fill up at Lower Sabie when we got in to camp that evening but one thing led to another and we forgot.
So, we're up, packed, the car's all loaded and we're ready to go at 4:30am but there's no-one at the petrol station …
We checked the petrol guage … it showed "3 bars" … surely enough to get us to Transport Dam then on to Pretoriuskop where we'd fill up …
We pulled out of Lower Sabie and headed north to the S21 N'watimhiri Road. Just before we turned on to the S21, the 3 bars on the petrol guage turned into 2 bars! I said to the boys "Guys, we're down to 2 bars …" Rich, who is such a calm guy and never gets flustered suddenly went very quiet and started nervously biting his nails!
Suddenly, up ahead of us a rhino came running out of the bush and crossed the road …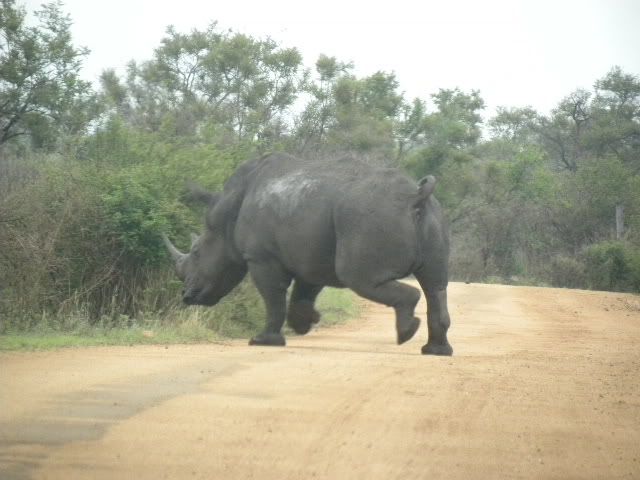 It had rained a bit the night before and I always love it when you can see signs of what's been around …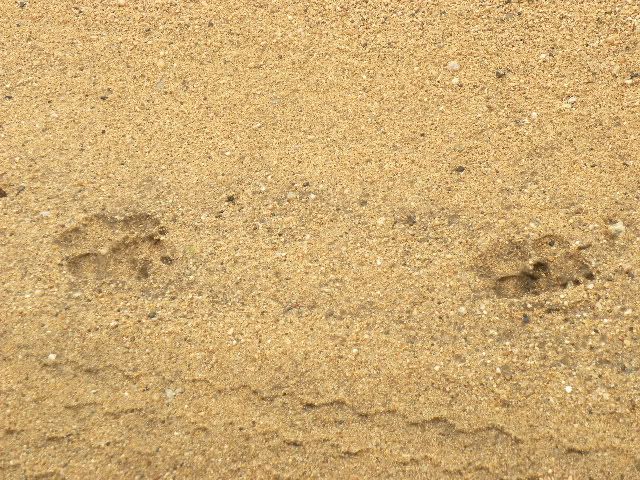 "Ping" … what was that noise? Oh, the orange light is now showing on the petrol guage and we are down to ONE bar!!!
Ok, change of plan, we'll head to Skukuza before Transport Dam and fill up there first. Of course I wasn't about to admit to the boys that I was a little nervous about the possibility of running out of petrol … we hadn't seen another car since pulling out of Lower Sabie 3 hours ago! I just kept telling them that we'd be fine and that we were almost at Skukuza …
Just then, what comes out of the long grass at the side of the road and casually walks to the middle of the road in front of us, sits down and almost poses for us …???
"It's a honey badger!" I told Rich and Jeff … I was so excited I completely forgot about my camera and just watched him watching us! By the time I thought about getting a photo, he'd got up and was wandering off into the grass at the other side … I managed to get one shot through the windscreen …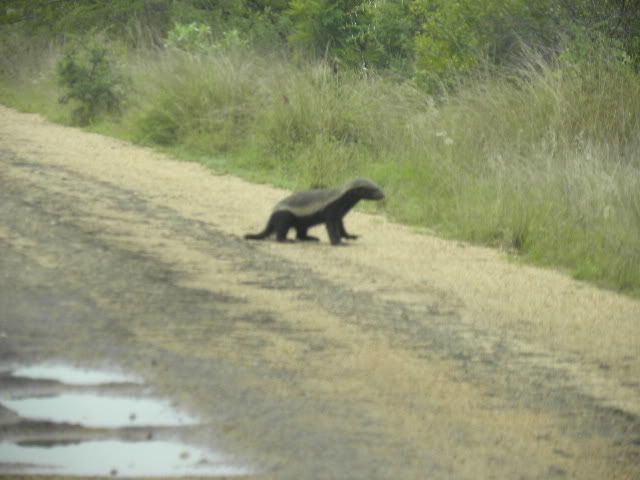 He disappeared into the grass and I was telling Rich and Jeff about what a special sighting they'd just seen, how rare it is to see HBs in the park, etc. "Switch the car off and let's wait and see if he comes back out" Jeff says "NO" Rich almost screamed, "we're out of gas!!!" It's funny now thinking about it.
Anyway, shortly after our HB sighting, with the petrol guage now showing NO bars, we got on to the tar road with less than 10kms to go to Skukuza. Rich stopped biting his nails and we all relaxed a little, at least now, help wouldn't be far away.
I swear we must have rolled into Skukuza on fumes but hey, we made it!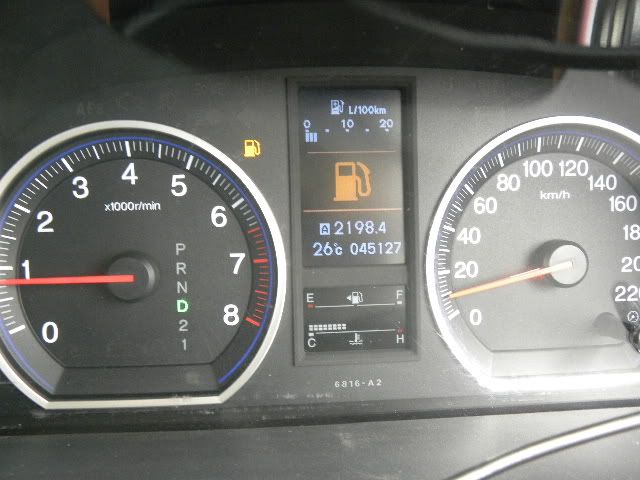 Time to fill up and head to Transport Dam for our "Battle of the Kruger" which wasn't about whose fault it was that we nearly ended up stranded in the park!
---
Thursday 15 December … D-Day (Departure Day) cont …
After filling the car up we headed off down to the restaurant to get a cold drink and stretch our legs …
In the riverbed was one lonely buffalo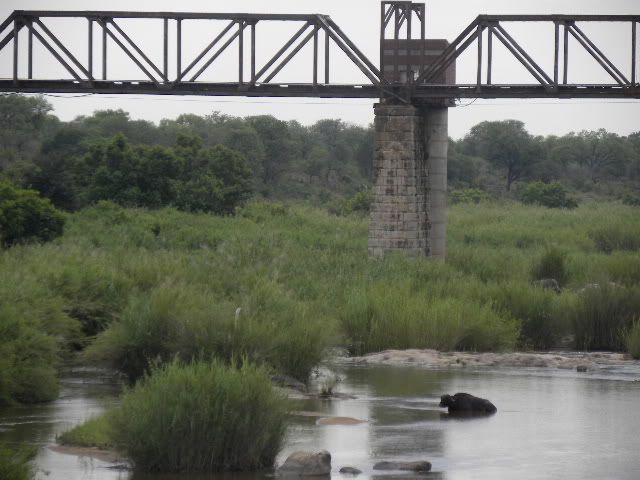 We returned to the car and headed off to Transport Dam, we went via the S65 Waterhole Road and I told Rich and Jeff to keep their eye out for "Penny's Leopard" around the junction with the Paul Kruger Gate road. (I'm sure everyone – except me – has seen leopard around there, but it will always be "Penny's Leopard" as she told me about how they saw it almost every day in October 2010).
No leopard, but a sighting especially for VVV …
We turned on to the S65 where there was a herd of impala who looked as if they were wary about something …
We stopped for about 15 minutes trying to see what it was that had their attention
Time was getting on … I asked if Rich and Jeff were ready to move on.
"Can we just wait another 5 minutes?" was the answer I got - I think we have two more people to add to the Krugerholics list!!! We waited a while longer but still nothing … unfortunately we had to move on …
We got to Transport Dam … things seemed to be fairly quiet. There were a few black storks doing their preening thing, waterbuck were grazing or just sitting about, and there was also a saddle billed stork.
We were just sitting there peacefully taking it all in; Jeff was staring over at the other side of the dam, imaging the Battle of the Kruger that he'd seen on You Tube before leaving the States.
Next thing we had our very own Battle of the Kruger …
This big bird of prey (excuse my ignorance but please do fill me in as to what it was) flew in and starting attacking the weaver nests in the tree in the middle of the dam …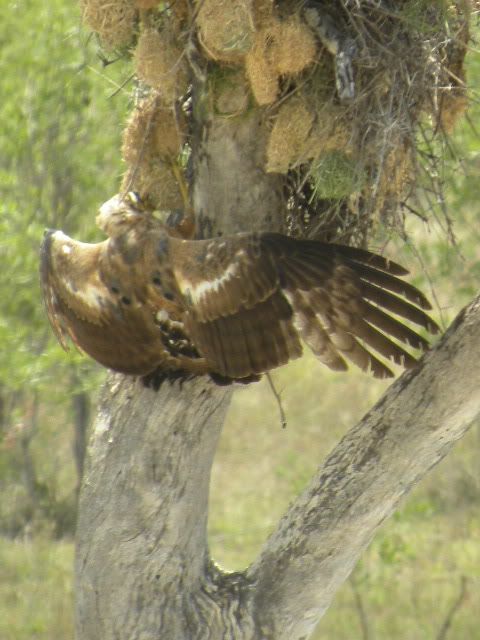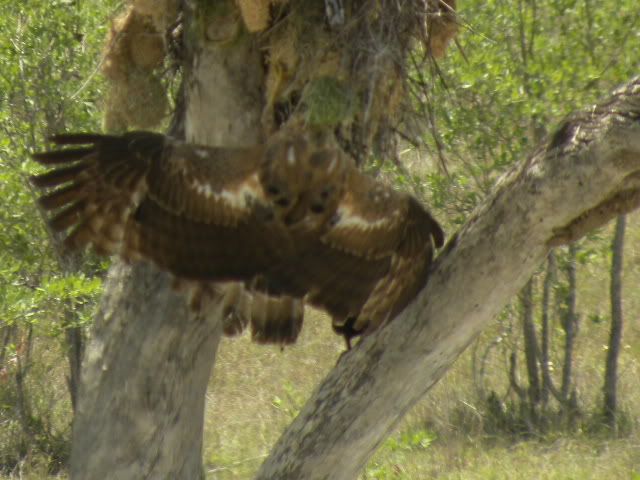 The buffalo weavers were going frantic …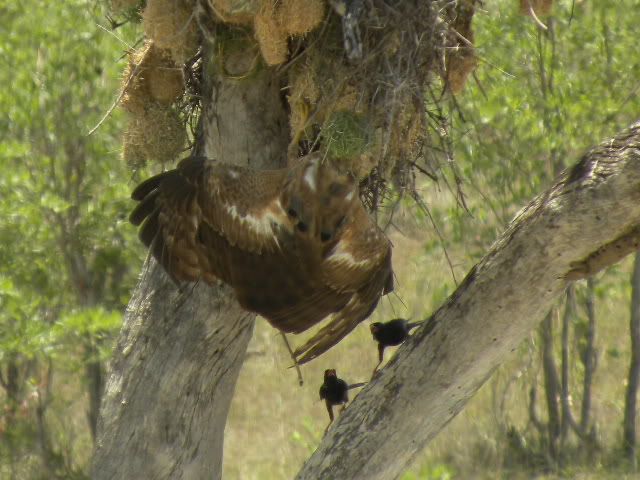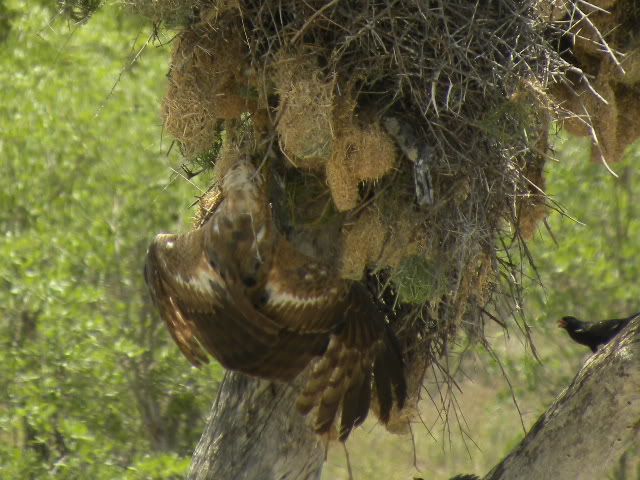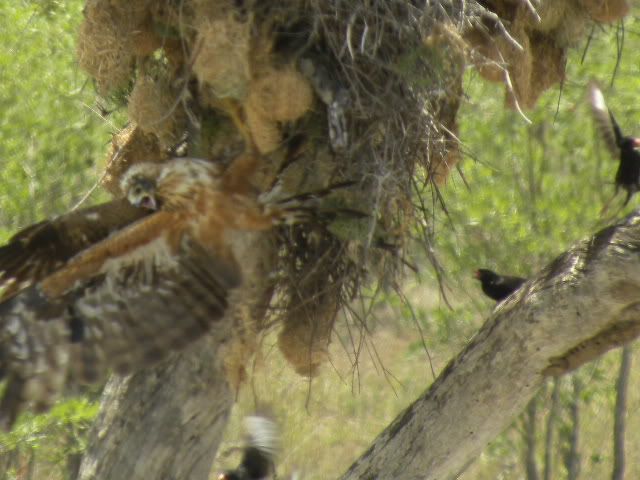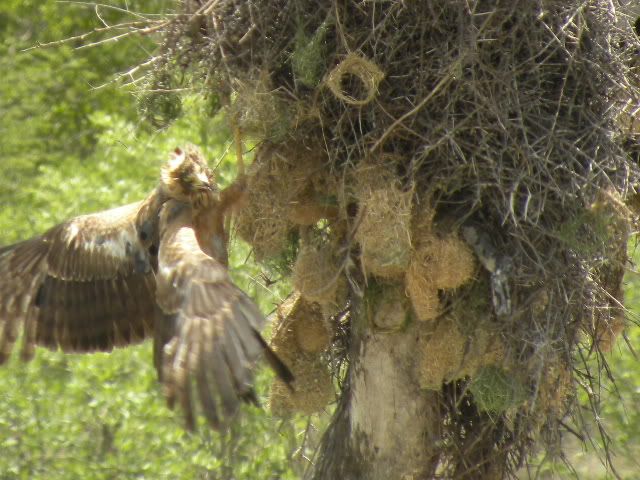 … and finally chased the "big bird of prey" away.
Looking at the time on my photos, from start to finish this lasted about 8 minutes … it was unbelievable and what a great sighting to end our trip!
We left the park on a "high" … we'd crammed so much in to the short time we'd spent there and had seen so much. The highlights, however, in Rich and Jeff's words were all "THE NAT GEO WILD MOMENTS"!!!
---
Wow how amazing to see a gymnogene (now called an African Harrier Hawk) raiding the buffalo weaver nest - that really is a Nat Geo Wild moment. This AHH is a juvenile. African Harrier Hawks frequently raid weavers' nests - it's their specialty. They listen for the cries of nestlings and then rob the nest of their tiny occupants.
Amazing how brave the parent birds are chasing such a large bird of prey away.
Fantastic sighting!
Last edited by
Puppy
on Mon Apr 23, 2012 8:30 pm, edited 1 time in total.
---
---
Who is online
Users browsing this forum: No registered users and 11 guests