Junior Virtual Ranger

Posts: 80
Joined: Thu Sep 02, 2010 2:09 pm
Location: Cape Town, sometimes Jo'burg
Scratching through my archives, I came across photographs from our trip to the Richtersveld a couple of years ago. Happy memories resurfaced as I looked at my pics of those spectacular landscapes, so I thought I'd share them with you in the form of another trip report. Who knows, it might inspire some Forum mites to load up their 4 x4s and head out that way. It's a rugged trip but well worth it.

First episode coming up soon . . .
Buglette's Trip Reports

:
Introducing a Rookie to the KNP
Red Dust and Diamonds (Mokala)
Tinkering in the Tankwa
Loerie Stalking in the Wilderness
Scratching the Bottom of Africa
Golden Gate to Happiness
Rambling Round the Richtersveld
---
Junior Virtual Ranger

Posts: 80
Joined: Thu Sep 02, 2010 2:09 pm
Location: Cape Town, sometimes Jo'burg
Several years ago I developed a passion for rocks and sparkly crystals and joined the local Mineral Club based in Bothasig, Cape Town. The club had a wonderfully eclectic mix of members ranging from prospectors, geologists, miners, quarry owners and the likes to jewellery makers and crystal healers. Every so often a group of members would disappear into the Richtersveld for a couple of weeks, returning with sack loads of rocks and crystals. These treasures would be laid out for us to drool over at the monthly sales day. Many times my purse was emptied for a particularly irresistible specimen.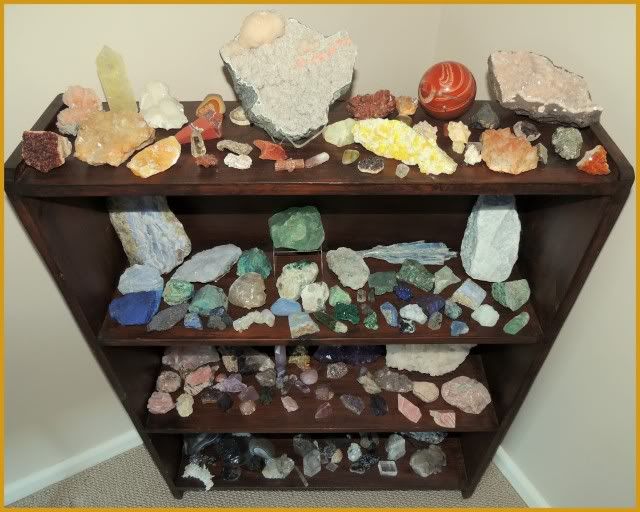 Of course, I yearned to go and find these treasures myself but neither my friends nor I were kitted out for a 4x4 expedition. That was before I was lucky enough to meet my partner SB (fondly known as Stinkbug). He was the one responsible for weaning me off luxury accommodation with soft beds and lavish bathrooms. With patience and determination he coaxed me away from those niceties to 'camping' in the back of a Landcruiser camper. This opened a whole new world for me. Suddenly, I could travel to off-road places.
So, after a wonderful trip to Kgalagadi we headed through Namibia to the Richtersveld in early September. As we descended into the valley our first view of the dramatic landscape squeezed my heart and took my breath away. It seemed to me that we'd somehow left planet Earth and were entering a surreal new land somewhere else in our solar system. Had it not been for the line of telephone poles I may have thought we were on Mars. I couldn't wait to explore more.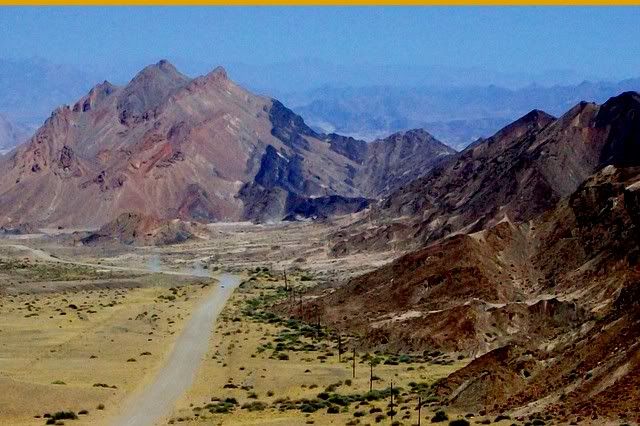 SB boldly drove the Landcruiser onto the pontoon that would carry us across the Gariep (Orange) River to Sendelingsdrif where we would be spending the night. I was reluctant to follow.
'Come on," urged SB. 'There's no other way to get across this river.'
'Unless you want to drive the 485 km detour to get to the other side,' laughed the pontoon staff. It'll only take you about 4 hours,' they chuckled.
'Okay, I'm convinced,' I said, cautiously stepping onto the pont.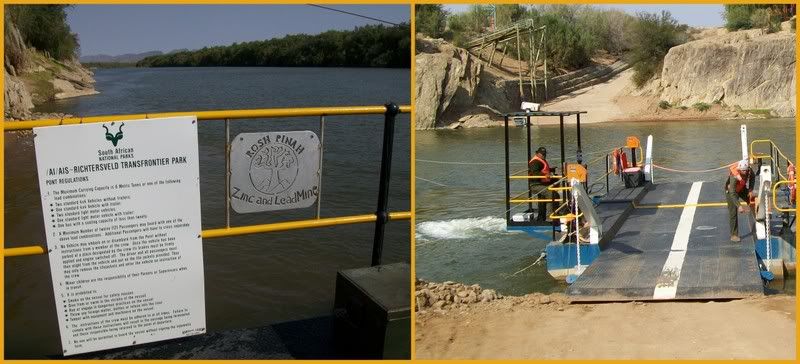 Sendelingsdrif rest camp resembles a quaint old mining town with corrugated iron huts. There are about ten of these comfy chalets, all equipped with air conditioning, fridge and two-plate electric stove.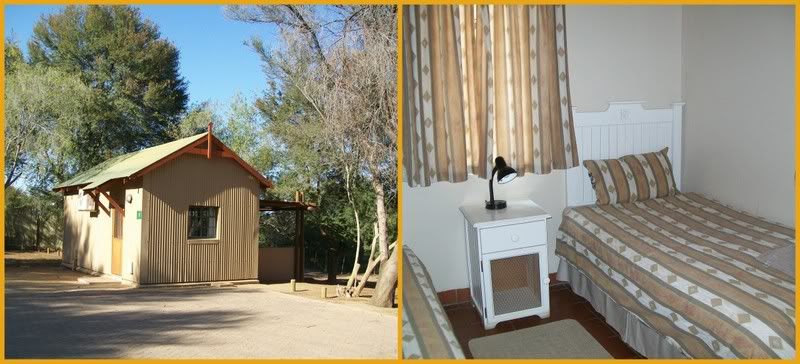 We had no need to use the stove though as we braaied on our porch overlooking the mighty Gariep River. The strains of a hard day's travel on dusty roads melted away as night closed in and a cicada chorus lulled us to sleep.
Next morning we were up early to make our way to De Hoop camp. Much to SB's delight it was going to be a day of travelling over a string of passes - namely Swartpoort, Halfmens, Akkedis and Maerpoort.
First we took a detour to investigate the Potjiespram camps. The beautiful, somewhat desolate countryside around us continued to hold my attention hostage.
At first it seemed devoid of life but as one delved deeper a multitude of plant species were revealed.
Miniature rock gardens, created by nature, were everywhere, filled with dwarf trees and a variety of succulents and bright little vygies. The stocky Botterboom was one of my favorites with its yellowish papery bark, giving rise to the name of 'butter tree'.
We were amazed at how trees and plants sometimes grew out of rock faces.
The rock formations themselves were fascinating even though I had no idea where to start looking for crystals and minerals. Check out this aptly named one.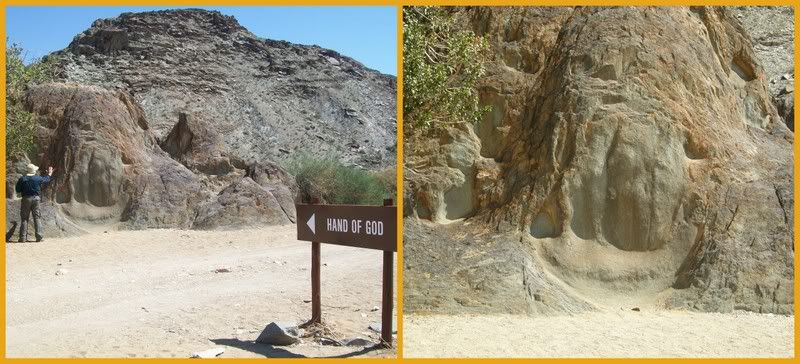 We were excited to come across several spectacular Halfmens (half-human) specimens –tree-like succulents with thorny stems, no branches and a mop of leaves on top. Yellow tubular flowers appear in the centre of the leaves from August to October. These fascinating plants store water in their swollen stems.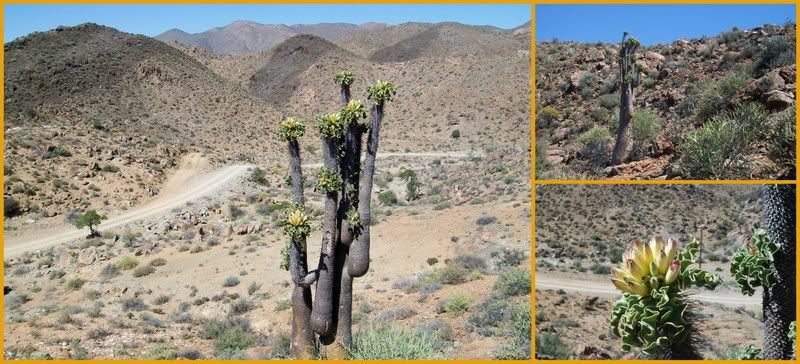 Seeing their silhouettes against the skyline, they truly look like people frozen in motion, reminding me of the legend of the Khoekho people. When their ancestors were driven southwards by warring tribes, some turned back to look with longing at their former home across the Gariep River and were turned into trees by a sympathetic god to relieve their suffering in a hot and waterless land.
It's an interesting fact that these trees always face north. Alternate names for these plants include Noordpool (North Pole) or Elephant's Trunk. The halfmens contains poisonous alkaloids and its sap was traditionally used for arrow poison. It is also said that when the spines on the stem are stroked, the plant produces a series of clicking sounds similar to those used in the Nama language.
That's it for now. To be continued when time permits.
---
Junior Virtual Ranger

Posts: 80
Joined: Thu Sep 02, 2010 2:09 pm
Location: Cape Town, sometimes Jo'burg
On with my story:
After rambling around most of the day, constantly pausing to investigate our surroundings and getting held up by a vehicle with a trailer stuck on the infamous Akkedis Pass, we finally arrived at De Hoop on the banks of the Gariep River.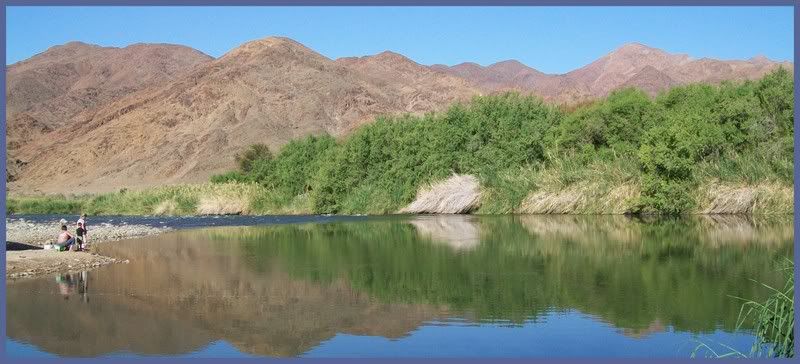 Being early September the weather was still pretty toasty. The water looked so cool and inviting.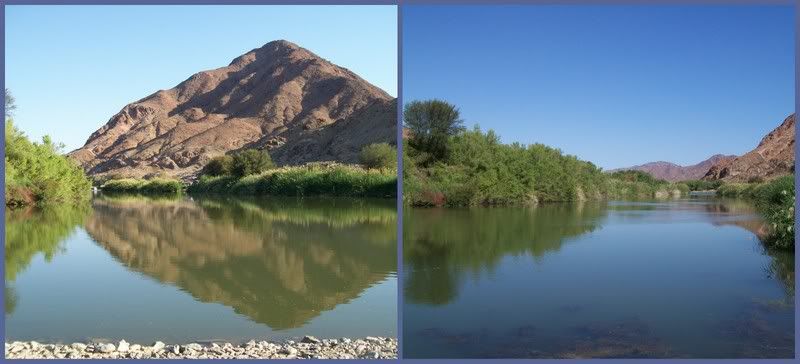 The camp has just twelve sites so there were only a few other campers about. A huddle of bird watchers sat with two-foot long lenses aimed at the reeds. We did the best we could with our small cameras, mere midgets by comparison.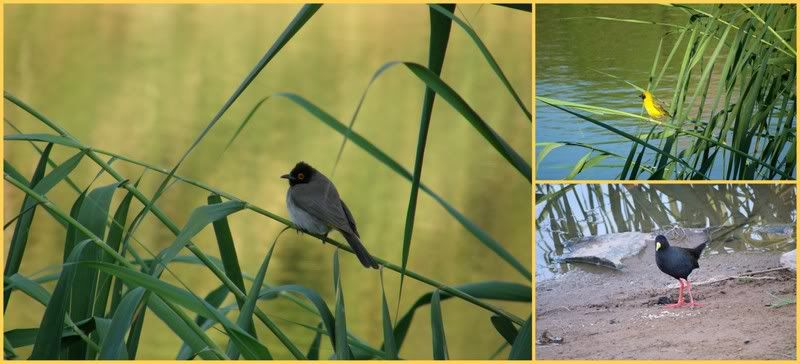 As the sun sank low in the sky, fishermen clustered on the river bank. One little chap enthusiastically showed us his catch.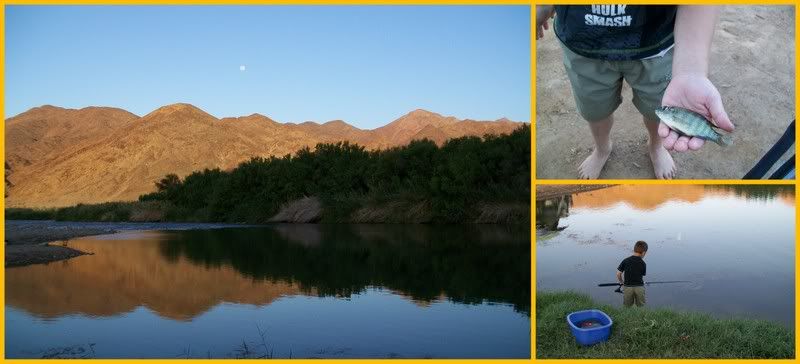 'Not much there for supper," quipped SB.
'Don't worry, I'll catch lots more," was the reply.
And he did too, with seemingly little effort. Then his dad persuaded him to throw them back as he'd caught some bigger boys for the table.
A full moon rose over the rugged mountains casting a silvery light on the water and the evening air turned chilly. I was pleased to be snuggled up inside the Cruiser in our double sleeping bag.
---
Junior Virtual Ranger

Posts: 80
Joined: Thu Sep 02, 2010 2:09 pm
Location: Cape Town, sometimes Jo'burg
Time for a little more . . .
Next day we followed the track along the Gariep River. The deep sand made the route challenging. When we first set out the sand still retained moisture but as the day warmed up and then began to sizzle so the going got heavier. SB enjoyed putting the Cruiser through its paces.
The surrounding scenes on our drive continued to be breathtaking and forbidding . . .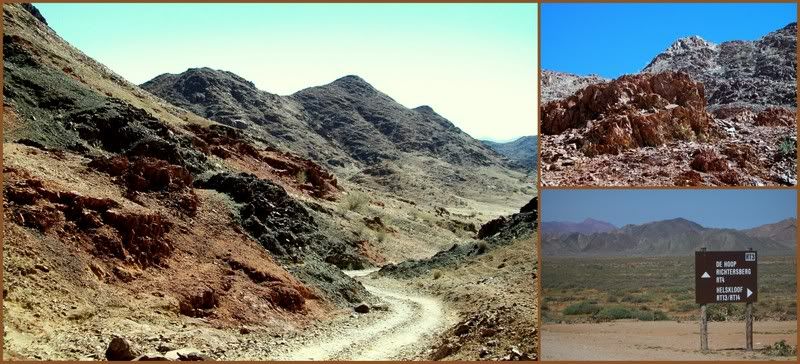 And vast, making the horizon seem so very distant. (I must confess that my pics are a little jumbled so things may not appear in the actual order that we saw them.)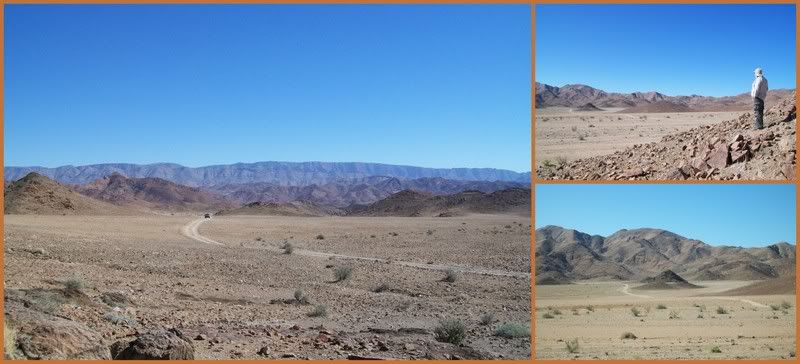 During our ramblings we saw a sprinkling of springbok and wildebeest but they were too far away for decent pics. Herds of goats also appeared from time to time. They looked healthy so were obviously finding enough nutritious plants to live off.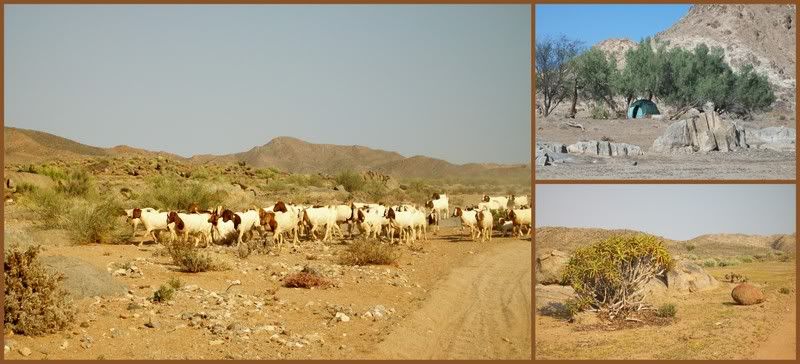 I hoped they weren't eating the pretty flowering plants.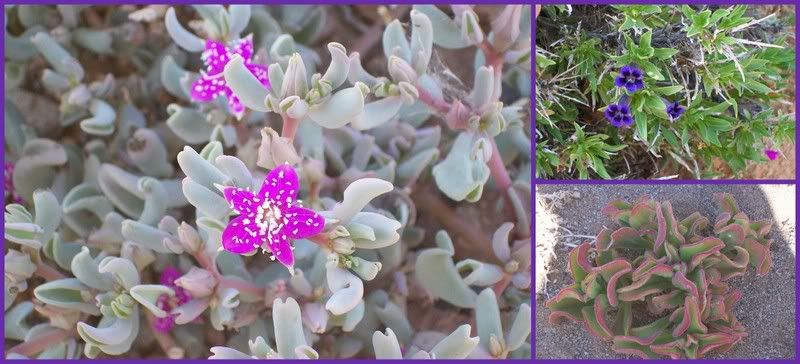 Arriving at Richtersberg camp in the late afternoon, we didn't need much encouragement to slip into our cozzies and wade into the river for a swim. Floating on our backs in the cool, refreshing water we thought what a spectacular setting for an outdoor pool this was.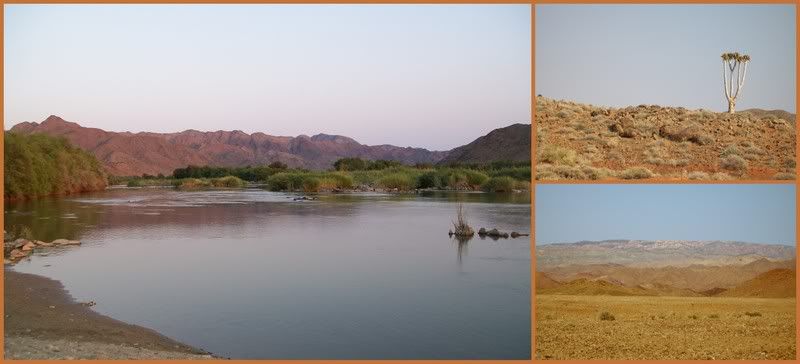 All camp sites have adequate ablutions although cold water showers were the norm. These were pleasant enough on the spring days we were there but I wouldn't like to experience them in winter.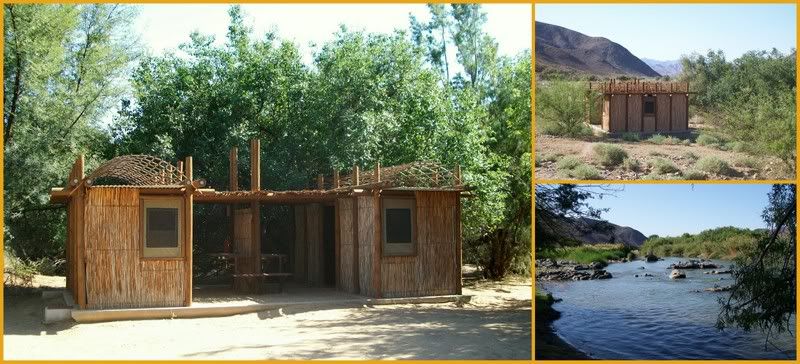 To be continued . . .
---
Junior Virtual Ranger

Posts: 80
Joined: Thu Sep 02, 2010 2:09 pm
Location: Cape Town, sometimes Jo'burg
Our final day was spent meandering from Richtersberg towards the exit gate on the west of the park. As we travelled so the scenery changed and became greener.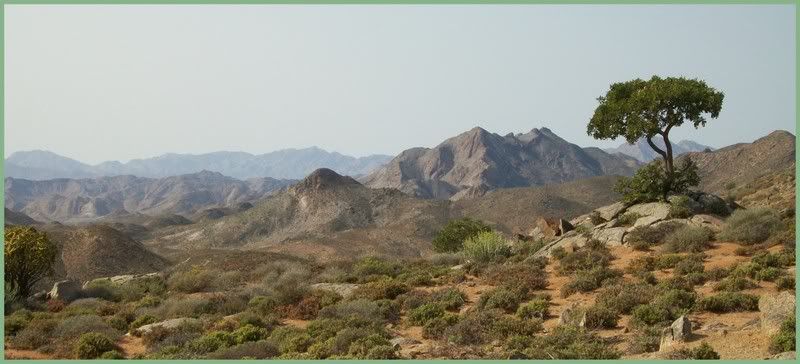 We had passed through so many different colour landscapes from every shade of brown and ochre, to pinks, purples, oranges and greys; even a hill of snowy white.
On the Helskloof Pass, a hill entirely covered in rusty red aloes was a pleasant surprise. They turned out to be endangered Pearson's aloes which are endemic to the Richtersveld. Apparently, during times of rain their leaves fatten and turn blue-green. I was happy to see them in their more ravishing phase.
Shortly after that we came across a weather pattern research site. Would you believe that the average rainfall in the Richtersveld is only 68 mm per year and yet there are over 360 species of flowering plants?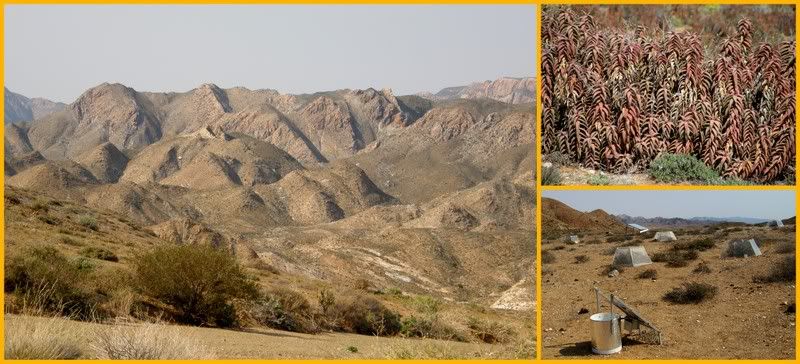 Most soak up the moisture they need from the early morning fog that rolls in from the cold Atlantic Ocean. The local Nama people have interesting names for this morning fog, calling it 'Ihuries' or 'Malmokkies. '
A unique species of plants (psammophorous plants) fixes a protective layer of sand to their surface to avoid abrasion caused by blasting sand storms. How clever is that!
In mid afternoon, we exited the Richtersveld Transfrontier Park, reluctantly leaving this otherworldly place of wonder - for the time being, anyway. A longer visit is definitely called for sometime in the future!
Last stop on our way back to Cape Town was at Goegap Reserve just outside Springbok.
Over the years this has become a favourite overnight stop. In springtime it's spectacular.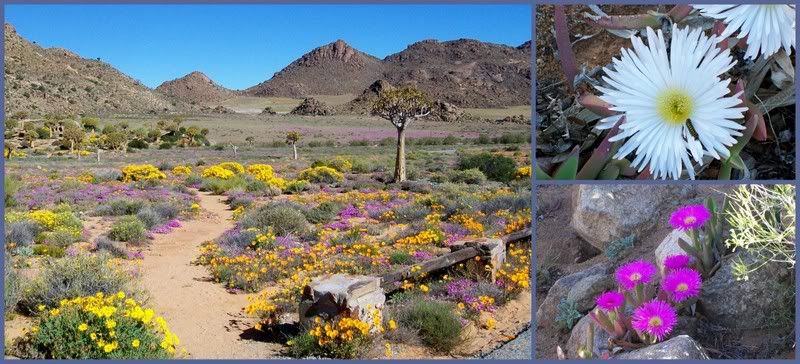 I never tire of looking at the majestic quiver trees (kokerbome) or colourful vygies.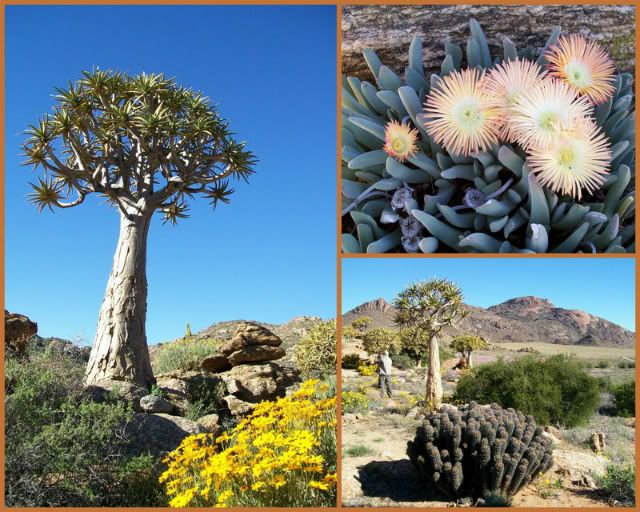 We love it when the gate closes in the evening and the day visitors leave. On this occasion we had the place to ourselves as there were no other overnighters. Such perfect peace and tranquility, as we sipped our Amarula sundowners watched by a distant gemsbok.
Then it was time to light the fire for our last braai before heading home. Feeling relaxed, revived and renewed we waited for the stars to come out. What a blissful ending to a wonderful holiday!
Hope you enjoyed rambling round the Richtersveld with us.
Buglette's Trip Reports

:
Introducing a Rookie to the KNP
Red Dust and Diamonds (Mokala)
Tinkering in the Tankwa
Loerie Stalking in the Wilderness
Scratching the Bottom of Africa
Golden Gate to Happiness
Rambling Round the Richtersveld
---
---
Who is online
Users browsing this forum: No registered users and 4 guests