Virtual Ranger

Posts: 1260
Joined: Thu Mar 02, 2006 12:11 pm
Location: Back on earth.....
Contact:
Hi all
Road description: This roads, the s79 is a piece of dust road of 3 - 4km along the H4-1 between Lower-Sabie and Skukuza, 6km south of Nkulu picnic spot.
Although the vegetation along this road is very thick, this was the little road where it all seems to happen. Well, at least for us in July 2008!
Saw an herd of Buffalo's here, a herd of ellies, 5 lions on the road, 1 big male, just missed a leopard, fish eagle eating a fish, and on the southern corner with the tarroad 2 cheetahs with kill (impala), giraffe, steenbok and impala. Now dont tell me this isnt a good road
Just curious what you guys have seen here
Kruger Selfdrive under review: click
HERE
to join the discussion and influence the future of Kruger's selfdrive options
Contribute to a viable solution and participate in the discussion!
---
hi there:)

this little beaut of a road has also been very good to me
last time i was there i saw a leopard in the tree as well as 2 male lions
have also heard of cheetah there quite often
also one of the biggest herds of elephant that i have seen was along here
---
Awesome road G@mespotter
!!
Have seen two leopards in one morning on this short road... one on Causeway and another towards Northern end of loop eating a Steenbok on the ground... was very dense though!!
Have seen lions, elephants, Buffalo... a dead impala lying in road [victim of speeding vehicle I think
]
Otherwise this is a must see road and the causeway is just great in the afternoon for some quiet drinks... have also seen Malachite Kingfisher on this litle causeway catching fish and a tiny crocodile in water
!
A bird in the hand should be in the Bush!!
---
---
Junior Virtual Ranger

Posts: 1042
Joined: Fri Apr 03, 2009 10:18 pm
Location: johannesburg (but soon in Kruger)
This picture for me explains everything about this road.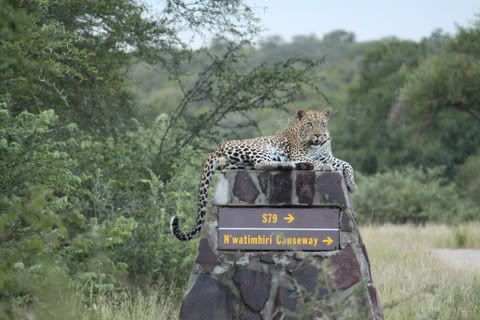 Very Beautiful!
Thanks to Marelize Otto who took this photo
---
Distinguished Virtual Ranger

Posts: 3958
Joined: Wed Nov 03, 2010 9:51 am
Location: Johannesburg SA
A good road for discussion there Ossy!!
About 12Km from LS camp towards Skukuza on the tar road. It is a 3Km loop folowing the Sabi River and crossing a causeway
A good reputation for leopard
Kruger 2014!!!
16-23 August - Lower Sabi!!!!
---
Wonderful picture Ossen....
... Have only seen Impala along that route, guess its all about being in the right place at the right time...
---
Junior Virtual Ranger

Posts: 508
Joined: Wed Feb 25, 2009 5:23 pm
Location: All over the place!!
Great sighting and photo - Thanks for sharing -
Have seen some Lion on this road as well as a Martial Eagle who took out a Water Monitor Lizard.
If you want something you never had, do something you have never done.

No to Hotels in Kruger

Every time I get the news that another Rhino has died, a piece of me dies too - Edna the Brave
---
Posts: 333
Joined: Mon Nov 30, 2009 3:53 pm
Location: White River
What a fabulous photo - the sort of thing one dreams of
Calling all no-kudu horn mites to join the no-kudu horn quiz.
---
---
Who is online
Users browsing this forum: No registered users and 3 guests