Tuesday 27 March 2012
My SO, two grandsons and I set off from Cape Town to Oudshoorn straight after school on Friday 24 March. We overnighted at a lovely self-catering cottage and then continued to Kokstad where we were to collect our other two grandchildren. This would be the first time we've taken the kids to Kruger. The older boys who live with us have been to Addo and Camdeboo for brief visits but we thought the time had now come to introduce them to more of the wild. So after a bit of rest time with our daughter and son-in-law we were read to leave at 3:30 a.m. this morning. Lauren gave Jay Pronutro and the other three some toast and jam, dosed them with Concerto and Car sick medication respectively and by the time Earl and I were ready to pack the car at 3:45 they were all ready to climb aboard the Caravelle and we were off on the long drive to Kruger.
"Its so quiet, early in the morning, Gran," said Shannon. "Yes – only the night creatures are out – I wonder what we will see."
I was the only one to spot the genet and later a caracal slip across the road like a quiet, pale ghost. Earl was too busy concentrating on the potholes in the road and the small passengers in the back had fallen asleep. The potholes were really scary and we had several scared – but luckily no punctures.
Once dawn broke the kids were awake again and becoming quite noisy. They loved watching the sun rise, though and it was lovely to hear their appreciative comments.
We stopped at Ladysmith where we had breakfast at The Wimpy. I couldn't believe how much our younger grandchildren could tuck away. Shan had the special – two fried eggs, bacon, sausage and tomato, Si had chicken strips and salad, Josh only a toasted cheese and Jay nothing at all – Concerto takes away his appertite and he'd already had Pronutro. He just settled for a strawberry milkshake. It was much later in the day before he tucked into a ham and avo roll and some chocolate muffins.
All through the day the car went from raucous to quiet depending on the level of boredom that set in. We tried playing counting games, we laughed over their dreadful spelling of the Kruger animals – but I think they've got it now – and we gave history lessons on the places we passed through. Finally just before entering the Park at Malelane gate we impressed upon them how privileged we were to be visiting the wild animals in their natural habitat and they were amazed that the area covered an area as big as Israel.
Although they were tired and Simon , 7, complained that he'd never spent so long in a car in his life – 10 hours is a bit long for a small boy – they all were excited to see the hippo and waterbirds as we crossed the bridge to Malelane gate.
Then once in they wanted only to find elephants. We did not – but a group of rhino were hiding behind the bushes, impala greeted us warmly and a juvenile martial eagle caused some delight. It was 4 o'clock when we arrived and on our short drive to the waterhole and then to camp we found zebra, lilac breasted rollers, red-billed woodhoepoes, a coucal, yellow-billed, red-billed and grey hornbill and finally at the waterhole a fish eagle and some zebra.
Wednesday 28 March 2012
Last night we were all exhausted. We unpacked the entire car so we could get sorted for comfortable travelling in the park. Lauren had cooked us two meals and froze them so as nobody felt like waiting for a braai we quickly cooked the savoury mince and had it with rice. Earl was so tired that he couldn't even eat! Shannon mislaid her asthma pump which caused a bit of an upset but after turning everything upside down and searching under the seats of the car she found it where she'd put it in the first place.
This morning we were up and out of the cottage by 5:45. We arranged seating in the caravelle so that nobody sat at the back where the windows don't open. So I had Simon up front with me and Shannon and Josh shared a seat. It worked very well and after brunch Shannon and Simon swapped places.
Each child has his/her own binoculars. Simon has my very first digital camera – a 3.1 mega pixel, 3x optical zoom which when it was bought 10 years ago cost R7000! Josh has my first super zoon – a 12x optical zoom Canon Powershot, Jay has the 20x optical zoom Canon and Shannon has her dad's superzoom Nikon.
I usually make careful notes when we travel in the park but with four children to supervise it was quite impossible and I must admit it was great to just relax and enjoy them enjoying themselves. They loved having cameras and once the novelty of clicking wore off they became more selective about when they would and would not capture a moment.
Our first bird shoot gave us a red-backed shrike.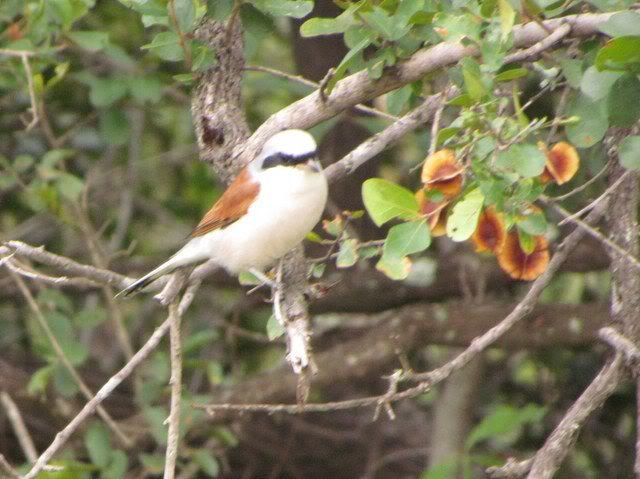 All the children were dying to see elephant – but I don't think they were quite prepared for their first encounter – a young bull came towards us, felt threatened and began to 'charge' us while resting his trunk on his tusks! Lauren had just phoned to check on her children when this little incident began and I relayed to her what was happening – "Tell Grandpa to reverse quickly," she demanded. But we were in no danger and once he found a safe place to escape us the elephant went into the bush and started browsing on the juicy leaves of a roadside tree.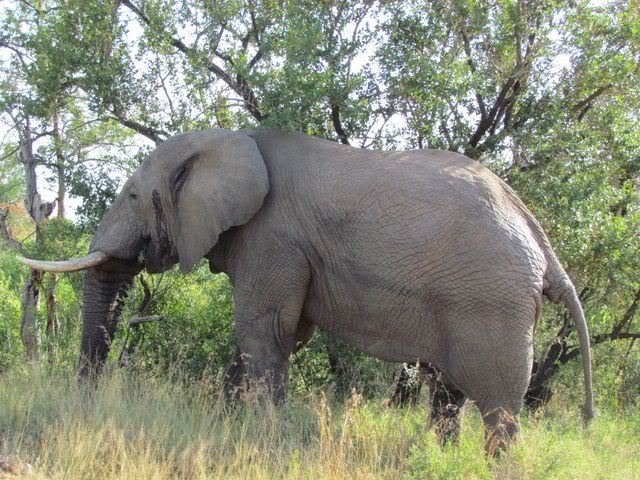 Another great sighting was a lone rhino lying next to a muddy puddle. Clearly he had just had a 'refreshing' bath and was enjoying a well-earned rest.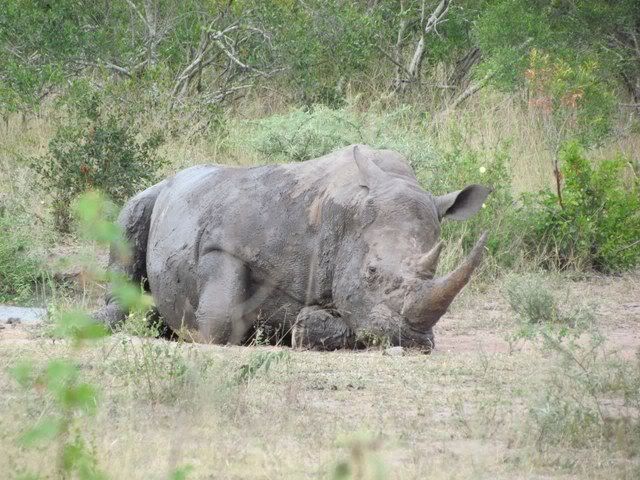 Warthogs appeared and gave the kids a giggle, they delighted over being the first to spot birds and we were pleased to see that although they were dying to see the big stuff they appreciated all the little things too.
Simon at seven did ask, "when will we see a lion?" but when we saw buffalo he was back with the programme again.
A red-billed buffalo-weaver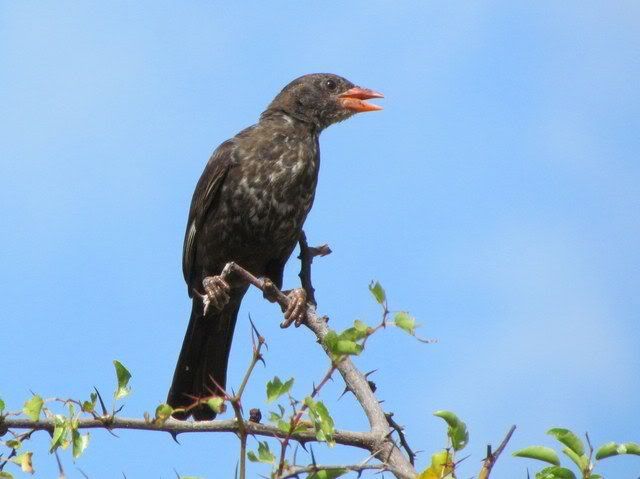 This beautiful European Bee-eater delighted them
And they'd were intrigued by the double-banded sandgrouse. "Lovely eyes, Granny"
We stopped at a hide which provided an opportunity to stretch legs and get rid of some wriggles.
A silent woodland's kingfisher was perched right in front of us and seemed not to mind that we were so close.
The turtles on a log drew a lot of interest
Our brunch stop was at Afsaal where we had toasted sandwiches, looked at the resident scops owl and enjoyed an encounter with at friendly bushbuck.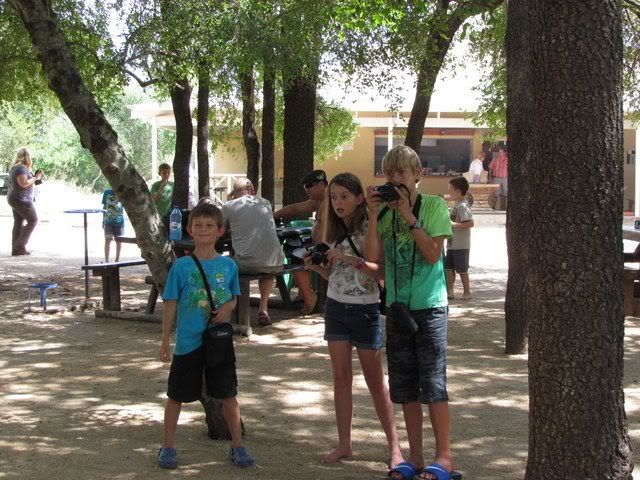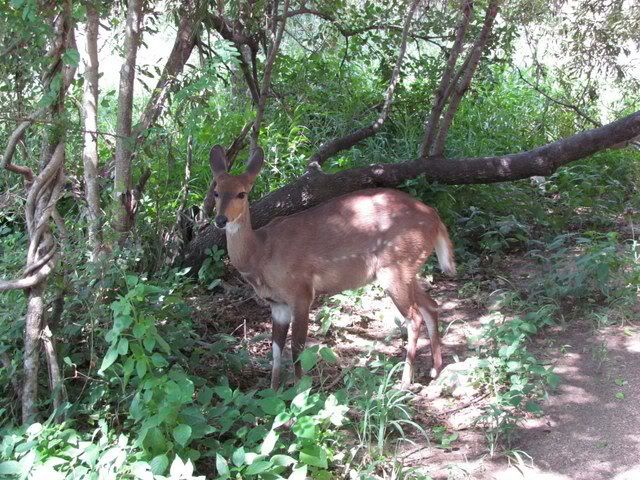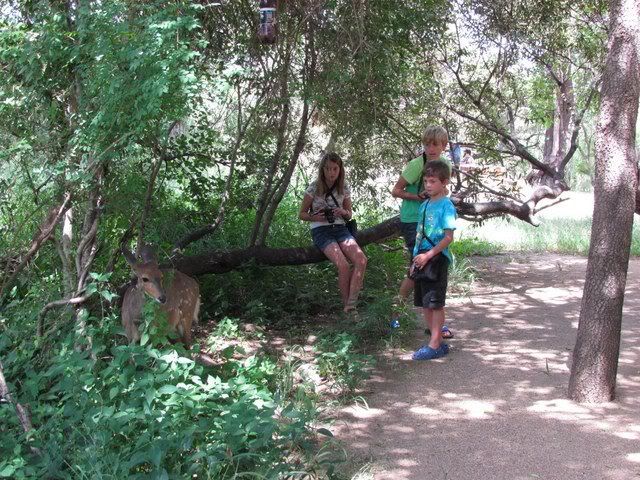 Simon used his pocket money to buy a photographic book on Kruger and then we were back on the road again.
Earlier this morning we caught a brief glimpse of a leopard as it walked off into the bush – basically it was its tail and a distant back view. Shannon remembering this said, "I really want to see a leopard properly – not in a tree but walking along the road close to the car." Grandpa said, "Well – put in your order then!" Not five minutes later what should we see but a young leopard walking toward us followed closely by a single motor car.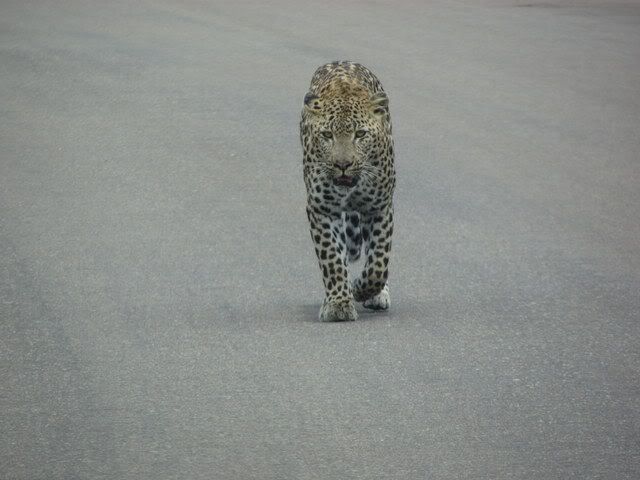 We could not believe our luck and Shan was thrilled that she got her 'order.' We turned around to follow the creature and soon other cars were behind and ahead reversing as it approached. Some impala on the left barked a warning. A wildebeest appeared on the right and the leopard crouched down on the road as it leapt across in front of it – but it did not give chase. We found that the most exciting moment. After a few minutes we decided to let the cars behind us get ahead and then turned around to continue our journey. Wow – what a wonderful sighting.
We continued to have some lovely bird and animal encounters and then returned to camp at 1 o'clock. The kids went to the pool and Earl and I had a nap. At 4 o'clock Earl and Jay went out for a brief drive and saw lovely game – rhino, buffalo and other things. The younger ones did not want to go again but found a parrot and a purple crested turacco in the trees.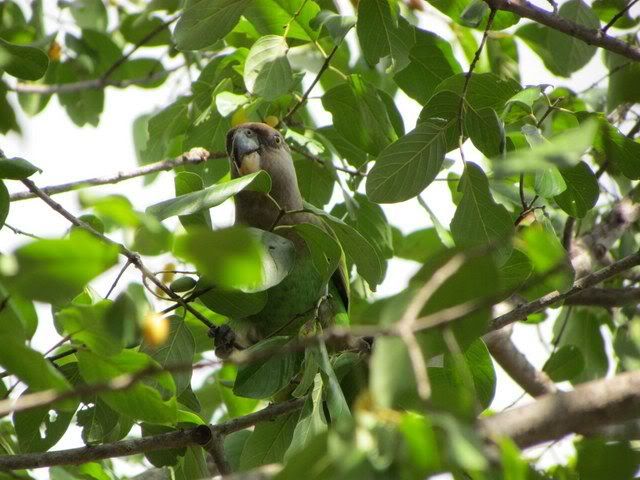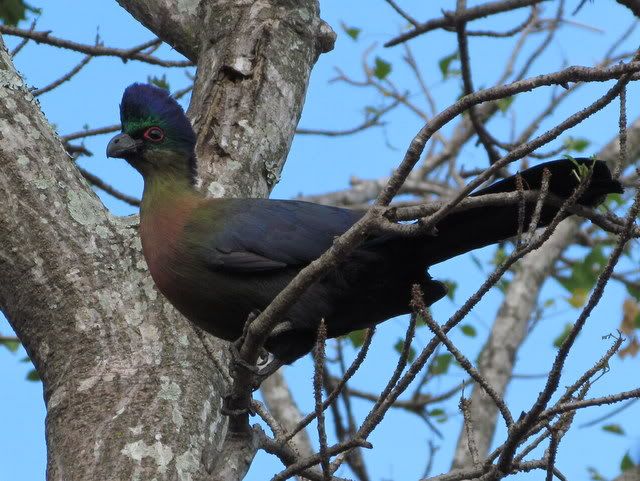 To be continued
Last edited by
Puppy
on Thu Apr 05, 2012 5:07 pm, edited 1 time in total.
---
THURSDAY 29 March 2012 BERG EN DAL TO SKUKUZA
The phone alarm disturbed my peaceful dreams and got me out of bed at 4:30 a.m. Once everything was ready for packing, we woke the kids, gave them breakfast, made sure nothing was left behind and got them into the car. The weather was warm but overcast and it had rained in the night. We had some drizzle during the day but it was still hot!
Our first interesting bird sighting was of a pair of crested francolin.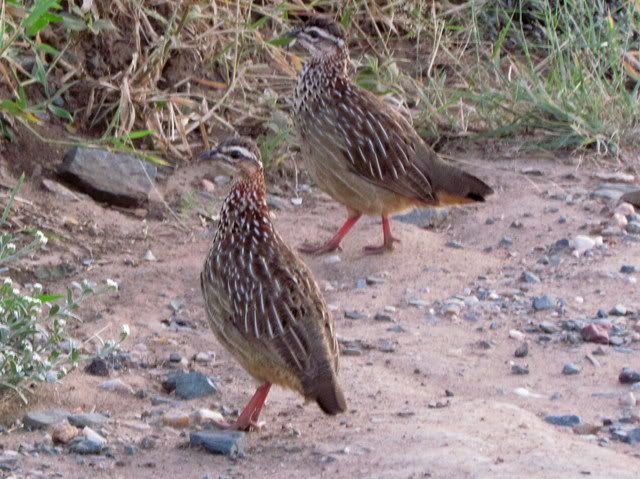 Crossing a low-level bridge we found a common sandpiper and a water thick-knee.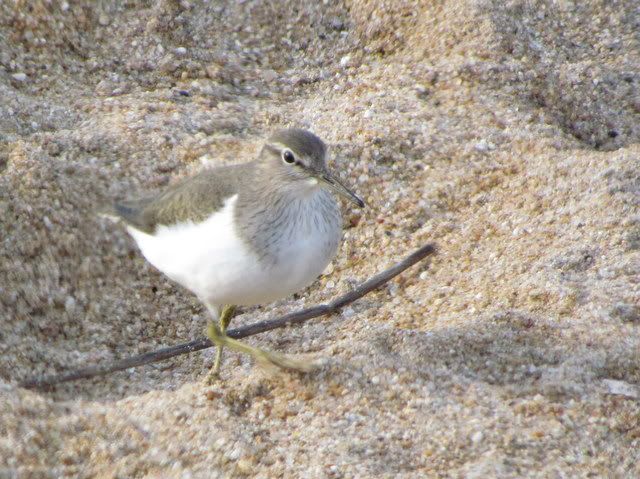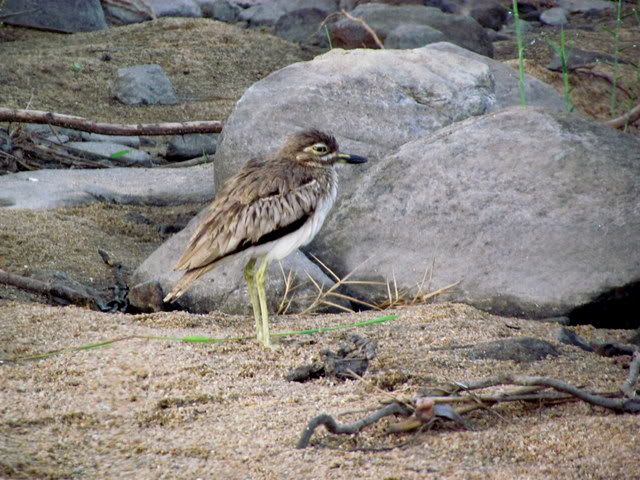 Dwarf mongoose often take over abandoned anthills and our cutest sighting got everyone going – ooh – how sweet!
Things were becoming a little boring as we passed bush after bush and strained our eyes searching into the long glass for some sort of creature to appear. Then I saw across the river a load of elephants storming down to drink and swim. We watched them through the trees then realised that they were going to cross the river and come up onto the road in front of us. It was an enormous herd of about 60 jumbos and they raised their trunks and trumpeted as they came stumbling up the bank towards us. Simon was suddenly frozen into silence on my lap. Shannon beseeched them – please don't hurt us – we just want to look at you! They just stared at us, waved their trunks and then trundled past in front and behind the car. The children were awed and when they were gone, Simon said, "That really freaked me out!" It was awesome to see such a big herd with ellies of all ages from tiny babies to great big mommies.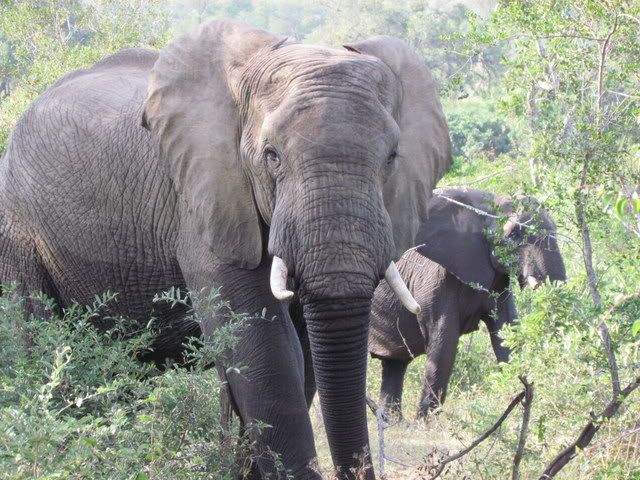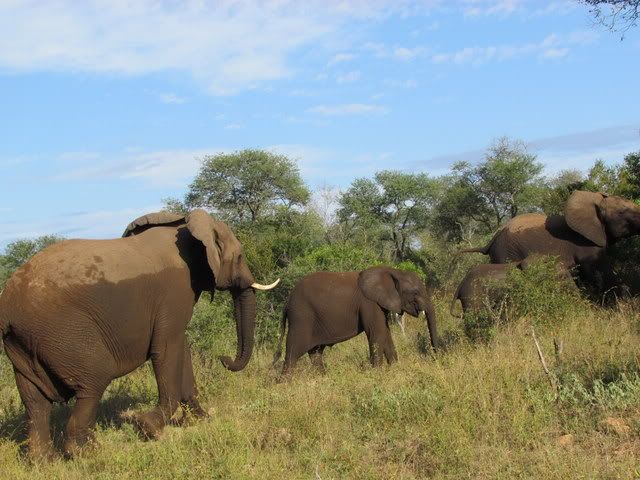 The excitement of that awesome sighting stayed with us for a while. Then Joshua spotted and Shannon identified an immature bateleur. (The competition for being the first to spot and name the birds is great!)
After the recent flooding in the Kruger National Park, some bridges were damaged and to our horror we found the one we wanted to cross still not repaired. We had to change our route which meant a lot of extra time in the car!
On the way we found buffalo, rhino, kudu, impala, some birds but nothing else.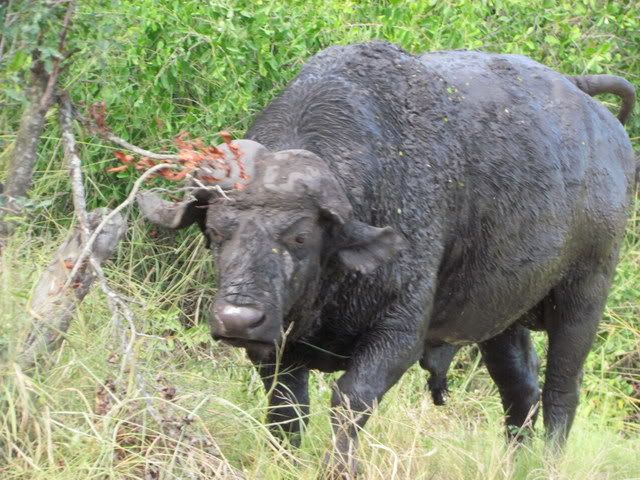 We stopped at Afsaal for brunch and then continued to Skukuza. We found warthog, giraffe and zebra, more kudu and impala, a kori bustard – but not good enough for a photograph.
Birds of course always give cause for pause and we managed to get a few.
A black collared barbet was obliging
A dark-capped bulbul made a change from the Cape we see at home and the red-eyed seen by Shan and Si.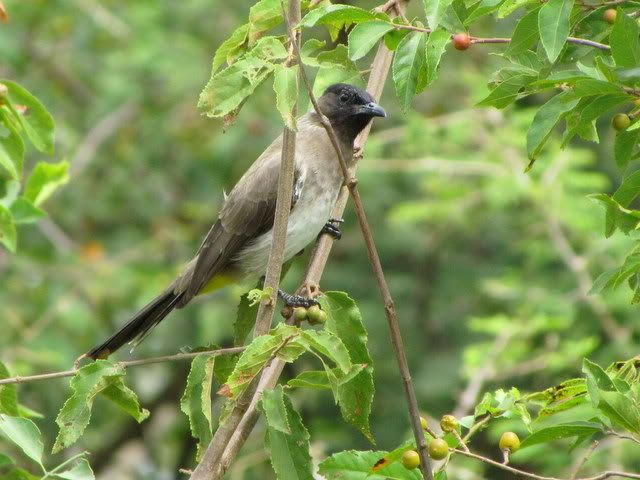 And of course any kingfisher is good to see - this brown hooded was a beauty.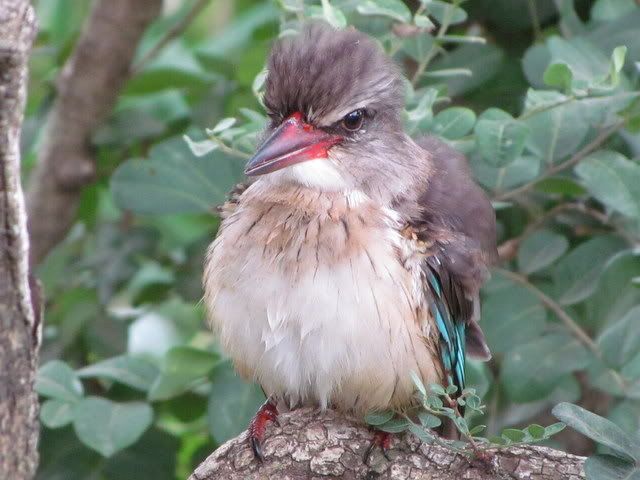 We checked into family cottage 229 which consisted of two en suite bedrooms and a spacious living area. We moved the extra bed in our room to the second bedroom so the cousins could all be together.
After settling in, lunch and a nap we took a walk next to the river and found a few birds, then went to the shop.
Simon said the best part of his day was having an ice-cream and moving into the cottage
He also enjoyed a swim in the pool.
---
FRIDAY 30 MARCH 2012
We decided to make a late start this morning and were only out the gate at 6:30.
Although each day in Kruger has its special moments, some days can be slow with little game appearing. Yesterday was such a day and I knew that if we didn't do something to keep the kids interested we'd have some rioting in the car. So we started straight away with a points system. If you saw a bird or animal for the first time that day you would score depending on how rare it was. Identifying correctly also counted. Granny was the judge and no negotiations could be entered into!
Our first excitement was elephants crossing in front of us – they're a favourite with the kids although they get the adrenalin going when they get too close.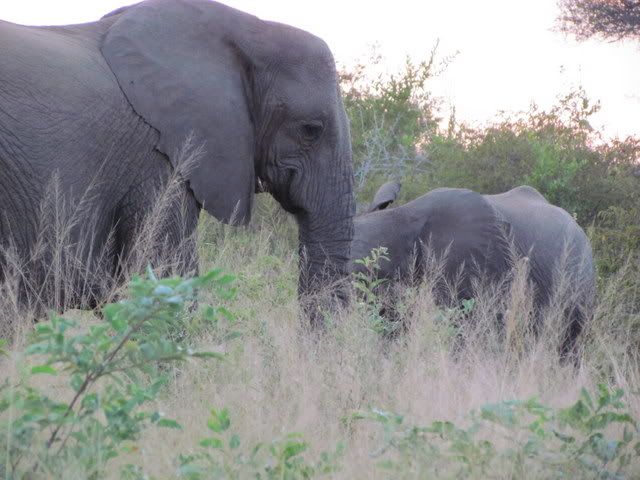 Then buck – not impala – a different buck – Jay called out in excitement – and there on the side of the road was a lovely Male Bushbuck – so different from the female they'd seen yesterday at Afsaal. That earned him 5 points as it's not a common one to see.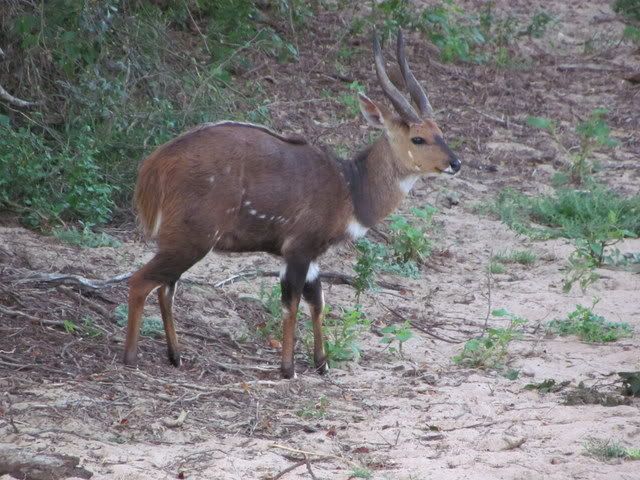 Jay kept ahead with spotting birds and animals first but Shannon was better at naming them. Josh insisted that the people in front had an advantage but Jay still seemed to beat me to it. We laughed when he then insisted that it was because he was on the wrong side of the car.
Of course when he won 10 points for finding Granny a Marico Sunbird no mention of unfair advantages was made.
The competition certainly kept the eyes glued the bush and we saw lots of wonderful things in the time that it took us to travel from Skukuza to Nkulu picnic site.
A female red-backed shrike having breakfast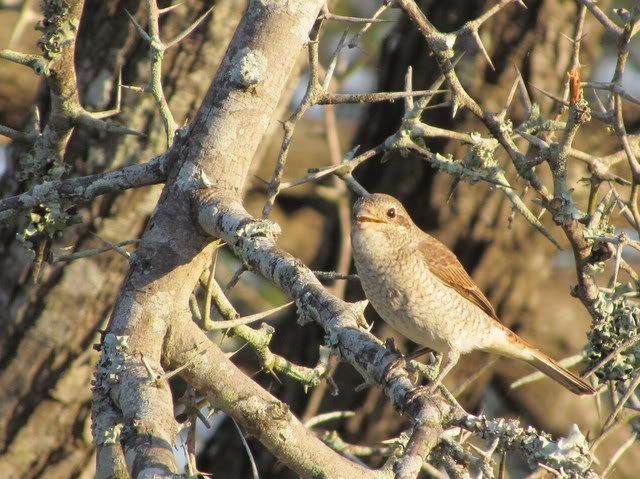 A hamerkop having a bad hair day
and finding something to eat on the tar road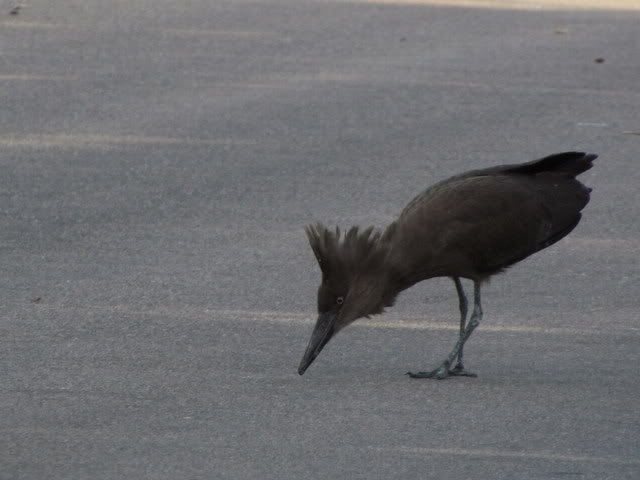 Nkulu is on a river bank and we love stopping here. The only problem is that the monkeys are rather naughty and you have to be very careful that your breakfast isn't stolen. Our attention was distracted by a green-backed heron on the opposite bank when our order was placed on the table. Fellow tourists yelled a warning when a cheeky Vervet snatched half a toasted cheese sandwich from Joshua's plate!
He was horrified but placated when I offered him my chips and half a toasted chicken mayonnaise. Shannon told us she didn't really like monkeys – they scared her and a large male must have sensed this as he actually threatened her with a grunt and a made a move toward her. SO shouted and Shan hid behind me giggling nervously.
Nkulu is famous for its buffalo pies and I've always wanted to try them. However, pie for breakfast was not quite what my stomach wanted but Jay and Shan both tucked into them with relish. I had a bite of Jay's and it certainly was good
Jay and Josh enjoying breakfast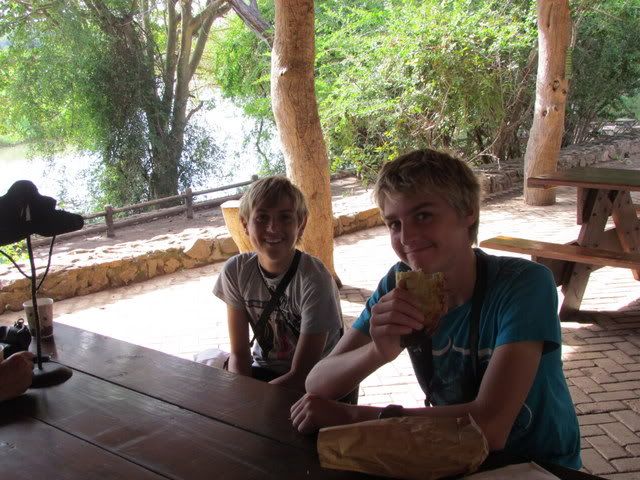 Si and Shan after the monkey incident
As soon as we'd eaten we packed up left over buffalo pies and sandwiches and continued our journey. Shan was sitting up front with me. We stopped to photograph some very young monkeys and Shan was really enjoying them until Earl pointed to a big one right next to her window – she started to wind up the window and I said – "no – don't I just want to snap his portrait" she burst into tears and leapt over onto Earl's lap. I think the incident at Nkulu upset her more than we realised. After a cuddle and comforting words she was fine again and we warned the boys not to tease her about monkeys, please!
We had further fun with primates when we stopped on a bridge and a troop of baboons had the kids in fits of laughter with their antics - chasing each other, play fighting and tumbling and almost 0ff the bridge.
They then went and climbed the sandy cliffs and foraged for termites or whatever lives in the bank.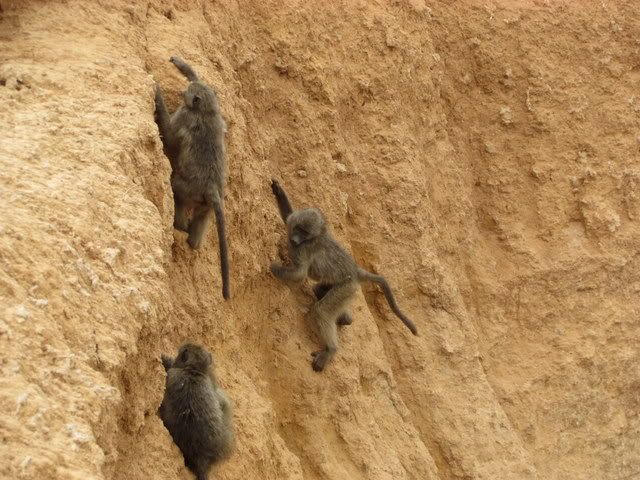 There were other interesting things to see in the water too. Simon spotted a legawaan on the rocks and another where the monkeys were climbing up and down the bank.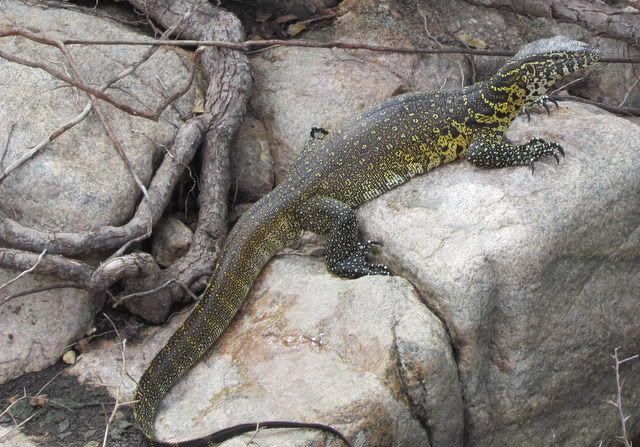 A Goliath heron patiently fished in some fast running water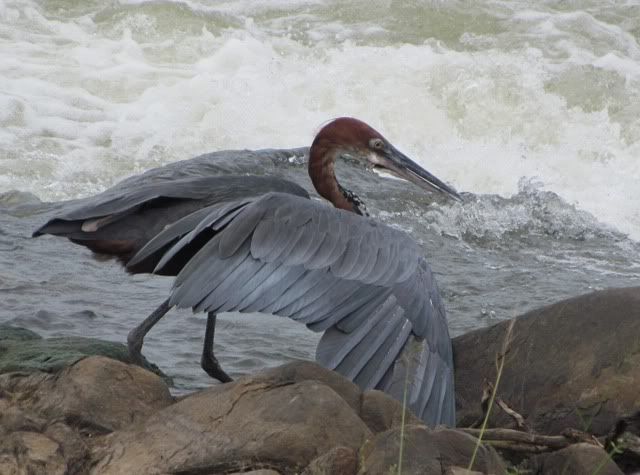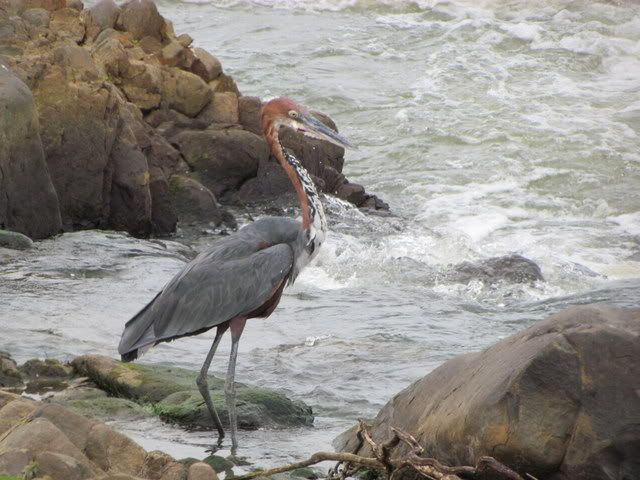 To be continued
---
I have just worked out how to post a video and hope I've got it right.
While I was observing and taking pictures of the Goliath Heron, Jay, (he tells me later), was trying to get me to look at this interesting event that he was videoing. I only discovered what he had experienced when we got back to Cape Town!
Is this pied kingfisher practising her fish manipulating skills for the real thing - or is this just a game for her own amusement? I have never seen one do this before. I have also posted this video on the Stiffnecks Special Interests Observation thread.
---
FRIDAY 30 MARCH 2012 Part 2
Birds of prey earned our young spotters lots of points and gave us an opportunity to teach them how to tell one from another.
The brown snake eagle has yellow eyes and feathers only to its knees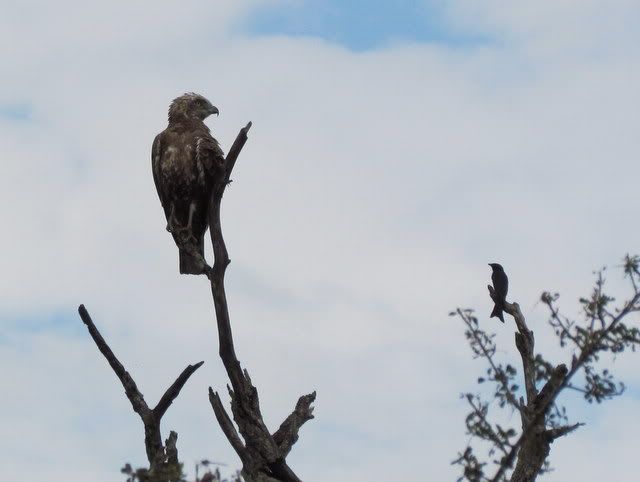 while the lesser spotted eagle has 'stove pipes' , pale eyes and yellow feet.
And the don't be too convinced that you're right - all birds of prey are tricky to identify - even the experts make mistakes. But the martial is unmistakable with its black chest and white, speckled tummy.
At Sunset Dam the challenge was to see how many crocodiles you could count - they camouflage so well and perhaps there were more than the 10 we got. Plenty of hippos lazed and grunted in the shallows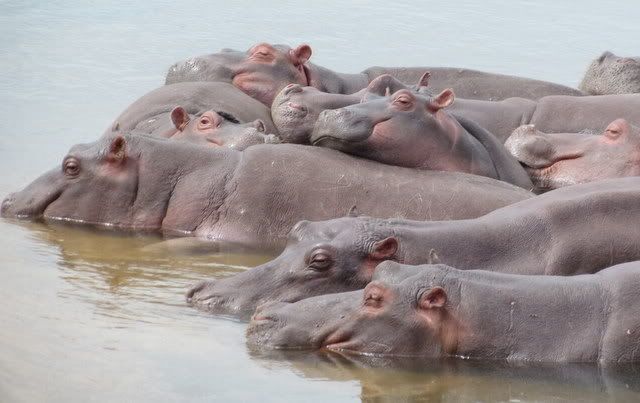 and the shore birds gave us lots of pleasure.
The wood sandpiper strutted about on the shoreline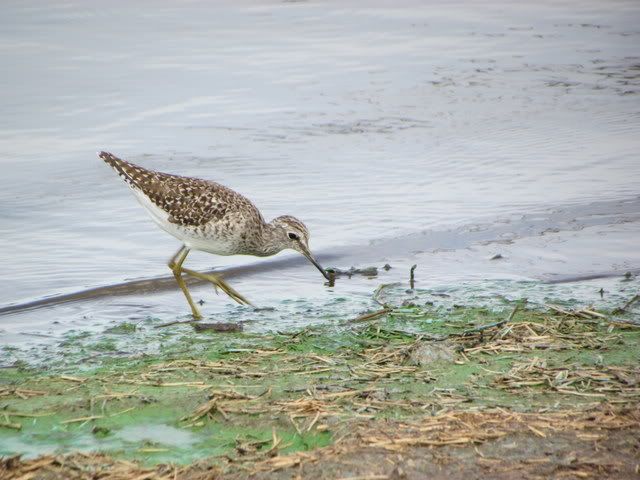 in the company of his common cousin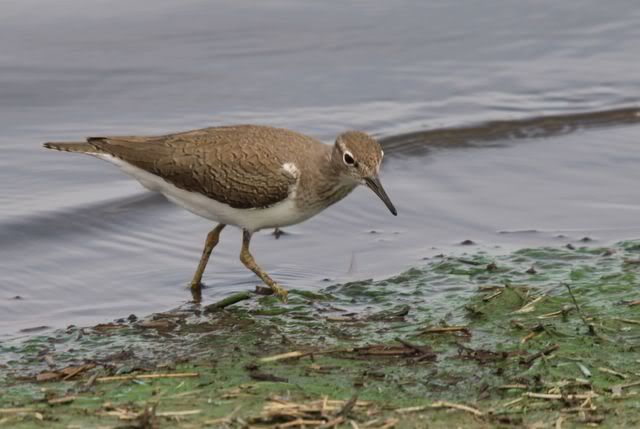 After a refreshing drink at Lower Sabie we made our way home. Simon had been as good as gold but was now starting to ask when he could go for a swim. It was really hot today.
The elephants could not let us off lightly today - a rather angry looking bull decided not to make way for us as he trundled down the middle of the tar road. We had to reverse until he found a place that suited him to get off the road. A lovely adrenalin rush to end the day!
After the kids had a swim we went to the nearby hide of Lake Panic for just half an hour. There were hippos and birds but at this time of year not the variety that we usually see. Still it was good to see that no damage had been done by the floods.
A thunder storm cooled things down this evening but put rather a dampener on our braai. Jay stripped to his waist and used a storage box lid to prevent the fire from going out while he finished off cooking our chicken.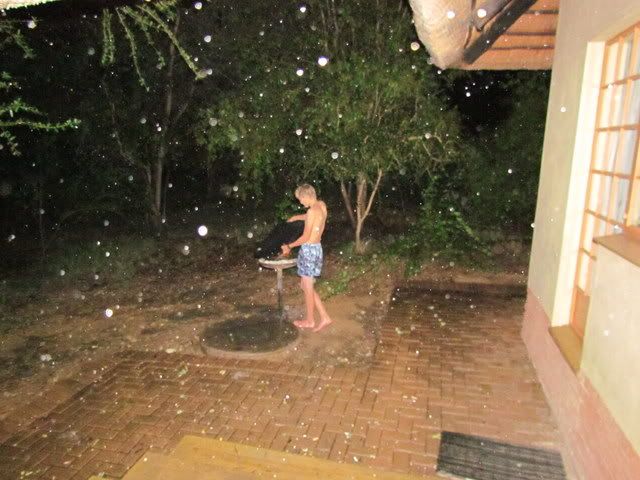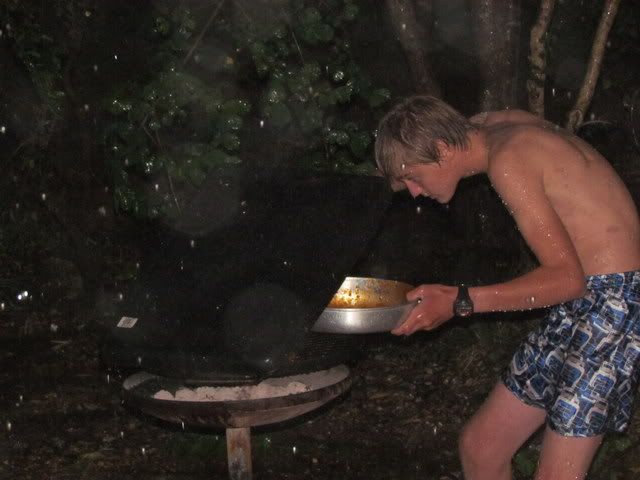 Thanks Jay - the food was good and at least you got a shower!
---
31 APRIL 2012 - SKUKUZA
It continued to storm during the night and when I woke up at 4:30 it was still raining. We decided not to wake the kids till 5:30 and by 6 the sky was beginning to clear. We managed to get away by 6:15. In summer this would be quite late but from 1 April the gate only opens at 6 as it is getting light later and later. Today would really have been the last day one could have made a very early start.
It turned out to be quite a long day and we only got back to Skukuza at 3 p.m. We did, however, make a few stops at hides and look out points to stretch legs and get rid of wriggles etc. As you can imagine four children cooped up together in a small space can become somewhat noisy when there's a lull in the sightings. We try to keep them entertained and interested but usually its they who keep us in fits of laughter with their sayings and antics.
"I want to see a cheetah," declares Shannon. "I can see one right now," says Jay touching her on the shoulder. "Hey - you're not supposed to touch the animals," comes her quick retort.
We stop at to see a beautiful Verreaux's Eagle-Owl and take many photographs. "He looks cross," says Jay - "probably sick of the paparazzi hassling. Don't tell the next car where he is - he needs some privacy."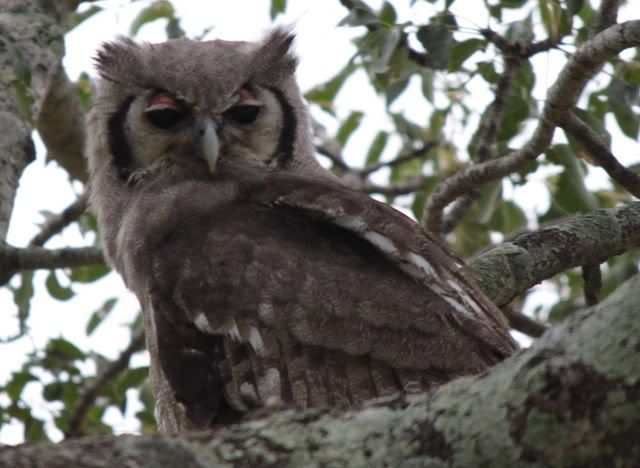 We self-cater all our meals except brunch and find the service at picnic spot and rest camp restaurant varies from time to time and place to place. But Lower Sabie is consistently bad and today we made the mistake of arriving there at midday when they're at their busiest. We put in our order, waited an age and were then told that they'd run out of pizza. Another long wait before our meal finally arrived. A small price to pay for being in a beautiful setting where hippo and buffalo lazed on the river bank.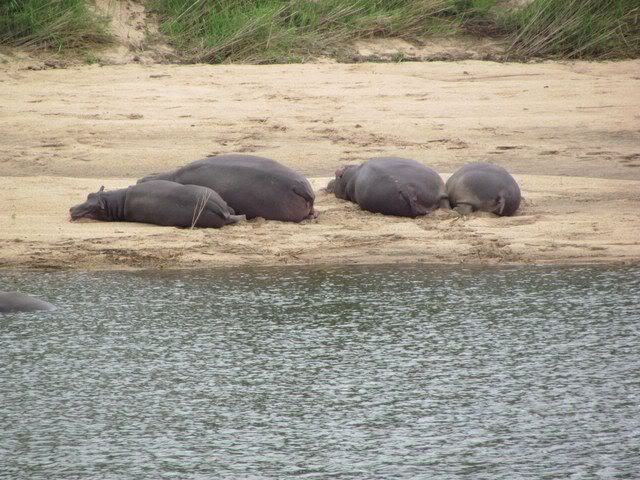 We have not seen large herds of plains animals so when we see zebra, wildebeest and giraffe we get quite excited. Today we found them in patches. The giraffe in particular have been difficult to photograph as they hide behind tall trees or keep their distance from the road. "Droff' yelled Jay when he saw a small journey of them this afternoon. "What the heck is 'droff' ? "A quick way of saying giraffe, silly." I'll never call them anything else again!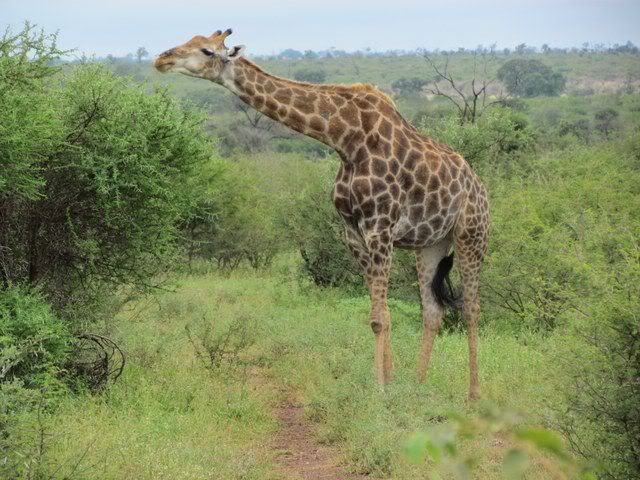 The ponies in pyjamas were another favourite
Shan was the star at identifying the birds and this motivated the older boys to try and match her. Jay said, "She's really good Gran - I'm actually learning a lot from her even though she's younger!"
A wire-tailed swallow sat still for a portrait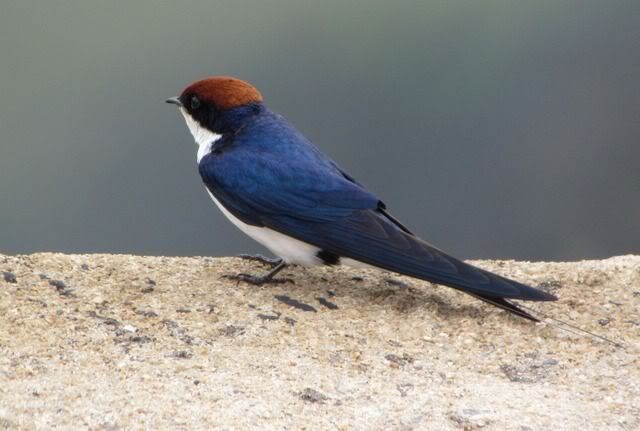 A pied kingfisher rested between fishing excursions
Shan kept on saying she wanted to see a Black Crake and was thrilled when we found one.
I was delighted to get a pair of red-breasted swallows
The boys loved the birds of prey - this tawny eagle was a beauty.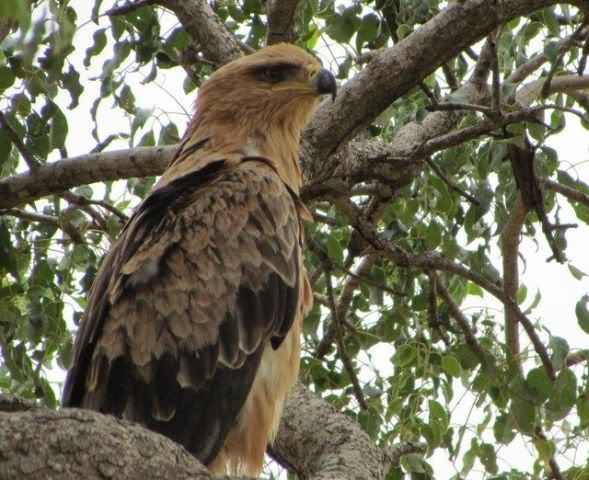 All bee-eaters are beautiful but the queen of them all has to be the Carmine
The little green-winged pytillia is difficult to photograph but this was obliged.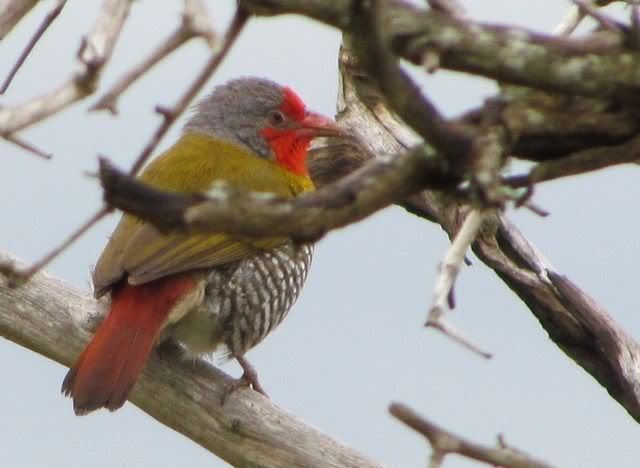 "When are we going to see a lion, Grandpa?" complained Simon. "Soon my boy, I promise you."
Don't make promises you can't keep I thought to myself. But the words were no sooner cold on his lips when one appeared walking down the road in front of us!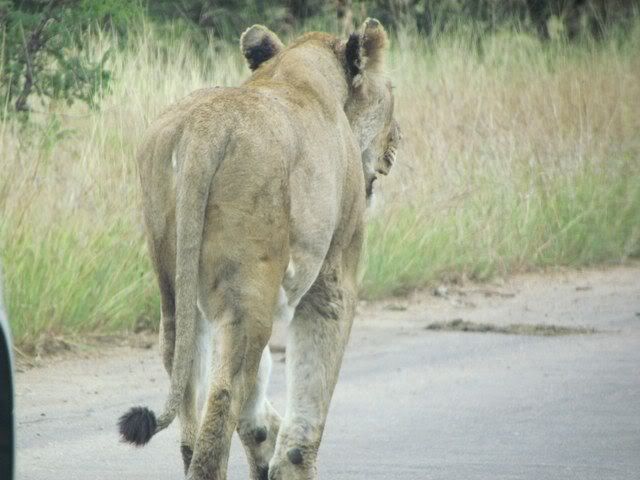 We also found a rhino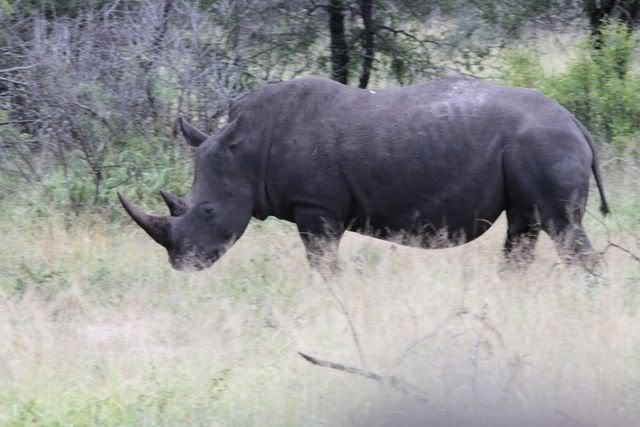 A pair of klipspringers were delightful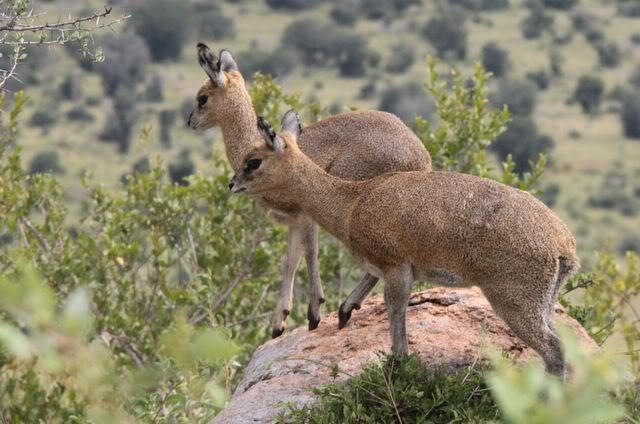 And to make our day a black coucal which we've never seen in the park before. I just wish he had been closer.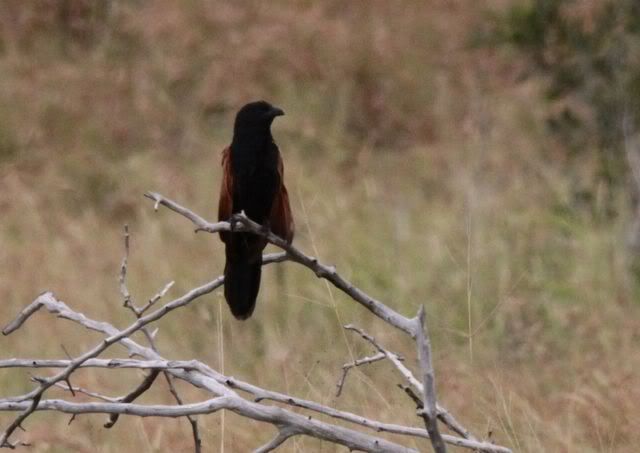 Sadly there are people both tourists and tradesmen who visit the park who do not take enough care on the roads and animals and birds get knocked down. Our little group of kids get mad when they see speeding or careless behaviour on the part of others and today Shannon was close to tears when we found a bateleur on the body of a very young monkey that had been run over. We explained that the bateleur had found an easy meal and soon it had competition from a white-headed vulture. The former had already flown up into a nearby tree to keep watch on his potential meal when the latter appeared on the scene. Neither of them attempted to eat the monkey while we watched.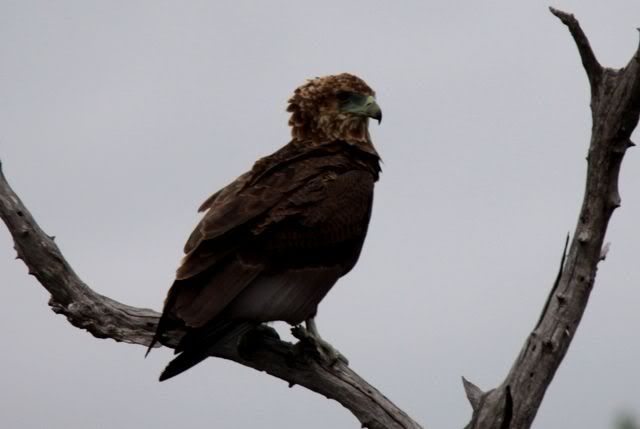 The kids have been looking at things on offer in the park shops and Simon finally decided to get himself a monkey. Here he is at Lower Sabie with his new friend.
---
Some extra pics to turn the page
This baboon amused the kids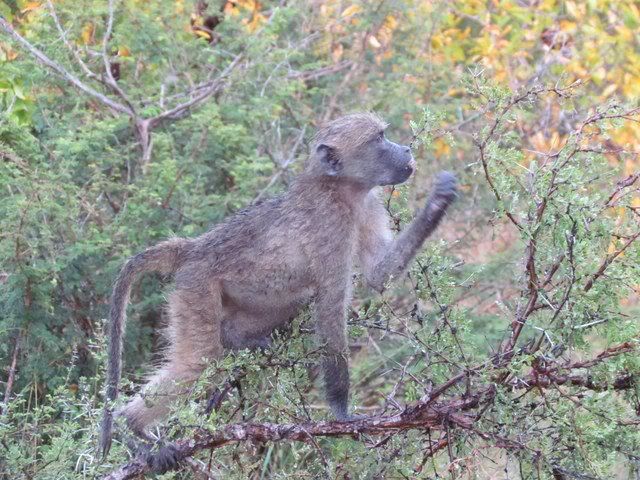 ---
They'd never seen such a big snail before and couldn't believe it was carnivorous.
---
1 April 2012 – Skukuza to Pretoriuskop
"Bushcraft" and his family were staying near us at Skukuza last night and so we got together for a braai last night. It was great meeting them and their three girls got on very well with our four grandchildren - a nice opportunity for Shan to have some girl company! But bed-time was somewhat later than is wise when you're rising early in the park! In spite of this we managed to get completely packed up and out the gate by 6:15. From 1 April, gate opening is only at 6.
We have found that finding game is a challenge at this time of the year and there have been long stretches of nothing between sightings. But besides getting a bit noisy and the odd jibe at each other the kids have been fantastic. And what we have managed to find has been super rewarding but we have not always managed to get photographs. It has been a learning curve for the kids to just appreciate with their eyes and not to be too fussed about capturing the moment digitally.
Shannon is excellent at remembering the names of the birds but the boys - well - the boys are boys and make up their own hilarious names and mock their cousin when she's so perfect and say - "No its a jackal striped, horned, kingfisher" and they all laugh uproariously.
There were some special moments today. We came upon a traffic jam and were told that a cheetah had been sighted but was now lying in the long grass. Nobody wanted to move out of the way so Earl politely asked an offending 'jeep jockey' to move her vehicle from the middle of the road. She obliged and we then managed to get through the mess of cars blocking the way. There is really little point of boring a car load of children with a non-event. They desperately wanted to see the creature but understood why we would not wait among a crowd of sillies. And they were rewarded because later in the day we got a beauty, in full view standing on a rock. The grass was long and made unblurred photography difficult but Jay managed to get a good shot.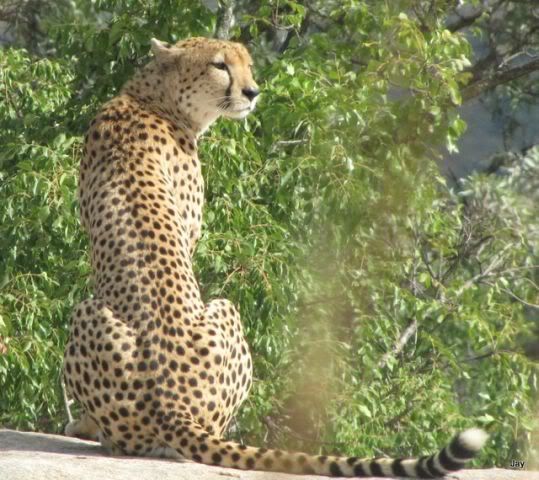 We just managed a glimpse of a hyena this morning and then later got a good sighting. This is one of a pair we saw walking down the road towards us before slipping into the long grass. Another pro shot from Jay.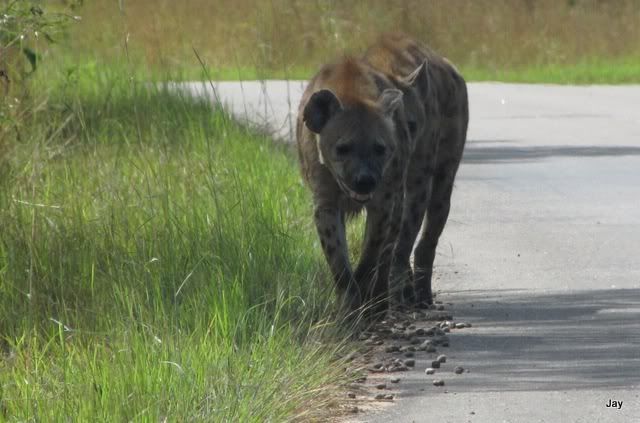 We had told the children about green pigeons but not until today did we mange to find any. A whole treeful appeared before us but they did not feel like posing for the paparazzi. But Jay kept trying and got a lovely shot.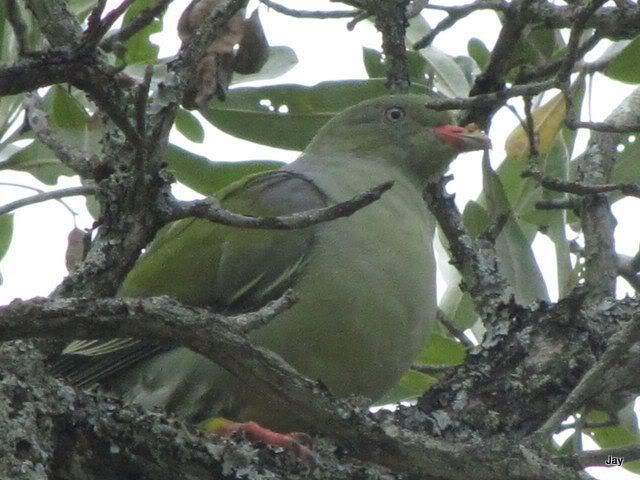 Another highlight was this little Lizzard Buzzard. Jay was proud to be able to correctly identify it himself by comparing his pic with the one in the book.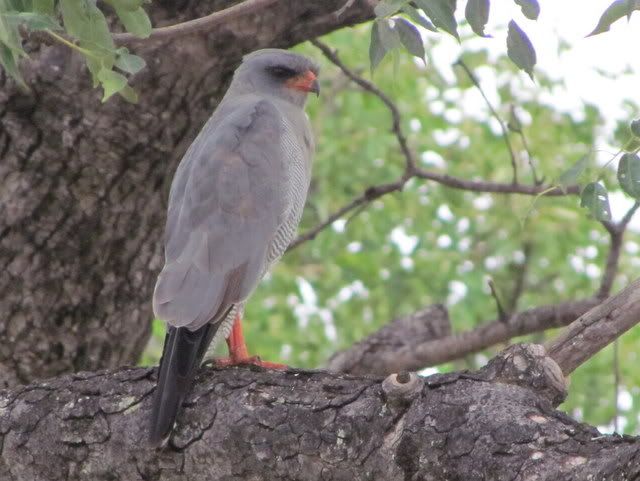 Bats used to live under the thatch of the lapas at Skukuza but when we tried to show them to the kids there were none to be found. The restaurant manager told us they'd all left but he did not know why - they'd been there for years. Well today when we had breakfast at Pretoriouskop, Shan looked up and saw bat eyes staring down at her. She insisted on swapping places with me!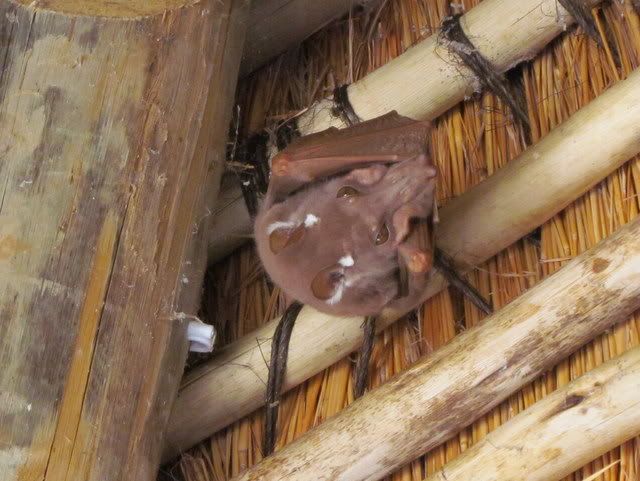 We have spotted the buck with target bums from time to time but photography has been difficult. Today we were determined to at least have a memory shot.
We checked into our Pretoriouskop family cottage 111 at 2:00 p.m. It is on the perimeter. Even though the day was a lot cooler the kids went for a swim and then came back to play cards and download photographs before supper and an early night.
---
@Rookie - Thank you for reading and commenting.
FRIDAY 2 APRIL 2012
Pretoriouskop is a lovely camp and we sat outdoors and braaied our supper last night. It was lovely to see the row of fires as our neighbours all did the same thing. A group of loud American tourists were next door and their guide came over to apologize for the noise. He promised it wouldn't last long as they were all tired and would be going to bed early! We quite enjoyed hearing them joyfully recount the events of the day - they'd clearly had a good time.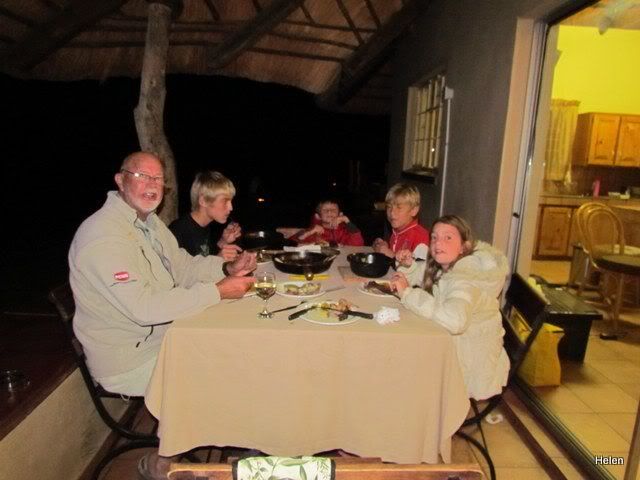 Today was our last full day in the park. The worst day in Kruger is stunning so certainly no complaints about this trip although on past visits we have seen the animals in march larger numbers. SO was determined to make the very most of this last day as there were things on the wish list he simply had to show his grandchildren - far be it from him to disappoint them! And as things turned out this our last was indeed the most productive day of all.
We took a long route via Lower Sabie to get to our final camp, Berg en Dal. Check in time is 2 p.m. so there is no point rushing straight there.
Miraculously we had everyone dressed, fed and packed by 6 a.m. and Jay couldn't resist taking a picture of the sunrise.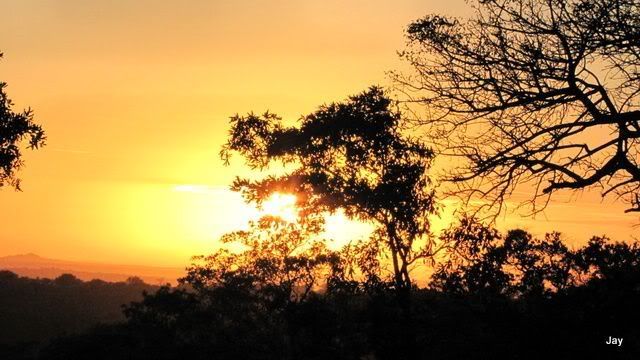 The periods between sightings can be long and boring for young children specially if they're ADHD. Jay is fine once his medication kicks in but he is a natural clown and entertained his cousins by taking their stuffed toys and pretending they were 'out to get them'. Poor Grandpa was very patient when Monkey appeared at his window while the kids collapsed in mirth.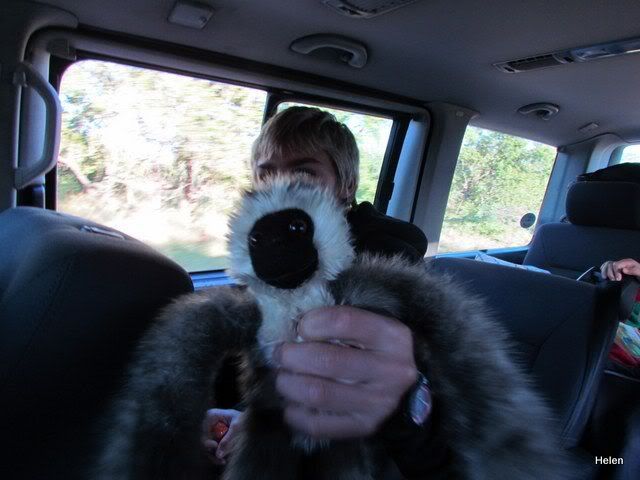 But at a sighting the excitement was transferred to the real animals and they all competed for window space to get their photographs. Jay being the oldest and at the top of the pecking order managed to get the best ones.
Early on in the day we found a heap of buffalo.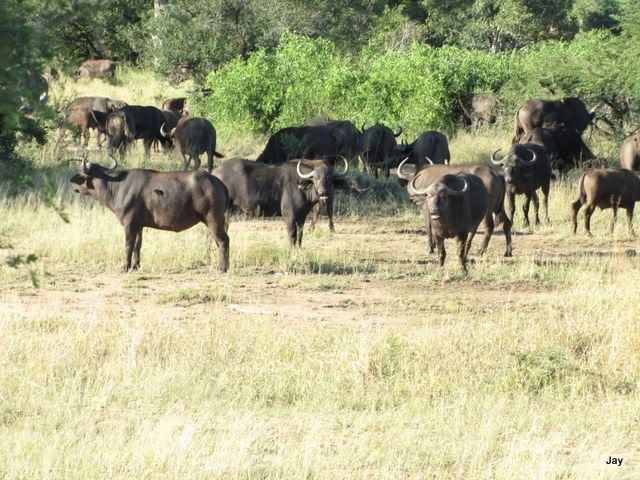 There were mothers with babies and young bulls fighting and the kids enjoyed watching it all happen.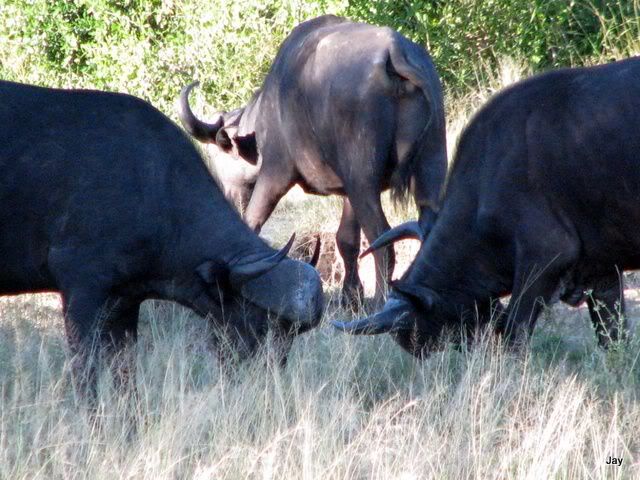 Elephants also made a friendly appearance and Shannon shot this lovely shot of a young one.
And this one from Jay.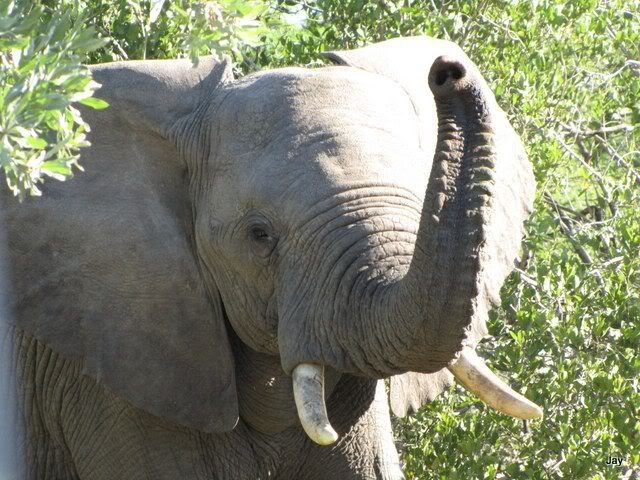 Giraffe were elegant as they browsed from the tops of trees. Today they were in the mood for a photo shoot.
Shannon was amused to see that not only does a giraffe have a very long neck - he has a tongue to match!
It was not even half past eight when we saw a bit of a traffic jam ahead and there on a rock lay a lazy leopard - our third for this trip! Its not often we seem more leopard than lion! Jay and Shan got the best shots.
So then we had three of the big five for the day. All we needed were lion and rhinoceros - usually this is not difficult - but today was to be different.
---
Last Day continued
We stopped at Lower Sabie for toasted sandwiches and continued our drive. We stopped when we saw interesting birds and the bee-eaters were really having a good time today.
We also found purple rollers and managed to take some good shots.
And Lilac breasted rollers are probably the most photogenic of all.
Here is one with a gogga in his beak.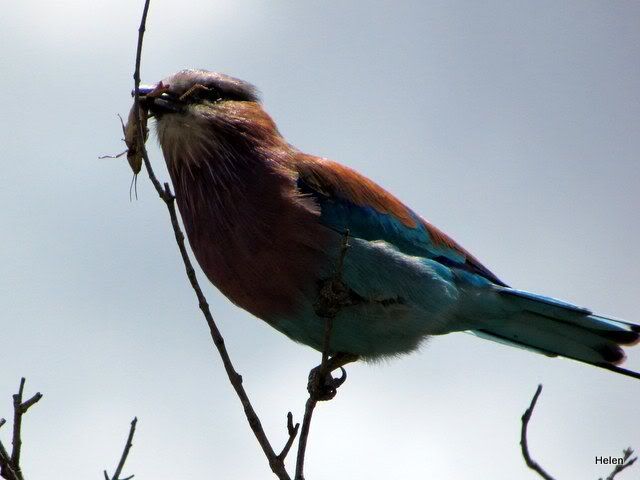 It was just before midday when we finally got the one animal we were hoping to see. Grandpa felt that his mission was successful - he'd shown his grandchildren the best that Kruger could offer.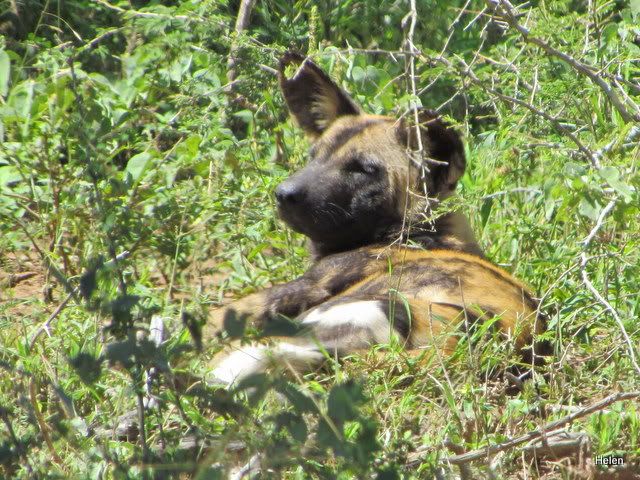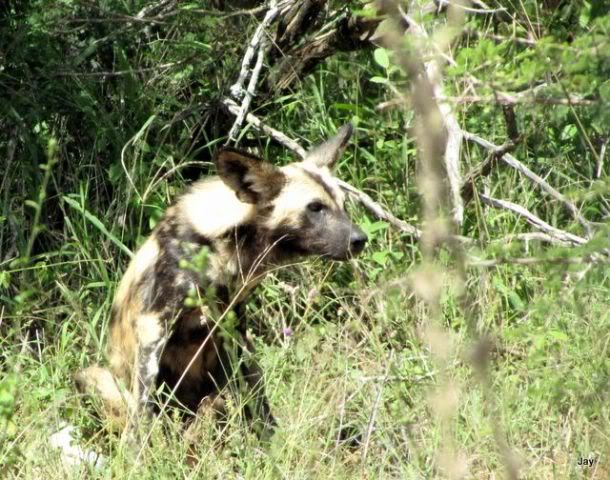 After this excitement we stopped at one of the picnic sites for a loo break and to get some 'slushies', ice cream and crisps.
A fourth member of the Big Five was spotted next. At first he refused to lift his head but finally we managed to get a good shot of him.
---
Just a few more pics from the last day
Arrow-marked Babbler
Brown Snake-eagle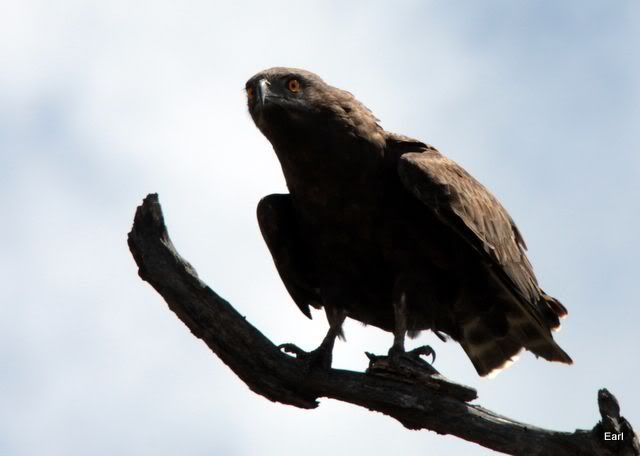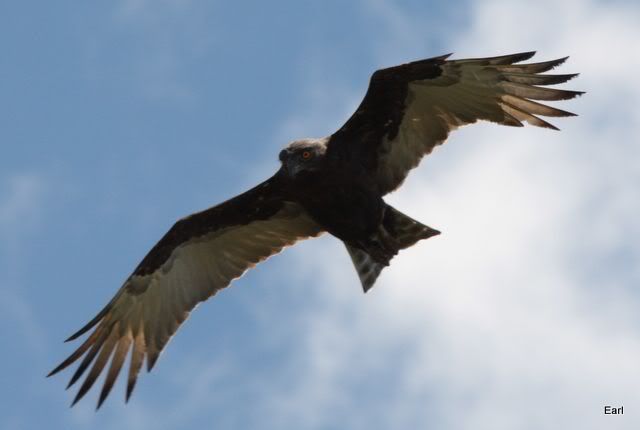 Magpie shrike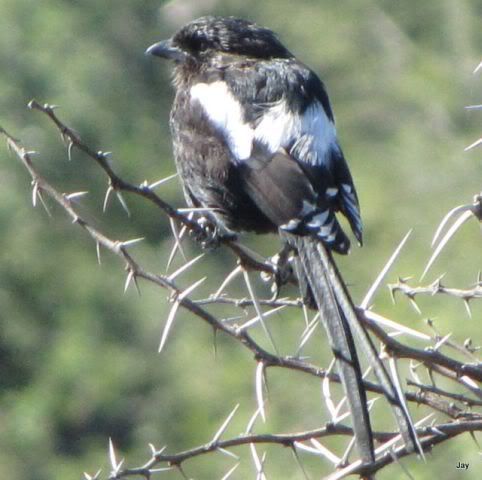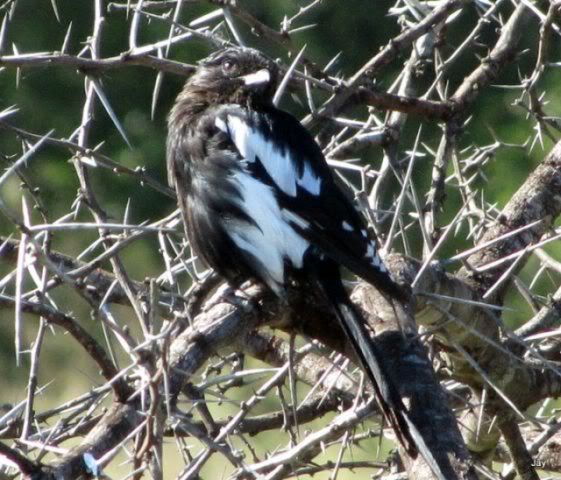 Klipspringers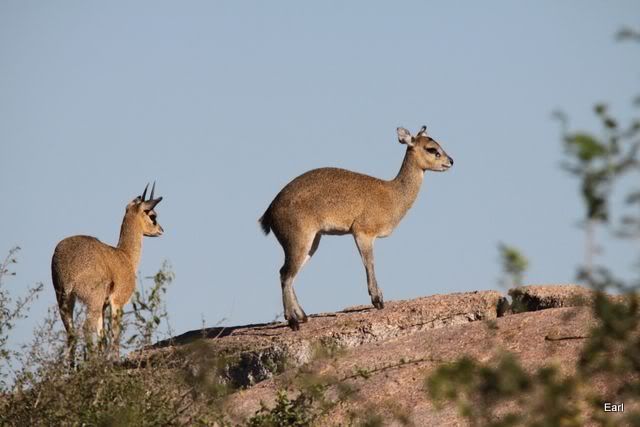 And the humble dung beetle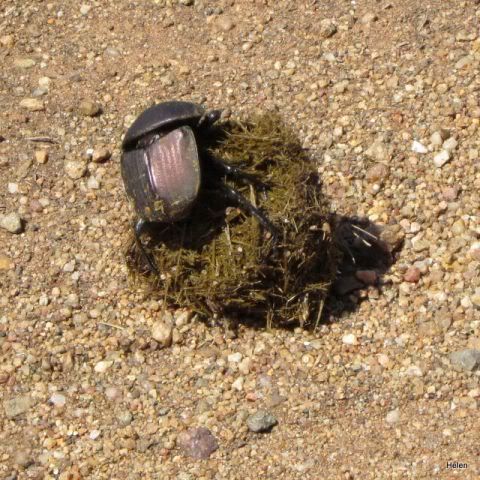 And that ends this trip report. The next day we packed up and were out of Malelane gate by 7 a.m. and the long drive back to Kokstad began. The kids all said they'd thoroughly enjoyed their time with Granny and Grandpa in The Park and wanted to know when the next trip would be! Hopefully soon.
---
---
Who is online
Users browsing this forum: salamanda and 4 guests