This is a complementary report to Buglette's "Loerie Stalking in the Wilderness"
My title was chosen as we were not only up very early looking for the Loeries, but also because we are very new to birding and feel like we are in the birding wilderness as we study our book in search of the identity of our feathered friends!
As you know, we were in George on business and opted to stay at Ebb and Flow, south camp.
I have often driven past this area and never knew that this camp existed even though I had seen the Sanparks sign off the highway, so I sort of had an idea where it was, but was not too certain. I initially thought that you turned off into Wilderness itself, but from there I had no idea. Out of the 2 of us, I usually have the better sense of direction, so the fact that I was uncertain didn't bode well and I was driving at the time!!
We opted to go past the town itself and see if we could get in from the N2 side. Now let me just warn you if you decide to do this....the sign is visible, but the actual road that you take sneaks up on you very suddenly and I nearly put Buglette through the windscreen as I took the corner in about 5th gear...oops!
We wound our way down this paved road, with reeds on one side and bushes on the other, all very uncertain if we were in fact on the right road. Then we caught sight of an African Stone Chat (I think), but were nowhere near ready with our cameras!
We got to the gate and were shown the way to reception. Check in was efficient, wild card presented and we were off to find our cottage. We wasted no time unpacking all our goodies and heading off onto the gravel roads, cameras in hand. Unfortunately the garmin didn't really have the gravel roads loaded , so we had to rely on road signs and my memory....both of which were a touch rusty!
We meandered along, stopping at the Malachite hide for our first "birding experience"!
The water was quite far away, so the zoom was going to be tested to its limits.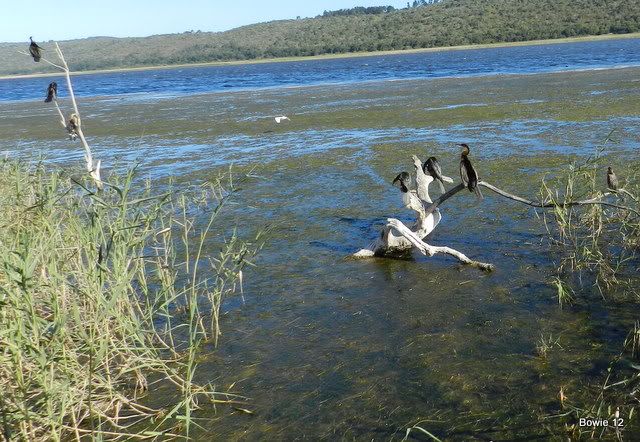 The little Egret was using his wings to shade the water as he searched for food.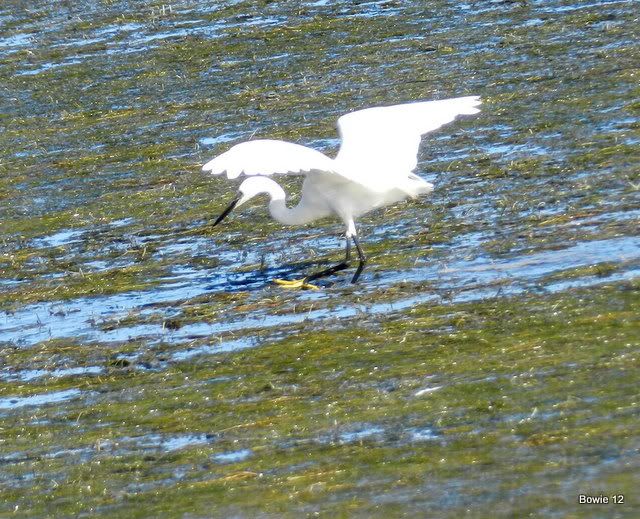 This Darter was airing his views and luckily he was facing away from us so that we couldn't see his views!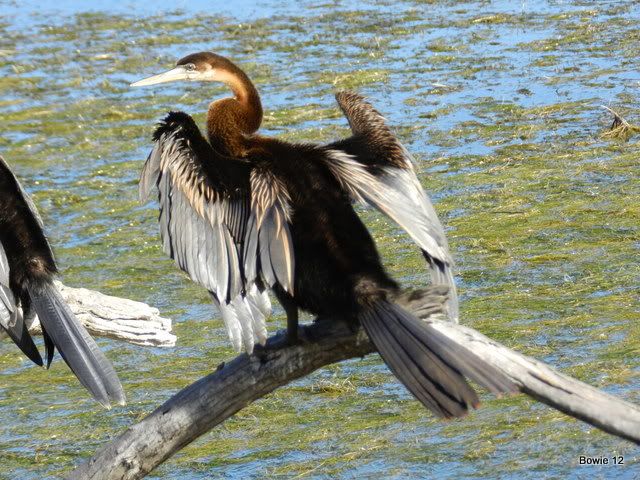 The feathers on his body really look like a spiky hairdo and I would have looved to feel them.
This family was sitting so beautifully on the tree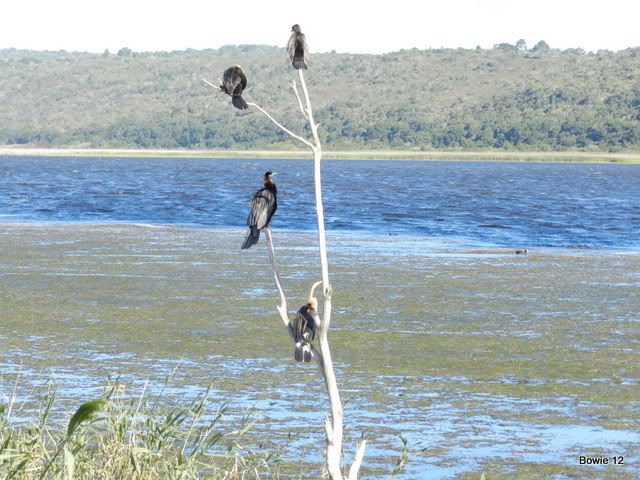 and I was fascinated by the odd colouring of the one sitting at the bottom as he has white patches that none of the others had. The books were being consulted, but alas we could not come to any conclusion and then, on closer inspection......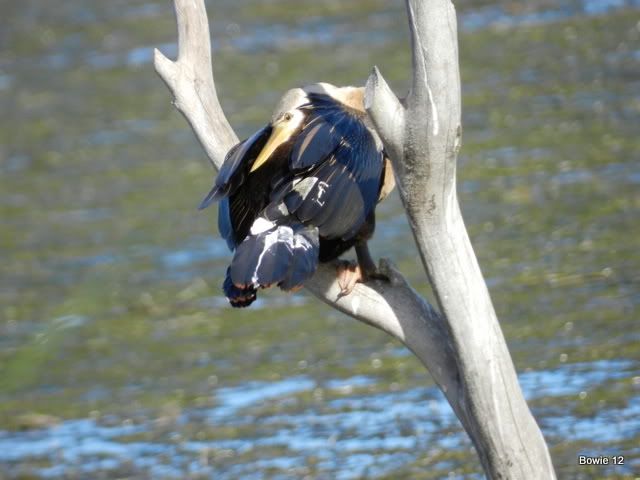 he was obviously lowest in the pecking order and had recently been on the receiving end of a crap*ing out!
As he took off, so did we as we made our way along to the next stop!
---
How frustrating that I have not been able to post anything the past couple of days! Thanks Photobucket!!
After our visit to the malachite hide, we tried to make our way to Rondevlei.....tried is the word. We were heading down the gravel roads when it started to dawn on me that I had been on that road before and it was NOT the one to Rondevlei!
As we mosied on through the farmlands, we saw falcons on the wire. Stop!! Here, no wait, back a bit.....Oh no, there it goes, go forwards.....slowly.....aaaarrrggghhhh why won't they sit still!!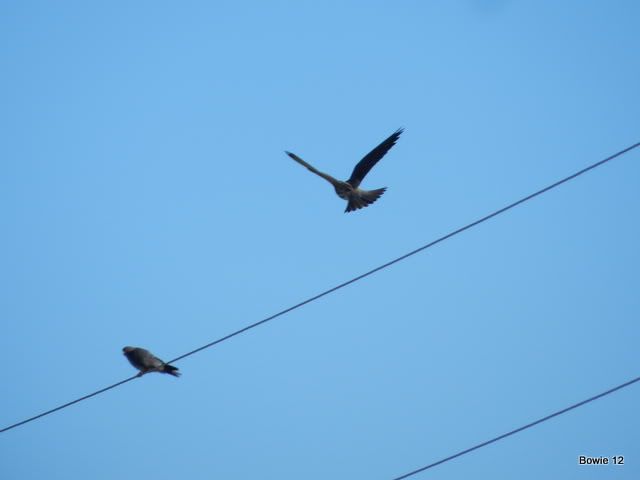 Nice family portrait!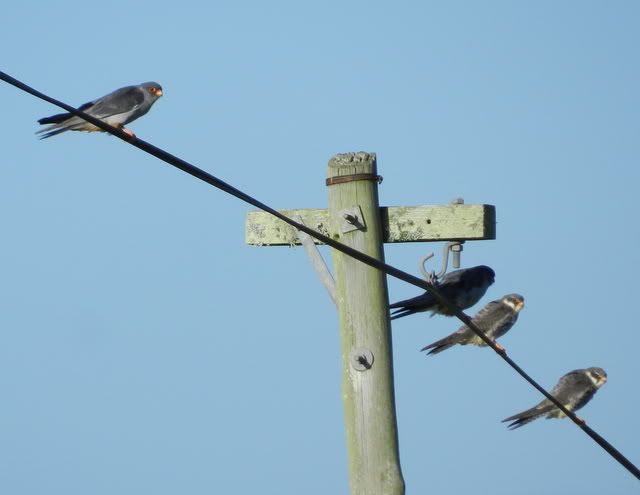 We have it on reliable advice that they were Amur falcons. Strangely enough, the female was prettier than the male. We also saw this lovely Black shoulderd Kite which humoured us and sat still for a little bit.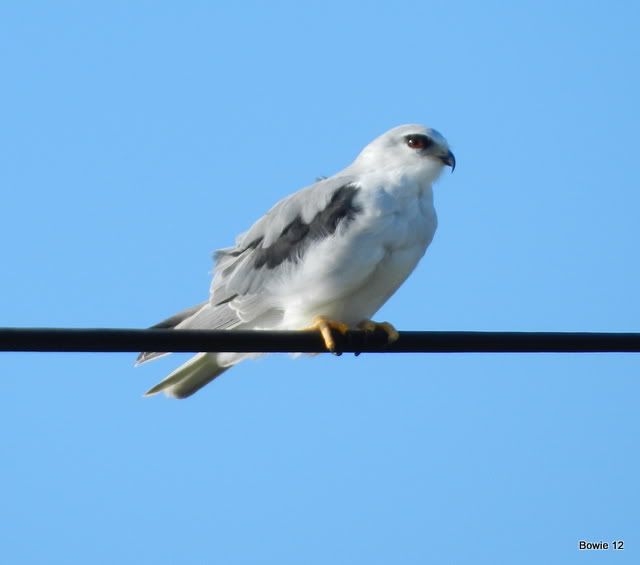 We turned down a road leading to one of the farms and I am sure I looked awfully guilty as I tried to explain to the not-so-good-speaka-da-english man that we only wanted to take a photo of the birds, to which he answered that they were a nuisance and I could shoot them if I wanted to!
We bumped into a lovely little girl riding her bicycle along the road, but I looked aghast at Buglette as we both realised that she had an African Grey parrot sitting on her handlebars!!
All of a sudden, there was a fluttering next to us and 2 large birds took off out of the grass, but our brains took a bit long to register that these were no ordinary birds, so we didn't get a decent photo, but once they had landed, all we saw was this ittle face peeping over the golden grass - our guess was a Bustard of some sort, but who knows.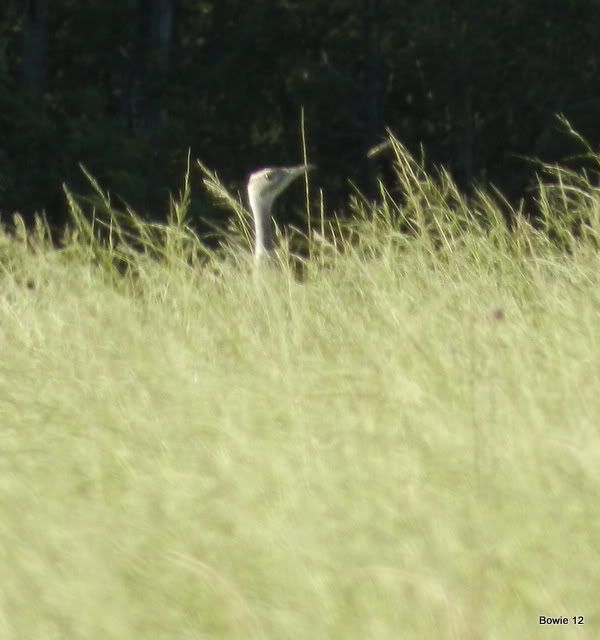 We headed back the way we came before we landed up half way to Knysna and started taking every little side road we could in the hope of finding the hide. Now I love chatting, and this I did...to some strange people walking their dog. They kindly told us how to get to Rondevlei, so we toddled once more.
This hide was a bit easier to see as the water was further out and the reeds were a bit flattened, but most of the birds were on the ooooother side where we couldn't get to.
We did manage to get some photos of a couple of Black-winged Stilts who were tottering against the wind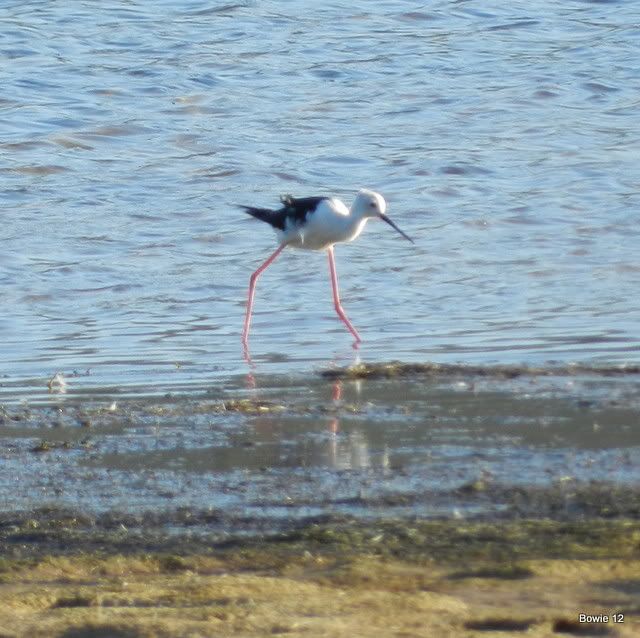 a couple of Red-billed Teals bobbing along on the water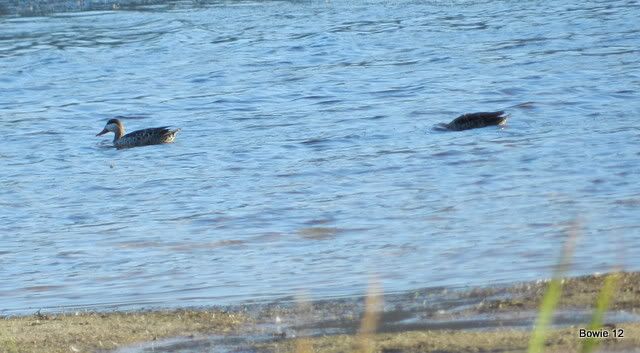 A perching Pied Kingfisher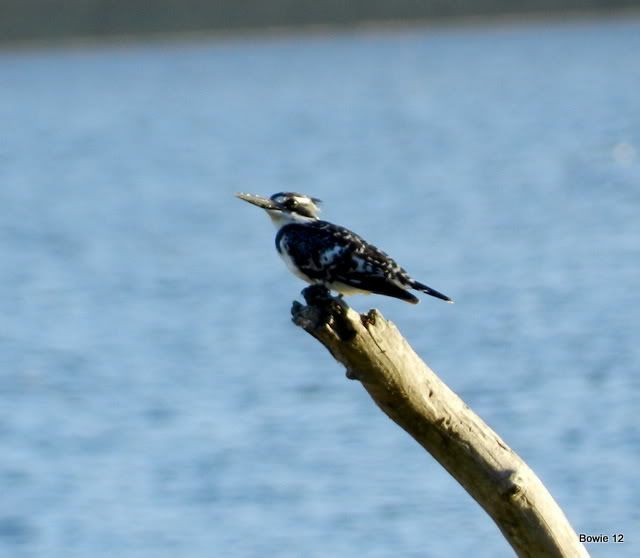 and one of the divebombing culprits as he sat on the door giving us the evil eye!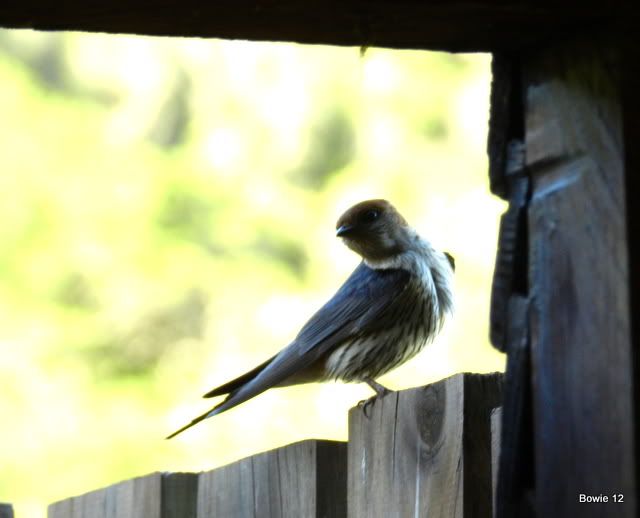 .
All of a sudden, the door of the hide opened and 2 suspicious looking guys stuck their heads in, had a good gander around to see who was there and then closed the door again! Buglette and I looked at each other, silently decided that we were indeed finished watching the birds, gathered up our belongings, stuffed camera up our jerseys as far as possible and hot footed it out the hide and down the boardwalk back to the car. Once safely back in the car, we had a good giggle and watched the guys walk harmlessly along the railway line. Better safe than sorry!
We stopped at our little cement bridge to observe the stunning sunset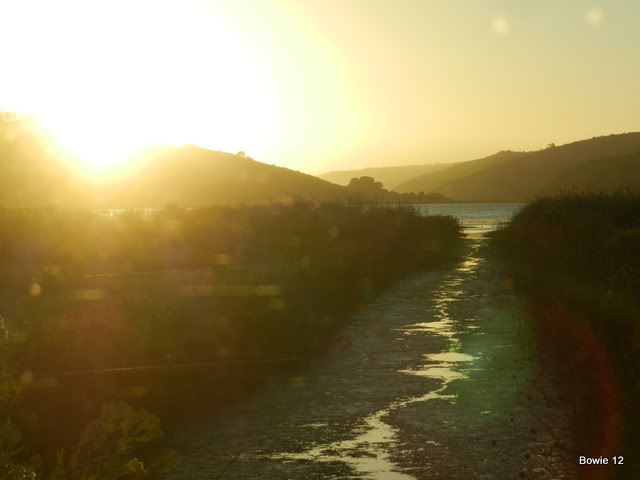 Buglette was already mentioned that beautiful raptors that were sitting so regally on the poles, however, when sitting in a car, I still managed to contort myself into strange positions before realising that I was actually allowed to get out of the car as I was not likely to get eaten by this Jackal Buzzard!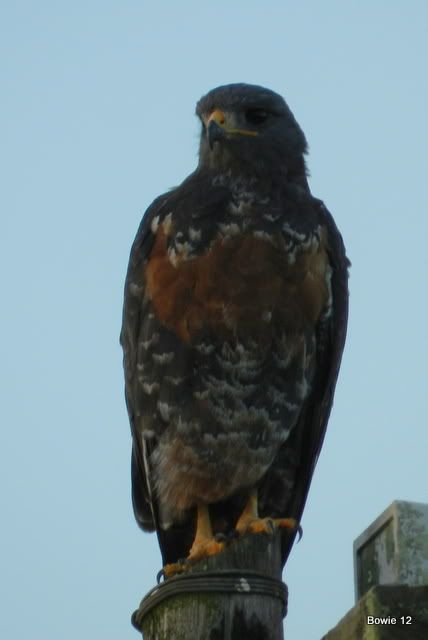 It was getting too dark, but we were satisfied with our outing and headed back to camp with big smiles on our faces! Wow!
---
Thanks to everybody for the kind comments. I am really enjoying learning more and more about the birds, but find the IDs a bit challenging unless they are brightily coloured, which, luckily for me, the ones in the Wilderness were!
When it comes to animals of any sort, I am up at the proverbial Sparrow's and so we wandered around the camp before heading out, finding the Little Egret balancing precariously in the tree.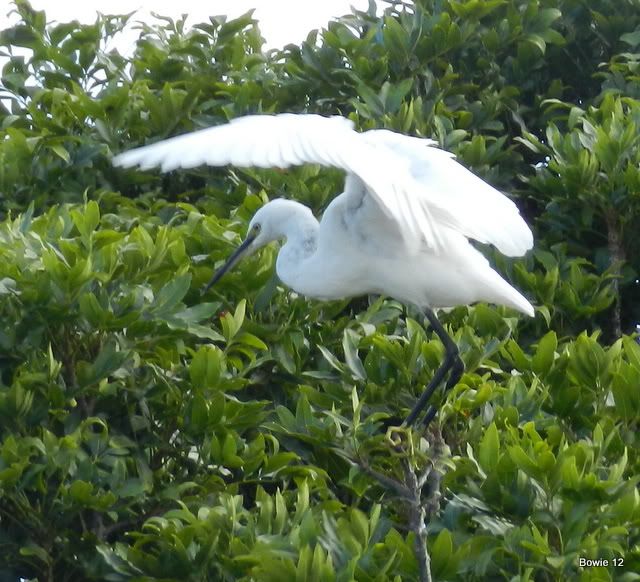 This carefully crafted, dew sprinkled web, waiting for the unsuspecting gogga to come along.
The March Lilies showed their happy faces.
Time marched on and it was time to leave for work, but again, the feathered fiends were there to retard our journey
The masked warriors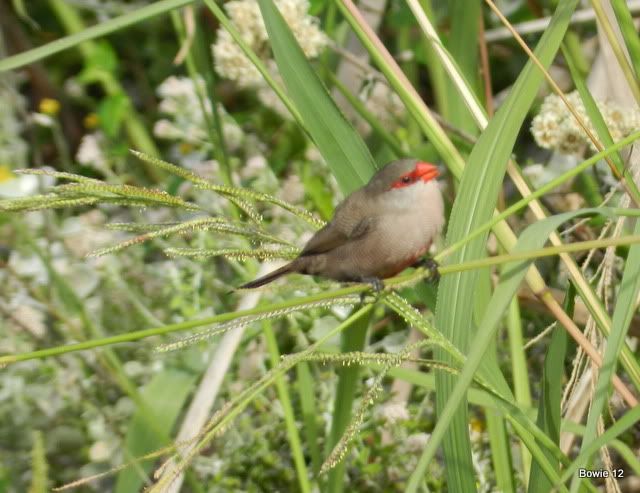 Their colourful family members acting as back up and blocking the road!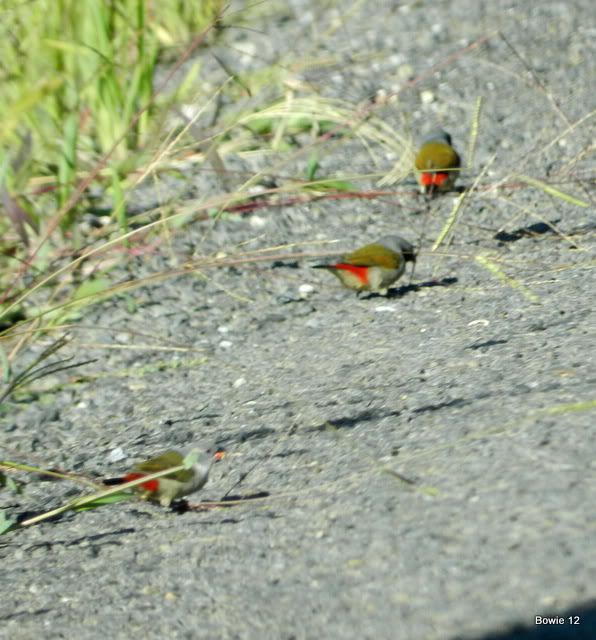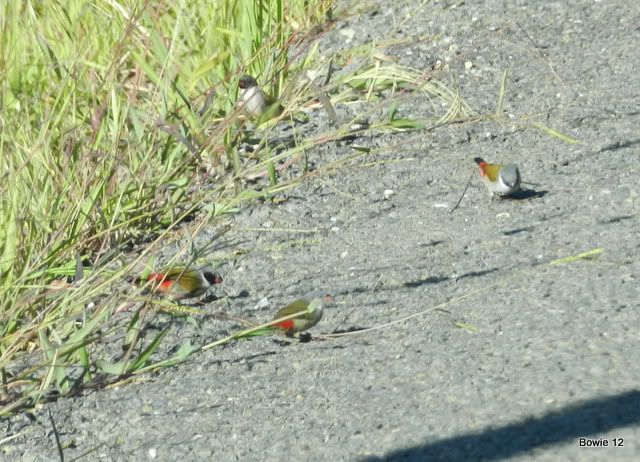 We managed to negotiate our way past and thought we were running free, when a red flash crossed our path and we screeched to a halt, doors flung open and cameras drawn and at the ready!
Now some people think that this view may be their best......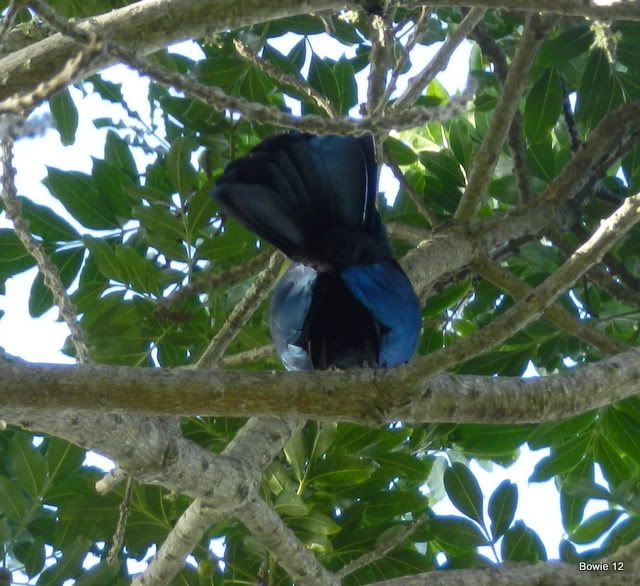 but that can't be said for the Knysna Loerie as we managed to get a peek at her!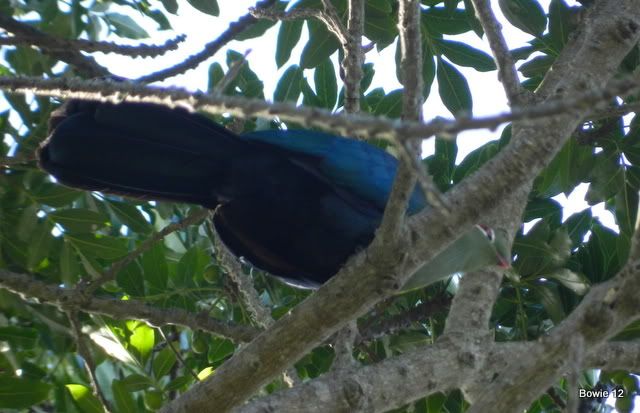 I find the thought of coming back to find them after work a real encouragement, so I haired through the work I needed to do and set off once again in search of the elusive feathered ones.
Seeing as it was still relatively early, we took a quick detour to the Gallinule hide, but as Buglette said, it was unfortnately locked!
As we approached the parking, we had heard and then seen a Burchell's Coucal which insisted on running through the bushes keeping well out of site, but I did managed to see this Speckled Mousebird, grey etched against the grey sky!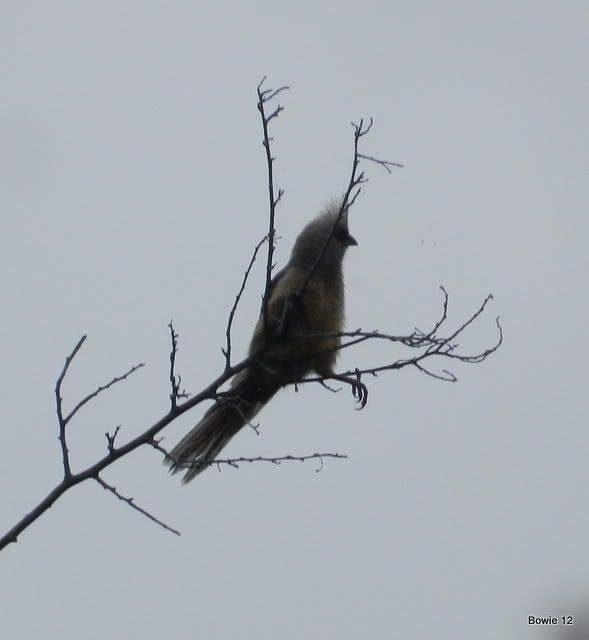 As Buglette drove along, I yelled the now familiar "Stop....go back....back a bit more!" "What is it" she asked, "Not sure, but it has got red on it" said I!
Well, it did have red, but then it also had blue, green, yellow...and no, it was not a Loerie...it was the beautiful Double Collared Sunbird, in full breeding colours. Not the best of photos because of light limitations, but still a beauty none the less.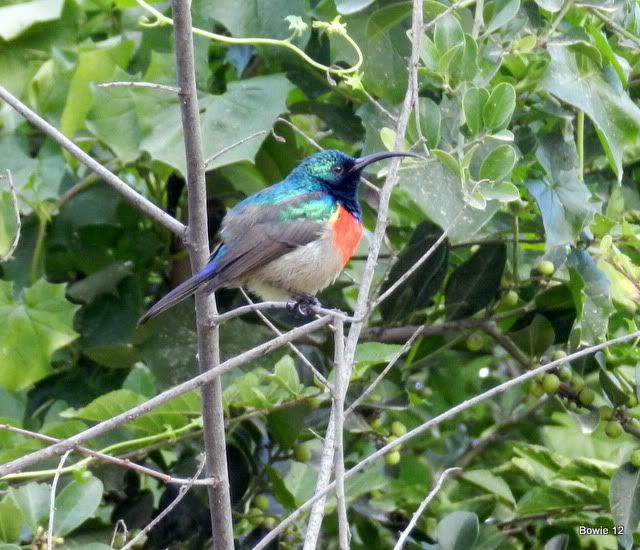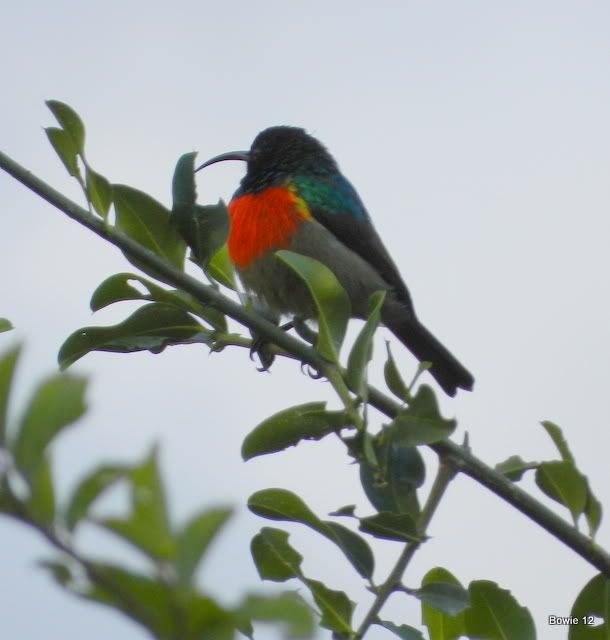 On the way, we had seen a raptor of some sort and in our early birder minds, it was categorised as a Steppe Buzzard and we were pleased with ourselves, but we then saw it more closely on the way home and jumped out to get a better shot. Buglette told you about her bundu bashing escapade, but there was no way that I was going to follow, I am way less nimble than she is (blaming my knee replacement for that!!), so I stood further back and observed as the bird eyed her for supper.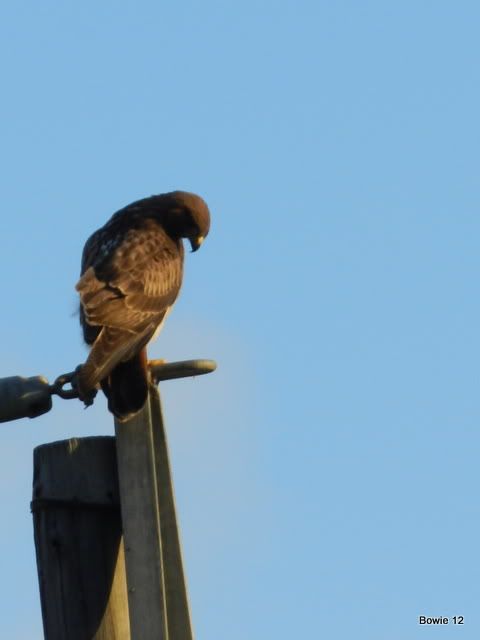 I have to admit that it is a stunning bird, from any angle.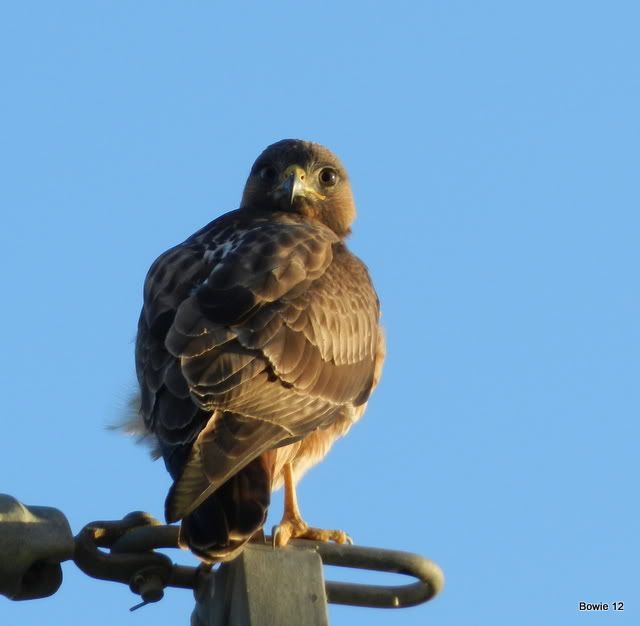 The jury is still out on the ID, but we have now decided that it may be a juvenille Jackal Buzzard.
So we headed off once more along, what was fast becoming our favourite road and in the gathering gloom, as Buglette said, we spied a couple of Fish Eagles waaaay off in the distance...I reckon about 400 m away and try as we might, we could not find a road which would take us any closer to them, so this is the best I could do!
We are all for taking any little detour possible and the fading light we caught sight of this heron, a normal, run of the mill, heron we thought, so I took this photo with a flash and it was only when I downloaded the photo later that I managed to classify it correctly (I hope) as a Black Headed Heron - another tick on the list!!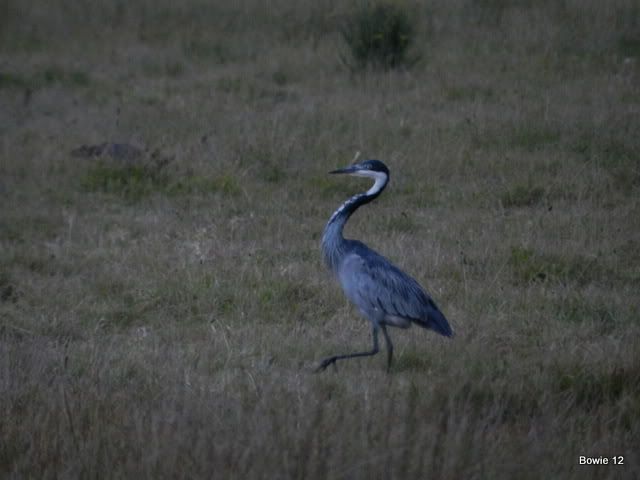 Now it REALLY was getting too dark and we had to go home, but tomorrow was yet another day.
---
Buglette and I have travelled together often and she is incredibly organised, so it was no surprise that she had packed the electric braai and we put it to good use - the steak was divine. One thing we are never short of is good food when we travel and so it was supper and dessert to be enjoyed.
After a good night's sleep, we atacked our last working day with renewed vigour and on the way made our customary stop at the Loerie tree...pity we were not as good at seeing them as we were at seeing the tree!
Now you would think that it would be easy to get a decent picture of at least 1 of the 7 which were running up and down the tree. Yes, I said running! They would flit from tree to tree, land on the lower branches and then proceed to run along all the branches, with us chasing them like idiots, with our eyes glued firmly to the viewfinder!
As one of us would get a bird in focus, the other would move and oops, there the bird goes again. I have the patience of Job, but seriously, it was wearing thin by now. I have tinted glasses and as soon as I go in the sun, they go dark and I can see diddly squat, but if I take my glassses off, I can see even less.
I did manage to get 2 fairly decent shots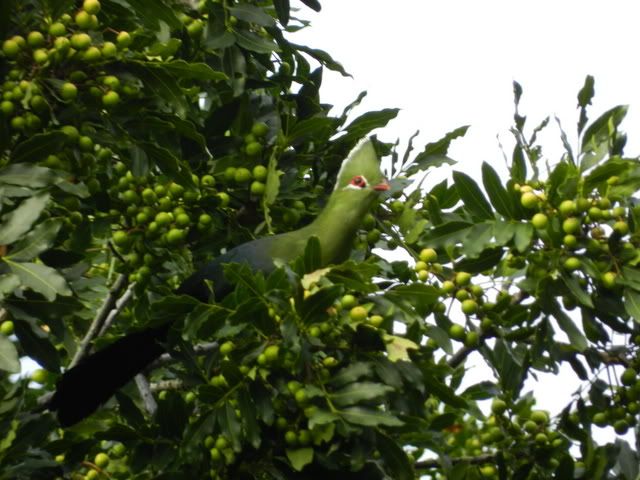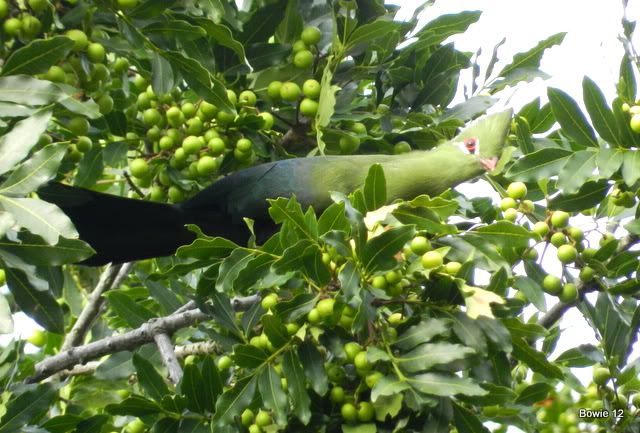 but, seeing as Buglette was capturing the one so close to her, I stayed well away, so that we would end up with at least some pretty piccie of these beauties as she posted in her report.
With work done and dusted, we had earned a break! Stop laughing as it seems that all we did was have a break, but I promise, we really did do some work.
Loving all animals, it was not really a hard decision to take a trip to the Elephant Park in the time we had available to us. Buglette covered this wonderful visit in her report, so suffice for me to say that it was a humbling experience to be next to these gentle giants. Their skin, although rough was soft and squishy and very warm, the low rumbling communication vibrated through my body and I soon realised that, if they wanted to, they could swipe at me and lay me out flat in no time. I just wanted to hug them!
We bought a bucket of food for them, but it is not so much a case of us feeding them, as them taking the food. Large pieces of pumpkin were sniffed up their trunks in no time and while you are getting covered in elephant gob on the one side, the other partner in crime, had its trunk in the bucket, hoovering up the apples, carrots and whatever else was there. At least I managed to hold onto the bucket.....the lady next to me was not quite so lucky...she was nearly sucked up with it!
We stayed there for as long as we could and then headed home, happy with our experience, decided that we would splash out and have supper at the local restaurant and on the way home, picked up a nightjar in the headlights - just why do they sit there and only move as you are about to run them over! We looked at each other, a bit perplexed as we never expected to see one there and it took a while to register its ID, so, ja, no photo!
We planned our trip home and it was defintely going to include as visit to the Gallinule Hide, armed with the key this time!
It is a pleasant walk down to the hide and we were the only 2 there which suited us fine.
As usualy for the area, there were darter, white breasted cormorants and reed cormorants, yellow billed ducks and red-knobbed coots.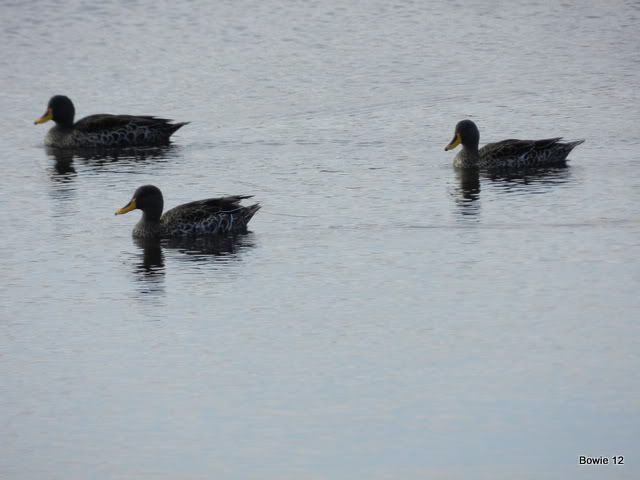 This reed cormorant thought it was playing the lead in Titanic - "I am king of the world!"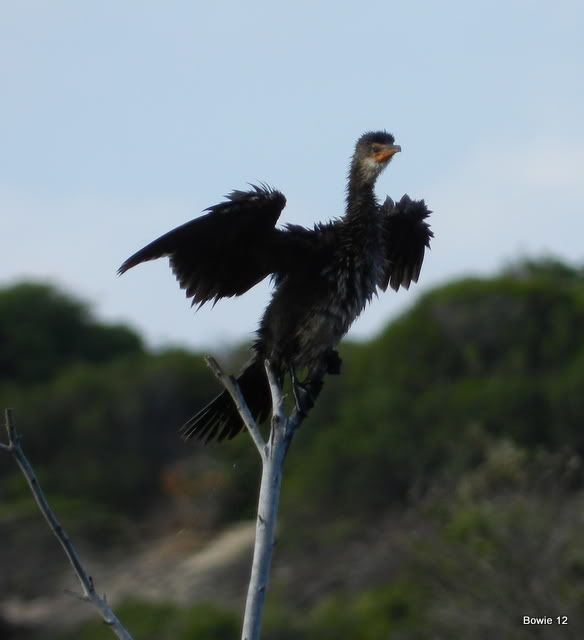 While we obviously wanted to see a Gallinule, the other bird I really wanted to see was the Kingfisher, not the Pied, as we had already seen a number of those, but the Malachite. We were really disappointed that we would have to leave without seeing one.......until I downloaded the photo of the yellow billed ducks!!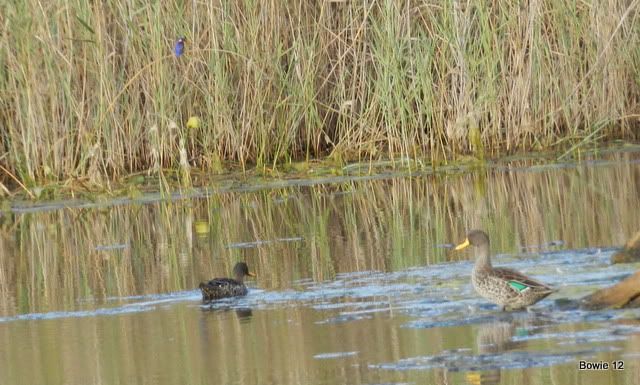 There, in the background, was a little Malachite, hanging on the reeds....and totally out of focus! If I had realised, at least I would have tried to get a reasonable one.
On the rock to the right of the hide, was an Egyptian Goose and a stunning Grey Heron.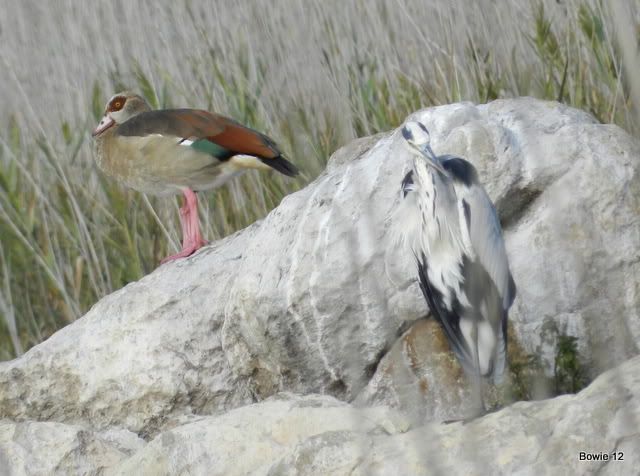 I then spotted a rarity....a Buglette on a rock! She has crept round the side of the hide and over the rocks to get a better view!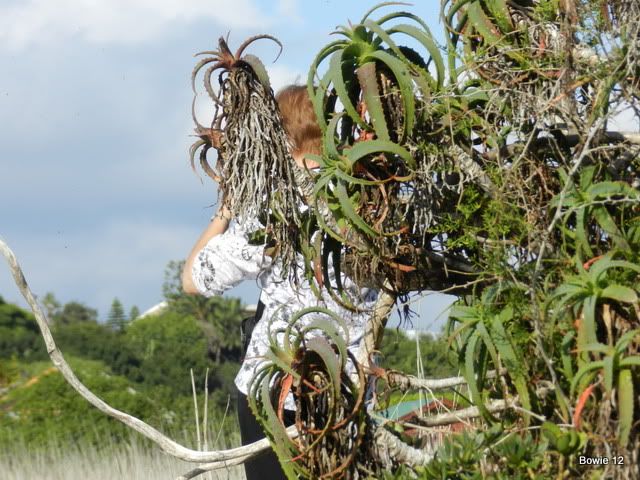 We watched a large Heron coming into land, but it was not in the mood for giving us a clear show. 10 points if you can see what it is.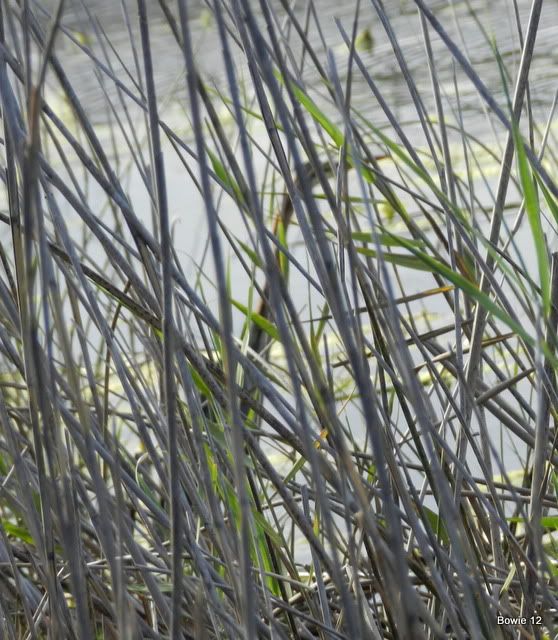 It might not be a very good picture, but it was a tick on the list - our first Purple Heron.
As I was watching these duckies skiing into land,
I noticed a bundle of colors in the reeds.
"What is that?"
"A Gallinule" squeeled Buglette. You have got to be joking!
It then proceeded to tease us and stayed semi-hidden for ages.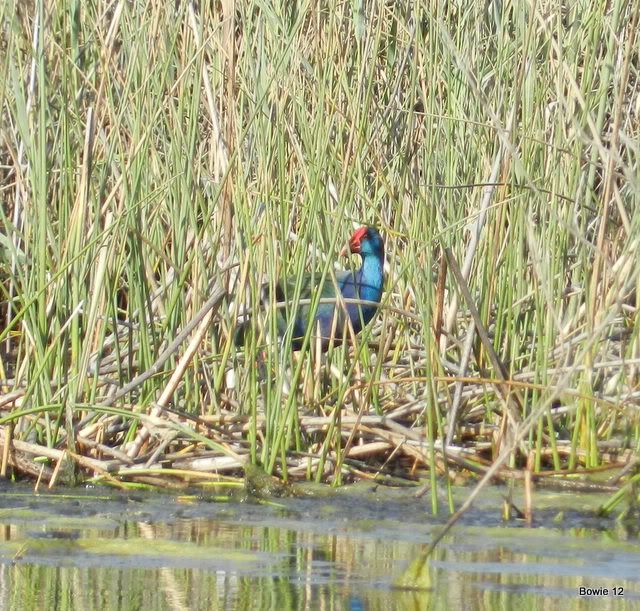 It turned its tail towards us and played semiphore or morse code with goodness knows what, but the white patch on its tail flicked up and down in a rhythmical pattern.....I did not understand the message.
I have 84 photos of this little creature and probably only 5 that are actually identifiable!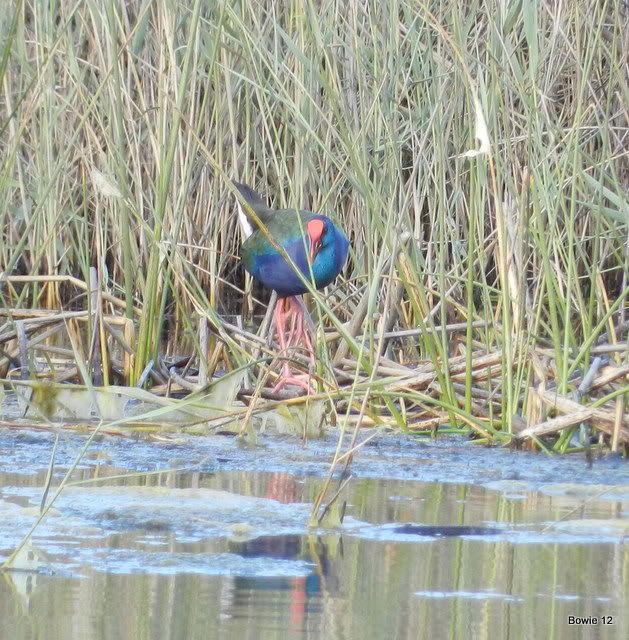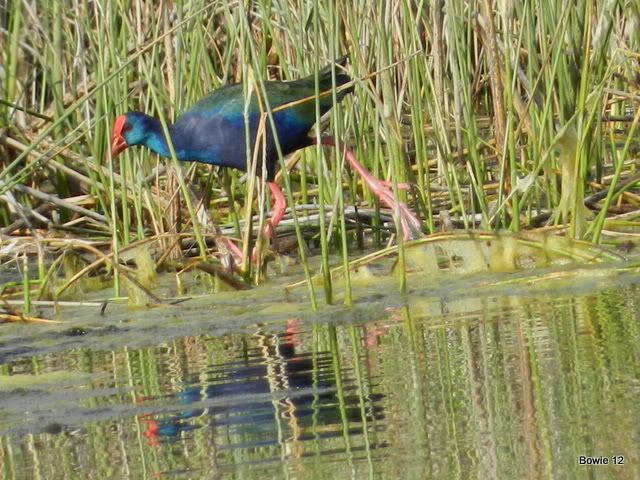 Were we happy, you bet!
We could head home having learned so much more and ticked many birds off our list. The Wilderness is a great place to be, early birders or not!
Thanks for joining me on our journey and hope you enjoyed it a much as we did.
---
---
Who is online
Users browsing this forum: No registered users and 4 guests