On 17 December 2010 we packed up two daughters, two grandsons and ourselves into the Caravelle and left Cape Town for our annual pilgrimage to visit our kids and kin in Kokstad, KZN. The usual plan is that the daughters and grandkids in their own time fly back home while Earliebird and I continue to Kruger for a couple of weeks before returning to normal life. In 2010, however, we did Kgalagadi in April and Kurger in October so we felt it would be pure over-indulgence to do another long Kruger trip so soon after the last. So we opted instead to take a slow meander home to Cape Town - via
Mountain Zebra and Addo
, visit friends in Jeffrey's Bay then arrive home in time to help the grandkids settle into the new school year.
En Route to Kokstad we stopped overnight in Graaff-Reinet and did a quick day trip to Camdeboo National Park.
17 December 2010
Camdeboo National Park
We arrived at lunch time and checked into our guest house, The Old Caledonia. We were all housed in a flat with three bedrooms, a lounge, kitchen and one bathroom. It was decorated in the style of something out of the 70s but it was spacious, clean and above all cheap at only R1 100 for all six of us. I thought the lime green of the bathroom a bit kitsch but Jay said he liked it. I must say the place did have a charm all of its own! And we thoroughly enjoyed the picutresque town of Graaff Reinet! After a brief afternoon nap (for Earl) we piled back into the Caravelle and explored Camdeboo National Park. Earl and I were not expecting much and the main purpose of the trip was to see The Valley of desolation in one part of the park. We presented our Wild Card, paid for the two extra people and drove in. The boys were thrilled to stop for some weird Karoo lizards and the odd buck and bird but nothing too exciting to see.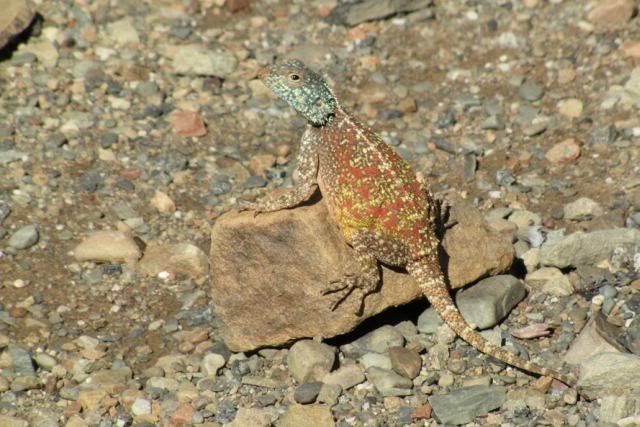 We parked at "The View Point" and after a short walk enjoyed panoramic views of the whole town. The boys were as usual not wearing shoes and Jay managed to get a scrape! Back at the parking lot we found an enormous tortoise.
The next stop was at The Valley of Desolation. Lisa freaked because the hyper-active boys went close to the edge, deliberately scaring her and pretending to trip and fall. I was taking photographs. "The headlines will read – 'this is the last spot they were seen'," she warned her dismissive sons. "Oh, Mom – don't worry – we promise we won't fall." Then Josh stubbed his toe and blood spurted everywhere. The first-aid kit was at the flat but luckily we had wet-wipes and plasters in the car.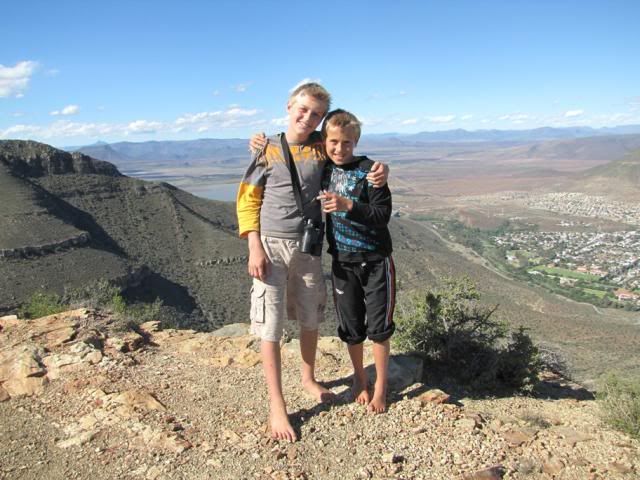 Next, we went to another section of the park through a different gate but our receipt from the first section got us in at no extra cost. Well, what a surprise! This is where they were hiding the game.
All the Karoo locals were there – adorable ground squirrels with their long bushy tails, meerkats (surricates) standing up straight and checking for predators, shy little duikers and steenbok, kudu with long curly horns, eland, zebra, springbok and scores of vervet monkeys which made us all shriek with laughter. We saw a variety of active birds too including ant-eating chat, karoo larks, pale chanting goshawks and a black-shouldered kite catching a mouse. The boys were delighted and Jay had fun with my camera and took some pretty good photographs.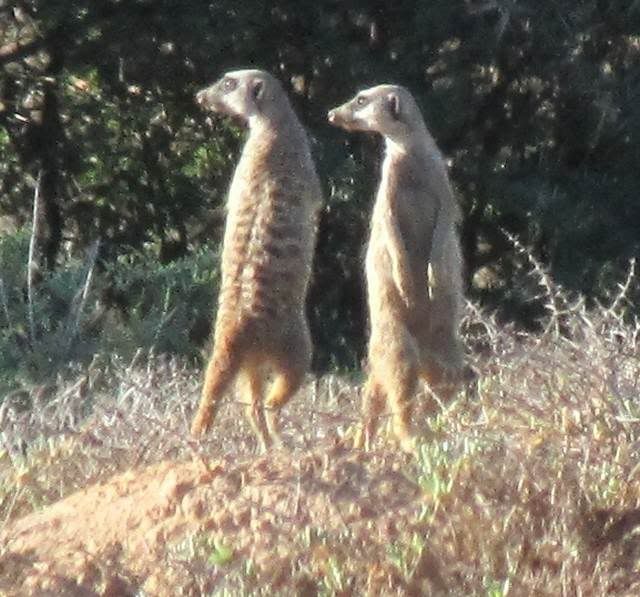 We had to leave all too soon and went straight to a restaurant for supper and then back to the flat for an early night. We had to make an early start next day for the last leg of our trek to Kokstad.
---
MONDAY 3 JANUARY 2011 Day 1 Mountain Zebra National Park
We left Kaag's Post in drizzly weather just after 6 this morning. Josh was first up to say goodbye then Jay. Simon came through sleepily but Shan slept on until I whispered goodbye in her ear. Earliebird was on his way to do the same but she got up to spend the last few minutes with us.
The rain continued all the way to Queenstown. Everywhere we looked there was water where there had never been water before. Every ditch, donga and gully was full. Wonderful to see and much needed by the farmers of East Griqualand and the Eastern Cape. We stopped in Queenstown to buy bread and get something to eat. We thought the Pick 'n Pay Centre just outside the town would be our quietest bet – how wrong we were – first we had to negotiate our way through town then when we got there we fought a traffic jam of note. Luckily we found parking for our car and trailer in a tandem bay. First stop was a loo – I paid R1 for grotty facilities. The only restaurant looked sus so we bought chicken mayonnaise subs from Pick 'n Pay, returned to the car and made as speedy a getaway as possible. Remind me never to seek refreshment in Queenstown again!
The weather remained overscast but dry the closer we got to MZNP. We arrived at the gate at ten to two and were greeted by a friendly and efficient official. He checked our booking and wild card, gave us clear directions and wished us a pleasant stay. We were hugely impressed.
By now the skies had cleared and although the park was quite green we were told that they needed more and had had there last rains on Thursday - unlike the rest of the area we'd been travelling through.
We continued slowly to reception and saw a nice variety of game and birds - white tailed gnus (black wildebeest), red hartebeest, springbok, kudu, blesbok, barn and striped swallows, ostrich, brown-hooded kingfisher, white-browed sparrow-weaver and fiscal fly-catcher.
We arrived at reception at 3 and were once again impressed by the friendliness and efficiency. Small park - better service. We were assigned to cottage 12 for the mobility challenged but I still wondered it was sufficiently adapted to a wheelchair user as the spaces were small.
We went out again at quarter to five and were delighted to find Mountain Zebra, blesbok, eland, monkeys and buffalo as well as the other species mentioned before. Birds included grey-backed cisticola, blue crane, Cape Longclaw, Karoo robin, lots of ant-eating chat and Namaqua dove.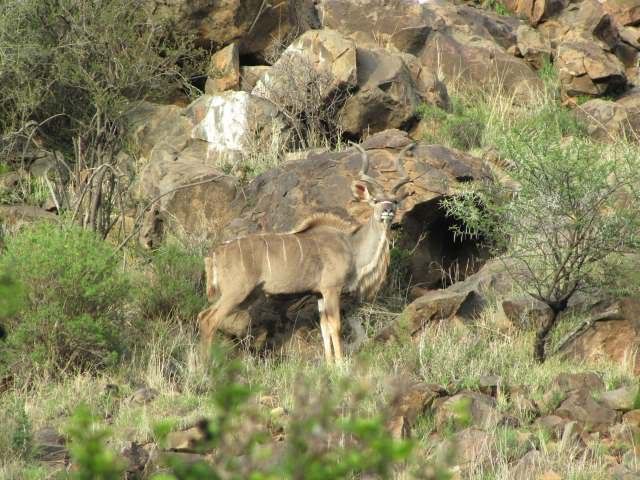 I cooked a chicken casserole for supper and we were in bed very early!
---
4 January 2011 Day 2 Mountain Zebra National Park
We went out at quarter past six and went in search of the blue korhaan but we did not find it! But the park had other things to offer. The overcast weather had cleared and we had a lovely cool morning - 16degC going up to 22 by 9 o'clock.
We enjoyed watching a group of red hartebeest interacting at a muddy puddle, rolling in the muck, drinking and sparring with each other.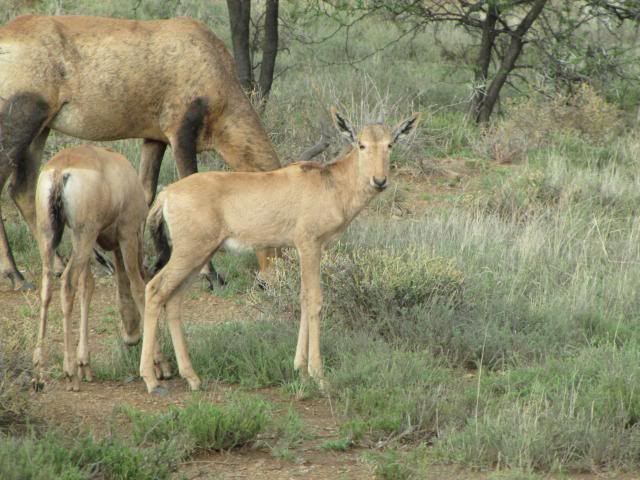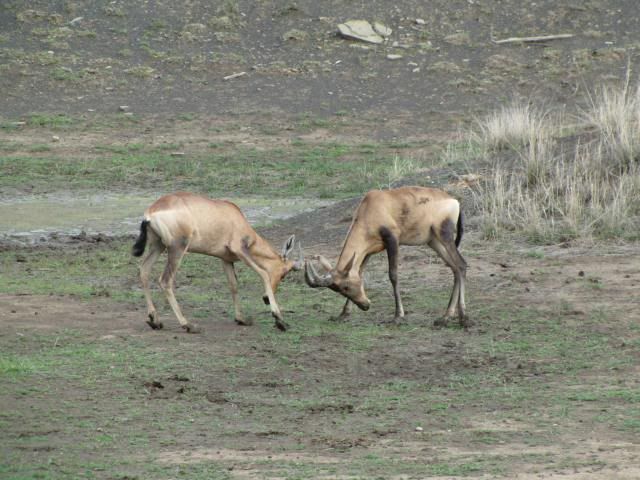 Interesting birds seen were Ant-eating chat, pin tailed whydah, grey-headed sparrows (lots), steppe buzzard, Eastern clapper lark and acacia-pied barbet. There were 2 clappers, mom and junior I think. We managed to get reasonable pics.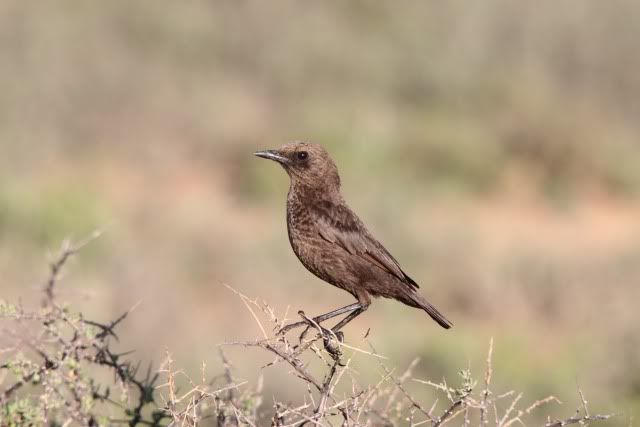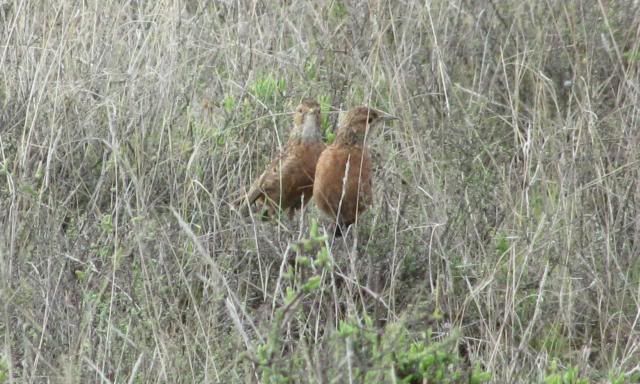 Our morning drive ended at 9:30 and there was hardly 4 minutes between sightings. It was lovely to see the animals doing so well. There were plenty of small rodents like surricates, ground squirrels, mongoose and striped mice and we had fun watching their cute antics.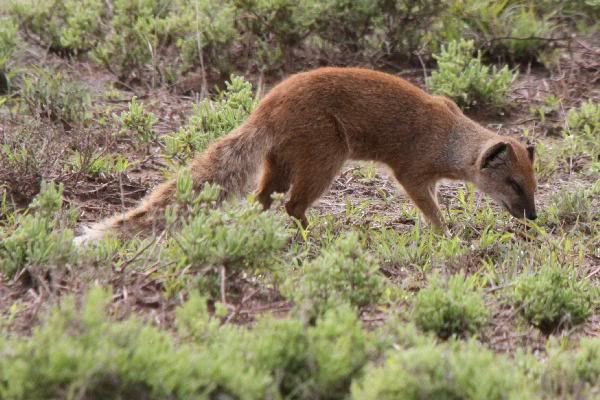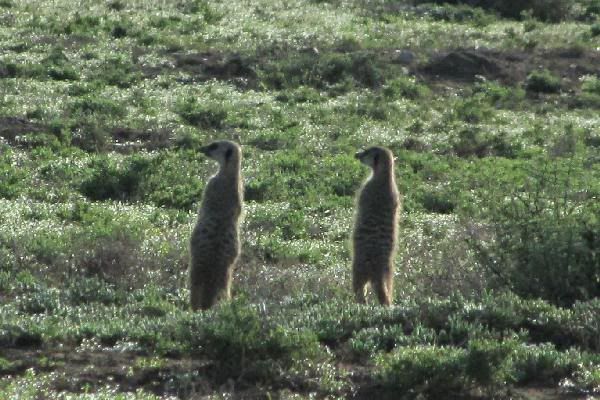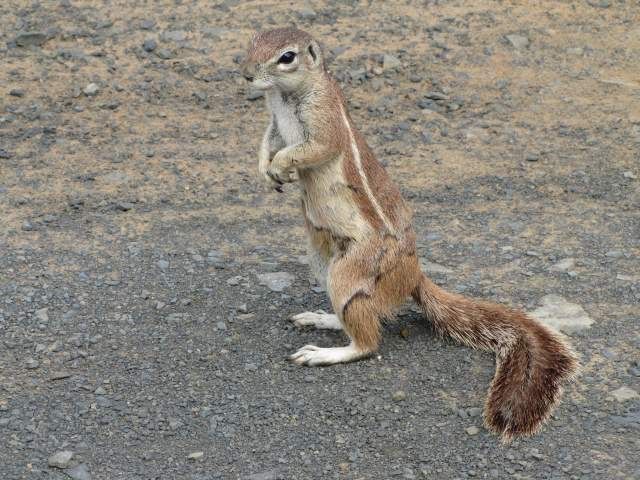 After brunch and a nap - yes Earliebird napped ever single afternoon of our holiday - we set off again at quarter to 3. The temp was 27 but it had clouded over and we got some rain before it cleared again. At a dam we spotted black ducks and enjoyed the usual previously mentioned game and birds.
This buffalo eyed us suspiciously
The Vervet Monkeys are always entertaining. We were in fits of laughter over their antics. I think they are so 'human' and the babies remind us of our grandchildren - though please don't tell them that!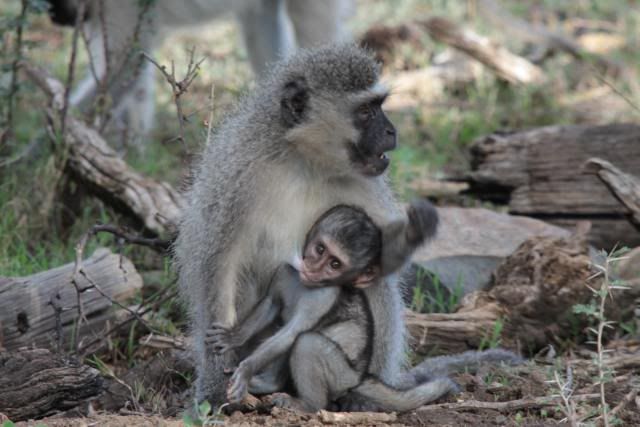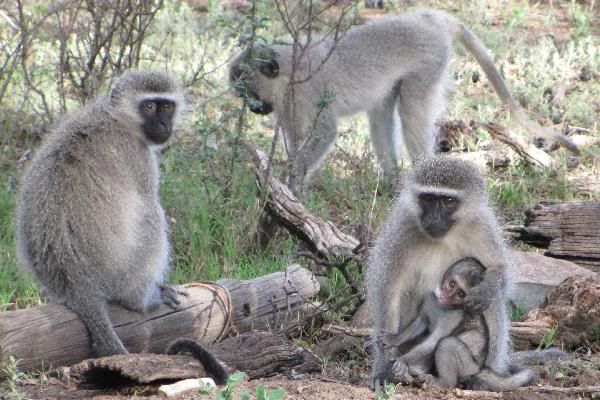 My favourite antelope are steenbok and I was not disappointed. And of course there were plenty of "rugby buck " (The grandchildren's nick-name for them.)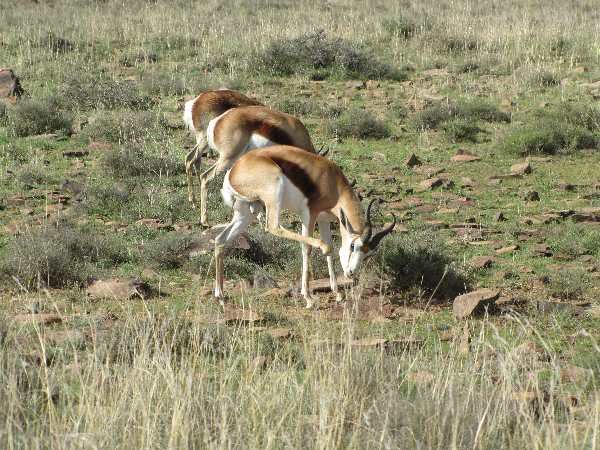 We were nearing the end and losing concentration when I suddenly caught a movement in the bush and yelled "aardwolf" It stopped and turned to look right at us. Earliebird aimed and shot but it dashed off into the undergrowth and there was no aardwolf in the photograph. But still - we had seen him beautifully and we returned to camp on a high. We placed the marker on the spotting map with great pride.
---
5 January 2011
Addo Elephant Park Day 1
We left our chalet at 6 and enjoyed some game viewing and birding before exiting at 7:15. A ranger stopped to tell us that there were black rhino near the gate. But they had disappeared by the time we got there. Still good to know that they are around.
We arrived at Addo Rest Camp at quarter to 10 - too early for checking into the bungalow so we unhitched the trailer, had a health breakfast at the restaurant and went for a drive.
First animal seen - elephant! This after people we met in Kokstad told us they'd been to Addo several times and had never seen elephants. We, on the other hand, have always seen hundreds and we have been coming to Addo since the year 2000.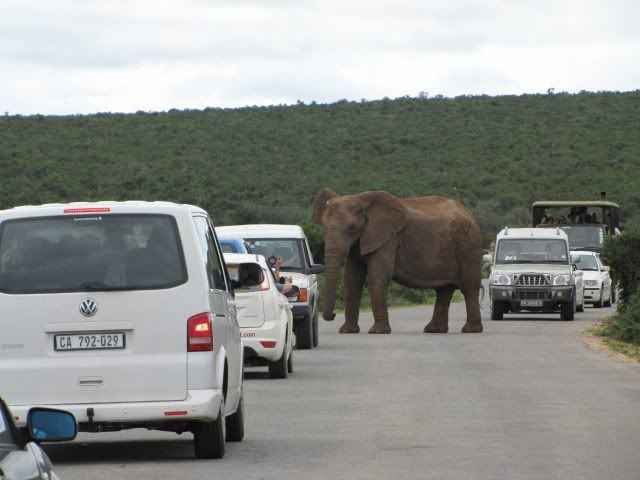 This time of the year is clearly good for game viewing. The park was green and there was plenty of water around. The only disappointing water hole was Marion Barree.
But back to day 1. We made our way to Carol's rest where lion had been seen. En route saw lots of kudu and red hartebeest, a jackal and eland at a distance but lots of them - never seen so many before. A family were out of their car trying to get a better look at the game. We drew up next to them and I asked, "Are you South Africans?" They were but had no idea that they weren't allowed out of their vehicle. Never mind the symbols at the gate! Earliebird told them that lion had been sighted round the corner. They were back in the vehicle quick smart. Homo Ignoramus!
There were no lion at Carol's Rest but there was a buffalo drinking. We moved on and headed back toward camp enjoying sightings of elephant, eland, buffalo, red hartebeest and zebra.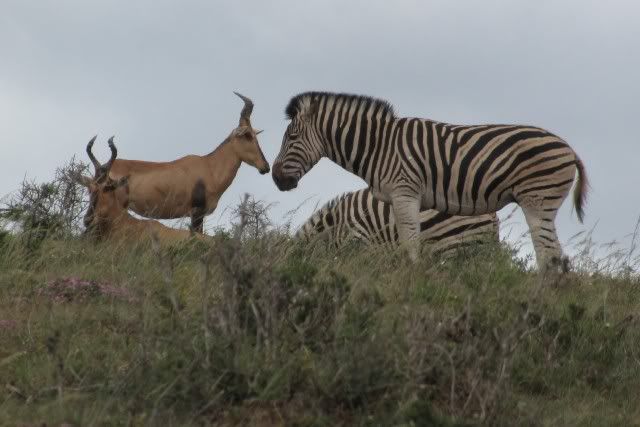 The birds we found were common fiscal, mousebirds – red-faced and speckled and red-capped larks. The birdlife this trip was not as prolific as usual – very few bokmakieries of which there are usually scores.
This red-capped lark has found lunch.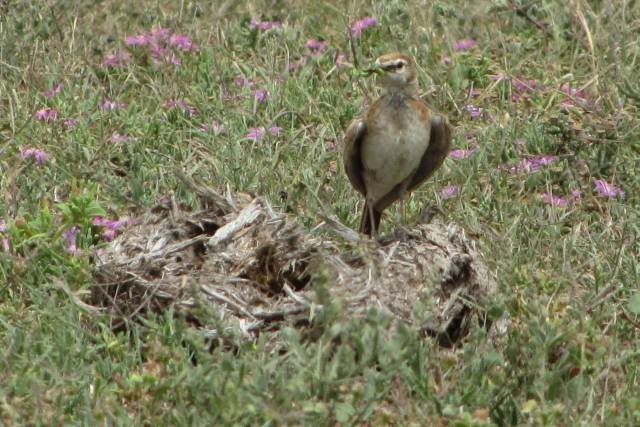 We decided not to braai and I cooked a chicken casserole for dinner which we enjoyed outdoors looking over the valley and watched kudu, buffalo and elephant make their way to the waterhole for an evening drink.
---
Thursday 6 January 2011 - Addo Day 2 - Morning Drive
Earliebird had a strong feeling that the lions would be at Carol's Rest this morning so we set off early and were the first out the gate. It was 22⁰C and climbing. We drove slowly and enjoyed sightings of kudu – males had lovely big antlers, eland and red hartebeest. The large herds of eland had many babies amongst them so the herd is certainly going to grow even more.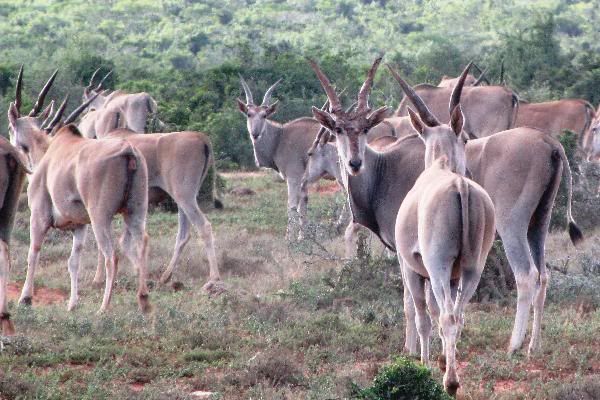 A jackal trotted along on a mission and a pale chanting goshawk in a tree caught our attention.
Our Caravelle and a Kombi arrived almost simultaneously at Carol's Rest and we were the only cars for about 10 minutes. We saw the two big buffalo bulls straight away and for a minute I thought that was it when the three lions exploded on my senses – two young males and a female. There was no cover for any of the animals and they were staring at each other.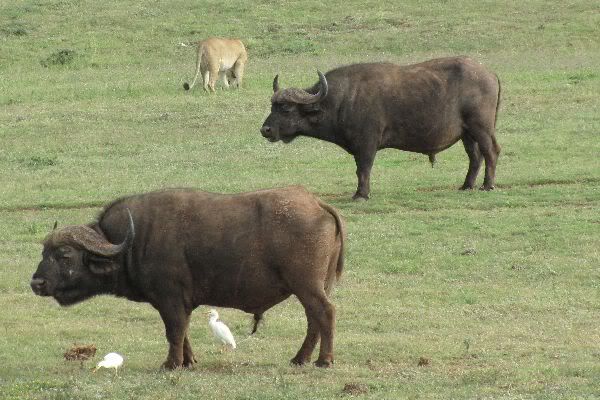 We could hear a jackal howling and eventually saw him with our binoculars. He was clearly upset that the three lions were so near the waterhole or was begging them to attack so he could help partake in the meal. But there was no way these predators were going to get into those two huge ungulates. There was no doubt who had the upper hand – or hoof. The buffalo grazed peacefully until the lions came to close then charged and had them scampering away. We watched the cats try a few half-hearted attempts before settling down to play with each other and finally snooze.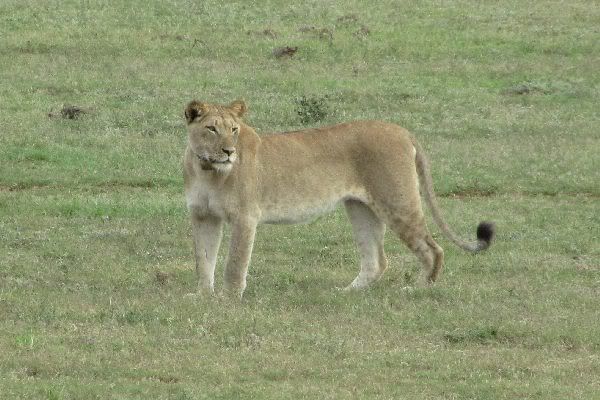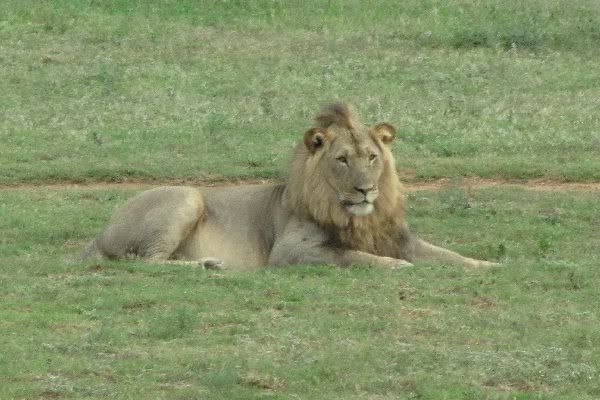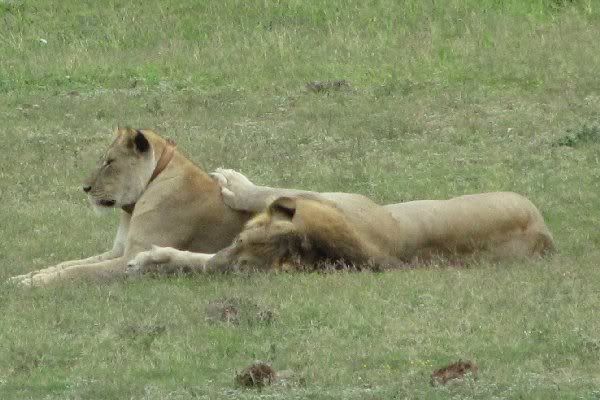 More cars began to arrive and as it was a wide-open area there was plenty of place to park and everyone had a good view. Suddenly I noticed the passenger in the car parked in front of us trying to catch my attention. It our daughter's friend, Michele, visiting the park with her husband and kids. Lisa had told her to look out for us and it was great that we could tell her we'd found each other at the lion sighting.
Cars kept arriving and stopping to look at the lions but one came along, obviously saw the buffalo and thought to himself – oh they're all looking at the buffalo and drove straight by! He did not bother to scan the area properly and missed what was probably on the top of his wish list. I can just hear him telling his mates – "It's a waste of time going to game reserves – you don't see anything." Well – you don't see anything if you don't take the time to look.
We spent over an hour with the magnificent cats and during that time zebra came to drink and two more jackal appeared. We then moved on to see what else Addo had to show us. My list went something like this – red-capped lark, African pipit, drongo, hoopoe (one who posed beautifully), warthog, jackal, elephants, jackal, tortoise, elephants, tortoise, warthog, bokmakierie, eland, elephant, tortoise.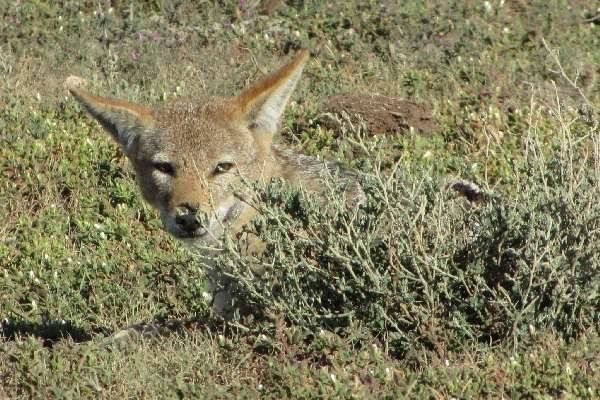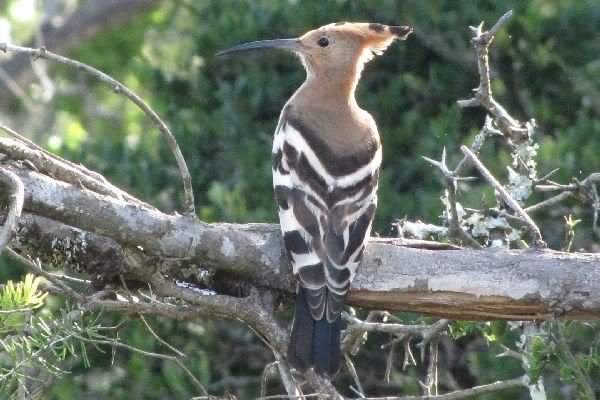 The temperature had climbed to 38 by the time we got back for brunch and we relaxed for a few hours before venturing out again at 4 o'clock. We enjoyed seeing the usual suspects but were amazed at all the tortoises that kept making an appearance – our total for the day was at least 12, so we called today The Day of the Tortoise.
---
Thursday 6 January 2011 - Addo Day 2 - Afternoon Drive
Our highlight of the afternoon was spending time at a little waterhole that we could just see through a gap in the bush. Earliebird spotted two yellow-billed ducks under a dead log which made a very pretty picture.
Another then swam by behind them then they swam to join it further along.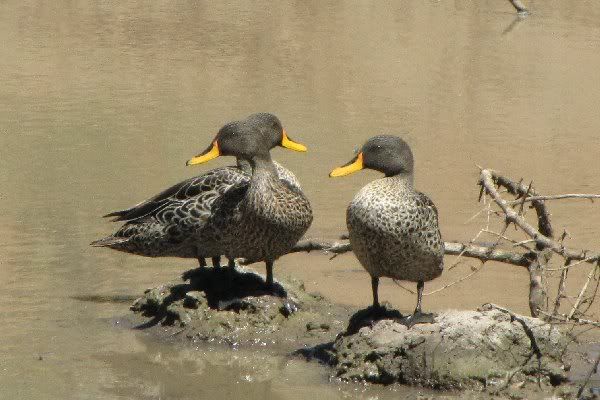 We were just enjoying the tranquil scene when a yellow-billed kite landed in a tree right in front of us and entertained us by preening and spreading his wings and providing us with wonderful Kodak moments. Several cars stopped to find out what we were so engrossed in but when we told them we were looking at ducks and kites they moved straight on. Oh dear, we birders are a funny lot!
After an hour of this, we went to Jack's Picnic site for a loo break and were very impressed with this facility. Just before entering we stopped at a mud puddle and laughed at a warthog rolling in the mud.
We were amused at his entertaining way of relieving his itchy bum on a strategically placed rock.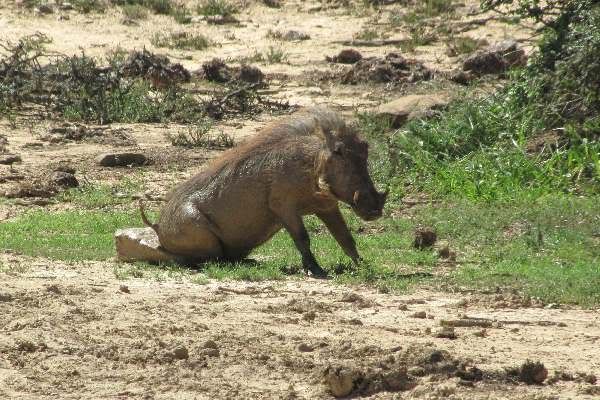 Some other birds and beasts we saw this afternoon besides dozens of tortoises:-
White elephants?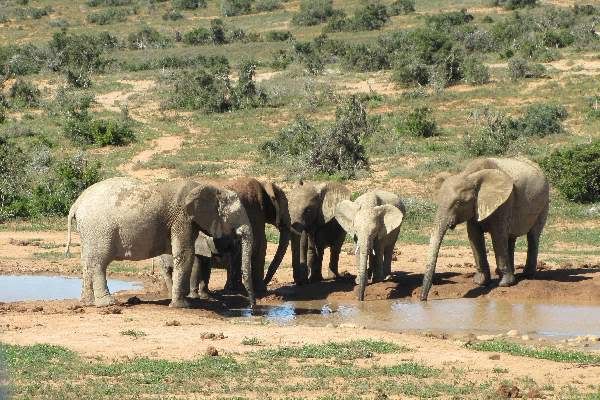 Nedicky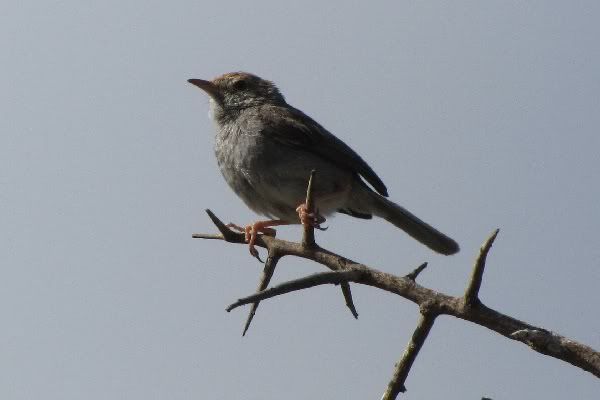 Common Fiscal
Magnificent Kudu
For supper we braaied the last of our chops and enjoyed them with baked potatoes and salad while we once again watched the wildlife take their evening stroll down to the waterhole.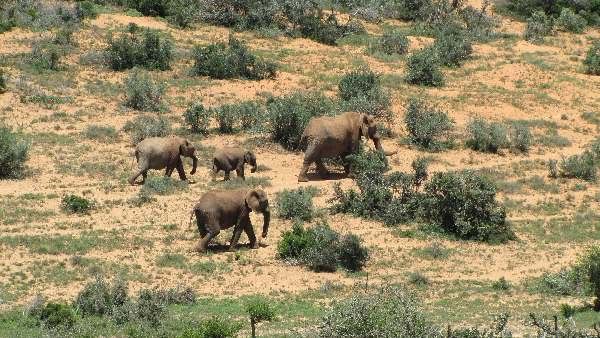 ---
Friday 7 January 2011 Addo - Departure Day
This morning, our last, we packed everything ready to go and then headed out for a drive before breakfast. We were enjoying observing all the Addo game when someone stopped to tell us that there were hyena at Domkrag Dam. We did not rush but were luck enough to get there before they disappeared. Photography was not easy from the lookout point but we got nice views of the remaining hyena with our binoculars.
We saw all the other usual suspects - kudu, eland, red hartebeest, jackal etc and then it was finally time to leave. We returned to our bungalow, hitched up the trailer and went to the restaurant for a health breakfast – highly recommended – muesli, fruit and yogurt in a glass.
Michelle and her family saw us as they were heading for the waterhole and told us that they'd seen a black rhino at the campsite fence the night before.
We took our time driving through the new section of the park exiting at the Colchester gate. We had to stop for a zebra-crossing.
The birds were active in this part of the park - we kept hearing the sombre greenbul calling - Willie, come out and fight but only one was brave enough to do so.
A steppe buzzard sat beautifully for a portrait.
Then the highlight of the trip - at the side of the road as quiet as can be - the cutest little quail-finches. They scurried away but did not disappear into the long grass so we managed to get a few piccies.
You never know what a game reserve is going to offer you – it is different every time. We have visited Addo many times and once again she did not disappoint. We observed different things and got just as much pleasure out of the park as on previous visits. Who knows what she will have to offer next time.
We will definitely visit all three of these parks again in the future.
---
---
Who is online
Users browsing this forum: No registered users and 6 guests