Distinguished Virtual Ranger

Posts: 1507
Joined: Sun Dec 05, 2004 7:01 am
Location: Marloth Park, South Africa
Contact:
Here goes, Kruger lovers.
Entered the park at Malelane gate at 12 noon on the 7th April with my UK first timers. Made them smell the thatch, visit the loos and told them that it was the custom to open a frosty on entering the park.
Saw impala and warthog not far from the gate, they were hooked (I love it), took the S118, then the S114, saw ellies at a distance and zebra, my visitors were in heaven. At Biyamiti weir we got hammerkop and they thought the scenery was unbelievable.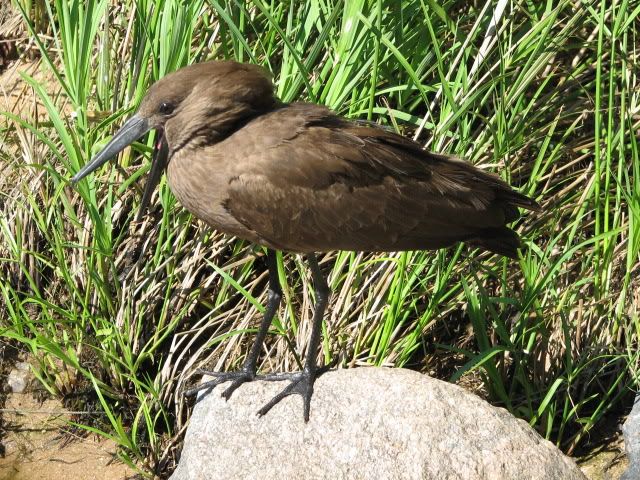 At Renosterkoppies Dam we had wildebeest with a baby and more impalas, European rollers, lilacbreasted rollers, yellow billed hornbills and bateleur along the road to Skukuza.
They were very wary about the accommodation, would there be spiders?, would they have a flush toilet? would there be lots of mosquitos? I didn't give much away but when they saw the rondavels with a full bathroom, mozzie screens and a verandah and braai they were ecstatic
We had a lovely meal and excellent service at the Selati train and fell into bed about 8.30.
Next morning I was up at 5am, showered , had a few nicotine and caffeine fixes, packed the combi and these UK people were still sleeping. I decided to wake them and we were on the road by 7 (how late is that?)
Took the S83, Marula loop, then the H12 and S30, Salitje road to Mondlozi picnic site.
More ellies, buffs, kudu, naughty baboons and vervet monkeys along the way.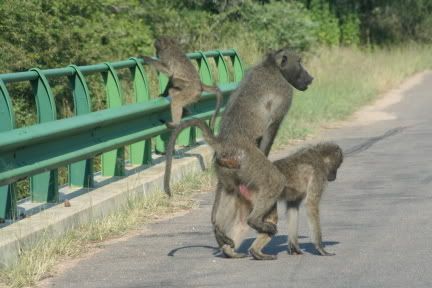 I hired a skottel and cooked them a full English brekkie, they couldn't believe we do this in the bush.
Saw a snake, monitor lizard and hippos from the picnic site.
We travelled on to Lower Sabie, rollers all along the road, stopped at Sunset Dam and watched the hippos, went into the camp and had a cold one on the deck and watched the ellies and hippos. Back up to Skukuza on the tar road seeing the normal game.
A quick visit to Lake Panic before returning to camp, nice sightings of cormorant and green backed heron and guess what? On the way back to camp on the bridge wilddog
and a warning from a ranger as one of my visitors was protruding a little from the sunroof to get a pic
, thank goodness I forgot the yellow ribbon. No fine, just a warning.
Back at camp I decided to braai, got it going nicely and the meat on when the heavens opened, dragged the braai to the patio and all worked out well.
All in bed, very contented with the day, at 7.30. At 3am I woke to the Kruger sound of a chair being moved on the patio, I went outside and 2 bushbabies were sitting on our braai licking it. I was too sleepy to get a pic
.
Next morning all were up before 6 and ready to get on the road and find animals. We headed towards the S65 hoping to find the cheetah but no luck, but more ellies, giraffe, zebra, waterbuck and a bateleur killing a starling, vultures, saddlebilled storks and lots more birds.
Then headed to Afsaal for a late breakfast, the Scops is not back yet but we did have a great rhino sighting.
The last animal we saw before leaving the park was a very close up zebra and these people were so excited they cannot wait to get back to the park (and neither can I).
The photo site is so slow I gave up, will post more pics later.
---
Distinguished Virtual Ranger

Posts: 1507
Joined: Sun Dec 05, 2004 7:01 am
Location: Marloth Park, South Africa
Contact:
I feel I must tell you how I was reprimanded because one of my visitors had his head protruding out of the sunroof.
The ranger got out of his bakkie, walked between the wilddogs in the road to come over to my vehicle to tell me that my passenger wasn't alowed to have his head out of my vehicle
I was amazed and just apologised to avoid being given a fine.
He set a very good example
sort of 'Don't do what I do, do as I say'
---
Distinguished Virtual Ranger

Posts: 1507
Joined: Sun Dec 05, 2004 7:01 am
Location: Marloth Park, South Africa
Contact:
---
Virtual Ranger

Posts: 179
Joined: Wed Feb 15, 2006 6:46 pm
Location: In the studio for now
Thanks for a great report. Just been looking up your snake and it seems to be a Stripe bellied Sand Snake. Fast moving normally and one that as the book says 'rarely stops to be enjoyed'. It is often seen moving with it's head up, alert for prey and will catch birds,lizards and mice, it's usually found in the dry, northern regions. Got this from a snake book by Bill Branch. Pilane what do you think?
Your pic by the way is excellent.
Home is where you hang your @
---
---
Who is online
Users browsing this forum: PNF and 5 guests