Legendary Virtual Ranger

Award: Birder of the Year (2015)
Award: Birder of the Year (2014)
Posts: 2316
Joined: Wed Sep 06, 2006 3:33 pm
Location: Jam Street
The
Red-billed Teal
,
Anas erythrorhyncha
, is the most common duck in South Africa and one of the most common ducks in southern Africa. It is gregarious outside the breeding season with flocks of over 2000 having been recorded. The Red-billed Teal feeds in shallow water and lives on inland wetlands, artificial or natural, breeding in temporary pans and dams. It is nomadic, rapidly locating new temporary pans and wetlands, rarely moving more than 250 km. It feeds by dabbling for plant food, or foraging on land mainly in the evening or at night for the most part on vegetable matter and seeds, mixed in with smaller quantities of invertebrates.
Large view
They make extremely elegant portraits...
Large view
The female builds the nest, which is a shallow hole on dry ground, filled with grass and leaves. It lays 5-16 eggs, which are incubated solely by the female, for 25-27 days. The ducklings leave the nest for the water as soon as they are dry, with the family group breaking up after about 3 weeks of being together, although the chicks are only capable of flight at 56 days old.
Large view
Red-billed teals are preyed on by African marsh harrier and saddle-billed stork and as ducklings by African fish-eagle and African purple swamphen.
679 Last 5 lifers: Rüppell's vulture, Spotted crake, Lesser jacana, Burchell's courser, Double-banded courser
---
I can't see JvR's pics any longer. Thought another one might help!
Jackie

Croc Bridge - 6 April 2012
Berg en Dal - 7&8 April 2012
---
In the middle of May, travelling near Kannaguass in the north of the park, we saw six birds flying in unison looking for all the world like ducks. We waited for them to land and they appeared to be redbilled teals. In KTP?! I know there had been lots of rain the day before so there were lots of puddles to muddle them, but they seemed so out of place. We've been to KTP about 20 times, usually between April and September, but have never seen them there before, so surely this qualifies as an 'unusual' sighting? Or were we just not paying attention? Any comments from the boffins would be welcome...
---
In a TR, I have seen red billed teals in KTP. I think it was Wanderw's. Will check!
P.S. In Sasol's "Birds" the habitat goes all the way through KTP
---
Legendary Virtual Ranger

Award: Birder of the Year (2015)
Award: Birder of the Year (2014)
Posts: 2316
Joined: Wed Sep 06, 2006 3:33 pm
Location: Jam Street
Cherries wrote:I can't see JvR's pics any longer.
I don't know what caused the problems, but it should be solved now
included a bonus...
679 Last 5 lifers: Rüppell's vulture, Spotted crake, Lesser jacana, Burchell's courser, Double-banded courser
---
That's what I love about KTP. We've been there at least 20 times and it still has something 'new' up its sleeve to show us... Maybe if we'd ever been in the wet season we'd have seen the teals long ago. That's still something on my list of things to do: brave the mid-summer heat to enjoy the greenness (and, I believe, low visitor numbers).
---
Can one of the kind mites on this forum please confirm the identity of these birdies.
And are these Red-billed Teals, seen at Shitlave dam - a first time for me.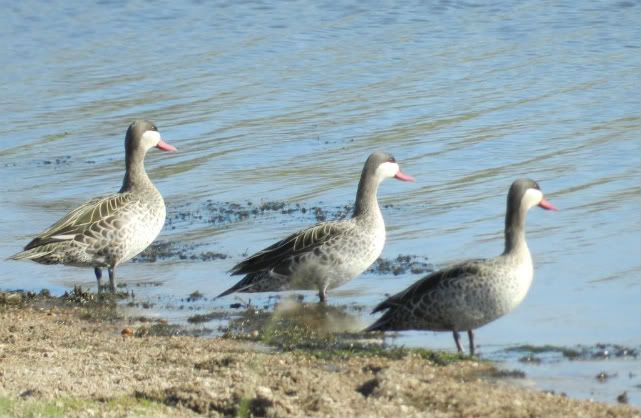 Thanks so much.
---
Junior Virtual Ranger

Posts: 292
Joined: Wed Feb 09, 2011 6:37 pm
Location: Johannesburg, South Africa
Your last ones are Red-billed teals.
---
MattAxel wrote:Your last ones are Red-billed teals.
Thanks so much. I am very new to birding and try to look them up, but sometimes it is all guess work. At least some of my guesses were right!
And I can start ticking off my list!
---
---
Return to "Birding in Southern Africa"
Who is online
Users browsing this forum: No registered users and 2 guests