(Giant) ground gecko (Chondrodactylus angulifer)

Order: Squamata, suborder: Sauria
Family: Gekkonidae
Genus: Chondrodactylus

Other names: (giant) (Namib(ian)) sand gecko
Afrikaans: Grondgeitjie
Dutch: Namibische zandgekko

Habitat: gravel plains and sandy flats of the Kalahari (and the Namib and Karoo). They are nocturnal and spend the day in a short burrow. They will dig a new burrow each night but very often they claim suitable ones dug by other animals. Their diet includes termites, moths, beetles and spiders, but also other small geckos. They are preyed upon by owls, bat-eared foxes, meerkat and horned adders.
Size: about 18 cm on average. Colour varies from light sandy brown to quite dark reddish brown. The relatively large head is characteristic.
There are two recognized subspecies, C. a. angulifer and C. a. namibensis. The difference between the two is difficult to tell.
---
Distinguished Virtual Ranger

Posts: 1269
Joined: Sat Feb 12, 2005 9:25 pm
Location: Back "home"?!...........
Here is what I found:

Body stout, cylindrical. Head large, short-snouted, with large eyes. Feet hand-like, short toes lack pads.Tail segmented, with rings of enlarged tubercles. Back pale orange to red-brown, sometimes with pale, dark-edged chevrons. Shelters in burrow, emerging at night to catch insects. When alarmed walks stiff-legged, tail held scorpion-like. Gravel plains, sandy flats of Namib, Kalahari and Karoo.
---
guess what?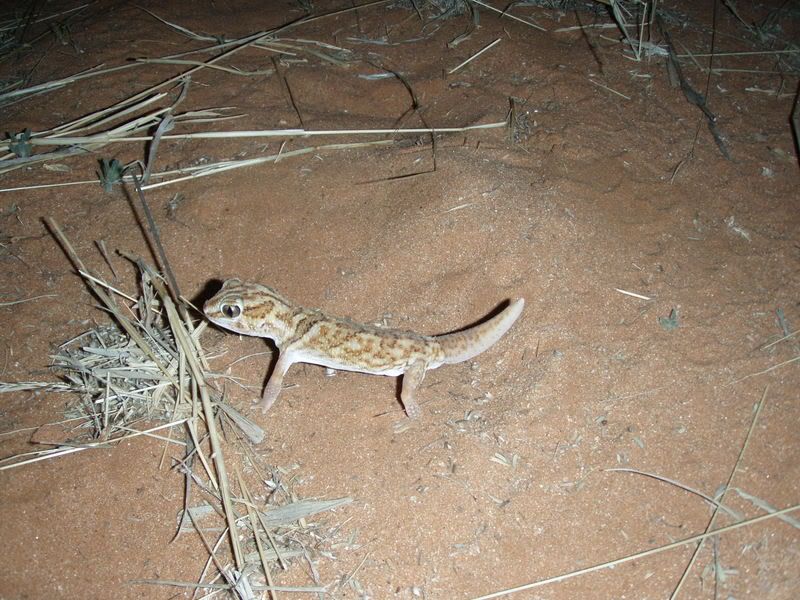 ---
A giant ground gecko!
---
---
Return to "Reptiles, Amphibians and Fish"
Who is online
Users browsing this forum: No registered users and 1 guest