Banded Rubber frog
50-60cm in length.
above-vlack with red blotches strtching down the back.
Habitat-savanna pans
call- i cant describe it
Avid birder, wildlife enthusiast and photographer with a special interest in Bats and Birds
2014 Birding Big Year- A 365 Day quest for 800 Species of Southern African Birds
---
Virtual Ranger

Posts: 604
Joined: Fri Dec 30, 2005 10:33 am
The texture of this frog is why it is called a rubber frog!
The skin being smooth and shiny.
Bandeds are coloured strikingly with a black dorsom and red bands running from snout over to the eyelids to the rear body.
The limbs are beautifully spotted in red.
Bandeds have a slightly robust body and their tips of the fingers expand all the way to the truncate disk.
Other characteristics also include the short legs and the toes with no webbing.
---
Batmad wrote:call- i cant describe it
Call is easy.... A loud trill maintained for several seconds
Catching frogs are not recomended without a permit......
they also secrete a slipery liquid that enables them to escape from you grasp.
The reason they have this excretion is to protect themself as it has strong antibioctic properties. by catching an handeling them you are actually doing the frog harm by removing this layer of protection...
also remember that Skin secretions from mucous and granular glands of some Bufo toads, the Red Toad (Schismaderma carens) and the Red-banded Frog (Phrynomerus bifasciatus) have poisonous properties.
Wont kill you though....
HANDLING TOADS DOES NOT INDUCE WARTS, however in the interest of conservation it is a good idea to wash ones hands between handeling because African frogs carry an endemic fungus which is a
major threat to global amphibians.
Anybody know what the name of this fungus is...
Also
XENOPUS
is not a
family but a Genus!
Xenopus
belongs to the Pipidae family
---
Virtual Ranger

Posts: 563
Joined: Fri Nov 07, 2008 6:46 pm
Reptiles are my specialty, so i'm embarassed to ask this, but amphibians really throw me.
Photo taken in Pilanesburg in February. Saw several of these. They were walking awkwardly on all fours (not hopping like a frog). Unfortunately I don't have a face shot.
Saw a similar creature in the Karoo NP a couple of weeks ago, without the wild colouring. I've tried looking this up, but i'm stumped!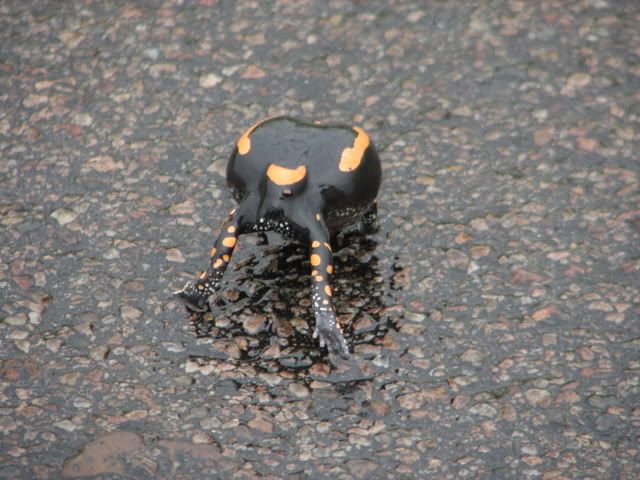 ---
Senior Virtual Ranger

Posts: 5461
Joined: Thu Nov 06, 2008 4:45 pm
Location: Pretoria
Moose,
I don't know a lot, but this almost looks like a (red-) banded rubber frog, the orange variation?
Banded rubber frog.
And from
this site
:
The body is carried high on its slender limbs when moving, which is generally by walking, or occasionally running, but not hopping.
This seems to explain the walking behaviour you describe.
Marius
Hunter, angler, nature lover, conservationist.

I believe that for man to survive, we must work with nature rather than against her. We need the land; the land doesn't need us. Too many people have lost sight of this fact. - Bruce Truter
---
Virtual Ranger

Posts: 563
Joined: Fri Nov 07, 2008 6:46 pm
Thanks so much! I bet you're right. It was so weird to see a frog walking and not bouncing. They don't look like they're meant to walk...

Do these rubber forgs come in 'dull' variations too? The one I saw walking in the Karoo was brownish...
---
Distinguished Virtual Ranger

Posts: 13635
Joined: Wed Aug 31, 2005 12:28 am
Location: Pretoria, RSA
Banded rubber frog!


The Banded rubber frog has this typical coloration, but there are a few other species of frog that also do not hop, or at least do walk at times.

The Bubbling Kassina, another beautiful frog, is another example. It is called "the walking frog" and can run quite fast.
Imberbe = Combretum imberbe = Leadwood = Hardekool = The spirit of the Wildernis!

"Wilderness cannot be conquered, it becomes part of you and enriches your soul." - Louis

Want to know more about the SANParks Honorary Rangers? Visit www.sanparksvolunteers.org
---
Virtual Ranger

Posts: 563
Joined: Fri Nov 07, 2008 6:46 pm
Thanks to all. That's so fascinating! Had no idea that some frogs liked to walk. That information just blows away everything we learn about frogs in kindergarden
I hope I see another one sometime soon.
---
Posts: 5
Joined: Wed Aug 04, 2010 2:53 pm
Location: Catalunya, Spain
I know almost zero about frogs and after trying to ID this little fellow via internet sources I came up empty. We were on the Timbavati road near Orpen in the KNP on 29th November with the rain bucketing down when it splashed across the road in from of us.
Any help with an ID?
---
Posts: 31
Joined: Tue Dec 30, 2008 10:33 pm
Location: Irene, Centurion
Accoeding to "The Wildlife of Southern Africa" its a banded rubber frog (Phrynomantis bifasciatus)
---
Posts: 5
Joined: Wed Aug 04, 2010 2:53 pm
Location: Catalunya, Spain
My sincere thanks for the help.
It enabled me to look up more details on this frog, where I found that it was rarely seen; obviously a plus-point for the recent rainy deluge.

Red-banded rubber frog ... presumably some yellowish colour variants are viable.

Once again many thanks for the prompt and informative response.
---
---
Return to "Reptiles, Amphibians and Fish"
Who is online
Users browsing this forum: No registered users and 1 guest