Also can you identify these 2, sorry for bad quality.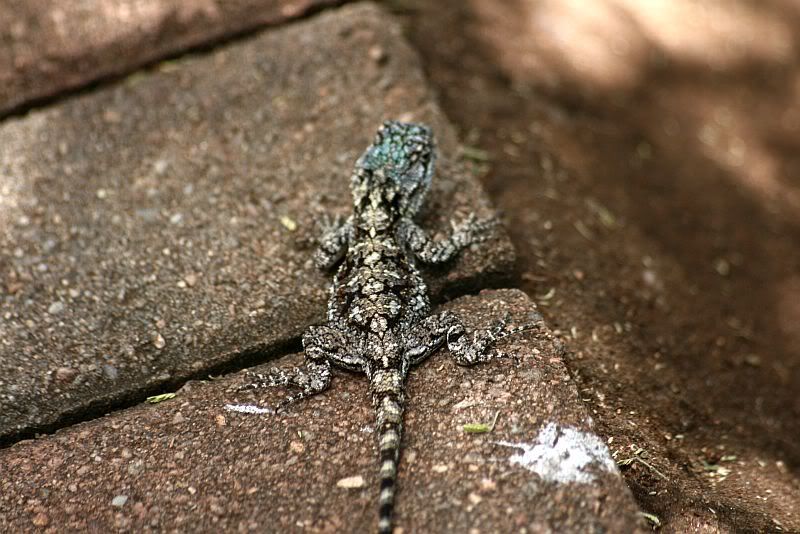 ---
Junior Virtual Ranger

Posts: 831
Joined: Sun Aug 29, 2010 10:07 am
Location: Under African Sky !!!
I saw this Tree Agama in the Kruger National Park last year.
Did you Know?
Most agamas are polygamous. Males may hold six or more females in their territory for breeding.
"A roaring lion kills no game."
"Until lions start writing down their own stories, the hunters will always be heroes."
"If you kill a tree, you are killing a bird."
"When the sun has set, no candle can replace it."
---
Is this a tree Agama?
"Take nothing but memories, leave nothing but footprints"
Photographs help to crystallize memories, but cannot be seen to be a replacement of them!
---
Legendary Virtual Ranger

Posts: 2545
Joined: Wed Sep 06, 2006 3:33 pm
Location: Jam Street
Satara, A-circle, November 2012.
728 Latest lifers: Hartlaub's babbler, Coppery-tailed coucal, Red-billed spurfowl, White-browed coucal, Scharlow's turaco, Copper sunbird, Long-toed lapwing, Eastern bronze-naped pigeon, Malagasy pond heron, Soft-plumaged petrel, Orange-winged pytilia.
---
---
Legendary Virtual Ranger

FAC Member (2017)
Award: Forumite of the year - Eagle Award (2016)
Posts: 17837
Joined: Tue Jun 07, 2005 8:47 pm
Location: meandering between senility and menopause
They do have lovely colors.
Nice pic
I always associate them with Lower Sabie.
The bird doesn't sing because it has answers, it sings because it has a song.
---
Moderator

Posts: 16313
Joined: Tue Mar 22, 2005 6:31 pm
Location: Tinley Manor, KZN North Coast, South Africa
Stunning pic granjan, their colours are really amazing in the breeding season.
---
Posts: 58
Joined: Mon Sep 17, 2012 9:53 pm
Found him at one of the rest camps. Beautiful
---
Senior Virtual Ranger

FAC Member (2017)
Posts: 2765
Joined: Mon Mar 23, 2009 4:15 pm
Location: Kyalami, South Africa.
It looks like a Tree Agama ([i]Acanthocerus atricollis[i]). It is beautiful and thanks for the great photos.
Skukuza 1-4 March 2018 (Cricket weekend!!)
Lower Sabie 4 March 2018
Satara 5-9 March 2018
---
Posts: 58
Joined: Mon Sep 17, 2012 9:53 pm
Thanks for the help, amazing colors!
---
---
Return to "Reptiles, Amphibians and Fish"
Who is online
Users browsing this forum: No registered users and 2 guests