Senior Virtual Ranger

Posts: 1904
Joined: Fri Jan 02, 2009 9:14 am
Location: Pretoria, South Africa
Returned on Friday (29 April 2011) and I wish it was a week ago sitting in Balule!
It was a super get together and we should do it again. I have also enjoyed meeting old faces again as well as meeting new faces!
A special thanks to Lowveldboy for making this a success as well as the mites behind the scenes, like Bert and Bunnyhugger!
Very sad was the news from Geocor about PetraJ's accident...I'm glad you and the boys are doing OK...you are still in our prayers!
Herewith a few photos of our official clean-up:
On our way to the river we came across this mom and her LO: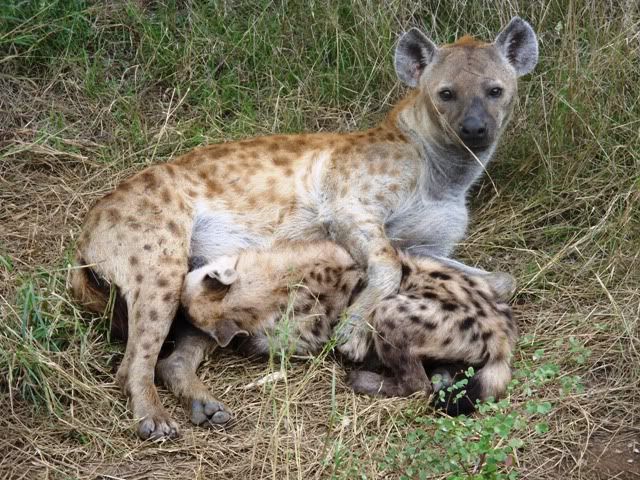 On the Olifants bridge: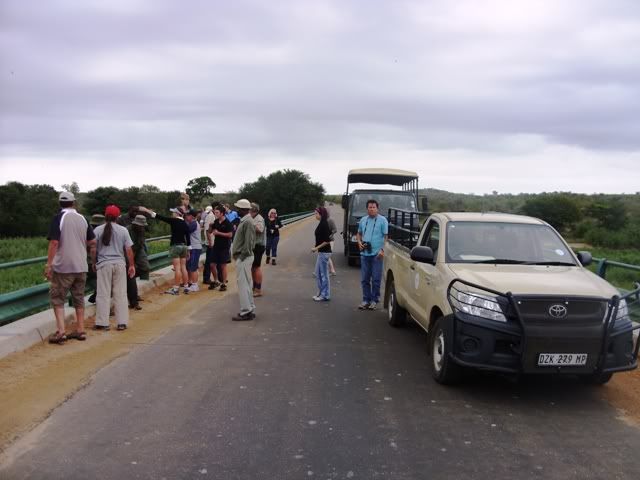 The guys from SANParks escorting us and doing a great job: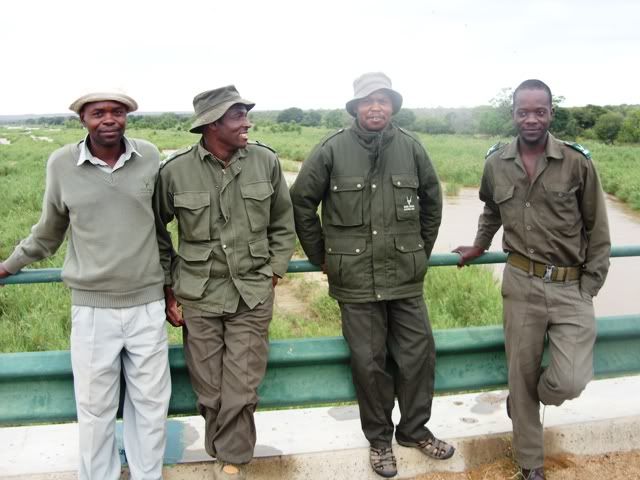 Off the truck and down to the river:
Sprocky hard at work wearing his special Shark shirt for the dirty job!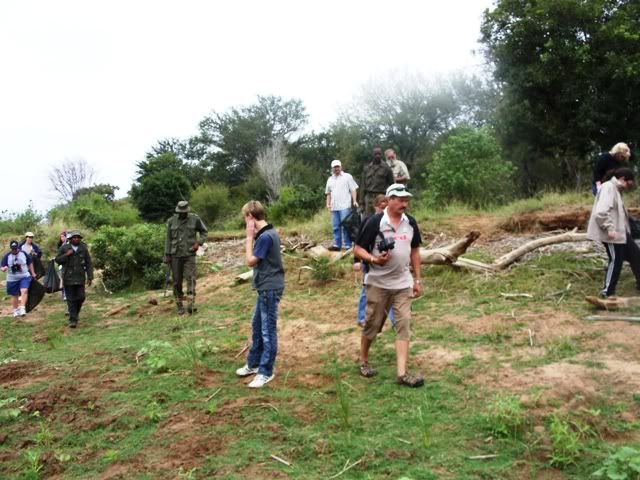 Mighty Mites hard at work: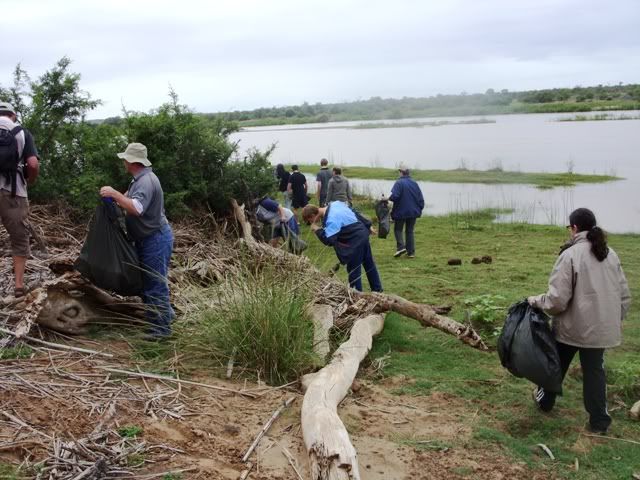 A view of the Olifants river:
A half eaten Leopard tortoise from the banks of the river: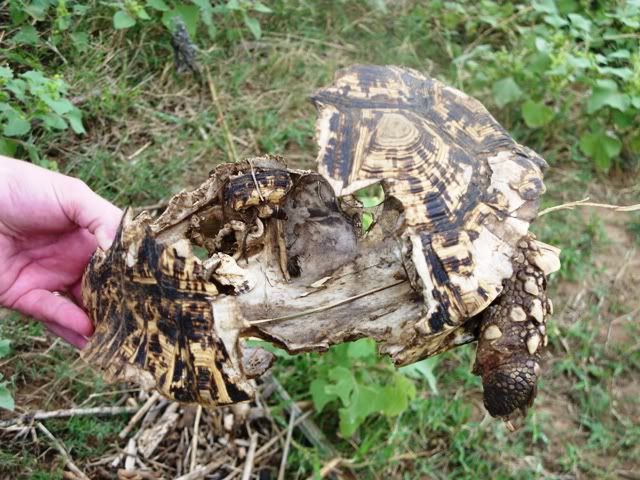 Thanks again it was really a great experience!
---
Thank you for the pics, Theuns
---
Posts: 796
Joined: Wed Dec 05, 2007 2:16 pm
Location: Hopping around greener pastures.
Scipio wrote:

vgstephens wrote:Watch this space!!

Well, I will be back at Balule tomorrow with Lienca,

I lost something that I have to go search for.
There is strong evidence to support a rumour that a clean-up crew recently moved through the area and cleaned up all the junk.
If you threw your name away, chances are it's been inserted into a black garbage bag.
Bunny Hugger
Conservation is not an option.
It's imperative.
Leave KNP alone. Go build a hotel someplace else. Reserves are for the preservation of wildlife.
Think Pink. ..
---
Elzet wrote:Yeah, regrettably so, Micetta.

The LO's were too young to go, and heck, I wanted to get into the Oom's good books.

Took Sprocks' LO with too............. But my heart was not in it. I wanted to walk next to the Elephants River.

I think I should drop this goodie-two-shoes act, don't you agree?
To make up for not being there this year, I will accept BB30"s nomination,and do the baby-sitting next year!
The world is truly round and seems to start and end with those we love...
Nelson Mandela
December '12????
1-6 May '13
---
Senior Virtual Ranger

Posts: 5701
Joined: Sun Mar 08, 2009 9:37 pm
Location: Daar waar die bobbejane hul borshare kam
"Life is too short to wake up with regrets. So love the people who treat you right. Forget about those who don't." - Harvey MacKay
---
Elzet wrote:

I think I should drop this goodie-two-shoes act, don't you agree?
Yah, it does not suit you
even if I am sure that you did it to let the Oom and Sprocky go. It's just like you
---
Moderator

Posts: 14260
Joined: Tue Mar 22, 2005 6:31 pm
Location: Sheffield Beach KZN North Coast, South Africa
A bit late I know, but I would like to add my thanks to all the cleaning crew (mites)
A dirty job but Hey, someone has to do it and I am sure a lot of fun was had.
---
Senior Virtual Ranger

Posts: 4237
Joined: Mon Dec 11, 2006 1:45 pm
Location: southern gauteng
A priviledge to be out there on foot - wish I could be there with just 2 silent guards .
KNP is sacred.
I am opposed to the modernisation of Kruger and from the depths of my soul long for the Kruger of yesteryear!
1000+km on foot in KNP incl 56 wild trails.200+ nights in the wilderness
ndloti
-indigenous name for
serval
.
---
---
Who is online
Users browsing this forum: No registered users and 1 guest