I agree with most people - windows are usually down, except for vervets, baboons, behind a vehicle on a dusty road, etc.
Here are 2 shots that were taken in Kgalagadi, 2007, just north of Marie se Draii. In the first one, the window is UP. He was just a little too close and I didn't like the look in his eyes. The shot is not zoomed in, nor altered in any way. The bar in the bottom left corner is the passenger's door frame.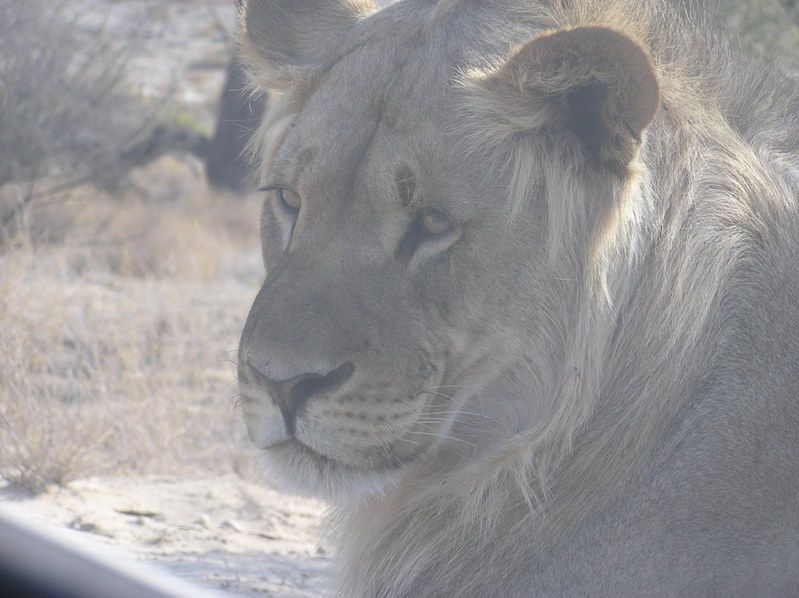 He backed off a bit, and I felt comfortable enough to lower the window and take the second shot. The camera settings were not changed between shots. (I didn't even think of it at the time
).
---
Distinguished Virtual Ranger

Posts: 12562
Joined: Tue Dec 23, 2008 5:22 am
Location: Midway between the infinite and the infinitesimal!
If I compare going to the bush now as opposed to twenty years ago, I am convinced that many predators were more respectful and skittish of humans than they now are. On certain roads, they have become "domesticated", to the extent that more and more of curious and dominant behaviour towards humans is taking place. People these days are also much more likely to lean out of vehicles, or demonstrate blatant ignorant/stupid behaviour by climbing out of their cars, at sightings. Also, there are many safari vehicles these days plying the routes, while bush walks and night drives weren't around twenty years ago. I personally have noticed substantially more close encounters between humans and lions, and I also believe that elephant behaviour towards cars has changed quite significantly. What amazes me is that, with all the incidents of humans encroaching within the personal and territorial bounds of dangerous animals, there hasn't been more serious consequences. Let's hope it never happens.
---
OWN people are definitely getting more stupid and blatantly breaking the rules close to dangerous animals. I think most of the people sitting on car windows and hanging out of the car close to dangerous predators have never seen how fast a big lazy lion or leopard can move.... On our recent trip I told a guy sitting on his window at a leopard 15m from the road, that it is only 2 strides for the cat to get to him. The leopard was definitely looking right at him while he was sitting on the window. He got back in the car very quick.

Whenever we are at a sighting of any large predator, we close the windows on the opposite side of the sighting, I don't want any unseen cat or hyena sneaking up on me. And at a breeding herd of elephants I always take a good look around to make sure I don't drive into the herd and maybe separate a calf from its mother...
Not in Kruger.... Busy planning the next trip...
---
Junior Virtual Ranger

Posts: 1160
Joined: Tue Jul 21, 2009 2:52 pm
Location: London
It is interesting that some say there is a look of a lion that says it wants to eat you.
I have certainly noticed in photographs of lion on the forum that some do seem to be interested in the photographer.
---
Junior Virtual Ranger

Posts: 1160
Joined: Tue Jul 21, 2009 2:52 pm
Location: London
JenB wrote:If that lion got to him, would he have been shot for being a man eater? He was giving them warning signs right from the beginning of the video.

What people will not do for that shot.
Actually, the guy is a vet and presents television programmes.
As I understand it the lion was already believed to be a man-eater.
---
Distinguished Virtual Ranger

Posts: 17062
Joined: Sun Oct 07, 2007 1:41 pm
Location: Johannesburg - where they cut down trees and name streets after them.
Yip, I know about Dr. Grobler.
More reason not to taunt but rather to educate but that's just my personal opinion.
"Until one has loved an animal, a part of one's soul remains unawakened."
~ Anatole France
---
Forum Assistant

FAC Member (2017)
FAC Member (2016)
Posts: 19801
Joined: Fri Apr 06, 2007 6:39 am
Location: Pretoria SA
Philip1 wrote: When at home or work, we are the bosses In nature, all creatures are bosses and we must be the submissive species
I couldn't agree more!!!
"Like a sunflower, always turn toward the light." Eleanor Brown.
---
Forum Assistant

Posts: 8832
Joined: Tue Aug 03, 2010 8:49 am
Location: Brecon Beacons National Park
Some people forget the National Parks are home to the wildlife.....we are only visitors!!
---
---
Return to "Kruger National Park"
Who is online
Users browsing this forum: No registered users and 1 guest