My magical first trip to the kruger was thanks to my parents about 30 yers ago, i was 10 and i remember buying elephant biltong in a clear plastic bag, about 300mmx300mm in size with a large green sanparks emblem on the front of the bag. "Real quality biltong"
Anyone else remember these bags of biltong ?
"Kruger is King"
"Say no to hotels in KNP"
---
Virtual Ranger

Posts: 164
Joined: Wed Jan 20, 2010 6:50 pm
Location: Anaheim, California USA
Bigbuf,

Oh how I remember the elephant biltong...... I was 12 when my family moved to Swaziland and I had my first trip to Kruger (Also just over 30 years ago). The highlight of the trip was always the elephant biltong. A couple packets for during the stay and afew more to take home.

Thanks for the memories!!!!

Daron
KTP 2015 (1st time)

November 12-14 Twee Rivieren
November 14-16 Mata-Mata
November 16-20 Nossob

November 20-23 TMNP

KNP July 2016:

July 10-12 Mopani (1st stay)
July 12-14 Olifants
July 14 Orpen (1st stay)
July 15-17 Tamboti
July 17-20 Lower Sabie
---
My word that brings back memories.

Those green caravans(if i recall correct) with the biltong just after the major culls.

i can also recall huge quantities of buff. biltong after the buffalo culls(must be 20 years ago)
dirt cheap but great tasting
---
You've got the the old memory cogs turning!!!
My brother & I would always rush into the first shop we stopped at to buy that ellie biltong!!
"I think the environment should be put in the category of our national security. Defense of our resources is just as important as defense abroad. Otherwise what is there to defend?"

SAY NO TO HOTEL DEVELOPMENTS IN KRUGER
---
Senior Virtual Ranger

Posts: 1904
Joined: Fri Jan 02, 2009 9:14 am
Location: Pretoria, South Africa
Do you remember these?: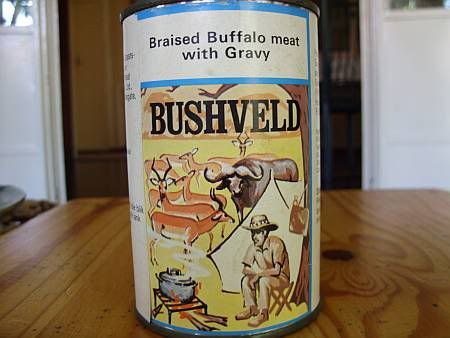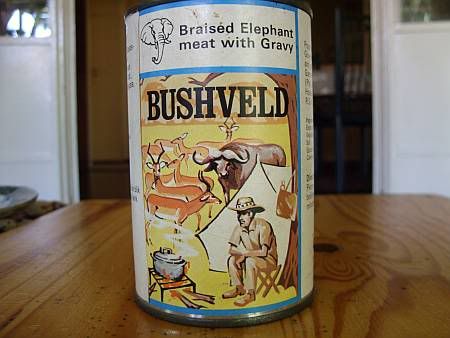 ---
In 2000 which was post Elephant Culling days we bought Elephant Biltong on the tables outside the Skukuza shop...wonder where it came from...a problem animal
..I only had a taste and remembered it being rather fatty...not that thats a bad thing!
And according to Bruce Bryden's book a Game Ranger Remembers...he said to him there was nothing better than a Hippo Steak. Also in the days of Hippo culling.
I would imagine Hippos to be quite tasty since they seem to spend a lot of time relaxing during the the day
Mana Pools: 11th - 20th Oct
KNP: 27th Nov - 5 Dec
---
Legendary Virtual Ranger

Posts: 6884
Joined: Wed Mar 16, 2005 12:38 pm
Location: In the shadow of Table Mountain
Best biltong I have ever tasted.

When I saw it I was horrified, but after discussions and finding out that surplus ellies were culled because they were destroying the habitat for more endangered species like the ground hornbill, I decided to support it, and my family was glad we did.

We bought up a serious stock to take home as well.

Braised buff....yummy.

Bring them back please!
Whatever (according to BB): "You are correct but I don't want to admit it".
In a world of grey, be
RED
---
Don;t remember that elephant biltong spoken of here, but did have some elephant biltong a short while back. in the last two years I'd guess. In that brown packet mentioned earlier. I usually try biltong of a different animal every time I am in the Park, (usually there is Buffalo, Springbok, Kudu-the best, eland, gemsbok, Ostrich and beef. Never seen Zebra, Waterbuck, Wildebeest or Impala biltong) and once, looking for this, saw elephant biltong and after a short debate with conscience, and taste buds, opted to give it a try. Turned out the quickest packet of biltong to be consumed. Very tasty. A bit stringy as mentioned but very nice. Been looking for it since then but have not found it. But guess it is made available from time to time. I seem to recall that culled elephant meat is made available to communities living around Kruger.

Cheerio

Noel
---
Richprins
The ellie biltong was delicious...quite different from others...lean and slightly sweet!

I don't think the ones sold every now and again are real!


Also...no culling of ellies happening, and no food for communities etc.

Buffalo meat was not allowed outside the Lowveld due to veterinary considerations...hence the canning!
---
Posts: 4
Joined: Thu Nov 18, 2010 8:15 am
Yes, those were the best! I cant find anymore anywere! We love biltong, any sort, will definitly have a lookout again.
I know were are talking about biltong, but we are also talking about childwood memories. Do you remember the Vlakvark pies, chips and gravy?
THAT WAS GOOD!
I wanted to stop at every restaurant at every camp we past, and made my mother buy me that! I actually looked more forward to the pie when we went to the Kruger then the sightings when I was a child!
These days you still get the pie, chips and gravy, but its not Vlakvark, and its the same pies you buy at the Garages in town, taste like cardboard!
The goog old days!
---
---
Return to "History, Archeology and Culture"
Who is online
Users browsing this forum: No registered users and 2 guests