In times like this, with the economic crisis in the world, you can have major problems, but you can also have the opportunity to make the best of it.
South Africa is very special to us. We've visited SA three times, and have a dream of living there one day,
because of the wildlife and great country.
Unfortunately , since we don't have such a variety of wild animals here in The Netherlands
we have to go on a holiday
The cold and wet winter is the best time for us to leave, this is why we were already looking for a ticket.
In crisis time the price of the tickets go down a lot
….. good for us.
Just one week before 19-2-2009 we bought the tickets and booked the camps in Sanparks.
Everything set… let's go to the KALAHARI !!!!!
We flew to Johannesburg, rented a 4x4 and drove to Kuruman.
We thank Jo for the good accommodation.
We slept like a log because we were exhausted of the long trip. The next morning we drove to Upington,
stopped at the local supermarket for groceries and then drove up to Kgalagdi Transfrontier Park.
On our way we saw guinea fowls, mongoose and ghosthawks.
Also a big monitor and a molslang crossing the road.
almost there....
We arrived around 1600 hours, you can see the huge new entrance building first and a few meters further the reception of twee rivieren. We checked in and got cabin number 28. We unpacked, stretched our legs and took a drink…… great to be back in the bush!!!!
After a few minutes sitting I got itchy…
let 's go into the wildtuin (park) . So we grabbed our camera's, attached the telezoom objectives and adjusted the settings and got into the car.
First stopped was at the shop to buy "the checklist of the animals of the kgalagdi transfrontier park"
Finally we drove into the park; the first animals we came across were Gemsbok. A big group of 18 animals, wow.. we never saw oryx. Beautiful animals with very long horns, they look a bit like horses. Their behaviour is almost the same. Took some pictures and drove on.
If you want to see the pictures large, just click.
When you are driving out of Twee Rivieren to the Auob river, you have to go through the dunes for 15 km…..
Beautiful scenery, the big river bedding and the road next to it. Only it was raining !!
we saw a big herd of springbok….
a little one.
springbok portrait
Oepssss....
And our first yellow mongoose….It's a funny animal, while we were taking pictures, it was looking around for danger. Another car arrived and the mongoose dropped down immediately. He was lying in a little hole in the ground and was looking over the edge. We still could see him very well and it was a funny sighting.
I think we drove to boorgat Monro and headed back.
Had some great meal in the restaurant, some Ostrich steak… mmmm very good. And went to bed…. At least, we were trying to go to bed…
First we got rid of many bugs in Teo's bed (
I was so happy that it was not mine
) and then tried to sleep…
To be cont…..
KNP 2004 + 2006 + 2007 + 2010 + 2012 + 2017
KTP 2009 + 2011 + 2014 +2017
---
First thank you for your encouragement, MATTHYS , Elsa, Pumbaa, Munchkin, Dreamer, billyf, wanderw, Caracal, Skillie, ingrid60, lorrainepring, Wannabe Nerd, Bush Baptist, Lionspoon, CuriousCanadian, Haupie.....
Sunday early morning, 22.02.2009
Around 04:00 I woke up…. I heard something …. And Teo heard it too … switched on the lights ……..
We tried to find the source of the noise …………. But nothing……..
lights out again…….
A few minutes later we heard something like….ppiiiiiiiiiiiiiiieeeeeeeeeeepppp…
and some flapping…. ???????????
Teo said to me, "yeah funny, why did you make that noise?"
Patries; "I did not".
Teo, "yeah sure"
Patries, "no really, I didn't"
I looked up and saw something ….
Patries, "I, I, I,....... see something flying in the room"
Teo,"Patries, sees something flying in the room, sure. You have been reading too much stories on that Sanparksforum, Go to sleep.."
Patries, "Really look at it !! "
It was a .....................................bat
but we had a really high ceiling in this cabin so I didn't mind.
and went to sleep again.
An hour later we woke up again, boem... lots of rain and thunderstorm… and something dripping in the room..
The roof was leaking in a few places.... just half a metre away from the camera's everything was soaked…
The alarm went off around 5.30 and it was raining so hard we decided to lay back for a little while.
And then we heard something different, hu hu…. Hu hu… … What's it ????
Our first owl !!!!!!!!!
Teo tells me that he was thinking that the owl sat on the roof.
So, I jumped into my clothes, grabbed my camera and went outside…..
My first owl, soaked to the skin!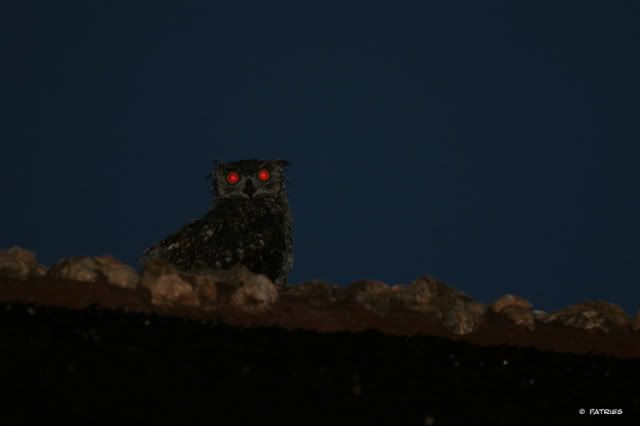 After this great sighting, we took a shower, eat something and left the cabin around 7.30 and drove in the wildtuin…
To be cont.
Last edited by
patries
on Thu Mar 26, 2009 11:14 pm, edited 1 time in total.
KNP 2004 + 2006 + 2007 + 2010 + 2012 + 2017
KTP 2009 + 2011 + 2014 +2017
---
Sunday 22-2-2009, on our way to Nossob
Still raining.....
This morning we were driving to Nossob ; unfortunately the road is still closed, but you can see some tire tracks. They are using it…
We took the road through the dunes though and saw gemsbok and a jakhals drinking from a pool on the road.
large
also a Koribustard, springbok.....
Close to Monro we spotted our second owl, in a big tree. A bit difficult to see and a bit far away but we managed to take a picture…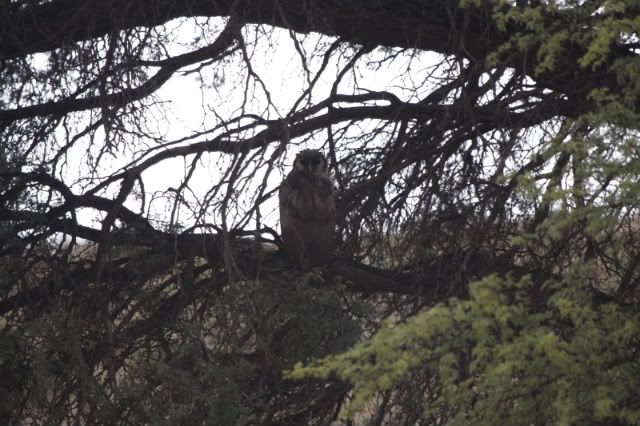 We drove on to auchterlonie and turned off to Kij Kij…
in the dune there was not a lot to see (besides the rain )
it was raining so hard you can hardly see the road.
When we reached the Nossob road the scenery completely changed.
The river bedding is not so wide there, and you see a lot of bones scattered around, welcome to the killing zone, a bit spooky...
Next we came across two young lions, lying comfortably on the road, ignoring us and the rain. We took some pictures.. not the best ones because everything is grey and wet… but we did enjoy our first sighting of the big cats!!!!
large
large
After a few minutes they stand up and walk to the other side of the road, we looked up and there was a hole group of lions, I'm counting 12 of them !!
A Female lion, with cubs… a really small one and some bigger….. Wow… 12 lions..
They were a bit too far away and the rain is not helping to take good pics.. so we drove on to melkvlei..
On the way we saw a lot of birds of prey, a juvenile bataleur and of course springbok. Our other sightings are tawny eagle, gemsbok, hartebeest, martial eagle, jakhals and gemsbok with baby (only too far away for proper pic.)
large
large
large
a quick stop at the picknickspot Melkvlei....
When Teo was waiting
for me he saw something in a tree.....
hiding for the rain. :-)
large
sometimes you wonder..... is it an alien? or an animal ?
large
large
Because of all the rain the the road begun to flood and became very muddy in some parts ….
Around noon, between Kramsbrak and Jan se draai , we had to cross a huge pool….
We looked at each other and said, let's give it a try and see what's this 4x4 is worth !!
Maybe you can already guess…….
right in the middle of the pool the car stopped , one of the wheels was spinning furiously and the car had no difflock …
mmmmmmm… what should we do ???
After 30 minutes of waiting and looking around and nothing to see we decided to give it an another try, so Teo got out of the car and tries to find some wood. Not far away from the car there is a dead tree , so he got some wood to put under the tire.
It won't work…
Trying again, and again, but not a inch…
..........
This is what we see when we look forward...
and this is behind us...
So he got back in again, and we had some lunch, waiting for somebody to come…
Already 14.00 o'clock.
We tried again to get out, but to no avail…
Teo tells me that if somebody will come it should be around 4.
Because it is a 3,5 hour drive to 2RV and the gate closes at 19.30.
So we just have wait…
And he was right, around 4 o'clock we finally see a car, a white bakkie with 2 South African gentlemen , Bernard and a friend, who are going to help us out.
Never been so glad to see someone.
After a few pulls we got out of the mud.. and on our way to Nossob again…
I didn't tell you the color of our rental car. After this adventure the car was white/grey of the mud, but before it was black… (not handy in a desert hahaha) maybe this was the reason why we got stuck.
On our way to Nossob we saw a lot of gemsbok, hartebeest and wildebeest. And a jakhals and a flying kori bustard, wow, they are big.
large
Just before Nossob there where about 50 kites in one tree, a very special sighting… they were everywhere… wow....
large
We checked in and stayed in cabin 5c.
What a beautiful sunset we had...
large
During the braai we had company of a jakhals , looking for scraps.
I think it's the same one from Kats and Pumbaa...
And we saw a small spotted genet.
We met some very nice African people, and after a while they asked us "what's that thing with the yellow ribbon…" ???
They had seen it the day before in Kielie Krankie and talked about it to each other.
They thought it was a sign of newlyweds,
but seeing it twice they doubted that, two newlywed couples in KTP at the same, with the same ribbon on the mirror was unlikely.
So I explained to them the meaning of the yellow ribbon.
But I'm sure they saw Pumbaa and Timon in Kielie Krankie that day, maybe they are just married…. and we do not know hahaha
To be cont.
KNP 2004 + 2006 + 2007 + 2010 + 2012 + 2017
KTP 2009 + 2011 + 2014 +2017
---
for your nice comments....
Monday 23-2-2009 on our way to Grootkolk
click to enlarge....
We left Nossob around 6 in the morning and did the Mariese draai.
We did not see any lions or other cats but did see secretarybird, birds of prey, kori bustard, hartebeest and wildebeest.
and for sure....
On our way back to Nossob we saw two bat-eared foxes near the gate !!! How cute they are.
They were playing around and they were really curious about that black car with the yellow ribbon, so they came really close.
Then they were crossing the road, they were wet of the rain that night , so their fur stood up in spikes, like if they were electrified.
We went back to Nossob to get some fuel and headed for Grootkolk. We just passed through the gate when we saw a bataleur sitting on a nest. (her own nest)
She didn't seem to care that it was very close to the road.
On our way to Grootkolk we saw a warthog, this was the only one on this trip !!
and some beautiful birds....
We had to cross / bypass some really huge pools but we managed to get in Grootkolk without any delay
The grass was very high here in the North side of Kalahari, and because of the rain, the animals do not have to come to the waterholes.
Hard to spot any animals, especially the spotted ones.
We saw about 50 abdims storks, a pair of Bataleurs, a secretarybird and some ground squirrels.
The Bataleurs were trying to build a nest, she or he was trying to get some branches..
We arrived about 1330 hours in GK, tent nr. 3.
After unpacking we sat for a while , till Teo had to get something out of the car…....
Next moment I heared Teo calling .. "Patries………photo………."…
I grabbed my camera and looked quickly behind the wall…
Teo had almost stepped on a molslang !!!! about 1.30 meters long and very black and shiny…
Still don't know who was more scared: the snake or Teo
Tried to get some decent pictures but ….
pfff, they are fast....
Around the cabin we saw a lot of birds, some mice and agama's.
The mice are accustomed to people, one even came looking for food and sat on Teo's toes.
We stayed the rest of the day at our tent, it's the first beautiful day and we are ….
To be cont.
Last edited by
patries
on Wed Apr 08, 2009 8:28 am, edited 1 time in total.
KNP 2004 + 2006 + 2007 + 2010 + 2012 + 2017
KTP 2009 + 2011 + 2014 +2017
---
24-2-2009 Grootkolk-Nossob
We make sure we leave the camp first.
Maybe we can surprise some animals and if we get stuck in the mud somebody will/can help us …
On our way we see spotted hyenas, jakhals, red hartebeest and bat eared foxes at lijersdraai.
Also Kori bustard and we nearly drove over a molslang at Bedinkt.
We also saw a turtle there.
At the Nossob hide there were about 200 abdims storks.
Beautiful sighting… one moment they are standing at the waterhole, the next they all took off at the same time …
wow, this was special, you can hear about 400 wings clapping, really cool.
We took the Mariesedraai but did not see much interesting, so we were heading back to Nossob. There we had company of some little creatures..
Some didn't want to be seen...
Some were thinking to make a hole...
Some were begging for a cookie..
Some were getting a cookie..
friends at nossob
Later on the day we ad an interesting sunset drive at Nossob, Johan was our guide.
First thing we saw was a beautiful Bataleur. Did you know it takes 7 years for getting his colour?
One moment we were driving on a service road next to the normal road (only the guides are allowed to do this ) and we saw a few cars driving really slowly on the normal road. That must be…… LIONS…..!!!
Everybody tells Johan, Go for it… and he was driving to the pride..
8 Lions, male + female and youngsters… wow….
Johan took his gun for protection , loaded it and switched off the safety, he doesn't like risks it seems.
The youngsters were very curious… you really can see them looking at you.
If you see a big lion looking at you, you will notice that they are looking at the whole car and not especially at you.
But the youngsters look right at you !!
I can see you...
the queen...
And daddy....
When everybody had taken enough pictures Johan drives further…
This is what we saw that evening. I love the sunsetsdrives !!!!
- African Wildcat
- 2x puffadder
- Spotted eagle owl
- 3 barn owls
- Springhare (they are so funny)
- Jakhals.
pufadder
spotted eagle owl
and lots of paw prints in the sand walking towards nossob....
the lions were walking to the gate ...
unfortunately we didn't see them anymore..
Tomorrow, Urikaruus !!
We have high expectations.
To be cont.
KNP 2004 + 2006 + 2007 + 2010 + 2012 + 2017
KTP 2009 + 2011 + 2014 +2017
---
thank you all for the nice comments...
Wednesday 25-2-2009 on our way to Urikaruus
We leave early, on our way we see a kudu female.
Also a Jakhals, Gemsbokken,
and some beautiful flowers....
and a great contrast is this pic... a jackal between devil's thorn in the kalahari
notice the fly...
(i love this pic..)
And some gemsbok..
Close to Kaspersdraai we see a car standing still…..
When we come closer we see why: 3 young male lions…
They were awesome… just sitting next to the road, almost fotomodels
There are cars stopping behind us, so we are driving further.
The lions are getting into the dunes and leave the road... but we have some great pictures.
At Cheleka we see a Kudu male, a bit far away.
When we arrive at Dikbaardskolk, just for a quick stop and having fun
taking pictures of two yellow mongooses
we realize that we forgot to take all our groceries and some other stuff out of our Nossob cabin…...
Grrr…..we have to go back !!!
It was almost 9.00 hours and the cleaning ladies will probably be in our cabin.
So we drive back to Nossob….
On our way back we do not see anything interesting, driving at 40 kmh is way too fast to spot animals.
Back in Nossob, we find what we forgot…
On the road again…..
5 km out of Nossob we see a molslang on the road, wow they are big .. !!
And fast.. Teo already knows this
After 10 miles we see a bird sitting on the road. Why is he there ??
When we come closer we see a little snake on the road, standing up in defense !!
A Cape Cobra !!
10 meters behind the cobra we see another snake, I think it's a juvenile molslang ?
3 snakes in just 12 km…. impressive… and we're not disappointed anymore of having to drive back to Nossob …
After a long drive through the dunes, (they seem to go on forever……)
we arrive on the Aoub river…. And this was such a surprise for me…
Grass , just 5 cm high…. A small riverbed…
and everywhere you look white butterflies , it looks like snow ….
Welcome to Paradise !!! This is special !!!
Completely different then the Nossob road, with the tall grass and so many hiding places for the animals……
Soon we arrive to Urikaruus, what a place.
The waterhole is very close, and very clearly ... and such a great cabin.(nr.2)
And there are 3 abdim's storks
We see wildebeest, koribustard, squirrels, springbok, gemsbok, yellow mongoose, volstruis (ostrich)family and 6 little ones.
In the evening we had a visit of two hyena's. They drank at the waterhole and walked on after a few minutes.
We had a great braai and went to sleep.
What a great day....
To be cont.
KNP 2004 + 2006 + 2007 + 2010 + 2012 + 2017
KTP 2009 + 2011 + 2014 +2017
---
---
Who is online
Users browsing this forum: Rooies and 5 guests