Virtual Ranger

Posts: 563
Joined: Fri Nov 07, 2008 6:46 pm
I'm off to KTP tonight!

When I get back, I promise my first trip report. I love reading them so much, so why not try writing one?

Should be an interesting report. Going back to the park after a my first brief 2 day trip last month. This time i'm going it alone, camping all the way, living on cup-a-soups.

I adore camping, but I haven't done it since I was about 9. Being raised in Canada and the UK, I have a tendency to faint in extreme heat. I'm a little girl, so bugs make me cry and flap my arms about. But I have a sense of adventure and my heart is stuck in that desert!

Animal wise, i'm most excited about the possibility of snakes. I have an amazing ability to spot a snake on the sand, get all happy about it, and completely miss the six lions lying 50 feet behind it.

Only hours to wait now. All that stands between me and the KTP is a couple of hours and a wonderfully long drive. Leaving around 2am, and hoping to make Twee Rivieren by 2pm tomorrow.
---
Virtual Ranger

Posts: 563
Joined: Fri Nov 07, 2008 6:46 pm
Thank you!

I'm pretty good at looking lost and helpless (with a touch of pathetic), but i'm very much hoping it won't come to that...
---
Virtual Ranger

Posts: 563
Joined: Fri Nov 07, 2008 6:46 pm
rusky wrote:
Make sure you have a YR (yellow ribbon) on the car so other'mites will know
My yellow ribbon is sitting in my glovebox, ready to go!
---
Virtual Ranger

Posts: 563
Joined: Fri Nov 07, 2008 6:46 pm
Thank you guys for all the support! You're all so awesome and i'm thankful to have found this place. The car is packed (i'm always surprised at just how much I can cram into a Mini), and i'm ready to go. Everything in the car is already covered in all the dust I brought back from my last trip to KTP. Mmmm... bring on more dust! Just going to try to get a couple hours sleep before heading out.
I suppose i'll be back in a couple of weeks....
---
Virtual Ranger

Posts: 563
Joined: Fri Nov 07, 2008 6:46 pm
I'm home!

I ended up extending my trip by a few days. Everyday I was supposed to leave Nossob, I go sit around the reception area, ready to check out before ending up saying, 'what's one more day?' and heading to the hide with a good book.

Because I wrote most of my trip report on the go, it's pretty much ready to go. I just need to get the photos prepared, which could take some time.

I might need to scale down the report though. How do you guys feel about LONG trip reports?
---
Virtual Ranger

Posts: 563
Joined: Fri Nov 07, 2008 6:46 pm
I'm so sorry! I'm back and I have excuses
My internet connection's been really slow since I got home. Okay, that's the first excuse. Next is that I live and work at at orphanage- we don't get much sleep here! and this week we've all been sick. We have one this week in the hospital being treated for a variety of nasty diseases. He's only two months old. Pneumonia, Meningitis, TB and HIV. Can you spare a prayer or a thought for the little dude?
Okay, that's done. I'm ready to post Day 1. Only one photo in this, but once I get the hang of posting photos i'll do a better job.
---
Virtual Ranger

Posts: 563
Joined: Fri Nov 07, 2008 6:46 pm
Day 1: Nov 26, 2008 Cape Town to Twee Rivieren
My biggest fear before this trip was that I'd have a car accident on the way there and end up missing the whole show either by death or delay. Luckily it wasn't to be, and I arrived at Twee Rivieren at 1pm, 11 hours after leaving Cape Town. I'd only been to the park once, but I really felt like I'd arrived home.
After setting up camp, it would have been wise to sleep, but I was too excited. It had hit 44c on the way to the park and the temperature that day never dipped below 39. Signed up for a night drive and made for the park. As I drove out of camp, someone yelled to me that it was too hot and I wouldn't see anything. I didn't care. I just wanted to be there, to be driving on these roads again. Until Leeuwdril, that man had been right. I'd seen only a few springbok sheltering under trees.
I suppose the following is an example of just how accustomed to city life I had become. Suddenly I thought, 'golly, that's cool- they've gone and put a giant gargoyle-ish stature in that water hole'. I actually drove past. The heat and my exhaustion left me driving along thinking, 'wait a minute… why would they do that?'. I turned around and drove back down the road. The spotted hyena was so big that it took a moment to realize what it was. I had seen only his giant head before, looking grey and most statuesque, but now that I was stopped, I could see it splashing around in the water, keeping the hole to itself. Awesome sighting to start the trip. Hyenas are a real big favourite of mine.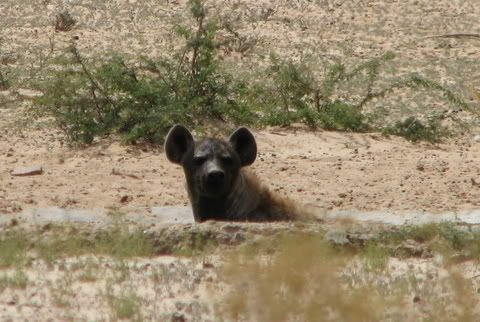 I'd heard there were lions at Kij Kij and continued on. At Kij Kij, I found only a wicked dust storm. Everything disappeared. I began to feel really sick, the effects of the heat and the drive. Knew I was in trouble when I started to black out and the park was very quiet. I'd seen no other cars that afternoon. Managed to make up and down a litre of ymmy cherry Game (which I had never heard of but I'd seen mentioned on the forum), and decided to get back to camp ASAP.
When I got back, I found my tent at someone else's campsite. It had blown away and my neighbours had rescued it for me. I hadn't thought to put pegs in. I'm not too good at this camping thing, but I'm new to it, and we all have to start somewhere…
I cancelled my game drive and went out into the park again. No significant animal sightings, but at Samevloeiing I met Peter Piper, who saw my ribbon and was completely awesome. He also pointed out Katydownunder who was a few cars behind us at the waterhole. Back at Twee Rivieren, we all got to have a chat. I hope you forumites know how super-cool you all are, and it was great to meet a couple of you.
No sleep at all that night. I knew that when you camped in cold weather, the cold gets you from the ground. I'd never thought that heat did the same. It was like trying to sleep in a 45c room, on top of an electric blanket. I could also hear bugs falling on my tent all night.
---
Virtual Ranger

Posts: 563
Joined: Fri Nov 07, 2008 6:46 pm
Day 2: Twee Rivieren to Mata Mata
Despite not sleeping, I still got up for a 5:30 drive. A leopard had been spotted right outside the TR gate the last few mornings. Having never seen one before, I had to try. About 200 meters into the park I saw something. A leopard….tortoise. Not the cat I had hoped for but an awesome sighting, as I'd never seen one in the park before.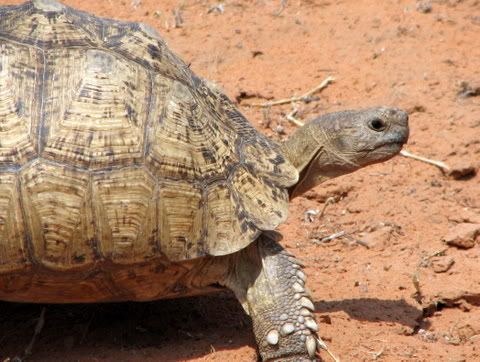 At Rooiputs, 2 male lions were fast asleep just feet from the road. A ranger flagged me down and said there were 6 lions on the road at Kij Kij. Here we go again. Sure enough, no lions at Kij Kij. On the way back, the lions at Rooiputs were still there, as well as a group of Secretary birds, two of which were fighting quite intensely by land, air and sea (okay, by 'sea' I mean waterhole, just wanted to be dramatic).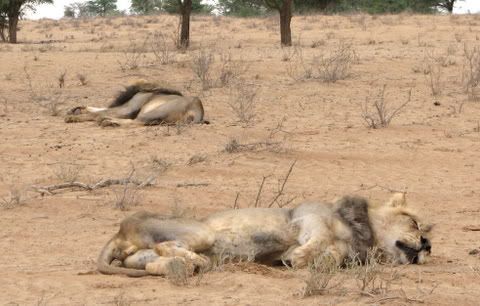 Just after Rooiputs, found a hyena walking in the riverbed in the same direction as me, so we travelled together for a while. In the same general area, I found a den of Cape Foxes. It was wonderful to watch them for a while. They're definitely one of my KTP favourites.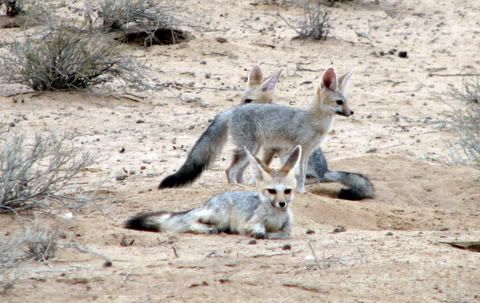 Just before I got back to TR to pack up camp, I saw the only thing that actually made me gasp thus far. I later learned it to be a Kori Bustard (yeah I know it's sad I didn't know that…). Very impressive animal. I'm not a bird enthusiast, but that thing was enough to make me want to go out and buy the fattest bird book I could find and devote my life to identifying every bird I ever see (okay, slight exaggeration, but still, WOW).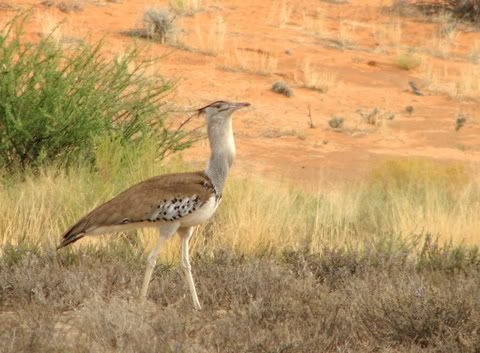 Packed up camp at Twee Rivieren. Not prepared for the giant bugs under the tent, but I managed to stay calm (to an extent). Left for Mata Mata. Just as I was leaving the gate, a gorgeous juvenile Cape Cobra crossed the road in front of my. Lovely lemon yellow- a colour phase I'd not seen before. I had most wanted to see snakes on this trip, so that was incredible. It just kept getting better.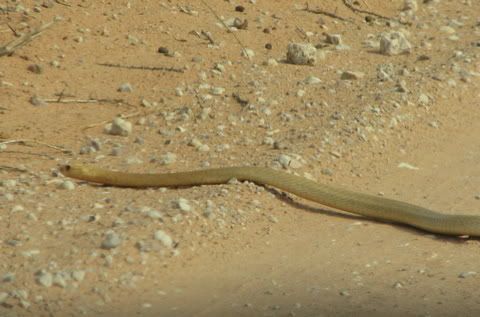 Spent a while watching the Meercats at Houmed. They were delightful and it felt like a very special sighting. Running around, standing up, the tiny meer-kittens perfectly imitating their elders. I felt bad for Peter Piper who had said he'd never seen a Meercat in KTP, and was beginning to suspect some kind of conspiracy.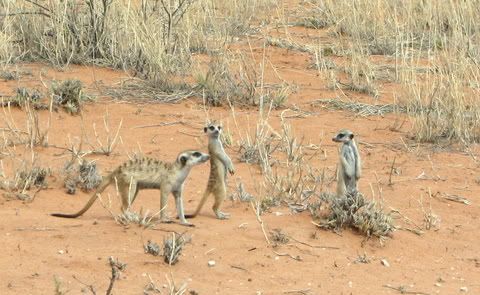 Lions and lunch at Aucterlonie. Met a couple there who said that there were lions at the lower dune road. Headed that way. A mother had 2 cubs and a kill at the top of the ridge.
So… I don't have binoculars. I've never been on a game drive without them, so I never even thought of them on this trip. I never thought to remember that I'm always with people who bring them- their own. This is why I'm a moose. I met the couple again at the lions and they very sweetly offered and passed theirs over to me.
The road was quiet until I came across what seemed to be a 'mommy and me playgroup', especially for springbok. There were dozens of moms and babies, some so small they were barely walking. A huge treat for me, as I'd never seen a baby springbok before. Spent quite a while with them.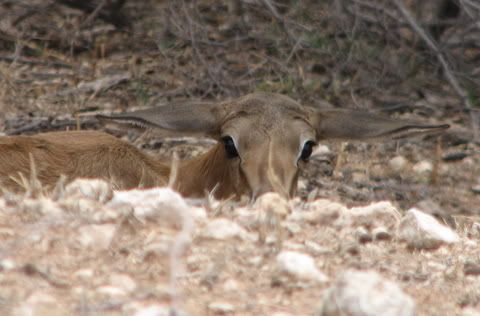 At Mata Mata I set up camp. Or I tried. Was completely exhausted and I just put my tent on the ground and stared at it. Yes, I looked lost and helpless. It wasn't long before a nice lady from Cape Town (who turned out to be a close neighbour back home) walked over with a hammer and asked if I needed help.
Signed up for the night drive. I'm not crazy about game drives. This stems from a bad experience in March. Game drives should be unpredictable, but you shouldn't end up trapped under several feet of Chobe River. I vowed never again, but in the KTP, it's the only way to see night critters. Plus, there's not much water to drown in here.
There was that night though, as the wind and rain battered the truck almost causing me to drop the spot light on many occasions. It was wonderfully worth it. The usuals, (bat-eared fox, cape fox, wild cats, spring hare), were joined by two animals I've never had the privilege to see- Porcupine and Brown Hyena, both at Sitzas. The porcupine had a baby with it.
After the night drive, I faced my biggest challenge of the trip thus far- the bathroom. The bathroom door was closed and the outside walls covered in hundreds, even thousands of grasshoppers. Actually, 'grasshopper' is too cute for what this was- a plague of vicious, giant locusts. I felt like I was on some TV challenge show. "Now ALL you have to do to win, is run up, turn the handle, open the door and go in". Couldn't do it. Eventually another brave woman came wearing a thick winter jacket, wrapped tightly round her body and face (must mention it was above 30c at that point). I decided to do the same and went back for my jacket. We both made it into the bathroom eventually, but I'm not doing it again and my new rule is NO drinking water after 6pm.
---
Virtual Ranger

Posts: 563
Joined: Fri Nov 07, 2008 6:46 pm
I never meant to look helpless! But my goodness, did I EVER look helpless... Not helped by the fact I didn't have a hammer.
I only put up my tent alone once on the trip. LOL- i'm not the most attractive girl. I'm the sort of girl who has to struggle to do stuff while men sit back and laugh at me. Hence, kind women coming to my rescue
---
---