I am quite sure that not that many forumites could immediately tell you where Tihongonyeni waterhole is.
Let me help you to get there, because it is worth the effort. Open your map on the page where Mopani Rest Camp in the north of the park is. Let your finger do the driving in a northern direction on the H1-6 tar road. Turn right after 12 km onto the S144, the Old Main Road Loop. Turn right again after 4 km on the S143. You are now in Mopani veldt, but they are small and you can see far. Drive slowly, not because the road is corrugated, but because you can see anything special at any time. After 8 km you will find the waterhole. Stop, switch everything off and take out your sandwiches and coffee or tea. You will definitely see something interesting if you are prepared to spend some time here.
Let other forumites help you with your sightings:
Jaco Pietersen
Pepperjuice
Skopsie
I saw these Kittliz Plovers building a nest in the middle of the road etc..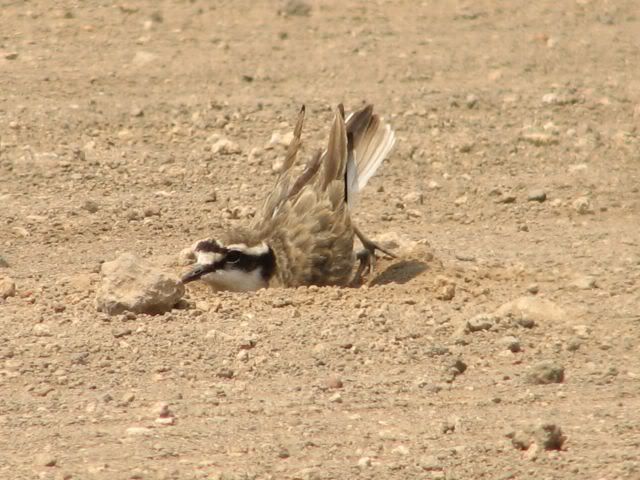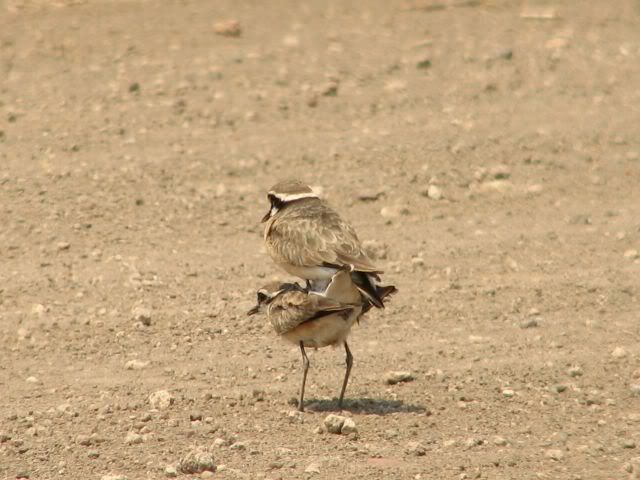 As you can see, it is good, but not the best way. To go there and see for yourself is obviously the better option.
I guess I would like to say that it is a very good option to try out this area of Kruger, not so popular as the south, but very different in terms of atmosphere and possible sightings and definitely more quiet.
I am planning my next visit there.
"I bashed with Bush Babtist!!"
---
Skopsie is that the waterhole on your right when you go down with the S143? It's wide open all around the waterhole and you can see miles far. Going down to the t-junction just before you get Nshawu waterholes me and SO saw some red hartebeest there in jan. Very nice little road. Will do it again in aug.
---
Yes Alf, it is that waterhole. The Nshawus are quite nice as well. I once saw Reedbuck there. During last year's Big Birding Weekend some of the people saw a Black Coucal there as well, which is a rare bird to see.
"I bashed with Bush Babtist!!"
---
Junior Virtual Ranger

Posts: 471
Joined: Thu Dec 20, 2007 3:07 am
Location: Melbourne, Australia
Skopsie you were "on the money"
Check out todays BLOG by MGoddard !!!!!
Eland at Tihongonyeni on Living the Dream 17 June 09
Cheers
---
Posts: 144
Joined: Wed Nov 19, 2008 9:36 pm
Location: Rustenburg
We were there about a week ago and it sure delivered its promises!
---
Was there this August long weekend.

Saw lots of game, but the area is very dry.

Highlihgt was the Dickinson's Kestrell we saw on the windmill.
"I bashed with Bush Babtist!!"
---
---
Who is online
Users browsing this forum: Google [Bot] and 2 guests