We were recommended this road by some of the rangers at Satara over Christmas. They said that the best game viewing would definitely be on this road.
We went down the road 3 times in 2 days. We didn't see anything but impala and a few zebra.
Judging by the photos on here, we definitely weren't in the right place at the right time!
Too long to go till our next trip - March 2012.
Talamati and Lower Sabie here we come.
---
Distinguished Virtual Ranger

Posts: 3958
Joined: Wed Nov 03, 2010 9:51 am
Location: Johannesburg SA
I drove the road in November last year.
It really was a wonderful drive. The road is so scenic. The stretch on the East near the h1-3 was very productive! Saw plenty of waterbuck, kudu, zebra, impala, elephant and buffalo! The road is beautiful there because it runs next to the Sweni river and the bush is thick. In my opinion it is not as good as one gets to the Western part of the road. You find the road far from the sweni river and as my luck would have it not many animals.
I would reccomend this road strongly. Extremely quiet by way of cars, and beautiful scenery
If your only concern is big 5 then other roads around Satara will better suite you. Such as the H6, s100, h7 and so on. Leave us to enjoy the s126 in peace
Kruger 2014!!!
16-23 August - Lower Sabi!!!!
---
did this road in dec, a month ago! OMW!! first a lion carcass, then a pride of about 13 lions, 2km from there a young leopard barely 20m from the road..and..wait for it..a further km down, wild dogs!! we didnt know whether to laugh or cry..definately a favourite
---
Posts: 42
Joined: Fri Jan 20, 2012 10:40 am
Location: Snorcity, Gauteng
What is everyone's experience with this road? Especially early in the morning as an alternative to the s100. I am also interested in what this road is like botanically and whether it has good birding potential as well. All input will be highly appreciated.
"The greatness of a nation and its moral progress can be judged by the way its animals are treated." - Mahatma Ghandi
---
Virtual Ranger

Posts: 1761
Joined: Mon Mar 23, 2009 4:15 pm
Location: Kyalami, South Africa.
Hi Canis lupus. I have had mixed results on the Sweni Road (like most other roads, including the S100!). I drove it last week and didn't see much. In the past, on different trips, I have seen elephant, buffalo, lions, wild dogs and lots of raptors. There are good trees - obviously some riverine types included.

I would give it a go - Muzandzeni picnic site is a good place to stop for your coffee/breakfast/brunch. You can then turn right up the S36 to go up to the H7 and back to Satara/Orpen. Last week there was a huge herd of buffalo wallowing in mud at the Rockvale water hole along the S36 - wonderful entertaining sighting.

Have a good trip!
Malelane 12th October 2016
Skukuza 16th October 2016
Lower Sabie 17th October 2016
Skukuza 2nd-5th March 2017
Satara 5th-8th March 2017
Tamboti 8th-11th March 2017
---
Distinguished Virtual Ranger

Posts: 3958
Joined: Wed Nov 03, 2010 9:51 am
Location: Johannesburg SA
Hi Canis Lupus!
Have a look at this thread!
Sweni River Road (s126) sightings
The terrain is completely different to the open grasslands around Satara in other directions! The first bit up until Welverdiend waterhole is the most productive part. More open grassland with lala palm scattered around. Much like the stretch on the H1-3 main road at that point.
The stretch past welverdiend is mopani and shrubveld. Much less general game.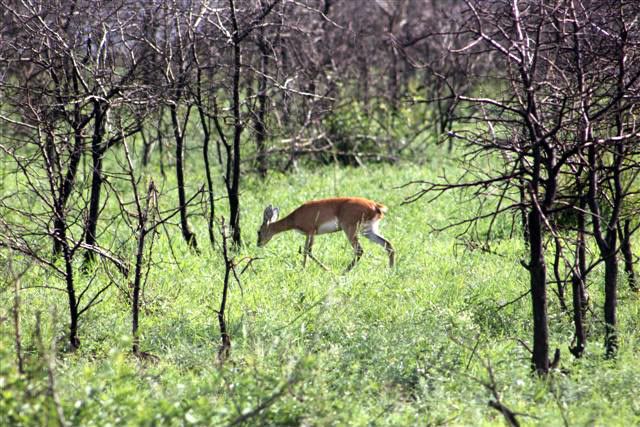 The S126 has a lower chance of cats than most satara roads. I would suggest the H7 (Orpen -Satara) as an alternative to the S100. Then take the S39 dirt road up to Timbavati. The H7 gives a good chance. And the S39 is wonderful and scenic along the Timbavati River!
The H1-4 to Olifants is also a good cat road! Then you could come back along the S39 Northern stretch along the Timbavati! a very productive road! And scenic
But if you like the open grasslands, the S90 to Balule in combination with the H1-4
Satara in any direction is good! The Sweni road is one of the quietest in the area
Kruger 2014!!!
16-23 August - Lower Sabi!!!!
---
During our last visit August 2011 we had some great sitings on this road.
Our friends were driving it midday when a pride of lions brought down a large male kudu. We were all together on a sunset drive that evening, so persuaded the driver to take us down to the kill site.
We spent the whole drive down the road - as well as the numerous lions the usual, scavengers etc around the kill we had in the very close vicinity a huge herd of elephants passing through, Rhino and later a big herd of buffalo. It was an amazing evening especially on the way back when we visited the kill site again and all hell broke loose around us as the pride males moved in to chase off the females and youngsters...the roaring lions all around us in the dark is something that will remain in my list of top Kruger experiences for a while!

We went back the next morning first thing and enjoyed watching the scavengers (Hyenas, Vultures, Jackels, other raptors) squabbling over the carcass.

It's like any road though of course, you drive it many times and see nothing and then just once have a great siting and it makes it special to you.

I agree with Wendy the H6 is worth a go too, I have had better luck there than I ever have on the S100....but again it's a case of right time, right place! Enjoy your trip!
---
i visit the park very often and this has been the only road where i have encountered 3 different big predator species within 4km. a pride of lions, then a leopard, and one of the biggest pack of wild dogs (20 individuals)! i have also seen serval on this road. definately an alternative to the s100 first thing in the morning..
---
Distinguished Virtual Ranger

Posts: 3958
Joined: Wed Nov 03, 2010 9:51 am
Location: Johannesburg SA
Umar_Daya wrote:and one of the biggest pack of wild dogs (20 individuals)
That would be the Orpen pack
They can be found as far South as Nhlanguleni
Kruger 2014!!!
16-23 August - Lower Sabi!!!!
---
---
Who is online
Users browsing this forum: Bing [Bot] and 1 guest