Legendary Virtual Ranger

Award: Birder of the Year (2015)
Award: Birder of the Year (2014)
Posts: 2315
Joined: Wed Sep 06, 2006 3:33 pm
Location: Jam Street
Wattle-eye, black-throated,
Platysteira peltata
Sometimes one gets to have really lucky moments - like this morning in the Cape Vidal reserve when I "shot" what I thought to be a battis or a brubru. I only had one opportunity before the bird flew into the forrest. When I downloaded the images from my camera, the picture was sharp and the image showed the red wattle over this bird's eye well - this was the first inkling I had that I actually got a lifer here!
677 Last 5 lifers: Caspian plover, Western marsh harrier, Rüppell's vulture, Spotted crake, Lesser jacana
---
Got this one down in Mtunzini in Natal. He was difficult to photograph as he never sat still!
Larger Image
---
Legendary Virtual Ranger

Posts: 4631
Joined: Thu Dec 02, 2004 10:27 am
Location: Chasing down the rarities
Black-throated Wattle-Eye
by
Wildtuinman
, on Flickr
674
Latest Lifer(s): Cape Rock-jumper, Grey Waxbill, Great Winged Petrel, European Storm-Petrel, Wilson's Storm-Petrel, Cory's Shearwater
Follow me as I bird on Twitter
@wildtuinman
---
Virtual Ranger

Posts: 563
Joined: Fri Nov 07, 2008 6:46 pm
Have they been recorded recently at Crocodile Bridge?
This one in the camp beginning of October 2011. I certainly didn't expect that! And definitely a lifer for me...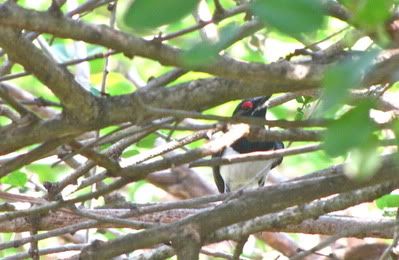 ---
Look deep into nature, and then you will understand everything better.
Albert Einstein

Latest lifers from Kruger NP:
Black Coucal Centropus grillii Swartvleiloerie
Flappet Lark Mirafra rufocinnamomea Laeveldklappertjie
---
Junior Virtual Ranger

Posts: 93
Joined: Sun May 29, 2005 11:45 pm
Location: Pretoria, for now
I think one of the best places to see this bird is in, and around St. Lucia.
I saw this male in July 2014 at the Ski boat club
There's never a reason to shout at someone unless they are in imminent danger!
---
Legendary Virtual Ranger

Posts: 4631
Joined: Thu Dec 02, 2004 10:27 am
Location: Chasing down the rarities
674
Latest Lifer(s): Cape Rock-jumper, Grey Waxbill, Great Winged Petrel, European Storm-Petrel, Wilson's Storm-Petrel, Cory's Shearwater
Follow me as I bird on Twitter
@wildtuinman
---
---
Return to "Birding in Southern Africa"
Who is online
Users browsing this forum: RoelfA and 3 guests