Jumbo
On Sunday we saw this grooming session on the S28.
The youngster on the left almost resembles a vulture!
---
Junior Virtual Ranger

Posts: 456
Joined: Sun Sep 04, 2005 3:04 pm
Location: Nottinghamshire UK
Been trying to get a good photo of these for a while - they do bob around so!
Richard
http://www.pbase.com/richardharris/june_2006
---
My only half decent attempt at photographing these head-bobbing-birds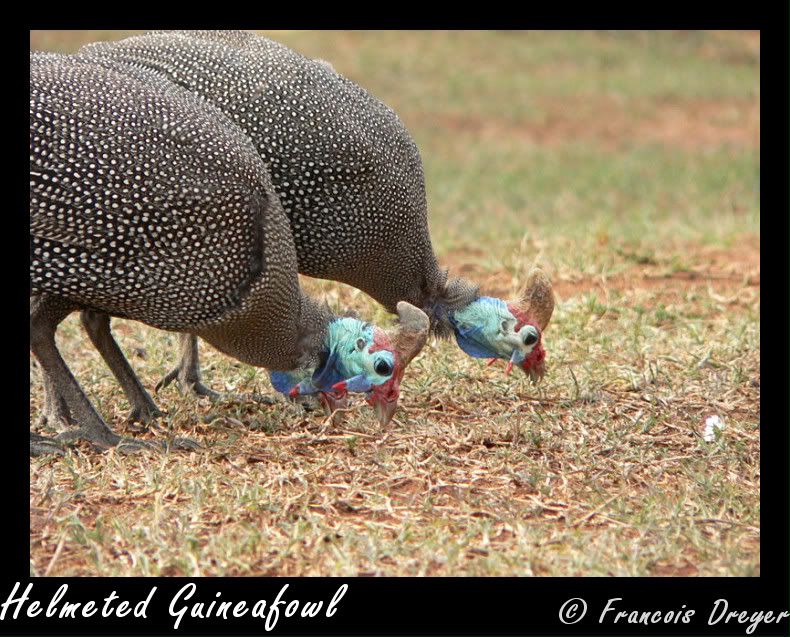 ---
Junior Virtual Ranger

Posts: 456
Joined: Sun Sep 04, 2005 3:04 pm
Location: Nottinghamshire UK
As we all know, these are flightless birds, only even seen running around in a stupid manner. So when did they learn to climb trees?
Richard
http://www.pbase.com/richardharris/june_2006
---
---
Legendary Virtual Ranger

Posts: 5002
Joined: Thu Dec 02, 2004 10:27 am
Location: Chasing down the rarities
Agree always seen them roosting in trees. They can fly if needs be.
675
Latest Lifer(s): Burchell's Courser, Cory's Shearwater, Wilson's Storm-Petrel, European Storm-Petrel, Great Winged Petrel, Grey Waxbill, Cape Rock-jumper
Follow me as I bird on Twitter
@wildtuinman
---
Jumbo
Nope, Guineafowl are definitely not flightless…not good flyers, but they do fly. That is however a problem: I often encounter them on the N4 between Komatipoort and Hectorspruit when they are flying across the road. If one hits your windscreen at 120km/h it will most probably break the glass and I've even heard of people that got badly injured like that.
They are very unpredictable (small brain and all of that
) thus rather slow down when you see Guineafowl on the side of the road.
j-ms wrote:I know this is off-topic, but a Scottish friend of ours who lived in SA for 20 years or so before going back to the UK says on of the things she misses most about SA is the sound of Hadedahs !
j-ms, I agree with your friend. We had a lot of Hadedas where we lived in PTA. In Maputo there is none left…they are slow and thus easy to catch…only saw one in 2 ½ years. Now, when I hear them in Kruger and Marloth, I actually get goose bumps from appreciation…
---
Virtual Ranger

Posts: 604
Joined: Fri Dec 30, 2005 10:33 am
On H1-1 Near Skukuza:
---
Junior Virtual Ranger

Posts: 254
Joined: Thu Feb 24, 2005 10:09 pm
Location: Tanzania, Selous Game Reserve
belive it or not, but we found one in holland!!
well, it was dead at the side of the road, but it was one!!
it was near apeldoorn.
my colleges didnt even know what it was, they thought a tukey
i think it might have escaped from a farm or was thrown out of a car (already dead)
but i was sertanly surprised and had to think about the loops around shingwedzi. that was where i saw a youngh leopard hunt tham.
luckey for tham they got away with all feathers but protesting loudly while scattering in to the air
the leopard stalking the guineyfowls
the attack
and the leopard returning 'empty-handed' into the riverine forest.
(sorry for the bad quality, but there where made from the video)
Watching the slow flow of the river. A continues movement of water down towards the ocean. Like blood flowing through a vein, keeping the body alive.
---
I came across a solitary bird this afternoon in Amanzimtoti (KZN) Have never seen them run around in our area and we have been living here in excess of 20 years.

What concerned me about this individual, was the fact that the facial colouring (instead of blue) was white. It also seemed quite tame - came up to the Land Rover quite at ease, but ran off when I approached it on foot. Is the white colouration due to incorrect diet (fed incorrectly in captivity?)

The area where I found it, was adjacent to the N2 Freeway, in virgin coastal bush.
(I do have a photograph of the bird - but it was taken from a long distance on my mobile phone)

I would really appreciate some sort of information on my question if someone is prepared to assist me.

Many Thanks


lee lewis
"To be playing a part, no matter how small, in the conservation of our dwindling wildlife is an experience I shall always cherish." - Stuart Hilcove
I SAY

NO

TO HOTEL DEVELOPMENTS IN KRUGER NATIONAL PARK!
---
Legendary Virtual Ranger

Posts: 2545
Joined: Wed Sep 06, 2006 3:33 pm
Location: Jam Street
Because they are so common, we tend to ignore the species ever so slightly...
As you can see from the photograph, the Helmeted Guineafowl chicks are cryptically coloured, totally unlike the parents; nature's way of giving them a camouflage and further equipping them for survival by enabling these chicks to fly and (flutter) out of danger to low branches
only a week
after hatching. Fledging occurs in 10 weeks.
The adult birds often form flocks of hundreds of birds outside of the breeding season. Guineafowl are mainly terrestrial and are great runners although they can fly and glide significant distances. Pairs remain monogamous. The Helmeted Guineafowl,
Numida meleagris
, lays a clutch of eggs in a well-hidden lined scrape. Up to 15 eggs can be attributed to a single female. Larger clutches of sometimes double this number is due to more than one hen laying eggs in the same scrape. The female incubates the eggs for 26-28 days.
The characteristic helmet and the wattles start to manifest after four months in both sexes. When the next breeding season comes around, both sexes are capable of reproducing.
Other fun facts:
The ancient Romans and Greeks already started to domesticate guineafowl for food!
Guineafowl are very effective agianst tick infestations as they use them as a source of food!
728 Latest lifers: Hartlaub's babbler, Coppery-tailed coucal, Red-billed spurfowl, White-browed coucal, Scharlow's turaco, Copper sunbird, Long-toed lapwing, Eastern bronze-naped pigeon, Malagasy pond heron, Soft-plumaged petrel, Orange-winged pytilia.
---
You should not underestimate these feathered friends they can adapt quick well to "city" life. Linden Police station has a flock that share their garden with the bunnies. We have some on the empty plot next to my work in Honeydew as well.
Some dusty ones at Mapungubwe:
tarentale
by
Ina Moerdyk
, on Flickr
I live in my own little world. But it's okay they know me here.
---
Virtual Ranger

Posts: 667
Joined: Fri Oct 08, 2010 12:09 pm
---
---
Return to "Birding in Southern Africa"
Who is online
Users browsing this forum: No registered users and 2 guests