Junior Virtual Ranger

Posts: 127
Joined: Thu Dec 08, 2005 2:27 pm
Location: Sir Lowry's Pass
This looks like a Falcon to me, but I don't know what kind of Falcon.
Sorry about the bad pic, I had to do this in a hurry.
Conservation is the lifeblood of nature!

West Coast National Park 22 November 2009
---
Hi Curtis,

It's a Rufous-chested (redbreasted) Sparrowhawk. Great photo.

Barcud
---
Legendary Virtual Ranger

Posts: 5002
Joined: Thu Dec 02, 2004 10:27 am
Location: Chasing down the rarities
675
Latest Lifer(s): Burchell's Courser, Cory's Shearwater, Wilson's Storm-Petrel, European Storm-Petrel, Great Winged Petrel, Grey Waxbill, Cape Rock-jumper
Follow me as I bird on Twitter
@wildtuinman
---
I had this rather shy one visit a tree which overhangs my yard in Paarl. It is the only time I have ever seen one in the area. The tree later had to go unfortunately as it was lifting foundations.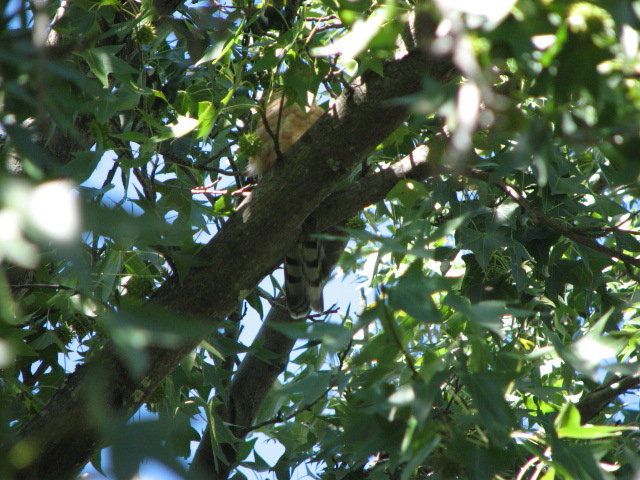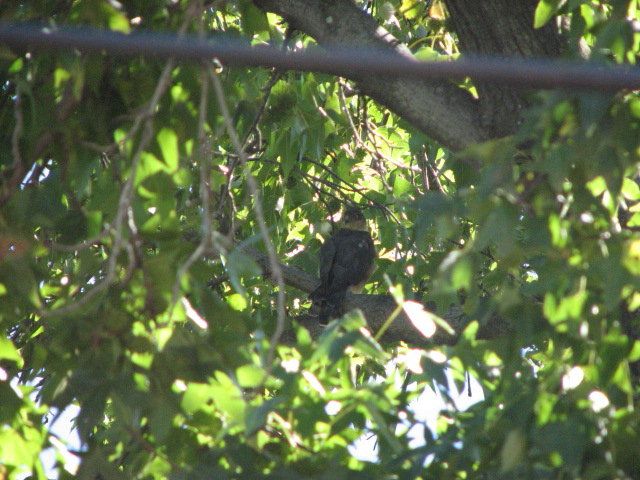 Keep well
Pete
Pete
---
Senior Virtual Ranger

Posts: 3876
Joined: Sun Mar 20, 2005 5:53 pm
Location: Cambridge, MA (and home from home in Darling, WC)
I'm not certain whether this is a South African raptor, altho I did see it in SA, at Eagle Encounters in Stellenboasch. Does anyone know what it is? I can't remember, as I didn't take notes
RSA 2017
9-11 November Cape Town
11-29 November RMS St Helena: St Helena & Ascension
29-30 November Cape Town
1 December-21 January Darling
---
Bushbuddies wrote:

arks - I would guess a Rufous-breasted Sparrowhawk - which is endemic to that area. Hopefully more mites would come along to help confirm that.
@ arks: definitely Rufous-breasted Sparrowhawk. They are quite common in the Stellenbosch area, and I would hazard a guess that a large proportion of the raptors that end up with the guys at Spier are either these birds or African Goshawks. The juveniles of the latter species seem particularly adept at getting themselves into trouble. We "rescued" one from my garden about 2 years ago; I still have the scars of the puncture marks on my thumb....
Latest lifers: House Crow, Grey-backed Cisticola, Ludwig's Bustard, Tractrac Chat, African Reed Warbler, Black-bellied Starling, Plain-backed Pipit, Common Buttonquail, Cutthroat Finch, Freckled Nightjar
---
Senior Virtual Ranger

Posts: 3876
Joined: Sun Mar 20, 2005 5:53 pm
Location: Cambridge, MA (and home from home in Darling, WC)
Thanks for the ID, Bushbuddies and Albert
RSA 2017
9-11 November Cape Town
11-29 November RMS St Helena: St Helena & Ascension
29-30 November Cape Town
1 December-21 January Darling
---
---
Return to "Birding in Southern Africa"
Who is online
Users browsing this forum: No registered users and 2 guests