This one has been posted on the "Bird of the Month" thread, but I have not managed to ID it, please help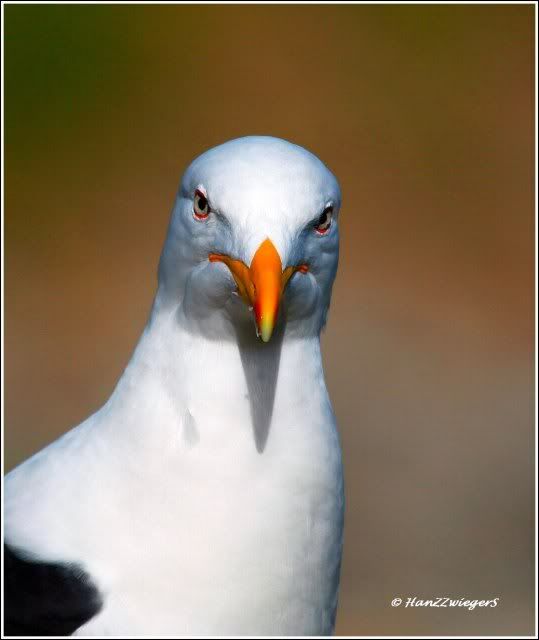 ---
Junior Virtual Ranger

Posts: 115
Joined: Mon Feb 23, 2009 8:39 pm
Location: Bristol, United Kingdom
I think it's a Kelp Gull - Pale yellow eye with Orange/Red eye ring.

Dave
Too far from the Kruger.... looking forward to my next trip....
Details of last trip:
Pretoriuskop- 11-14/10/2017
Skukuza - 15-17/10/2017
Satara - 18/10/2017
Orpen - 19/10/2017
Satara - 20-21/10/2017
Skukuza - 22-23/10/2017
---
Thank you Dave
Taken like that from the front, it looked different, but the eyes should have told me
---
Posts: 63
Joined: Tue Apr 17, 2007 11:45 am
Location: Pretoria, Gauteng
Micetta wrote:This one has been posted on the "Bird of the Month" thread, but I have not managed to ID it, please help
I vote Lesser Black-backed Gull with VERY
intewresting beak colour. It is
orange
, not the yellow colour as on other photgraphs. My ID only points to the eyes. Grey-headed Gull also has silvery eyes and red eye-ring, but no dark back as in photo.
Go look at some of
my photos
(mostly birds) @
http://www.outdoorphoto.co.za/forum/photopost/showgallery.php?cat=500&ppuser=20417
Expect the unexpected...
---
Legendary Virtual Ranger

Posts: 4994
Joined: Thu Dec 02, 2004 10:27 am
Location: Chasing down the rarities
Leeupan in Mpumulanga every now and then delivers the goods when one of these individuals pitch up.
Another rare vagrant to SA.
Immature bird.
675
Latest Lifer(s): Burchell's Courser, Cory's Shearwater, Wilson's Storm-Petrel, European Storm-Petrel, Great Winged Petrel, Grey Waxbill, Cape Rock-jumper
Follow me as I bird on Twitter
@wildtuinman
---
---
Return to "Birding in Southern Africa"
Who is online
Users browsing this forum: No registered users and 3 guests