Virtual Ranger

Posts: 979
Joined: Thu Jun 19, 2008 12:53 pm
Location: Port Elizabeth
Found this pair of Orange-winged Pytilia's on the Confluence loop just south of the Shingwedzi high water bridge in December.
Male and female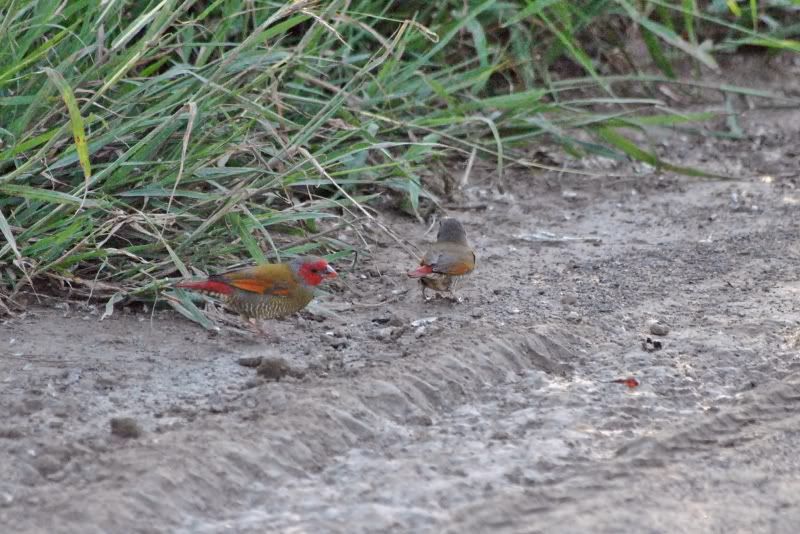 Male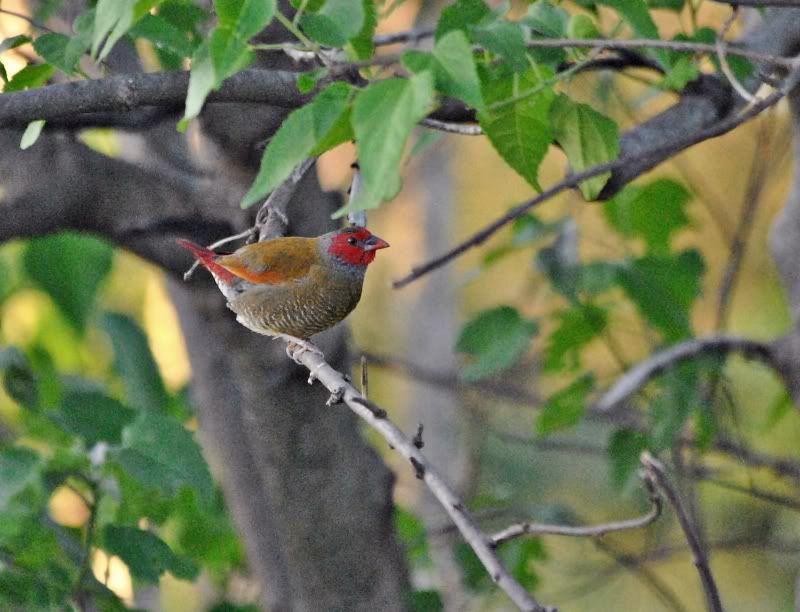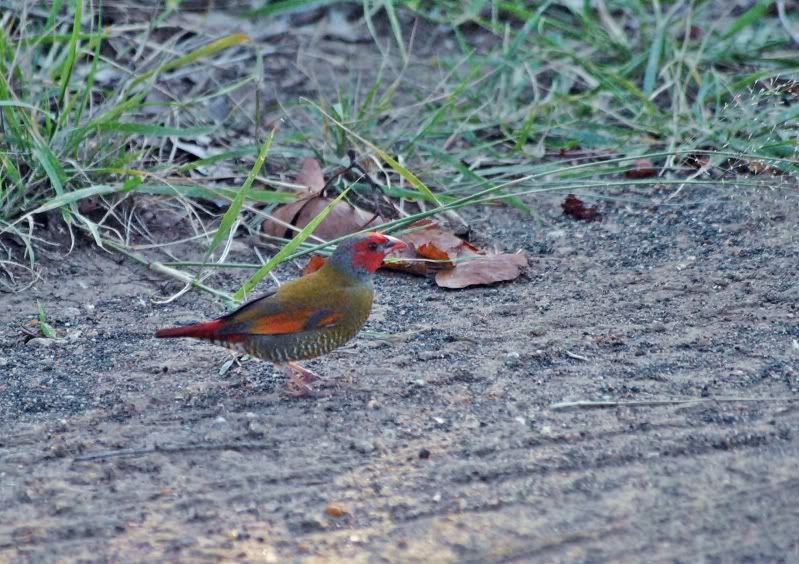 ---
Junior Virtual Ranger

Posts: 511
Joined: Sun Mar 05, 2006 4:34 pm
That's a great sighting.

I've only ever seen orange-winged at Mashisiti spring way up in the north. I know they are also seen from time to time at Pafuri Camp.

Johan
---
Senior Virtual Ranger

Posts: 4237
Joined: Mon Dec 11, 2006 1:45 pm
Location: southern gauteng
Pantera leo - magnificent !
Was that taken with a long lens ?
I have not been so fortunate as to be able to see these beauties properly , they fly away at the slightest movement , I assume you were watching something else in silence or plainly enjoying the ambience when they emerged ?
KNP is sacred.
I am opposed to the modernisation of Kruger and from the depths of my soul long for the Kruger of yesteryear!
1000+km on foot in KNP incl 56 wild trails.200+ nights in the wilderness
ndloti
-indigenous name for
serval
.
---
Virtual Ranger

Posts: 979
Joined: Thu Jun 19, 2008 12:53 pm
Location: Port Elizabeth
Hi Ndloti, it was taken with a 55-200 lens.
We were driving slowly along the confluence loop just south of the Shingwedzi bridge. We then stopped because I thought they were Green-winged Pytilias. They sat in a tree just off the road, after checking and checking again I realised they were Orange-winged after a minor heart attack. They then proceeded to move down into the road a few meters in front of us. Feeding in and between the grass next to the road. We saw them on two consecutive afternoons in exactly the same spot.
---
Virtual Ranger

Posts: 2480
Joined: Sat Jun 06, 2009 2:49 pm
Location: Burghausen, Germany
Wonderful sighting
Akukho nyon' endiz' ingahlali phansi. (Zulu)
There is not a bird that flies and never sits down.
---
Legendary Virtual Ranger

Posts: 2545
Joined: Wed Sep 06, 2006 3:33 pm
Location: Jam Street
Anyone finding themselves near or around Punda Maria should check out the north eastern corner of the camp swimming pool enclosure. A leaky water supply line is a favourite drinking spot for a whole host of small birds, including a few orange-winged pytilia
Pytilia afra
. The time of day does not matter. All you need is a little patience and you are sure to find a few pytilia popping in for a drink!
Of course, the golden hour of the early morning is best for getting good photographs and then you'll also find them at the artificial fountain feeding the pool. They are not shy and you can get within 5m of them at these watering points!
Lifer #728!
Orange-winged Pytilia are residents of forest edges, miombo woodland and moist wooded grasslands where it forages on bare patches on the ground in pairs or small groups, mostly feeding on small seeds and insects. In Punda this habitat is replicated by the swimming pool lawn ending abruptly against dense vegetation.
Although this colourful finch has a widespread occurrence in Africa, it is considered to be uncommon throughout its range. In South Africa it tends to be rare and occasional sightings of this pytilia have been confined to the Limpopo province.
Their breeding season is in the late summer months of February and March.
A word of caution: quite a few green-winged pytilia also frequent this site. Orange-winged pytilia is a smaller bird with a shorter tail. The red ear coverts of the male are diagnostic. Other subtle differences between the male OWP and GWP are: hind crown olive (not grey), wings orange (not olive green), underparts barred olive and white (not grey and white). The female OWP has orange wings and less prominent barring on its underparts. (See female OWP image below)
728 Latest lifers: Hartlaub's babbler, Coppery-tailed coucal, Red-billed spurfowl, White-browed coucal, Scharlow's turaco, Copper sunbird, Long-toed lapwing, Eastern bronze-naped pigeon, Malagasy pond heron, Soft-plumaged petrel, Orange-winged pytilia.
---
Forum Assistant

FAC Member (2017)
FAC Member (2016)
Posts: 19831
Joined: Fri Apr 06, 2007 6:39 am
Location: Pretoria SA
Thanks for the beautiful pictures Johan!
"Like a sunflower, always turn toward the light." Eleanor Brown.
---
Virtual Ranger

Posts: 667
Joined: Fri Oct 08, 2010 12:09 pm
Stunning shots Johan And a fabulous sighting
---
Posts: 252
Joined: Tue Mar 13, 2007 8:22 pm
Location: france
Very nice pics of the orange-winged Pytilia Johan
After reading your post,i check out for the orange-winged Pytilia at Punda Maria on the eastern corner of the swimming pool where there is a little pound.
I was in Punda the first days of December.
I didn't saw it at the swimming pool,but saw both male and female coming to drink at the little bird bath,the one in front of the chalets,behind the little wall,where is the pic nic place.
I saw them at midday,a little after 12 o'clock.
The day before i saw only the green-winged Pytilia(with the firefinches,blue waxbills,sunbirds etc though)
So a great thank you for your advice,i am not sure i will have been so patient,waiting for them,without your advice
Sorry for the pics,i have to learn again how to post them since i can't use Tynipic anymore
---
---
Return to "Birding in Southern Africa"
Who is online
Users browsing this forum: No registered users and 1 guest