I'd like to find out if anyone knows of a good spot for Magpie Mannikin in the Tzaneen/Magoebaskloof area. I'm heading up there in November and this is a species that's been eluding me for a very, very, very long time! Any advice will be greatly appreciated.
Regards, John.
http://sites.google.com/site/birdinginkruger/Home
" onclick="window.open(this.href);return false;
---
Virtual Ranger

Posts: 560
Joined: Mon May 04, 2009 3:23 pm
Location: Pretoria
johnd,

As far as I know they only have been recorded in the lowveld area(mpumalanga)Nelspuit, and then my father-in-law saw them during summer at Krugerpark Lodge close to Kruger Gate. Maybe somebody else knows about that far North?

Maybe you already know but the best place is Natal coast.
---
I used to see the pied Mannikin in my garden regularly. There were a group of them that would come to our feeder. Haven't seen one for +/- a year until this very morning. There was only one pied mannikin that I spotted. Could let you know if they become regular visitors again.
---
Hi Monicaj, that's great to hear and I would really appreciate it if you could let me know, and also to reply to Lizet, I do realise that the Natal coast is the place for them in South Africa but I don't get down there often enough unfortunately. Would be great if I could get them when I'm up there as I'm going already for birding day and gona have a day or two to mess about a bit so I really appreciate your offer Monicaj.
For now only 2 to go for 700, fingers crossed for Buff-spotted Flufftail this weekend in Peddlar's Bush (even though Flufftails don't really exist)!!
---
Hi johnd
I am living in Tzaneen and use to see them during the winter every day at my feeder. Since the last week or three they are not that regular, although I saw them on Monday.
I am more than willing to help you to see them. We have to see what the situation is closer to the time.
Some proof at my feeder!!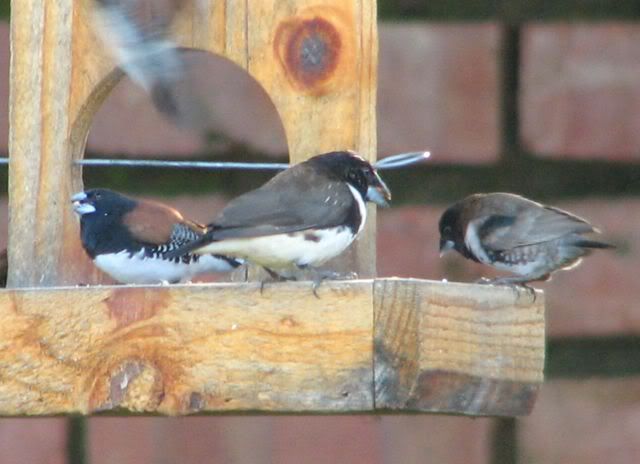 22-26 Dec 2017: Marakele
26-31 Dec 2017: Mapungupwe
---
Posts: 127
Joined: Fri May 16, 2008 5:48 pm
Location: Sommernethi
Skopsie, I see now there is a Red-backed Mannikin in your pic! - if I am not mistaken! The others look like Bronze winged!
This pic I took last year near Crocodile Bridge & I think it to be a Red Backed Mannikin?
Can a Moderator add Mannikin Red-Backed to the bird list & move this entry if it is indeed a Red-Backed M!
.
.
.....
KNP my HOMELAND 4 eva - never left it!
...."rush of the city" damaging my soul!
---
I agree with you Bobbi
Your's is a redbacked mannikin, and the birds in Skopsie's pic is 1 redbacked (leftmost) and 2 bronze mannikins. (I'm making my ID of bronze as opposed to magpie mannikin on the bi-coloured bills...)
---
Virtual Ranger

Posts: 659
Joined: Fri Oct 08, 2010 12:09 pm
I agree Red-backed and Bronze Mannikin The bronze has a bicoloured bill Like the one on the left
---
Hi Dabchick and Ladybirder

The Mannikin on the left is a Red-backed, the one in the middle is a Magpie and the one on the right is a Bronze Mannikin.

The Magpie is noticeably larger than the other two, the pied appearance, the broad bars on the white under parts and the heavy bill are all features that distinguish it from the Bronze Mannikin.

There is quite a large population of Magpie Mannikins in and around Tzaneen.

Another point of interest: I see in the Commemorative Edition of Newman's field guide, they refer to the Red-Backs as a Black-and-White Mannikin. Anyone with more information on this?
22-26 Dec 2017: Marakele
26-31 Dec 2017: Mapungupwe
---
---
Return to "Birding in Southern Africa"
Who is online
Users browsing this forum: No registered users and 3 guests