Virtual Ranger

Posts: 784
Joined: Mon May 19, 2008 11:17 pm
Location: Noordheuwel, Krugersdorp.SA
Violet-eared Waxbill:
Granatina granatina
Afrikaans Name: Koningsblou sysie
Identification:
A very small bird , 14 - 15 cm, with a rather longish black tail.
Male: Body is chestnut colour and the female light brown and paler below.
Rump and forehead blue.
Ear coverts violet, ( lighter in the female)
Bill colour red.
Iris red - brown to red, with orange eyering.
The male's throat, centre of belly and undertail is black.
The female does not have the black throat.
Call:
it has a repetitive canarylike twittering call.
Status:
a locally common resident specie.
Habitat:
dry savanna , especially Acacia with thickets and dense riverine thornbush. Occasionally at cultivated edges.
Habits:
usually solitary or in pairs. Or in birdparties normally with Blue Waxbills.
Often seen at waterholes.
Acts as host for the Shaft-tailed Whydah.
Food:
seeds and insects
Breeding:
Season - December to June.
Incubation by both parents. Feeding by both parents.
www.whereeaglesrest.co.za
STIFFNECK
"I'll rise up like the Eagle & I will soar with You because Your Spirit leads me on ~ by the Power of Your Love"
---
What a colourful little bird!(male)
Seen at Union's End waterhole,KTP,October 2009!
We do not see nature with our eyes, but with our understandings and our hearts.
William Hazlitt
---
Moderator

Posts: 16282
Joined: Tue Mar 22, 2005 6:31 pm
Location: Tinley Manor, KZN North Coast, South Africa
Thats beautiful Ingrid.
We saw a couple of them in Kruger in Feb but our pics are not very good as they were so active and wouldn't sit still for a scond.
---
Virtual Ranger

Posts: 1848
Joined: Fri May 12, 2006 4:10 pm
Location: SA
Contact:
Back to Letaba in April, July and September
Birding Weekend 2014 - Satara 3
Exploring Letaba - '13-'14
Letaba Ladies, 3rd Edition
- '14 - '15
---
Legendary Virtual Ranger

Posts: 6526
Joined: Sat Feb 18, 2006 10:36 pm
Location: Lausanne (Switzerland)
saw at Grootkolk (Magic Grootkolk) in January 2012
Violet-eared Waxbill :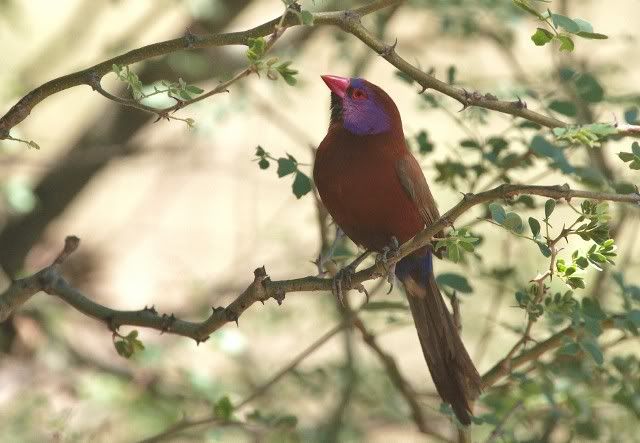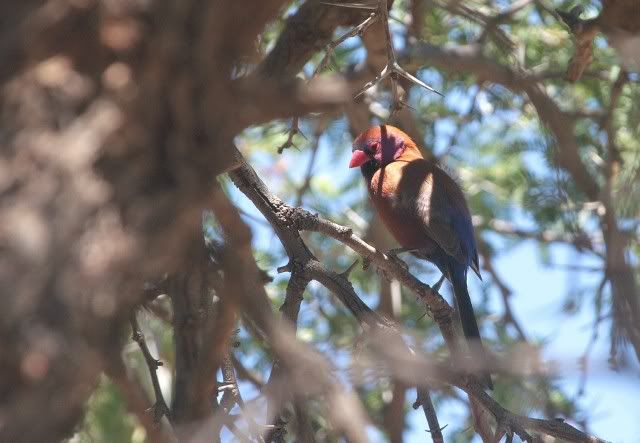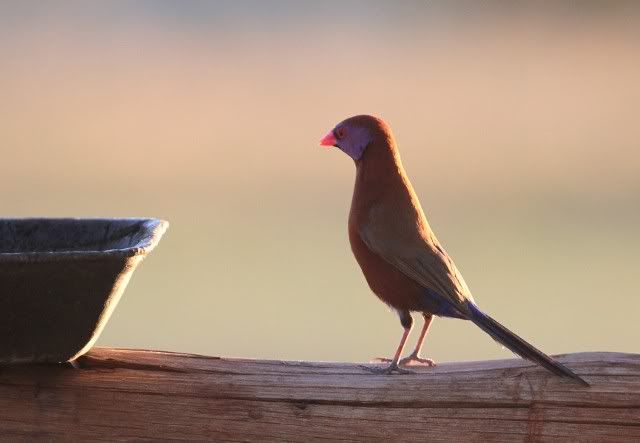 It is only with the heart that one can see rightly, what is essential is invisible to the eye
Le Petit Prince
back home...
---
---
Return to "Birding in Southern Africa"
Who is online
Users browsing this forum: No registered users and 2 guests