Legendary Virtual Ranger

Posts: 2545
Joined: Wed Sep 06, 2006 3:33 pm
Location: Jam Street
The
Cape Teal
,
Anas capensis
, is a small duck with pale, mottled grey feathers covering its body, a pink bill and reddish eyes. The speculum is green and black and bordered with white. The female is slightly smaller, paler in colour and less speckled than the male.
This duck is thinly distributed but widespread, found in or near shallow saline lakes and marshes, lagoons, seasonal and permanent brackish pools and vleis, estuaries and tidal mudflats, rivers, seasonally flooded wetlands, farm dams, state reservoirs and wastewater treatment pools. This species undertake considerable nomadic movements in response to changing water levels.
Large view
Cape teal are one of the few species of dabbling ducks that actually dive. They are capable of swimming underwater with their wings closed like true diving ducks. Its omnivorous diet includes water plants, plankton, crustaceans, and tadpoles. These birds have tooth-like projections bordering the bill, which suggests that filter feeding may be important to this species. The species is diurnal, with most of its activity occurring in the morning and afternoon, although occasionally the species may also forage at night.
It quickly reaches sexual maturity at 1 – 2 years and has an average life span of 20 to 30 years. Cape Teal is an irregular and opportunistic breeder, varying its time of breeding with rainfall. Throughout both breeding and non-breeding seasons the species is dispersed in single pairs or small flocks of 3 – 7 birds. Large flocks in the moulting season are recorded rarely, when some gatherings can be as large as 2,000 strong. They nest on the ground usually in dense vegetation, normally near water, on islands where possible. Brood size is seven to eight pale to deep cream-coloured eggs that are incubated by the female for 25 to 26 days. Cape Teal are one of the few species of dabbling ducks in which the male remains with the female and plays an active part in raising the young. Because both parents raise the ducklings, fewer offspring die. Cape Teal are good parents and will vigorously defend their young even against predators. Fledging duration is 6 weeks.
Cape teal are not endangered. In fact, the population is most likely increasing due to the construction of new dams, reservoirs and irrigation projects. They are commonly hunted for food by both animals and humans.
728 Latest lifers: Hartlaub's babbler, Coppery-tailed coucal, Red-billed spurfowl, White-browed coucal, Scharlow's turaco, Copper sunbird, Long-toed lapwing, Eastern bronze-naped pigeon, Malagasy pond heron, Soft-plumaged petrel, Orange-winged pytilia.
---
Senior Virtual Ranger

Posts: 3877
Joined: Sun Mar 20, 2005 5:53 pm
Location: Cambridge, MA (and home from home in Darling, WC)
Seen at Abrahamskraal birdhide in WCNP on 28 September 2010
RSA 2017
9-11 November Cape Town
11-29 November RMS St Helena: St Helena & Ascension
29-30 November Cape Town
1 December-21 January Darling
---
Junior Virtual Ranger

Posts: 831
Joined: Sun Aug 29, 2010 10:07 am
Location: Under African Sky !!!
Took these two photos of a Cape Teal.
Photo 1
Photo 2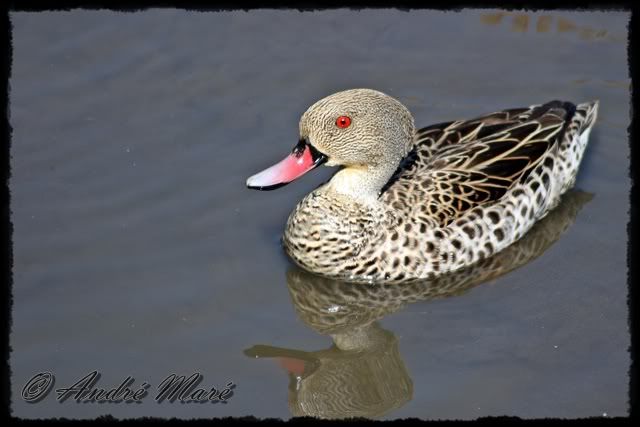 "A roaring lion kills no game."
"Until lions start writing down their own stories, the hunters will always be heroes."
"If you kill a tree, you are killing a bird."
"When the sun has set, no candle can replace it."
---
---
Return to "Birding in Southern Africa"
Who is online
Users browsing this forum: No registered users and 2 guests