Junior Virtual Ranger

Posts: 582
Joined: Wed Apr 25, 2007 7:16 pm
Location: Somewhere far far far away
Last edited by
timbo
on Wed Jun 20, 2007 2:49 pm, edited 1 time in total.
I try my best and that's what matters I hope.
---
Virtual Ranger

Posts: 246
Joined: Mon Oct 17, 2005 1:47 pm
Location: Eish !
Contact:
In a non-SANParks:
They sure DO occur in KNP, Timbo.
Life is uncertain - eat your dessert first.
---
Legendary Virtual Ranger

Posts: 6883
Joined: Wed Mar 16, 2005 12:38 pm
Location: In the shadow of Table Mountain
They are quite common in Kruger.

There is one poor little devil that swims around in the waterhole at Ok... in Et... frantically navigating round kudu, oryx, elephand et al, and when the sun goes down they switch on the spotlights and he just carries on swimming. The poor guy hasn't had any sleep for 47 years...
Whatever (according to BB): "You are correct but I don't want to admit it".
In a world of grey, be
RED
---
Honorary Virtual Ranger

Posts: 14519
Joined: Fri Jan 14, 2005 5:42 pm
Location: Red sand, why do I keep thinking of red sand?
There is a couple swimming around in Klopperfontein, I'll edit in a photo or two later.
Not posting much here anymore, but the photo's you can follow
here
There is plenty there.
Feel free to use any of these additional letters to correct the spelling of words found in the above post: a-e-t-n-d-i-o-s-m-l-u-y-h-c
---
As said Klopperfontein is one of the spots we see them regularly. We also saw a mother carrying 5 chicks on her back at N'waswitshaka waterhole on the S65 close to Skukuza in 2006, just after our 7 Cheetah sighting.
Below a young bird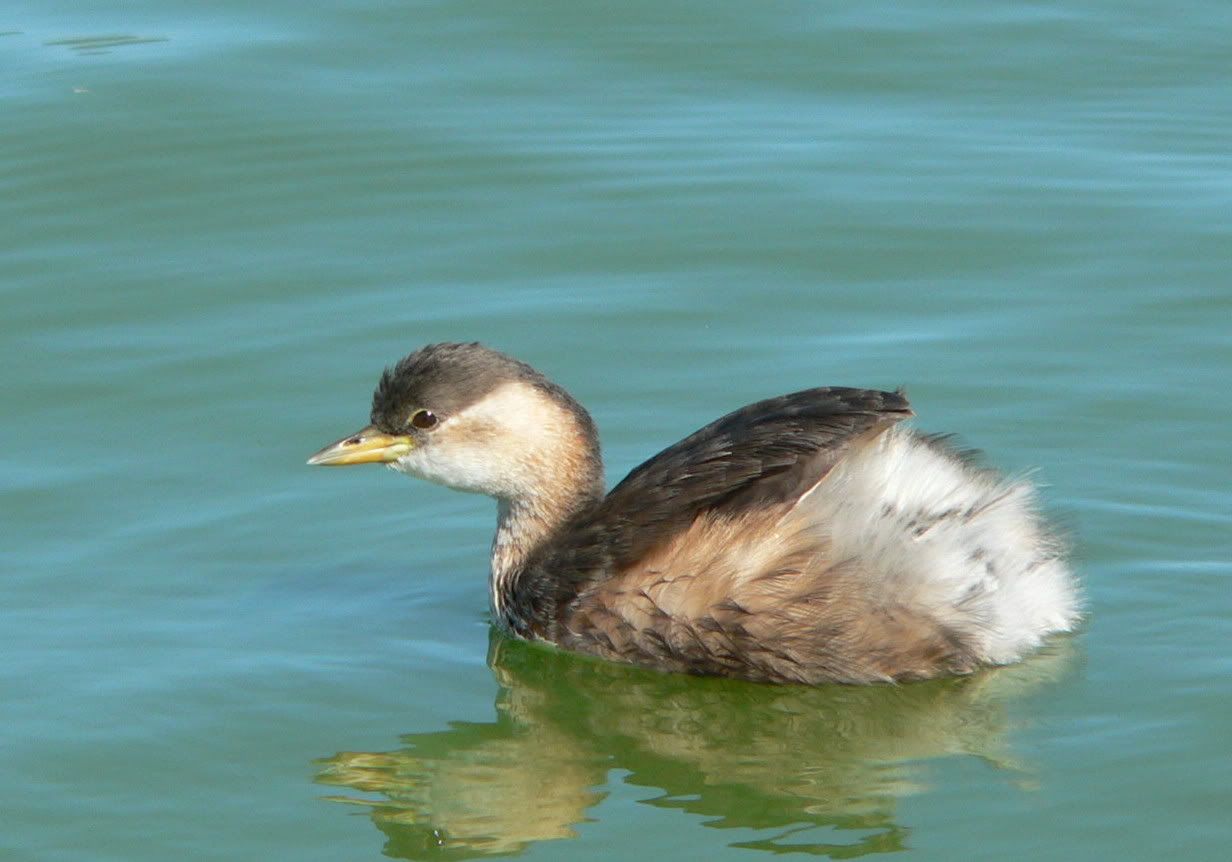 ---
Junior Virtual Ranger

Posts: 453
Joined: Fri Aug 21, 2009 5:34 pm
The first dabchick in KNP I spotted Dec. 26, 2009, at Klopperfontein.
My TR's
- It's time for Africa!
(KNP Nov./Dec. 2010)
- Video page 7: Wild dogs watching lions!
- Memories from the backseat
(KNP Dec. 2009)
- If I could fly
(KNP March/April 2010)
- Time to fly south again
(MZNP, Addo, and more Nov/Dec. 2011)
---
Quite common in the Netherlands, we call them Dodaars. Funny little ones.
---
Posts: 127
Joined: Fri May 16, 2008 5:48 pm
Location: Sommernethi
Hi
Can someone please help me to ID this little fella?
Is it perhaps a juvenile Little Grebe?
Was seen on small pond near and south of Lower Sabi.
There were no other water birds around.
Thanks..
KNP my HOMELAND 4 eva - never left it!
...."rush of the city" damaging my soul!
---
Bobbi wrote:Is it perhaps a juvenile Little Grebe?
Certainly looks like it to me... Also known as a Dabchick...
---
---
Return to "Birding in Southern Africa"
Who is online
Users browsing this forum: No registered users and 1 guest