The bird was eating the seeds from the pods in this picture, it is actually holding its claw to its beak with a seed in it. It tore the pods open length wise and then picked out the seeds. As you can see these parrots are very well camouflaged!
- Dalene
---
Legendary Virtual Ranger

Posts: 4994
Joined: Thu Dec 02, 2004 10:27 am
Location: Chasing down the rarities
Saw 2 just south of lower sabie last week.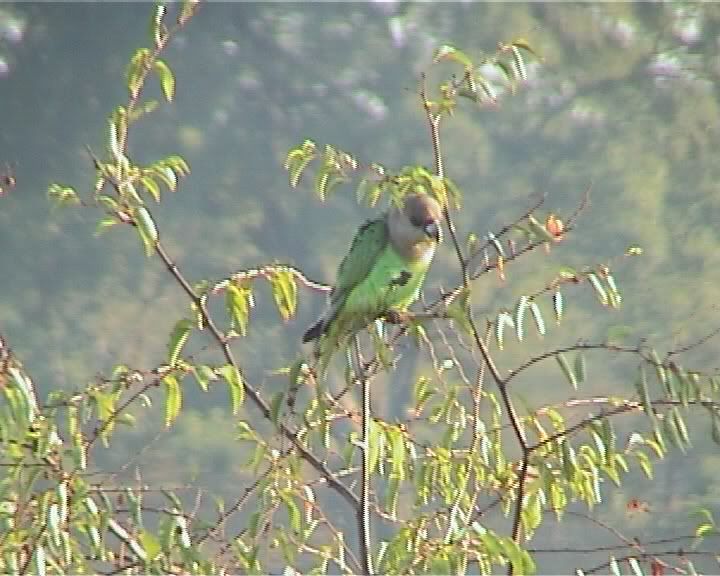 Lovely little birds!
675
Latest Lifer(s): Burchell's Courser, Cory's Shearwater, Wilson's Storm-Petrel, European Storm-Petrel, Great Winged Petrel, Grey Waxbill, Cape Rock-jumper
Follow me as I bird on Twitter
@wildtuinman
---
---
Distinguished Virtual Ranger

Posts: 1269
Joined: Sat Feb 12, 2005 9:25 pm
Location: Back "home"?!...........
They are such lovely birds.
We already saw huge flocks of them November 2005 on the Nyala Loop in the North.
But this time I was able to take a photo.
We saw this one down South on the way to Berg-en-Dal.
---
Junior Virtual Ranger

Posts: 955
Joined: Sat Feb 10, 2007 5:59 pm
Location: South Africa, Johannesburg
Contact:
Wow. Arn't these parrots beautiful. We haven't often seen them, but its a treat when we do. This pair we saw just outside the Kruger Park at around August. Very entertaining to watch.
---
Virtual Ranger

Posts: 604
Joined: Fri Dec 30, 2005 10:33 am
Brownheaded Parrot
Poicephalus Cryptoxanthus

Description
A mostly green parrot with a greyish brown head, bright yellow underwings and eyes. It has a blue grey upper mandible and a tan lower mandible. Also has a bare cere and eye ring is dark brown or grey. Cannot be confused with the other parrots (Cape & Meyer's Parrot) in it's range as it is the greenest of the parrots. Ranges from 24 to 25 cm in size and 120 to 150 g in weight.

Females & Juveniles
Males and females are generally alike. Juveniles differ by having a duller coloration, a brown eyes and less vivid yellow underwings.

Habitat
It's range includes northern KZN, KNP, eastern Limpopo, eastern Mpumalanga, eastern Swaziland, central and southern Mozambique. Habitat preferences are broadleafed woodland and savanna. Where it also regularly flocks and congregates at nearby waterholes.

Calls
Calls include a typical parrot shriek, high pitched staccoto notes, soft chattering during feeding. Flight calls are loud notes in pitch with each following.
---
We were so lucky to have this Brown headed parrot join us for brekkie at Tshange lookout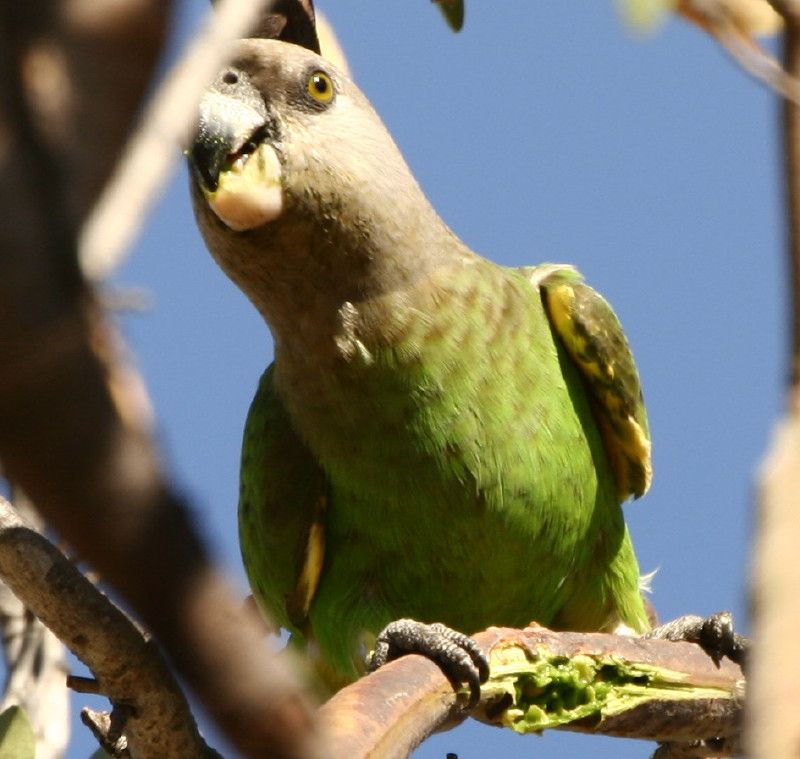 Tread softly , and let your departure not be spoiled by the damage of your arrival
Next :
3 - 6 Sept 2013 - Punda.
7 - 10 Sept 2013 -Shingwedzi .
11 - 13 Sept 2013 - Balule .
14 - 17 Sept 2013 - Satara .
---
---
Return to "Birding in Southern Africa"
Who is online
Users browsing this forum: No registered users and 2 guests