I'm not going to do a species analysis of them here, don't worry!
What do I do about them in my garden? They've successfully chased Crested AND Black-collared Barbets out of nesting logs after relentless harrassment.
And ironically I don't get them in my garden that often at other times.
At the moment I don't have a nesting log, but would love to put one up again, as it quickly got interest from the Barbets, Green Woodhoepoos and Cape Glossy Starlings. Speaking of these Starlings, I believe (and have seen some of this) that they are good at chasing away the Myna's...
There is only one JHB species that I really don't welcome and want to do everything in my power to keep them away, so any suggestions?
---
Senior Virtual Ranger

Posts: 2758
Joined: Wed Jan 10, 2007 3:44 pm
Location: Welkom Free State RSA
A pellet gun (air rifle) is unfortunately the option. They were spotted in my garden for the first time in 2003. My 1994 edition of Newman's show that at that time they occured only in KZN and Gauteng.
Give thanks for unknown blessings already on its way---
African saying
Member nr 8512
Cheetah supporter
PURIST and proud thereof
---
Pellet Gun.
They are not indigenous as far as I know & they do chase all other birds away, so I just shoot them.
---
Legendary Virtual Ranger

Award: Forumite of the year - Eagle Award (2016)
Award: Angel of the Year (2015)
Posts: 17570
Joined: Tue Jun 07, 2005 8:47 pm
Location: meandering between senility and menopause
This was my birthday present for today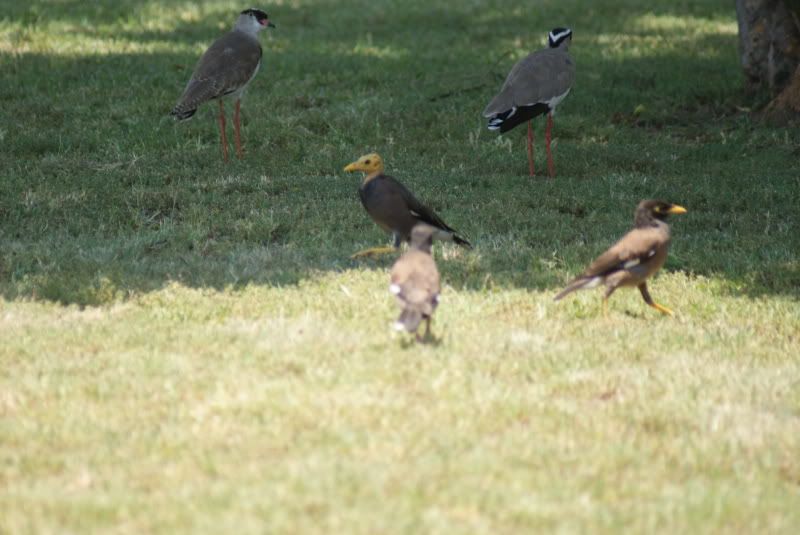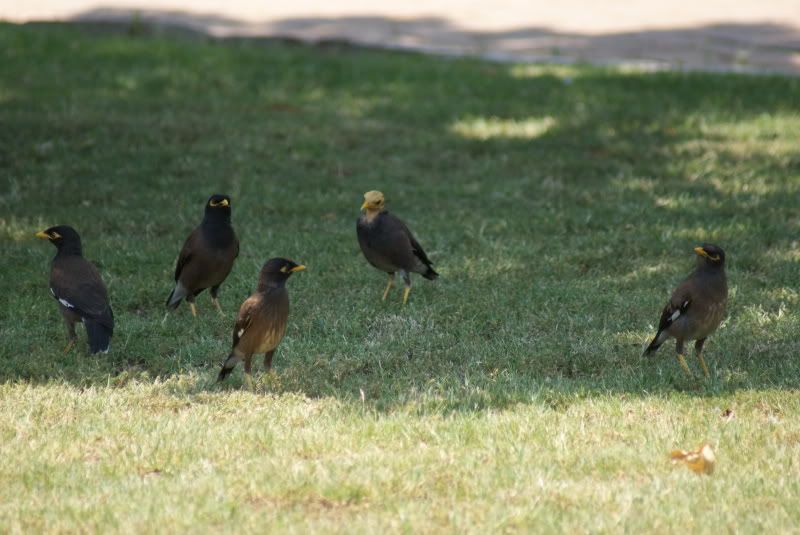 Unfortunately I could not get closer, as I was worried about chasing this strange visitor away..
could any of the clever birders tell me a bit more..
The bird doesn't sing because it has answers, it sings because it has a song.
---
Posts: 3
Joined: Sat Feb 25, 2006 2:58 pm
Location: Middelburg
You do make a good point, but remember humans can deal with competition by making a plan. Mynas are competing with local species for habitat and food and driving them away. We have so many mynas in our neighborhood its ridiculous. They are incredibly hardy birds too and clearly very adaptable if you look at their current distribution in SA. They dont even die immediately when you shoot them, incredibly tough. For me this is the problem, they dont seem to have natural enemies here to control their population...
---
Saw these birds for the first time in the KNP on the banks of the Lower Sabie river at bridge below LS camp on Sunday.
---
Senior Virtual Ranger

Posts: 4237
Joined: Mon Dec 11, 2006 1:45 pm
Location: southern gauteng
KNP is sacred.
I am opposed to the modernisation of Kruger and from the depths of my soul long for the Kruger of yesteryear!
1000+km on foot in KNP incl 56 wild trails.200+ nights in the wilderness
ndloti
-indigenous name for
serval
.
---
Legendary Virtual Ranger

Award: Birder of the Year (2015)
Posts: 2543
Joined: Wed Sep 06, 2006 3:33 pm
Location: Jam Street
A friend sent me this photograph of a weird-looking bird for an ID. Being in the company of common mynahs made the stretch easier: mynah with some unusual traits...
Most bald-bird reports occur in summer and fall, which are typical moulting times. Many of these strange-looking birds may be juveniles undergoing their first pre-basic moult, which produces the first winter adult plumage. For some unknown reason, the bald birds may have dropped all of their head feathers at once. Staggered feather replacement is the normal mounting pattern. Other cases of baldness may result from feather mites or some environmental or nutritional factor. No one really knows as the condition has not been well studied.
Leucism in birds are relatively rare; with a reporting rate of about 1:5000. So, to have a bald, leucistic bird is to my mind a one-in-a-million find, pesky mynah or not!
728 Latest lifers: Hartlaub's babbler, Coppery-tailed coucal, Red-billed spurfowl, White-browed coucal, Scharlow's turaco, Copper sunbird, Long-toed lapwing, Eastern bronze-naped pigeon, Malagasy pond heron, Soft-plumaged petrel, Orange-winged pytilia.
---
Quite a unique sighting JVR. Thanks for sharing
Always be humble and understanding.
---
---
Return to "Birding in Southern Africa"
Who is online
Users browsing this forum: No registered users and 3 guests