I spent Friday afternon in WCNP near Langebaan on the West Coast and even though the wind was howling and the tide very far out, I managed to get a couple of phots of the numerous waders that were in the water and would like some help with their ID.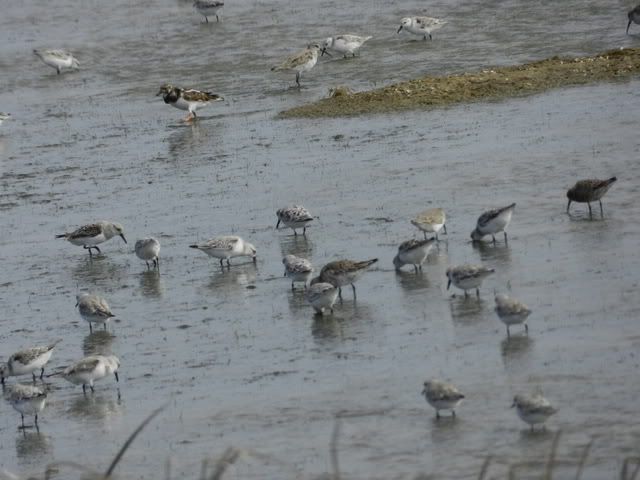 Thanks
---
Virtual Ranger

Posts: 560
Joined: Mon May 04, 2009 3:23 pm
Location: Pretoria
---
6 lifers in one go!
I have no idea about waders, so thanks for the latest challenge Lizet!!
I suppose you think that I should get at least the last photo vaguely right now!
I also saw the common Whimbrel, ruddy turnstone, black winged stilts and a couple of black african oystercatchers.
Thanks so much for the input. Really appreciate it!
---
We saw this bird in KTP in october. It looks like a sanderling to me but according to my books it does not occur in KTP. Any help would really be appreciated.
---
Legendary Virtual Ranger

Posts: 6526
Joined: Sat Feb 18, 2006 10:36 pm
Location: Lausanne (Switzerland)
to me too Gatita, in the Sasol I have, there is few near KTP (South Namibia)... and birds don't know read
nice sighting, nice photo
will wait a bit for experts
It is only with the heart that one can see rightly, what is essential is invisible to the eye
Le Petit Prince
back home...
---
Junior Virtual Ranger

Posts: 297
Joined: Wed Feb 09, 2011 6:37 pm
Location: Johannesburg, South Africa
@gatita Sanderling
Great record for KTP!!
---
Thank you so much, Anne-Marie and MattAxel
---
Legendary Virtual Ranger

Award: Birder of the Year (2015)
Posts: 2538
Joined: Wed Sep 06, 2006 3:33 pm
Location: Jam Street
Although
Sanderling
,
Calidris alba
, is a widely spread bird with only the ruddy turnstone and Whimbrel rivalling its worldwide distribution, this bird is almost exclusively coastal in its southern African range.
However, quite recently we had one treating us inland at the Mkhombo dam in North West Province. Here I got a shot of it feeding with a Little Stint.
The Arctic tundra of the northern Taimyr Peninsula is, as far as we know the provenance of probably all the Sanderlings that migrate to southern Africa. This northernmost extension of the Eurasian landmass, in north-central Siberia (Russia) being our Sanderlings' summer home, it means that they breed closer to the North Pole than any other species that visit southern Africa.
Here in South Africa they are usually found on beaches composed of fine sand and in estuaries with extensive inter-tidal sandbanks where they hunt together for small crustaceans, closely pursuing wave action, running after the receding water to snatch exposed titbits.
Interesting facts:
1. When at roost, sanderlings regurgitate little round balls. These pellets are composed of sand and fragments of indigestible crustacean and mollusc shells.
2. Unlike every other bird in the
Scolopacidae
family, Sanderlings do not have a hind toe.
728 Latest lifers: Hartlaub's babbler, Coppery-tailed coucal, Red-billed spurfowl, White-browed coucal, Scharlow's turaco, Copper sunbird, Long-toed lapwing, Eastern bronze-naped pigeon, Malagasy pond heron, Soft-plumaged petrel, Orange-winged pytilia.
---
---
Return to "Birding in Southern Africa"
Who is online
Users browsing this forum: No registered users and 3 guests