Posts: 67
Joined: Wed Aug 18, 2010 3:26 pm
Location: Europe or Africa
Hi Rookie & Lizet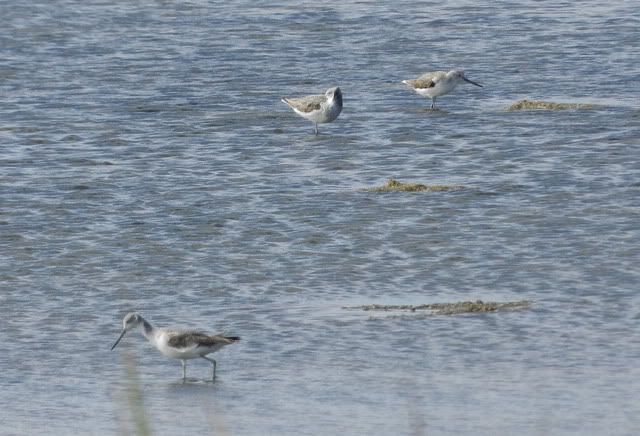 I think the birds in the background are common greenshanks. However, the one in front could well be a marsh sandpiper. MS are often to be found together with greenshanks. They have a long dark and skinny bill, long yellowish legs and are less bulky built the the greenshank.
Latest Lifers Europe: greater short-toed lark, western capercaillie, ashy-headed wagtail
Latest Lifer Africa: Taita fiscal, rosy-patched bush-shrike, slaty egret

Next trip to Kruger: 25.7-3.8 2014, Bird list KNP: 257 species
---
I would agree with MS. The bill is finer and no sign of an upsweep.
"The greatness of a Nation and its moral progress can be judged by the way its animals are treated."
---
Legendary Virtual Ranger

Award: Birder of the Year (2015)
Posts: 2444
Joined: Wed Sep 06, 2006 3:33 pm
Location: Jam Street
Marsh SandPiper
,
Tringa stagnatilis
, is one of the most elegant of waders, rather like a miniature Greenshank.
Marsh Sandpipers are wary birds and usually hunt alone, but on rich feeding sites may gather in coordinated groups or they may join other waders. To hunt prey, they wade up to their bellies in shallow water, walking briskly and steadily, pecking off tidbits on the water surface, or sweeping around on the bottoms with their bills.
They often roost in large groups with other waders.
A group of sandpipers has many collective nouns, including a "cluster", "contradiction", "fling", and my personal favourite, a "time-step" of sandpipers.
716 Latest lifers: Southern hyliota, Spotted creeper, Miombo double-collared sunbird, African golden oriole, Boulder chat, Miombo rock-thrush, Red-faced crombec, Auger buzzard, Eurasian curlew, Common whitethroat
---
Posts: 267
Joined: Tue Apr 16, 2013 11:00 pm
Location: Cape Town
Hello Guys
Got a list of unknowns
I am trying to verify.
Two different locations and most pics worthy of the cutting floor
11: Unknown - WCNP
---
Legendary Virtual Ranger

Award: Birder of the Year (2015)
Posts: 2444
Joined: Wed Sep 06, 2006 3:33 pm
Location: Jam Street
#11 - Marsh sandpiper (I'm only partly sure of this call...)
716 Latest lifers: Southern hyliota, Spotted creeper, Miombo double-collared sunbird, African golden oriole, Boulder chat, Miombo rock-thrush, Red-faced crombec, Auger buzzard, Eurasian curlew, Common whitethroat
---
Posts: 267
Joined: Tue Apr 16, 2013 11:00 pm
Location: Cape Town
Thanks Johan

Much Appreciated
---
Legendary Virtual Ranger

Posts: 4830
Joined: Thu Dec 02, 2004 10:27 am
Location: Chasing down the rarities
675
Latest Lifer(s): Burchell's Courser, Cory's Shearwater, Wilson's Storm-Petrel, European Storm-Petrel, Great Winged Petrel, Grey Waxbill, Cape Rock-jumper
Follow me as I bird on Twitter
@wildtuinman
---
---
Return to "Birding in Southern Africa"
Who is online
Users browsing this forum: No registered users and 1 guest