Cape Gull (Larus vetula)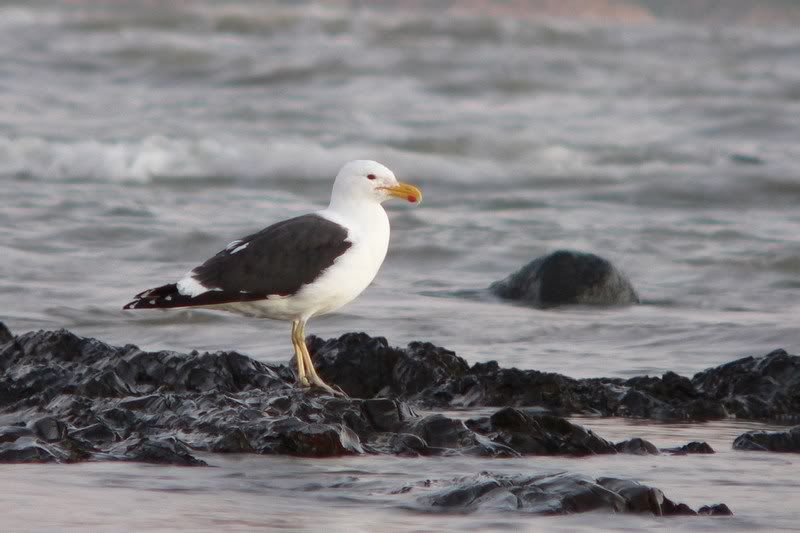 This bird used to be called Cape Kelp Gull but is seems that it was split into Cape Gull and Kelp Gull.
This from the website of the
Avian Demography Unit
The taxon of "Kelp Gull" which occurs along southern African coastline was, until recently, treated as the subspecies
Larus dominicanus vetula
. This taxon has now been recognized as a good species with scientific names
Larus vetula
. The proposed English name is Cape Gull. The iris of dominicanus is pale grey or pale yellow, whereas vetula has a dark brown iris. The taxon vetula is on average larger than dominicanus, and vetula also has a more domed skull.
You will find them in most of the coastal parks
---
---
Would say it's a Cape Gull as the picture of a Kelp Gull in SASOL shows a clear pale (whitish) eye.

As to Kelp Gulls in RSA the following again from the ADU website:

There are two records of the nominate Kelp Gull on the continent of Africa. The first was made on 23 October 1982, when a dying bird was found near Yzerfontein, Western Cape. The second record, made on 26 October 1985, was also made near Yzerfontein. These birds were found during the monthly patrols for beached seabirds coordinated since 1978 by Dr Graham Avery of the South African Museum, Cape Town. Both birds were preserved as osteological specimens, and are in the collection of the South African Museum, Cape Town.
---
Virtual Ranger

Posts: 246
Joined: Mon Oct 17, 2005 1:47 pm
Location: Eish !
Contact:
Roberts VII now refers to these species only as
Kelp Gull
(R313), with the scientific name of
Larus dominicanus
(
dominicanus
= the pied plumage which resembles the traditional habits of the Dominicans).
Then, the species is broken down into two subspecies:
-
dominicanus vetula
, our common resident variety, occuring extensively in the Southern Hemisphere, including coasts of Peru, Chile, Argentina, southern Brasil, Antarctic Peninsula, subantarctic islands, New Zealand, Australia, Madagascar and throughout the coast of southern Africa. This is the variation that SASOL Third Edition calls Cape Gull
Larus vetula
.
-
dominicanus judithae
, which SASOL refers to as Kelp Gull
Larus dominicanus
, the
very rare
variation with the neat, rounded head, vermillion eye ring and the pale ivory to yellow eye during breeding season.
Life is uncertain - eat your dessert first.
---
After posting this message on Cape Gull and reading in SASOL that the Kelp Gull has a whitish eye, I noticed that the gull posted by HoepHoep in her
"Tsitsikamma 2006" trip report
displayed a light eye. I emailed the photo to a friend of mine to see if he could maybe positively ID it as a Kelp Gull.
It does however not seem to be as easy as looking for an pale eye.
He sent me this photo of a "Cape Gull" showing a pale eye and also included some text by Trevor Hardeker that appeared on SABirdNet a couple of years ago.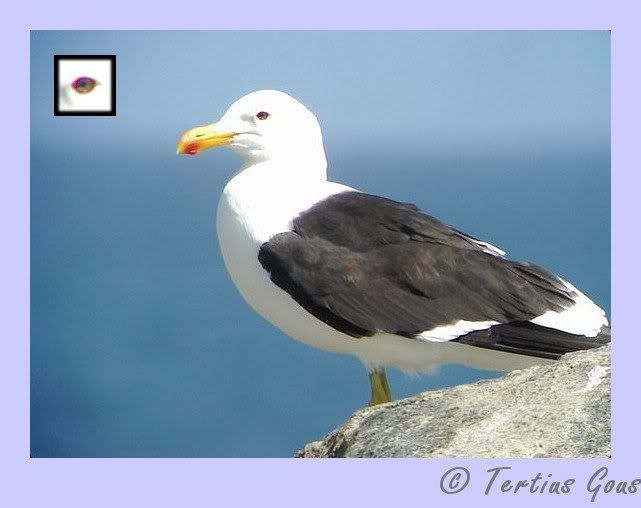 Photo taken by Tertius Gous in West Coast National Park on 11 September 2004.
(I included an enlargment of the eye of the bird - click the image to enlarge)
Text by Trevor Hardeker
Larus d. dominicanus
(nominate Kelp Gull) occurs in Australasia, South America, Antarctica and on most of the subantartic islands.
Larus d. vetula
(aka Cape Gull) is an endemic subspecies (currently considered for full specific status) to Southern Africa. Most books dealing with seabirds cover both of these as subspecies at least. Nominate Kelp Gull also occurs as a vagrant in Southern Africa, with recent records coming from the west coast near Cape Town and the Eastern Cape.
Superficially, differences are that Kelp Gull has a pale eye (beware that some Cape Gulls can show this feature, but Kelp Gull's eye is generally smaller), a smaller more rounded head and a slighter bill. Other suggested differences, although not cast in stone yet as far as I am aware, are that Kelp Gull has a narrower white tip to the tertials and slightly more yellower legs.
Peter Ryan wrote an article on these two gulls in AB&B about a year ago (I can't remember the issue number) and the latest issue of Birding World (one of the top U.K. birding magazines) has a detailed article on the identification of "Kelp" Gulls covering both
dominicanus
and
vetula
.
As far as web resources go, try the excellent
"Gull Identification Website"
which covers the ID's of all the world's gulls in some detail. This site is very useful for all gull watchers and for learning more about the possible gulls that could still occur in SA.
Martin Reid's gull website
is also well worth a visit, if you are interested in finding out more about gulls. Both these sites have lots of photos.
---
Legendary Virtual Ranger

Award: Birder of the Year (2015)
Posts: 2444
Joined: Wed Sep 06, 2006 3:33 pm
Location: Jam Street
Some images of the Cape Gull in flight. The white trailing edge on the wing is reputedly narrower in the Kelp and lesser black-backed gulls. The second bird is of a juvenile Cape gull.
Large view
Large view
Both Kelp (vagrant) and lesser black-backed (uncommon visitor) gulls have the light eye.
716 Latest lifers: Southern hyliota, Spotted creeper, Miombo double-collared sunbird, African golden oriole, Boulder chat, Miombo rock-thrush, Red-faced crombec, Auger buzzard, Eurasian curlew, Common whitethroat
---
Hi all,
Need some id help again. All pics where made in Cape of Good Hope.
Link removed because the picture does not show anymore
Thanks,
Bas
---
Junior Virtual Ranger

Posts: 112
Joined: Mon Feb 23, 2009 8:39 pm
Location: Bristol, United Kingdom
Hi Basde_vos - I think your birds are the following:

6. Kelp Gull (Immature)

Dave
Too far from the Kruger.... looking forward to my next trip....
Pretoriuskop- 4-5/10/2016
Skukuza - 6/10/2016
Satara - 7-10/10/2016
Skukuza - 11-12/10/2016
Pretoriuskop - 13-14/10/2016
Skukuza - 15-16/10/2016
---
Hi Guys ,

I think Davejenny got it right.

Cheers

Jon
---
Agree with Davejenny's answers
Avid birder, wildlife enthusiast and photographer with a special interest in Bats and Birds
2014 Birding Big Year- A 365 Day quest for 800 Species of Southern African Birds
---
Storms River, Aug 2010:
- Dalene
---
Virtual Ranger

Posts: 560
Joined: Mon May 04, 2009 3:23 pm
Location: Pretoria
Great close-up well done!
---
Any update on the status of naming and identifyit these gulls?
RobertsVII # Name
312 Kelp Gull
313 Lesser Black-backed Gull
and so what about the Cape Gull?
"Take nothing but memories, leave nothing but footprints"
Photographs help to crystallize memories, but cannot be seen to be a replacement of them!
---
---
Return to "Birding in Southern Africa"
Who is online
Users browsing this forum: No registered users and 1 guest