Dark-capped (Blackeyed) Bulbul (Pycnonotus tricolor)
Also known as Yellow-vented Bulbul, Common Bulbul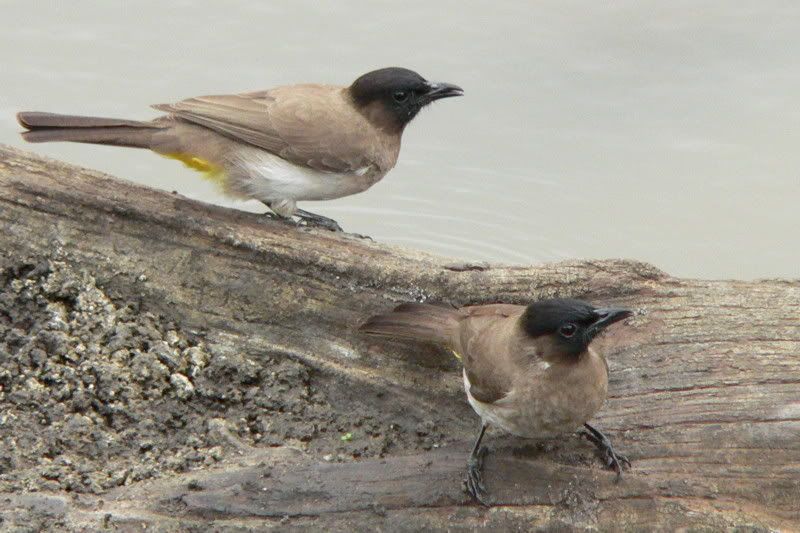 Other names:
Afrikaans: Swartoogtiptol
German: Graubülbül
French: Bulbul des jardins
Dutch: Grauwe buulbuul
This is a distinctive, adaptable and very bold bird which has readily taken to living alongside humans. It is omnivorous which makes it superbly adapted to life around the restaurant areas in the game parks.
---
---
---
As you guys mentioned, also known as 'Bottergat', 'Geelgat' or even 'Pietgeelgat'
Look deep into nature, and then you will understand everything better.
Albert Einstein

Latest lifers from Kruger NP:
Thick-billed Cuckoo Pachycoccyx audeberti Dikbekkoekoek
Northern Wheatear Oenanthe oenanthe Europese skaapwagter
---
Legendary Virtual Ranger

Posts: 5000
Joined: Thu Dec 02, 2004 10:27 am
Location: Chasing down the rarities
I have a partial leucistic also known as Pied or Piebald effect, DCBB in my garden. Very odd looking bird.
675
Latest Lifer(s): Burchell's Courser, Cory's Shearwater, Wilson's Storm-Petrel, European Storm-Petrel, Great Winged Petrel, Grey Waxbill, Cape Rock-jumper
Follow me as I bird on Twitter
@wildtuinman
---
Virtual Ranger

Posts: 1848
Joined: Fri May 12, 2006 4:10 pm
Location: SA
Contact:
Back to Letaba in April, July and September
Birding Weekend 2014 - Satara 3
Exploring Letaba - '13-'14
Letaba Ladies, 3rd Edition
- '14 - '15
---
Legendary Virtual Ranger

Posts: 6526
Joined: Sat Feb 18, 2006 10:36 pm
Location: Lausanne (Switzerland)
and again some birds...
around Olifants
around Punda Maria
Thanks very, VERY MUCH
It is only with the heart that one can see rightly, what is essential is invisible to the eye
Le Petit Prince
back home...
---
Senior Virtual Ranger

Posts: 3867
Joined: Sun Mar 20, 2005 5:53 pm
Location: Cambridge, MA (and home from home in Darling, WC)
Interesting collection of birdies, anne-marie!
I think I can help with some of them.
1. a very chilly blackeyed bulbul
2. again a blackeyed bulbul
RSA 2017
9-11 November Cape Town
11-29 November RMS St Helena: St Helena & Ascension
29-30 November Cape Town
1 December-21 January Darling
---
Legendary Virtual Ranger

Posts: 2545
Joined: Wed Sep 06, 2006 3:33 pm
Location: Jam Street
This "new sub-specie" does pop up this time of the year when all kinds of well-known feathered friends don their aloe pollen masks.
Some years ago I got very excited about a red-faced strain of bulbuls
This is what makes some aloe species so very special - when there is little else for the animals to feed on, guess what... these aloes are in full bloom!
---
Just out of the bath at Satara, Aug 2008
- Dalene
---
Only when the last tree has died, the last river has been poisoned and the last fish has been caught, will we realize that we cannot eat money. -Cree Proverb
---
Junior Virtual Ranger

Posts: 831
Joined: Sun Aug 29, 2010 10:07 am
Location: Under African Sky !!!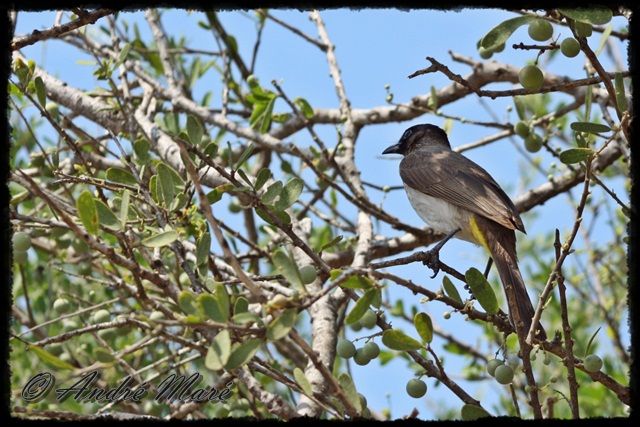 "A roaring lion kills no game."
"Until lions start writing down their own stories, the hunters will always be heroes."
"If you kill a tree, you are killing a bird."
"When the sun has set, no candle can replace it."
---
Forum Assistant

Posts: 8828
Joined: Tue Aug 03, 2010 8:49 am
Location: Brecon Beacons National Park
---
---
Return to "Birding in Southern Africa"
Who is online
Users browsing this forum: No registered users and 7 guests