Moggiedog:
Glad to see you on board...I must say I also thought Karoo could be a week visit...but the dilema is always...a week in Karoo or a week in kruger
Kruger wins !!! I think I need to win the lotto retire really young and spend my time travelling from one Sanpark to another!!!
Moose:
Here's another Rock monitor pic for you...glad you will be back soonish!!!
We went to check out the campsite and I must say it looked well maintained and the staff were working hard to keep it looking good. The only thing that may stop me from camping there over a weekend or holiday is the possibility of noise...there was a party of people looking like they were in serious party mode
Now I am not a party pooper
but don't like boom boxes and that kind of thing in the bush!!
We visited the Ou Schuur Centre for a most informative and interesting look at the cultural heritage and ecosystems of the Karoo. Pity our only sighting of a caracal was a stuffed one
at the centre and not a live one!
More to follow soon....
"Dream as if you'll live forever, live as if you'll die today." by James Dean
---
Some more images captured on our trawl around the park...
Curious onlooker...
Burchell's Zebra
Robust flowers...
Springbok in the distance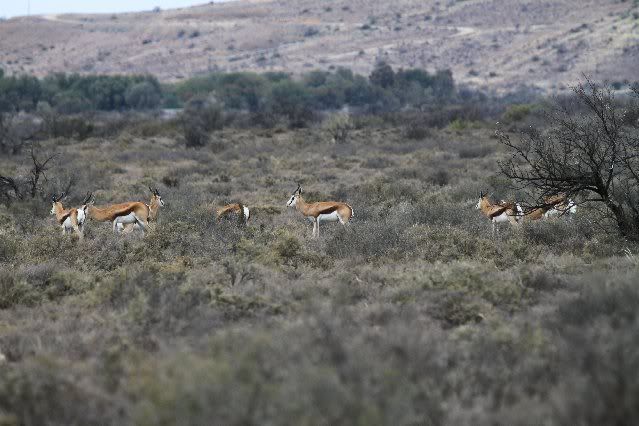 Noisy visitors to our chalet
These guys were always picking our crumbs from the stoep floor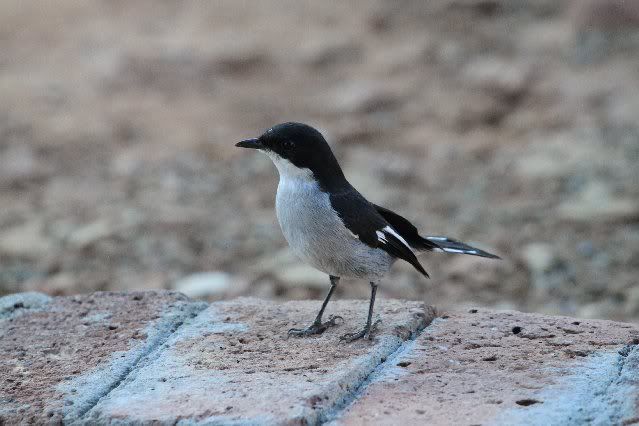 These guys provided us some photographic fun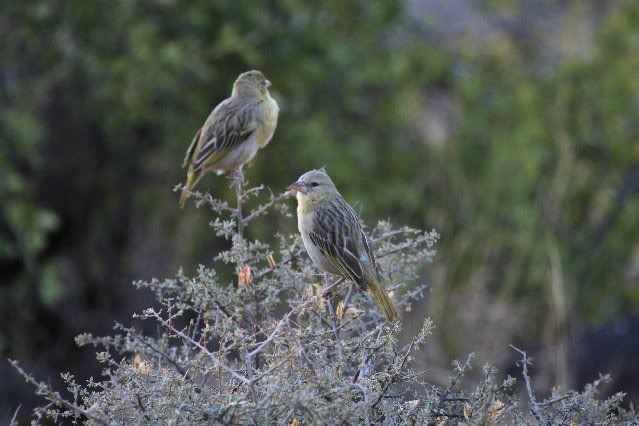 The Karoo National Park is like a balm...For those who are in need of a resting place its wide open spaces....BIG Sky's , inquisitive birds and all the tiny plants that flower despite the aridness of this area will restore a sense of wonderment. It is worthy of a visit longer that 2 nights. Many people seem to use it is a stopover but I sense to really experience it , it needs a a little more time to explore more fully and feel its rhythm.
The staff at this National Park seem to be committed to its visitors and I couldn't fault anything...
We will be back!!!
"Dream as if you'll live forever, live as if you'll die today." by James Dean
---
Junior Virtual Ranger

Posts: 459
Joined: Tue Apr 19, 2005 4:51 pm
Location: Kleinmond, Western Cape
The topic of this post reads: "Spring visit to the Karoo". But instead of starting a new topic on the two short visits to Karoo (both 1 night stay-overs), I thought I will just carry on with this one - although both visits were in December, Sunday 5 December & Thursday 9 December.
I needed to go and see customers in the Northern Cape and decided to combine a bit of work and pleasure. We left home during mid-morning last Sunday and arrived at the park late afternoon. It was a nice sunny day, but fortunately the Karoo showed its nice side to us regarding temperatures. (It was not even necessary to use the aircon)
We unpacked our few things in Chalet No 22, had a quick cup of coffee and decided to drive up Klipspringers Pass and back during the short time we had available before the booms to the game viewing areas were closed.
At Reception we saw a beautiful photo of one the newly released male lions that was taken at the top of Klipspringers Pass by one of the field rangers. And no doubt, we were hopeful to find lion on our first visit (by the way, it was visit No 44 to the park) since their release.
Between the main camp and the camping area (on the lower slopes of The Pointer) we saw two Grey Rhebuck - the nearest I have ever seen them to the camp. The only previous ones were seen on the middle plateau. And once again Klipspringers Pass lived up to its name with the sighting of two klipspringers. We saw a single Black Eagle in flight near Rooivalle, and also the odd kudu, red hartebeest and springbok.
In order to be back in time, we had to make a U-turn on the middle plateau. Arriving back at camp, I took a photo of the view from No 22's stoep and of the chalet itself.
Looking back towards the chalet, I saw my "neighbour" sitting on No 21's stoep. He drew my attention to the lions lying about 400 metres away. It was the two lionesses and the 4 cubs (although I only managed to see 3 of the cubs). I made a white spot on the next photo to give an idea where the lions were.
It was too far to take photos (at least with my camera), but they could be beautifully seen with binoculars as they were out in the open - feasting on a zebra they have caught earlier the day. It was not possible to see whether it was a Burchell's or Cape Mountain Zebra. We watched them untill it became too dark to see anything further. What can be nicer than to have a nice golden frothy drink on your chalet stoep - watching nature play its own game. Monday morning they were all gone and it was difficult to find parts of the carcass through the binoculars.
After enjoying a nice breakfast at Salt & Pepper (the park's restaurant - and included in the rate if you stay in the chalets), we had to leave to go and earn some bread and butter. But it was nice knowing that two nights in Mokala still waited, as well as another night in this fantastic Karoo haven. (I'll report under 'Arid Parks' on the visit to Mokala).
To be continued.
---
Junior Virtual Ranger

Posts: 459
Joined: Tue Apr 19, 2005 4:51 pm
Location: Kleinmond, Western Cape
After a wonderful two-night stay in Mosu Lodge (Mokala Nat Park - and to be reported on separately), we returned to Karoo on Thursday for another night's stay-over. This time we arrived on a scorcher of a day.
In spite of the heat we saw a lot of game - kudu, hartebeest, gemsbok, mountain zebra, mountain reedbuck. We had no luck with lions, but we came across this guy:
Two years ago I had my first luck with a blackie - this one - (although they were actually two together then):
Last edited by
Stoffel
on Sun Jan 09, 2011 7:22 am, edited 1 time in total.
---
Some snaps from a quick overnight stay end of April 2016.
















- Dalene
---
Forum Assistant

Posts: 15847
Joined: Tue Oct 06, 2009 5:03 pm
Location: Upington SA
Lovely DB!!
Such a lovely park with some of the most beautiful scenery!!
Thank you for sharing!!!
You only live once, but if you do it right, once is enough - Mae West
---
---
Who is online
Users browsing this forum: No registered users and 2 guests