On 19 October 2013, after a few months absence from L'Agulhas, we were extremely dissapointed finding the light house after it's renovations painetd a horrible shade of pink !!! The beautiful stone building with its dark "windows" is what gave the light house it's character. I have visited this area hundreds of times and each time admire this iconic building, but this weekend I found myself looking away each time I drove past...
2008 :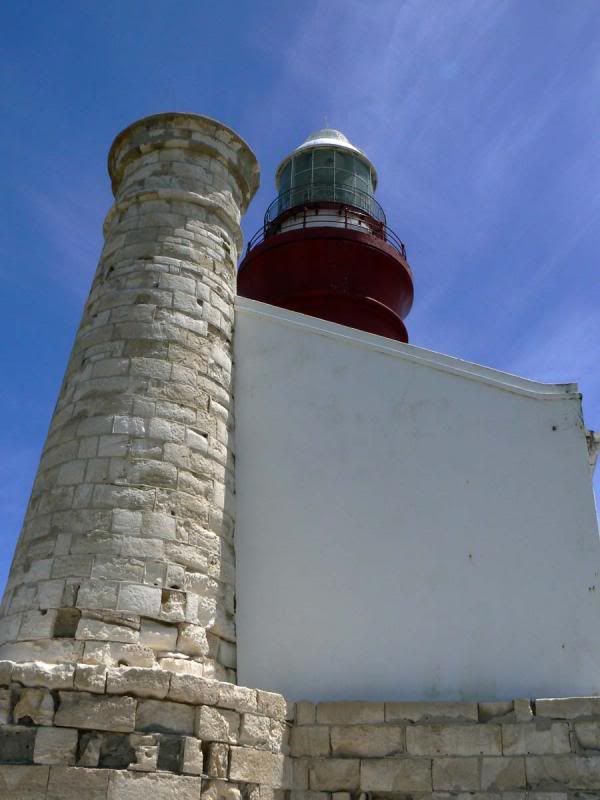 2008 :
Dec 2012 :
Oct 2013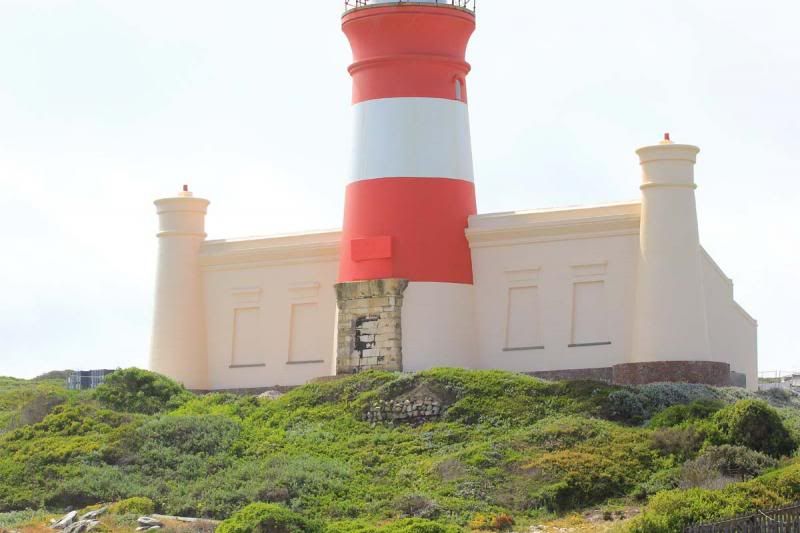 Oct 2013
---
Distinguished Virtual Ranger

Posts: 5276
Joined: Thu Dec 06, 2012 4:59 pm
Location: Bloemfontein
Oh dear, doesn't look nice at all I'm afraid
Those who have no love in there hearts for animals, have no love in there hearts at all
---
Maybe they are trying to protect the sandstone from futher erosion.In a while people will be used to the new look .
---
Legendary Virtual Ranger

Posts: 8258
Joined: Sat Aug 11, 2007 7:29 pm
Location: Parklands Cape Town
When you said pink I thought you meant a real Girlypink ... now that would be horrid I cant see anything wo=rong with it and it will fade in time
When you are dissatisfied and would like to go back to your youth, think of algebra … !!!!!
---
Junior Virtual Ranger

Posts: 459
Joined: Tue Apr 19, 2005 4:51 pm
Location: Kleinmond, Western Cape
Hugh wrote: cant see anything wrong with it
You must be joking!!!
---
Virtual Ranger

Posts: 3056
Joined: Thu Jun 17, 2010 8:40 am
I tend to agree Hugh,
maybe its just a pinker shade of RED
Perhaps it will fade a little as it weathers.....
---
If it was my call, I would have gone the extra mile to at least try to MATCH the sandstone look and darkened the "windows" !!!
---
Legendary Virtual Ranger

Award: Forumite of the year - Eagle Award (2016)
Award: Angel of the Year (2015)
Posts: 17766
Joined: Tue Jun 07, 2005 8:47 pm
Location: meandering between senility and menopause
Sandstone is very beautiful and I do find it strange that it has been painted over. Do you think it might have something to do with protecting it from the corrosive sea elements?

The sandstone buildings in the Free State are particularly beautiful, but do not have to deal with the harsh elements of salt, storm and sea.

I love the look of age and authenticity, but I am not sure how well it will last given its position and natural challenges.
The bird doesn't sing because it has answers, it sings because it has a song.
---
I must admit that the sandstone was what made Agulhas such a beautiful building. It looks horrible being painted over. I cannot see the new look being featured on a postcard or front cover of a magazine, as has been the case with the sandstone look.
---
Oh dear!
The sandstone building has been exposed to the harsh sea elements for 166 years, and now suddenly someone comes along and slaps a coat of paint on it. What on earth for?

Table mountain is also sandstone and eroding, why dont we go slap a coat of paint on that now too...

That aside, the Agulhas lighthouse has some very interesting history as it was modelled on one of the seven wonders of the ancient world, the Pharos of Alexander
---
Distinguished Virtual Ranger

FAC Member (2016)
Posts: 1898
Joined: Wed May 05, 2010 1:15 pm
Location: Joburg
4O4-5O4 wrote:Table mountain is also sandstone and eroding, why dont we go slap a coat of paint on that now too...

It could look quite fetching in shades of chartreuse and vermillion, 404 ...
---
Indeed, Porridge.
Infact, vermilion looks so good on a flycatcher that in Mexico they even named it so.
---
---
Who is online
Users browsing this forum: No registered users and 1 guest