Urikarus siting is fantastic - has its own waterhole close to the tents - saw giraffe drinking, wildebeest, springbok from the veranda. Again accomodation great. But we (wife and I)absolutely froze at night (the kids didn't feel it) - the tents "leak" cold air. So take lots of warm clothes in winter + hot water bottles (saved us). Again, you have this area to yourself on early morning and late afternoon game drives. Saw cheetah on the way to camp.
Here are some photos - trying at least.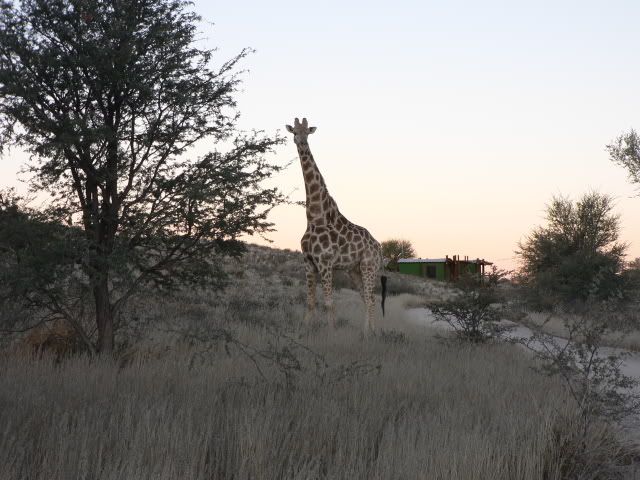 ---
Ok Ok
Report will have to wait a bit longer Pic showing how the cabins are interlinked with walkways
View from Kitchen
View from Bedroom Balcony, you can see just how close the waterhole is
View from inside bedroom
This is an entance we will always take, you will realise, once you have visited here you will always return
A couple more pics showing the constant activity in the riverbed at Urikaruus
Last edited by
Dotty
on Thu Jul 14, 2011 8:01 am, edited 1 time in total.
Reason:
pix resized
---
hi there,

we booked urikaruus for some days in march 2007 and looking at the pictures is telling us, that this was really a good decision!
For our stay there we would like to ask some questions

1. Since we love to do wildlife photography we would like to know how far the waterhole is away from the tends at urikaruus.

2. Somewhere I red (I think), that we have to bring our own water to urikaruus - am I right?

Many thanks in advance

Rolf
---
Oops, so sorry That was not how it was intended. I responded to Rolfs pm he sent me first and ran out of time to re submit on this thread.
Here it is:
Hi Rolf
What a good decision you have made to go th Urikaruus!!
Lucky, lucky you.
The waterhole is no more than 30 metres away, closer maybe. All the cabins have an excellent view. Photography will keep you busy all day there. Feeling so jealous as I type this!!!
We were in cabins No 1 and No 2. Reckon the No 1 is best in the summer months as the bedroom would have less sun in the afternoons.

Urikaruus was the only camp in the park that we drank their water. No problems at all. All the other camps we used our own water, however, I would hate to tell you not to take your own water. Maybe we were lucky at the time and the water was particually good. I would suggest that when you arrive at TR, double check with Jannie the Kgalagadi Guru.
Perhaps you should also try and reserve cabin no 1 by sending TR an email the you can check about the water. You can buy water at TR. No shop at Urikaruus so all your provisions, including wood needs to be taken along.
Hope this helps and wish you a fantastic trip with wonderful photography opportunities.
Kind Regards
---
Junior Virtual Ranger

Posts: 193
Joined: Thu Oct 27, 2005 3:54 pm
Location: A little village in Gaul
About a month to go before our quick visit to Kgalagadi. Will be staying for three nights at Urikaruus. Does anybody think there's a difference between the four units and should one perhaps try to reserve a specific unit beforehand, or are they all basically the same?

Thanks
---
Senior Virtual Ranger

Posts: 38
Joined: Mon Jun 18, 2007 8:42 pm
Location: Somewhere out there..............
obelix,

All the units have a great view over the riverbed, but what i would suggest is that you try and get the accommodation across from where the guides stays for if you have predators that come and drink water there at night )In front of his place) you will at least have a great view.

Hope it helps
"Man did not weave the web of life. He is merely a strand in it, what he does to the web, he does to himself"
Chief Seattle 1853
---
---
I made a reservation for 12 days in KTP for the end of the year. I made a booking for Urikaruus and on the booking confirmation it says "Check in at Twee Rivieren (72km away)". I'm staying in KTC the night before I'm going to Urikaruus and and def not planning on driving all the way to TR just to check-in.

I'll enter KTP six days before my stay at Urikaruus. The day that I arrive is the only day that I'll be in Twee Rivieren. Does anybody know if I could do the check-in for Urikaruus six days in advance?
---
Virtual Ranger

Posts: 583
Joined: Tue Aug 30, 2005 10:41 am
Location: The country of compromises
I also would like to know since I will be sort of in the same situation in april 2008 only worse. I will be coming from Grootkolk, so I won't even have time to go to TR first. Would be logical they allow the check-in when I am in TR 5 days before.
U lacht en U heeft gelijk dat U lacht maar het is niet om mee te lachen
---
Jannie wrote:you only check in when you arrive at twee rivieren and then when you go to the other camps (Except Mata-Mata or Nossob where you have to check in at reception) we will just do vehicle checks in the evenings (You do not have to worry about that we will do that-its to make sure all the guests are in the camps and not lost).
---
I know it does state that you need to book in at TR and that does seem rather confusing but that is not how we experienced it.
On leaving KTC for Urikaruus we were told that we go directly to Urikaruus but would not be able to check in before 12 o'clock. We arrived, slightly early, fortunately for us, the camp attendant was there. I think the later booking in time is to allow the attendant enough time to clean and service the 4 units as he is the only one there. He probably just radios through to TR if the expected guests do not arrive.
Can confirm this for you in a couple of weeks. We will be there again in 3 weeks time
---
Senior Virtual Ranger

Posts: 38
Joined: Mon Jun 18, 2007 8:42 pm
Location: Somewhere out there..............
You will have no problem if you dint check in at TR; as you will enter the park 6 days before going to Urikaruus they will know where you are and also they the staff will have a rooming list of the people sleeping there at any specific night, around gate closing time the radios work (Thanks Gwen) overtime as the Twee Rivieren confirms that all the people are in the respective camps.
When arriving at Urikaruus you just have to let the Camp Attendant know that you are there and he will radio Twee Rivieren that they could mark you on the list as arrived.

No worries
"Man did not weave the web of life. He is merely a strand in it, what he does to the web, he does to himself"

Chief Seattle 1853
---
---
Who is online
Users browsing this forum: No registered users and 1 guest