Junior Virtual Ranger

Posts: 126
Joined: Thu May 18, 2006 8:31 am
Location: Fish Hoek, Cape Town
And an un-identified male near Auchterlonie Jan 2010 - I zoomed in to see if it was Jannie, but it does not match.
STAY ON THE ROADS. KEEP CLEAR OF THE RIVERBED - ANIMALS ARE LIVING THERE.
---
Senior Virtual Ranger

Posts: 1283
Joined: Sun Jun 17, 2007 9:34 pm
Location: Heart - Grootkolk, Soul - KTP, Body - far too far south most of the time!
Edited - peterbee's last pic on page 7 - Rooibrak, leopard no. 1.15 in the ID Guide(04042014).

@peterbee - could your unidentified male at Auchterlonie be the same as the male we saw at Auchterlonie in Dec 2008(page 7)? Jaraheckes also saw this male at the beginning of the 2008 year at Houmoed - was young! If it is the same leopard as we saw, he now seems to like the Auchterlonie area!
Last edited by
wanderw
on Wed May 21, 2014 1:50 pm, edited 1 time in total.
---
Legendary Virtual Ranger

Posts: 6525
Joined: Sat Feb 18, 2006 10:36 pm
Location: Lausanne (Switzerland)
nr 2 - 21.1.2012, near Munro - about 13h (sorry can't remember if it's Swiss hour or SA hour
)
the male to the right side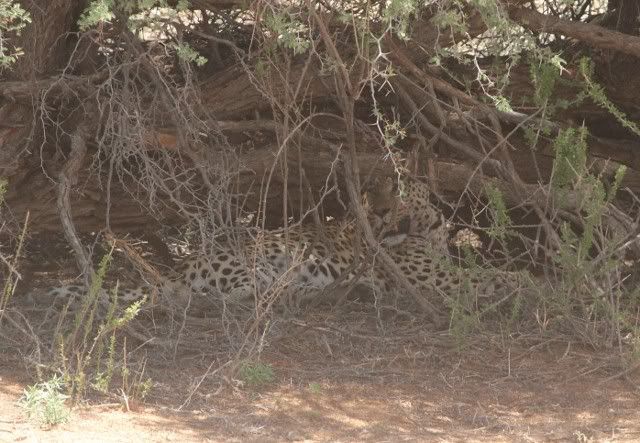 Last edited by
anne-marie
on Thu Feb 09, 2012 7:29 pm, edited 1 time in total.
It is only with the heart that one can see rightly, what is essential is invisible to the eye
Le Petit Prince
back home...
---
Wow...your sightings just keep getting better and better!! The leopard at KK must have been amazing
So just to confirm the identities of all the leopards you saw here is the list
21-01-2012, Nr Munro, Rooibrak Male under the tree.
Kgalagadi Leopard Project
http://www.ast.uct.ac.za/~schurch/leopards/
Please use the online form or download the spreadsheet to report leopard sightings.
You can also download a free copy of the identification guides for KTP and Augrabies.
F1/2014
---
---
Who is online
Users browsing this forum: No registered users and 2 guests