Legendary Virtual Ranger

FAC Member (2016)
Posts: 2685
Joined: Mon Jan 31, 2005 10:20 pm
Location: 4 hours from KNP : South Africa
Anyone heard from Freda about her trip in KNP ?
---
Distinguished Virtual Ranger

Posts: 1507
Joined: Sun Dec 05, 2004 7:01 am
Location: Marloth Park, South Africa
Contact:
Back from another great Kruger trip
No roadkills, no speeding vehicles, no badly-behaved jeep jockeys, no inconsiderate people at sightings, no soap at Lower Sabie,
all in all a very satisfying trip.
Entered at Phabeni at 12 on Friday, tried to smell the thatch but it's still too new, not got the real Kruger smell yet, then slowly headed to Skukuza, saw buffs, rhino, baboons, ellies, impala and wildebeest.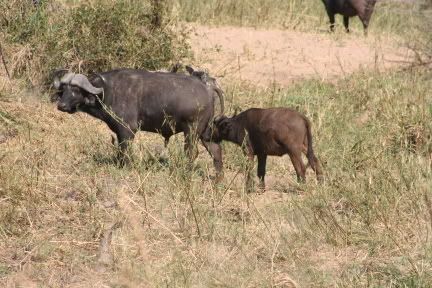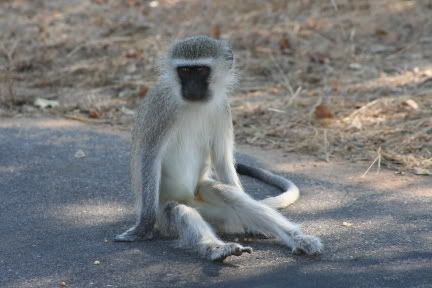 No time to stop at Lake Panic as we had to get to Lower Sabie so headed down the H1-4 were we had two' lion ear' sightings with traffic jams, also saw hippos, zebra, giraffe and vervets.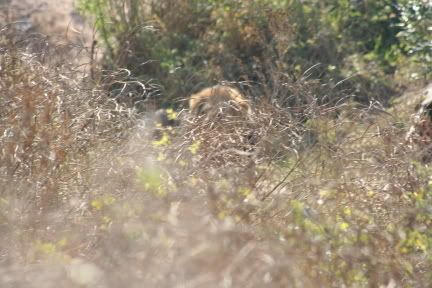 Stopped for a while at Sunset Dam, I love that place
, saw the usual hippos and crocs and very few water birds, did a visit to the low water bridge and the resident goliath heron and cormorant were there and a guy with the biggest zoom lens I have ever seen, he had to have a special support on the side of his Defender, must have been deadly serious, I was quite ashamed to get my 300 out.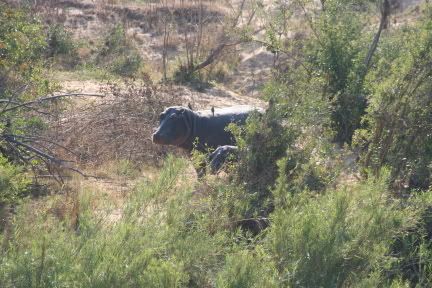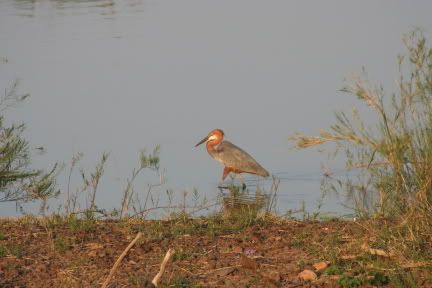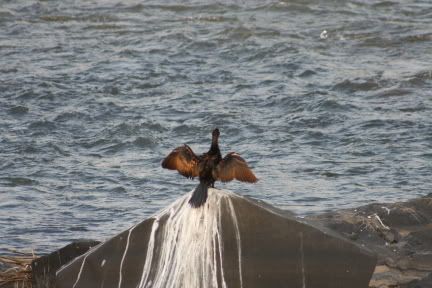 Booked into #27 river view safari tent, much in need of a little TLC but the view makes up for it.
Very happy to find the klipspringers at Lubyelubye bridge, hadn't seen them on our last few visits.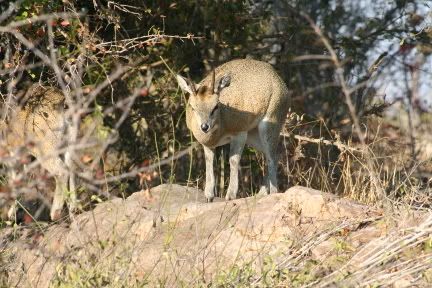 Had a dinner date with Bert and Co at 7pm, it is so nice to put faces to names, what lovely people they are (no pics unfortunately) Bert gave me a CD 'Van Mpumalanga to Die Kaap' and I gave him a bottle of Glensomethingorother with a yellow ribbon tied round it. It really was a nice way to spend an evening on the deck at Lower Sabie with the hippos and hyaena walking around in front of the deck and listening to the hippos and chatting about the forum.
---
Distinguished Virtual Ranger

Posts: 1507
Joined: Sun Dec 05, 2004 7:01 am
Location: Marloth Park, South Africa
Contact:
6am Saturday we sat on the verandah with our coffee and watched the sunrise and listened to the bush waking up. This checky starling needed a drink.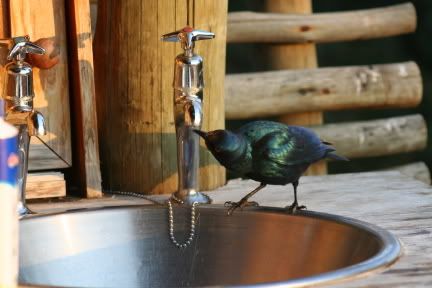 By 8am we were showered and packed up ready to move to Crocodile Bridge. We went up the H4-1 to the bridge, ellies were playing in the river, then we crossed the bridge and took the Salitje road then headed to Mondlozi Dam for brekkies.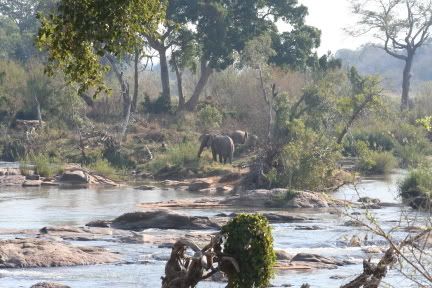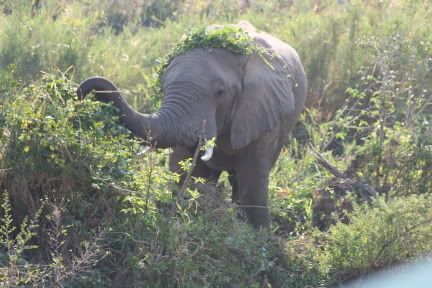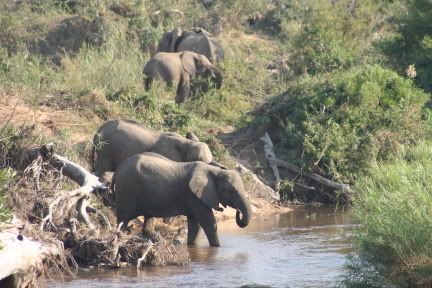 Lots of waterbuck, hippos and crocs at the dam.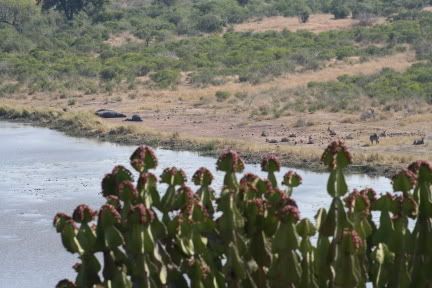 Took the H10 back to LS then the S28 to Nthandanyathi bird hide where we saw absolutely nothing, even the hippos have moved on., carried on all the way down the S28 to Croc Bridge hoping to find Duke but we were out of luck but it was still a nice drive.
Booked into our safari tent, #7, which is on the perimeter, a nice location but next to the camping site and we had rather noisy neighbours, Sharks supporters, who had positioned their 3 caravans in a triangle so that they could party till all hours , we even heard them say they buy nothing in the park as it is too expensive
We finally fell asleep as the hyaenas were making more noise than the neighbours
---
Distinguished Virtual Ranger

Posts: 1507
Joined: Sun Dec 05, 2004 7:01 am
Location: Marloth Park, South Africa
Contact:
Oops forgot to say we saw this impala near Lower Sabie that had obviously been trying to do the high jump over this tree and failed miserably.
Sunday, we again enjoyed our coffee watching the sunrise, prepared for the day and took the S25 to be met by a hyaena walking towards us, we then cut across the S28 to the H5 (badly rutted and recently burnt) not much game so we headed to Afsaal for a skotel brekkie, the scops owl is not there at the moment.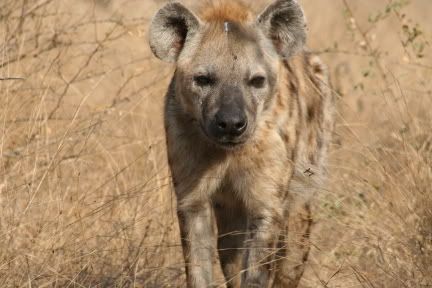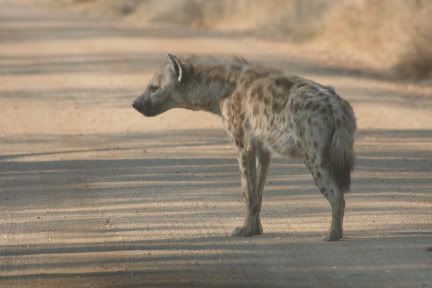 [IMG]
Time seems to fly in Kruger and we wanted to go to Biyamiti Wier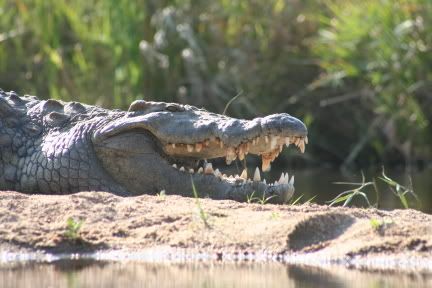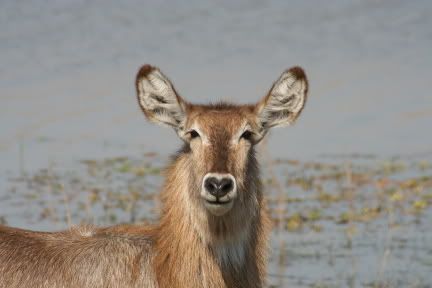 and the only way we could make it back to Croc Bridge was to take the S139, naughty naughty, and sporting a yellow ribbon
but SO did say that if there had been accommodation available we would have stayed there and we have previously been residents.
What scenery, it is a fantastic road and it is so much more thrilling when you shouldn't really be there
The only animals we saw were ellies and they almost made us turn back
We just made it back to camp with a few minutes to spare.
---
Distinguished Virtual Ranger

Posts: 1507
Joined: Sun Dec 05, 2004 7:01 am
Location: Marloth Park, South Africa
Contact:
Monday we had to pack and go home, we decided to travel the tar to Lower Sabie, then take the S21 across to the H3 and go out at Malelane. Hubby drove on to the bridge at Gezantfombi Dam and I asked him to reverse and go round the back of the dam, what a stroke of luck, a magnificent male lion was walking purposely across the sand road and heading towards the tar road, he was definately on a mission but whether he was looking for a female or food we never found out, he dissappeared in the bush.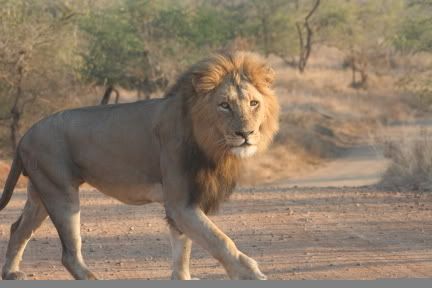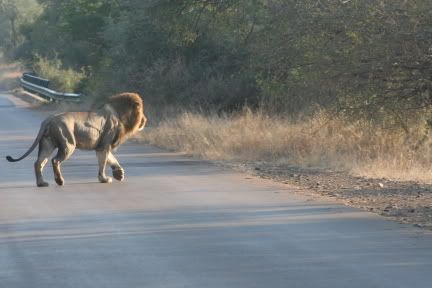 Further up the tar road we met a herd of ellies with young ones.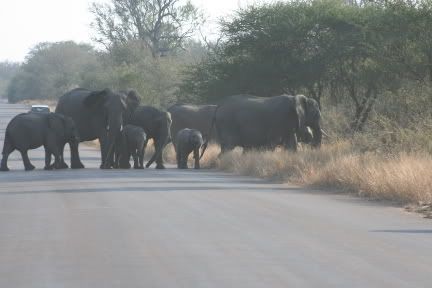 We took the S21, N'watimhiri Road towards Renosterkoppies Dam where we met rangers with 3 huge trucks. We stopped and asked them what was happening and they told us they were doing a rhino capture and taking them to the boma at Skukuza, seems there must still be too many rhinos in the park. We hadn't seen any rhino on that road but they told us there were plenty, suppose they were waiting for the helicopter, it made us quite sad really.
At Renosterkoppies Dam we saw a lady river who obviously thought it was OK to drive her sedan car right up to the dam but she got back to the road without incident, hope she didn't do too much harm.
We saw the creeper that was covering everything earlier in the year and it has all died off now but still looks wierd.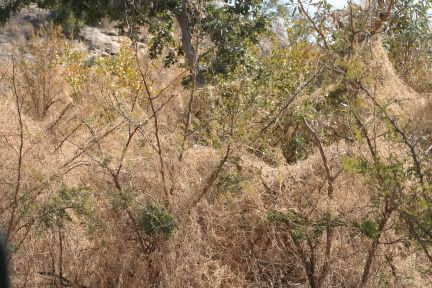 We then headed towards Malelane gate and home, again I had to smell the thatch before leaving and Malelane has the real Kruger smell, it's magic, can't wait to get back.
---
---
Who is online
Users browsing this forum: No registered users and 3 guests