We're back from a
fantastic
trip to Kruger. (As always)
We left PE on Tuesday 6th of June and slept over in Bloemfontein at this great guesthouse called "Kleine Eden". I can really recommend it to anybody stopping over in Bloem. Left Wed. morning for a sleep over in Ermelo. Stopped in Carolina on route to Kruger on Thursday to try Jazzel's recommended biltong. Jazzie, you were right! It's the best!
Arrived at Malelane gate at about 12:45. SO went to the ablution just to get that "Kruger smell". On route to B&D saw ellies, impies & about 100 buffs.
On our late afternoon drive we saw giraffe, ellies, zebra, impies,
the backs of 2 rhino at Renosterpan, hyeana
and some birds including this Dark Chanting Goshawk.
(not a very good photo)
When we got back from our drive "something" visited our pears on the kitchen counter. (Thought it could be a fruit bat or a mouse, but never got to see it)
The lions were very vocal while sitting outside, but so were our neighbours. After they disappeared to bed we saw the resident genet.
Left camp just after 6 on Friday morning & drove the Matjulu Loop. It started to drizzle, but cleared later. Saw 3 White Rhino, Whitebacked Vulture & a Juv Bateleur. Drove back to the S110 tar road & saw a LITS.
Will continue later.
The golden rule of life - Do unto others as you want done unto yourself

---
Salva, I think it's a curse! I've been struggeling since last night to download this photo. But you know - me & computers, eish!
Lets try again.
We then drove to Afsaal to look for the Scops Owl & found another Rhino plus another 2 close to Afsaal.
Had brekkies at Afsaal & then looked for the Scops. There's a bord up showing you where the female is.
Strolled around looking for the male & found him.
Drove some other roads & on our way back to B&D we saw one wild dog. He was quite funny. "Dancing" around in front of the car & when he heard another car approaching he'll just peep around our car. (Will off load photo tomorrow night. Don't want to put to many pics on one page)
The golden rule of life - Do unto others as you want done unto yourself

---
Here's the WD pic
Left B&D at @ 08:00. Stopped at Afsaal for breakfast. The latest at
Afsaal are people leaving pieces of pancake on the dirt bins and all
over......the beas.... you can hardly take a bite without getting a bea
in your mouth. Especially when you have pancakes yourself.
Ahyhow - saw the lone Rhino again
and was
that
an experience in it self. This guy decided to "let
off some steam". It was so loud it felt as if the car was vibrating and
it just went
on and on and on
.
. Also saw warthog, kudu &
giraffe, and Klipspringer at Makhutlwanini (meaning "at the frogs"),
Helmeted guinea fowl, yellowbilled hornbill - both sexes- and the grey
hornbill. Lots of Burchells Coucal. (Has anybody noticed that they were
all over.....been wondering why?)
Somebodyelse has written on the forum about these creapers taking over
the shrubs and small trees. It was now dry and it looked like those
scary movies with all the spider webs. We called it "ghost town."
We stopped at Kwaggaspan, hoping to see the Cheetah Mom with her two
cubs. Sat there for quite a while and eventually heard the babies, but
never got to see them.
Booked in at Skukuza at relaxed for a while after unpacking. Went for an
afternoon drive to try and find the Lioness and her cubs just beyond the
junction of the H3 and H1-1. There were already a few cars when we got
there, but we could see the cubs playing on the rocks. There were
actually 2 lionesses with 2 and 3 cubs. O dear LOTS of pics for the
gallery of shame!
Then 3 campers arrived. Pulled up right in the middle of the road next
to us, spoiling our view. The one would move forward after some time and
the other one would move up.
The one lioness then decided to take the kids for a walk and all hell
broke loose. Cars were trying to turn around, reverse etc. The one
camper just started reversing so much so that I had to blow my hooter!
Something I will never dream of doing in a park! He stopped about a cm
from our car.
This was the only glimpse we got of the lions.
as these 3 cars decided to drive side by side chasing the lions down the
road. Eventually 2 of the cubs got completly sperated from there Mom. We
stayed with the cubs to try and protect them from other cars.
This little one would stroll off in his Mom's direction
and this one will call him back.
Here you can see them calling for there Mom
Eventually they disapeared into the bush and we were wondering whether
they were OK?
We left and went to Renosterkoppies dam where 2 impi rams were having a
"head to head".
Had a braai the evening, took our chairs and sat at the river. It was
full moon and we could see the shiny wet backs of the hippo. It was
beautiful! The Bushbabies were also enjoying themselves.
But, o dear. It was Saturday night in Skukuza!. Our next door neighbours
and 3 other couples were having a birthday party. Singing, shouting and
talking as loud as they could! The one guy later received a phone call
and as he was chatting, walked towards us. SO then said, just loud
enough for him to hear: "I don't know why people come to the park to
have a party, but if it doesn't stop, I'm going to phone the Camp
Manager." We could hear him whispering something to the others when he
returned and it was quiet after that.
The Sunday morning we met a Malasian Couple who stayed behind us. It was
their first visit to Africa. As he explained they just had to come and
see for themselves what Africa & Kruger was all about as the only thing
he knew about Africa was the Tarzan movie he saw as a child.
We stopped at the garage to fill up and the lady attendant wanted to
know whether we just got married.
. We said no. She then asked
whether we've been to a wedding? No, but why? and she pointed at the
YR.
Went to Pretoriuskop & saw Giraffe, Red Duiker, Warthog, Kudu & Buff.
Had breakfast at PK and stopped at Shitlhave dam. Saw Egyptian Geese.
Grass very high. Went to Transportdam & saw Fish Eagle & Waterbuck, this
Monitor.
and a Great White Egret which became a pelican from the car next door.
We did the H4-1 up to the bridge in the afternoon. Saw Steenbuck, a
Bushbuck ram & ewe with a tiny baby, a glimpse of a lioness and Ellies.
It was yet another beautifull evening and the night sounds were wonderfull.
Monday morning we drove up to Tshokwane for breakfast. Saw Grey Duiker,
Steenbok, Njalas (this is the ram)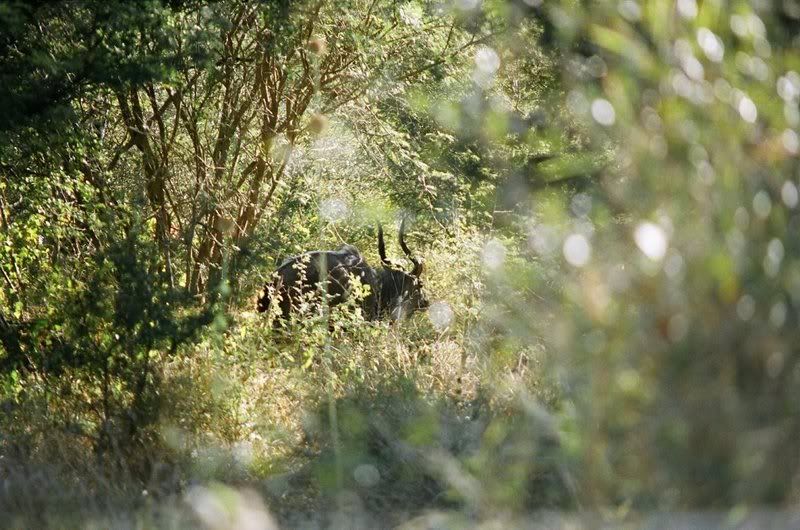 and an ellie and a glimpse of lion at Leeupan.
While we were sitting there, this woman decided to come and park right
in front of us. When we draw her attention to this, she just shouted
back:"There lots of other parking were you can go and park". (What's
wrong
with us humans?)
The guy next to her kept on telling her: You stay right where you are!
We left for Tshokwane to have brunch. Went to the loo first where a guy,
after he had washed his hands, decided that the tap was now to dirty to
close, left it running and walked out!
While we were eating we saw some people gathering in front of our car.
Went to have a look and was told that a Boomslang was there for a while.
Went back to Silolweni dam & saw Crocks, Hippos, Hamerkop and Egyptian
Geese.
On the afternoon drive we did the "circle route" H4-1, H12 & H1-2 back
to Skukuza. Saw the bushbuck ewe & baby again (still no pic
),
Goliath Heron on the bridge, Lions,
Puffie
and a Purple Crested Lourie.....what a beautiful bird on the H1-2.
As Tuesday was our last day at Skukuza we decided to drive our favourite
road in the south. The S3. Saw impies, Bushbuck and a big herd of Buffs.
A jeep jockey from Funky Safaris had to spoil it for us, passing us from
the back and chased all the buffs off the road. Stopped at Nyamundwa
dam and saw Woolynecked Stork.
SO decided to have a rest and I drove off to Manzimhlope, our favourite
spot for Sable. It's so overgrown I hardly recognized the place. Drove
to Jones's dam and saw some waterbuck puffing. Apparently missed a
leopard by a few seconds. (According to another car).
On the tar road I saw another car approaching from the front and
something walking in front. iI stopped and it was another LOG.
Dissapeared into the bush before I could take a pic.
On the way back, saw this Martial Eagle with his catch. A monitor.
Picked up SO at about 3.30 and did the circle route again. Saw the
bushbuck baby for the 3rd time, but as I wanted to take my pic a lorrie
drove up and .....bye-bye photo.
Saw some lion in the riverbed and decide to wait whether they were going
to come up to the road. As we were scanning the riverbed, SO saw the
male approaching the road. I drove off as there were now a lot of cars,
made a u-turn some distance away and waited for him. Saw 2 males and a
female.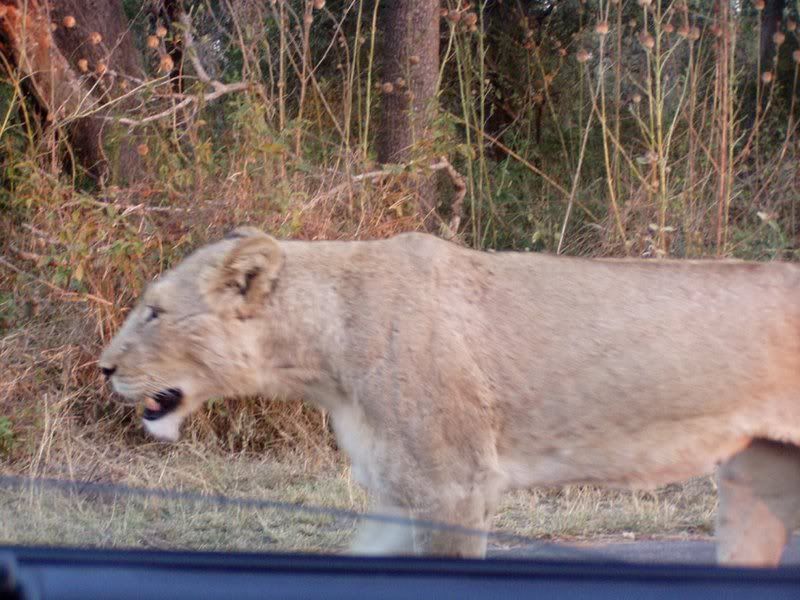 Spent our last night at Skukuza.
(I'm now going to submit this first before I loose it
again
)
The golden rule of life - Do unto others as you want done unto yourself

---
Left Skukuza at 08:30 on Wednesday morning. Wanted to have our car washed, but by that time there were still nobody to be seen, so we decided to leave and have it washed at Satara.
Off to Tamboti....our favourite camp!
Decide to do the H4-1 and H12 again. Saw another LOG on the H4-1, but it disapeared into the bush. A couple with a caravan stopped at us, stating that they only hear about these leopards, but don't get to see one. We chatted for a while and as they drove off, there he was. Right next to them!
Further north we saw Zebra (very scarse this time), Giraffe, Kudus, Warthog, wildebeest & steenbuck. Here you can see how tall the grass were.
Stopped at Tshokwane where we met Jacov & Reinette ....thanks to the YR.
Stopped at Kumana dam where a terapin was hitching a ride on a hippo's back.
On the H7 we could see that the Buffs had a party there the previous night/early morning? Also saw a green snake which we thought could be a juv green mamba. Two guys had their doors open to inspect this. SO said to him:"It's a green mamba" to which he replied:"It's dead" Well, we all know snakes arn't to fast on the tarr. SO just looked at him & said: "I would'nt touch that if I were you."
Spent the pm at camp and saw 2 Bushbuck Rams, Grey Duiker and that evening the Hyeana patrolling the fence and another one in the riverbed. Some more noisy neighbours discussing the JSE & money market. Sat in the dark listening to the sounds when we heard some rifle shots. That realy saddened us.
Thursday morning we woke up at 05:00 & watched the sun rise while we were having coffee. How we missed those canvas flap doors! (Now have wooden doors like LS) Always use to roll it up and have our coffee while sitting in bed.
Thought we'll just spend the day in camp, but at about 10:30 decided to drive to Satara to have the car washed. No water! Contractors hit the underground pipe. Had something to eat at the "deli". Service very bad - food not up to standard!
Took some photos of the swimming pool. (will post under swimming pools) of we went to Nkaya pan. Saw 2 honeybadgers on the gravel road. (Maybe the same 2 Jacov & R saw?)
Then drove our favourite road in the central part....the Sweni Road. Saw Buffs, impies, zebra & wildebeest at Welverdiend. 2 jeep jockeys from Viva Safaris joined us. Passengers were VERY loud! Saw another LIT.
By this time there were 4 cars. The LIT was very calm untill Viva Safaris approached. They were still some distance away when the LIT jumped up, looked back at them & was down the tree in a flash. They were so loud that no animal would come near the road and I blame the driver for that!
Drove to Muzandzeni Picnic spot & saw some Ellies. On the way back to camp saw 2 Marabou Storks and general game. Close to gate saw a black backed jackal. The only one we saw during our 15 night stay.
Night sounds were very quiet.
Friday morning we saw a Redbilled Woodhoopoe.....beautiful bird. It was on the tree in front of our tent picking the bark off, which came flying onto the deck. Wanted to chase us away?
Drove towards Olifants via Satara. and saw this beaut.
just south of Ngotso-North as well as Baboons, Dark Walberg's Eagle and general game.
Saturday morning we said good bye to Tamboti & first went to Orpen to inspect everything there. Saw the new admin building nearing completion. Checked out the new chalets. Stunning! (Will post under Orpen) and the swimming pool.... not to impressed about the location. Don't want to be near Orpen in summer! Also saw the webcam.
Off we went to LS. Just north of Tshokwane saw another beautifull Ellie.
.
After having lunch at Tshokwane, drove the H10 to LS. Saw 2 Rhino, klipspringer & general game. Visited Orpen dam & sat there for quite a while. All on our own & saw some lovely birds. Stopped at Nkumbe for a while & arrived at LS at 16:00. Was'nt happy with our tent and was given pilot no 3. Great! with nice view of the river.
Sunday morning we left camp early & travelled the H4-2. Met Liesel Mulder on our way. She's quite a detective. She drove up to us and said: "Are you Luislang?" SO said ":huh: where?" Had a good laugh about this. Saw Rhino, impies, ellies and a small bird chasing an eagle around in the air. Sort of diving onto its back. This was amazing.
Drove the S28 up to Nlanganzwane dam in the afternoon. Did the S137 / S130 back to the H4-2. Saw a lone Ellie bull and impies. Went to Sunset dam & saw yellowbilled stork, hippo & crocs. Liesel joined us later that evening.
Monday we woke up to our 3rd flat tyre. Had it fixed & off we went. Drove the H4-1 / H12 to Leeupan. Only saw impies. Had breakfast there & back with the H10. H10 in bad shape, but they busy with repairs. Saw Zebra & Wildebeest far from the road and a giraffe family. This is the baby.
Tuesday drove the H4-1 again. Saw White Rhino at Maraboe Pan, 2 wood Owls, Bushbuck, 2 Green spotted doves on the road & a small herd of Ellies. Had breakfast at Nkulu. The Monkeys are something else there. Stole SO's toast out of her plate and another couples loaf of bread. Drove the Salitje Rd for about 10km - saw kudu & bushbuck. Returned to H1-2 & drove north. Saw more lions in the riverbed. The male came up to the road and went back later.
Decided to go back towards afsaal to drive the Bume Rd. Saw a Banded Mongoose family on the way there.
Saw Kudu & Waterbuck on the Bume Rd. Drove the S108 & H5
back to the H4-2. Saw Bateleur on the H4-2.
We then realised that we won't be able to drive to Biyamiti with a loaded car as the S108 &H5 was in bad shape. Not knowing what the S25 looked like we cancelled our stay at Biyamiti .
& extended our stay at LS.
The Wednesday we drove the H10 again up to Mlondozidam where we watched a Fish Eagle diving down onto some Geese in the dam to try and chase then away. We also saw this potensial tusker already collared.
and 2 lilac"prestic" rollers busy flapping around a hole in a tree trunck making lots of "noise".
Went to camp & had a rest.
16:30 - left on our night drive and stopped at Sunset dam for a while where a group of baboons were busy with their daily grooming sestion.
Also saw lappedfaced vultures, white backed vultures, a herd of ellies with a tiny baby, Hippos on the road, Bushbabies (Great photo oppertunities, but Mr Clever left his tri pod at home!) Both photos came out blured. 3 Hyaenas and an injured impala ewe......and those hyeanas were on their way towards her!
Thursday morning we drove the S25 to Biyamiti to collect some goodies that was left there for us. The first 12km's were'nt bad at all, but the 4km's was bad. Stopped at Hippo Pools and saw hippo.
Saw a White Rhino & some piggies. Walked around Biyamiti taking pics.
Took the 18Km's back & there they were! The first time ever to see Black Rhino in the park.
(very bad photo). Also Ellies.
Drove to the weir and saw this huge croc, hamerkop and a gre heron.
Took the S26 & S113 back to the H3. Stopped at Skukuza to have the car washed. By the time they had finished I knew that it was going to be 50km's / hr back to LS otherwise we were going to be late.
On the H4-1 we saw them! The 2 lionesses with their 5 cubs from the H1-1. They came to say good bye!
They were on the road when we arrived, but there were so many cars. Reversing again and making U-turns. All SO kept on saying was: "Take your babies & run, take your babies & run," and I wanted more pics
. She did just that & this was the only (bad) shot I could get.
By now we new that we were hopelesly late. On our way we saw another "lion" coming down the road. It was yet another LOG!
As you can see it was already quite dark and we were late!
Arrived at the gate. Had to fill in our full details. So don't know whether I'll be receiving my fine through the post?
Left camp on Friday morning to exit at Croc Bridge. My last job was to get the tissues of the back seat and hand it to my left.
Off to Golden Gate.
The golden rule of life - Do unto others as you want done unto yourself

---
---
Who is online
Users browsing this forum: No registered users and 6 guests