Distinguished Virtual Ranger

Posts: 1269
Joined: Sat Feb 12, 2005 9:25 pm
Location: Back "home"?!...........
Downstairs is the kitchen with a balcony as well.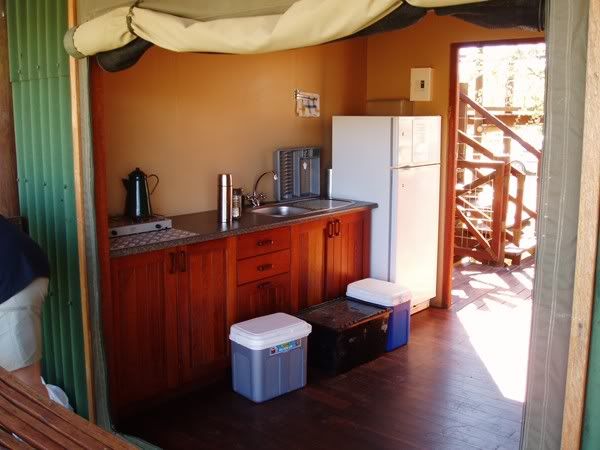 (pic by Francolin)
There you got a braai and again a wonderful view to the waterhole.
Nearly I forgot to mention
our tourist attendant Carlos , a very nice and helpful guy.
All the huts a connected by a walkway.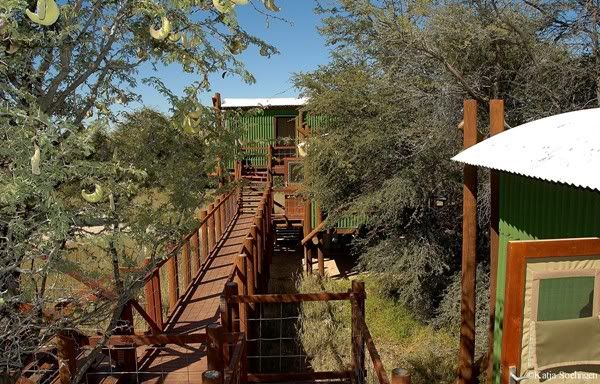 ---
Distinguished Virtual Ranger

Posts: 1269
Joined: Sat Feb 12, 2005 9:25 pm
Location: Back "home"?!...........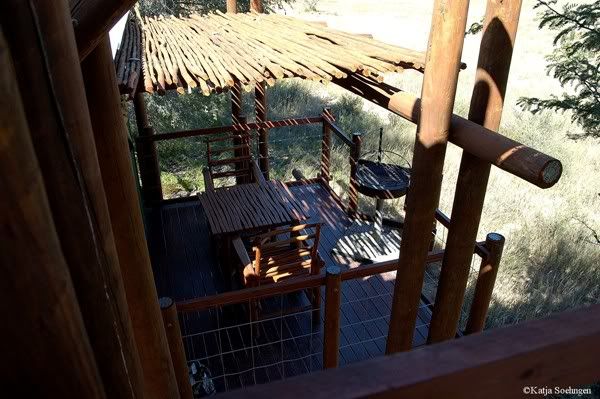 (View from the bedroom balcony to the kitchen balcony)
The alarm whistle in case of emergency
A look onto 'our' waterhole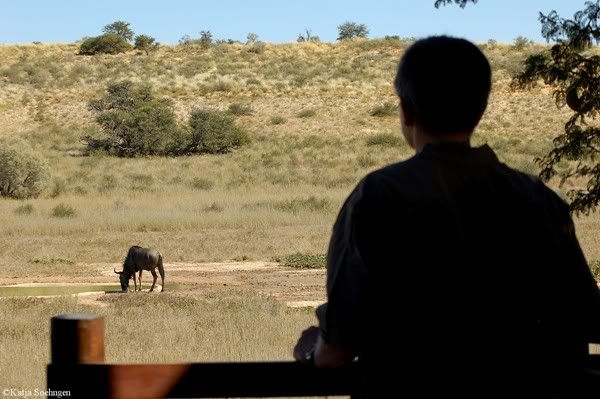 (Looks like heaven, don't you think so too?!
)
Did I promis you too much?!
---
Distinguished Virtual Ranger

Posts: 1269
Joined: Sat Feb 12, 2005 9:25 pm
Location: Back "home"?!...........
Salva wrote:

Great work! I hope Argentina wins tomorrow so that we won't have to wait too long for your next installments

(please tell me it's not finished yet)
Thank you Salva!
No it's not finished yet.
You have to get through even more pics and reports
Today I 'have' to post pics made by Francolin.
After we arrived at Urikaruus I went for a short while upstairs to the bedroom /bathroom .
While I had been up there Francolin observed and even photographed an
ELEPHANT SHREW
You can imagine how
I was after returning downstairs and hearing what I have just missed
It was quite fast , but here is a pic she was able to take:
In this pic I marked the tip of the Elephant Shrews nose
Urikaruus is even great during the hot afternoon hours.
If you are staying in the camp and sitting on your balcony the bush seems to start to explode, you can see all kind of smaller animals like Mongoose, Whistling Rats etc.
All the time animals keep coming to the waterhole.
So it is quite a dilemma, the question is to stay in camp or not.
---
Distinguished Virtual Ranger

Posts: 1269
Joined: Sat Feb 12, 2005 9:25 pm
Location: Back "home"?!...........
Thanx Katja and Salva !
You can imagine how proud Francolin is that she was able to take that pic!
But even after this Elephant Shrew sighting we made up our mind and left the camp again during the early afternoon hours driving into the northern direction.
We drove all the bypasses of the main road to have a good look at some of the waterholes.
Driving around one bend we saw our first Giraffe in the Kalahari.
She was obviously heading for the waterhole so we stopped the car and just waited what happend.
Soon after that the next Giraffe emerged and joined the other one.And there were even more of them to come. We stood there for at least 30 to 45 minutes and in the end counted 23 Giraffes!
What an awesome sight.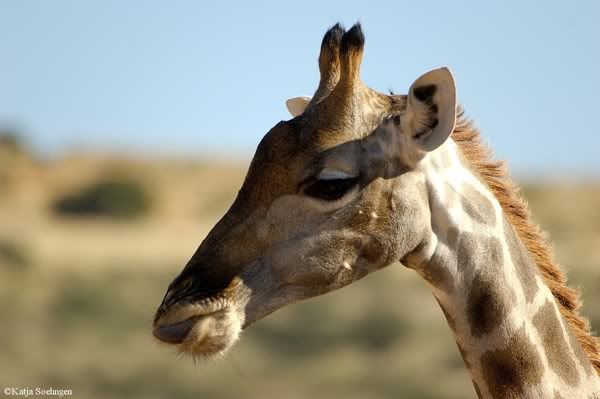 (At least I managed to capture 13 of the 23 in one pic )
---
Distinguished Virtual Ranger

Posts: 1269
Joined: Sat Feb 12, 2005 9:25 pm
Location: Back "home"?!...........
Well that day we had been very lucky!
We did not only see the Giraffes, but had our first and only Cheetah sighting as well on that trip.
The Cheetah was sitting right on top of a dune.
And at that very special sighting we met Peterpieper once again.
We were not so lucky with our neighbours at Urikaruus. While there were just three huts occupied we had the noisiest couple in the neighbouring hut.
They were talking so loud that you could easily understand every single word and by the end of the evening we know all details about their food supplies, travelling plans for the next few days and a lot of private details from back home.
I was very frustrated because I was looking forward to have a look with our torch at the animals comming to the waterhole . And these two just spoiled that experience.
So we went to bed early and slept very well burried deep into our blankets , because it was again a very cold night.
Carlos told us in the morning that we missed two Leopards that were coming right through the camp.
At around 3 o' clock in the night they were walking under Carlos hut. Having a drink at a small pond in front of that hut and passed just a few metres away from our hut. And we slept through
can you believe it?!
(But I have to admit it was just far too cold to sit there and wait for them for the whole night
)
So we have to wait till our next stay in Urikaruus to meet the Leopards
---
Distinguished Virtual Ranger

Posts: 1269
Joined: Sat Feb 12, 2005 9:25 pm
Location: Back "home"?!...........
Unfortunately it was time to leave Urikaruus
But before we left I managed to take a pic of this Crimson-Beasted Shrike. Quite a few were flying up and down around our hut ( but they are quite hard to photograph).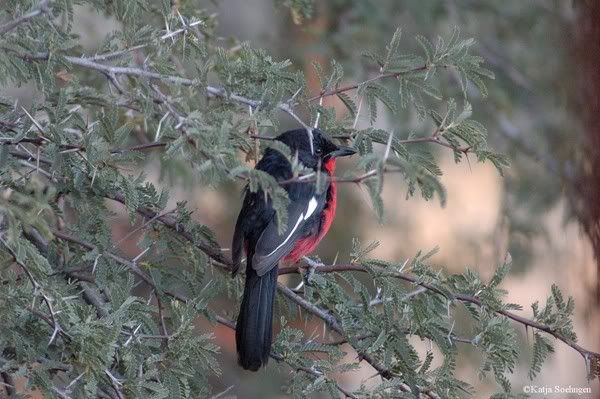 So we were driving towards Twee Rivieren for our last night in the Park.
But we took out time, as the distance was not that far.
We discovered this plant along the road.
Jannie told us later on the Sunset Drive that these are Poison Apples. If you crush them and get them into the eyes you will be blind within 15 minutes , but in some parts of South Africa it is used as well as a herbal medicine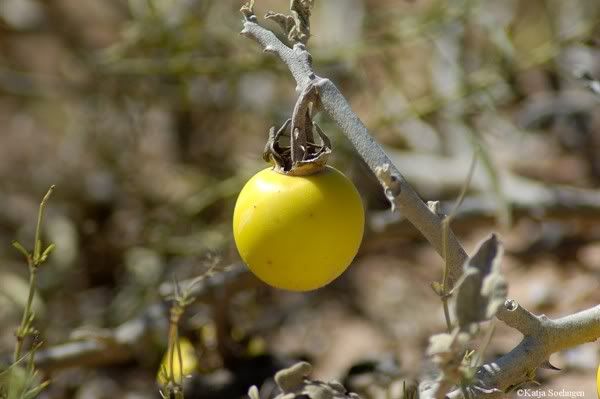 This squirrel fortunately just savour a Gemsbok Cucumber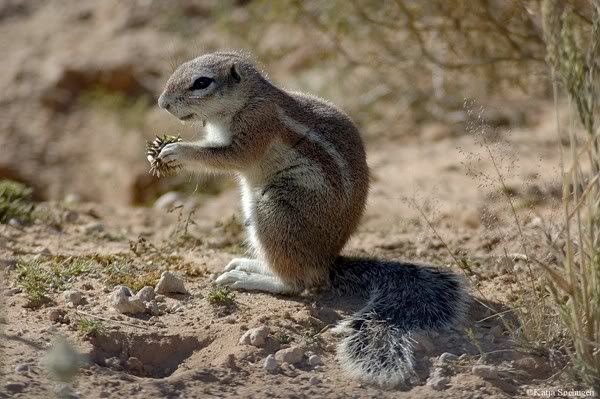 And again a male Ostrich with his sons and daughters (cute)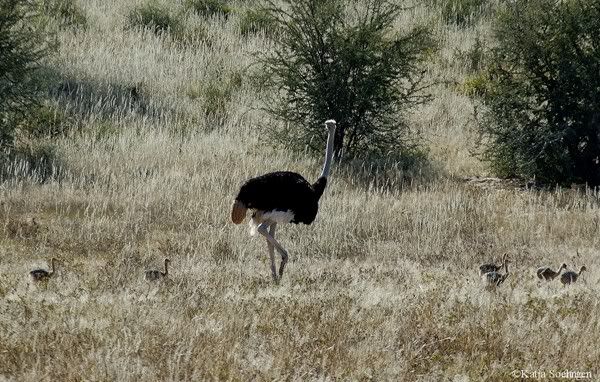 ---
Distinguished Virtual Ranger

Posts: 1269
Joined: Sat Feb 12, 2005 9:25 pm
Location: Back "home"?!...........
Meerkats are a completely different story.
Before we went to Kgalagadi we thought that we would stumble over them every now and then.
But let me tell you we were completely wrong.
By the time we arrived at Twee Rivieren on our first day and discovering that there are even pins for Meerkats on the Sightings Board , we realized that it would be as hard to see them as Lion , Cheetah and Co.
On our last full day after passing Auchterlonie we saw Mongoose ,but with the difference that these Mongoose turned out to be
Meerkats
.
Finally!!!!!
We just had about 5 minutes to take some pics and as soon as they appeared they were gone again.
Here are some of the pics (I think they show the motion and speed of the whole scene)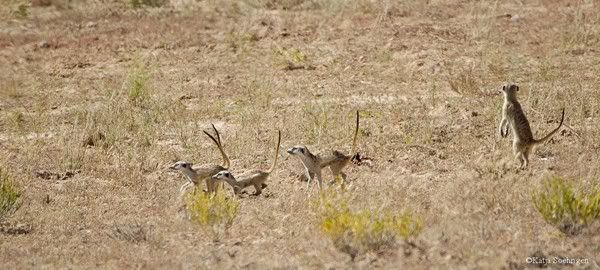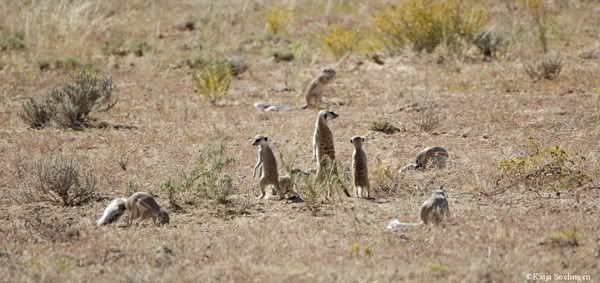 ---
Distinguished Virtual Ranger

Posts: 1269
Joined: Sat Feb 12, 2005 9:25 pm
Location: Back "home"?!...........
Thanx Simon!
We really took our time to drive to Twee Rivieren.
It was always very rewarding to stop even at the smallest waterholes.
We stopped for quite a while at this waterhole to have a look at these busy Finches having a drink.
And nearby we discovered yet another Pygmy Falcon.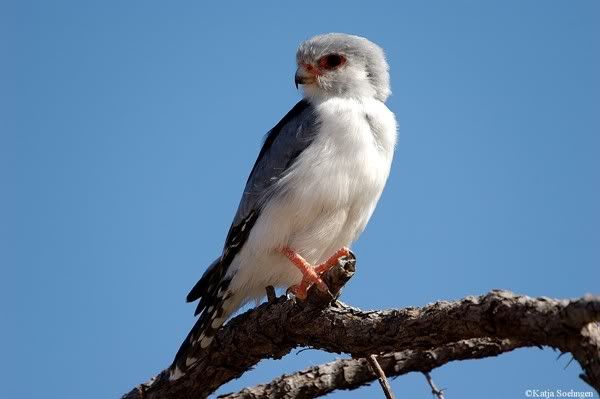 They are not shy at all and even seem to be as interested in you as you are in them.
---
Distinguished Virtual Ranger

Posts: 1269
Joined: Sat Feb 12, 2005 9:25 pm
Location: Back "home"?!...........
Thanx wipi and Craig!
Yes we were back at Twee Rivieren for our last night in Kgalagadi
We got exactly the same bungalow as on our first night (only with the difference that now we got the left instead of the right part of it).
And still the Mongooses were roaming around the camp.Watch out for them, in an incautious moment they might even sneak into your bungalow to have a look around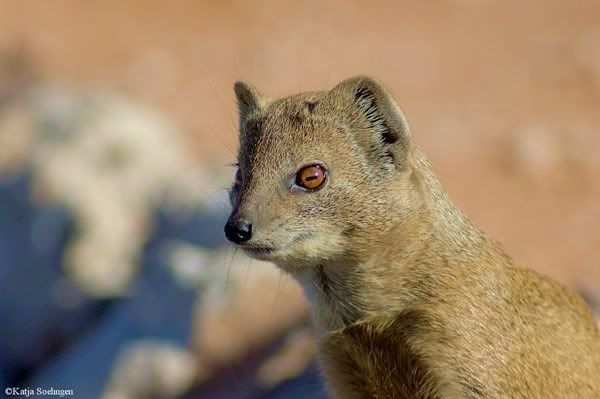 But it was not over yet.
I decided to do my best to meet with Jannie.
I asked at the recption and was send up to the administration building.Jannie wasn't there but all did their very best to contact him.
It turned out that he already knew in which hut we were staying and later in the afternoon came down for a small chat.
Try to meet Jannie while beeing in Kgalagadi.He really is a very nice guy and it is fun to talk to him.Unfortunately we did not have too much time
We were booked on the Sunset Drive.
What we did not know at that moment was, that Jannie was our Guide on this Drive.
But we prepared ourselfs again for a chilly drive.
Last edited by
katydownunder
on Fri Jul 07, 2006 8:32 pm, edited 1 time in total.
---
Distinguished Virtual Ranger

Posts: 1269
Joined: Sat Feb 12, 2005 9:25 pm
Location: Back "home"?!...........
Thanx CR!
Now here is the last part of my report.
We were very surprised to find out that Jannie was our guide for that evening.
It was fantastic, he provided us with heaps of amazing, informative, amusing and interesting facts about wildlife in general and about Kgalagadi wildlife in particular.
Just before we stopped to strech our legs before sunset we saw 3 Lions Cubs (that we were looking for) on top of one of the dunes.So we got out of the vehicle had a break and watched them from a safe distance.
Moreover we saw Cape Foxes, Bat Eared Foxes, 'hundreds' of Springhares, African Wildcats, Marna driving around the dunes in her vehicle looking for 'her' Cats,Owls, Procupine and many more.
It was a brilliant drive. As expected it was getting cold shortly after the sunset, but there were blankets and it was quite comfy to sit there and looking at all the animals.
The last night in KTP and we had to leave early the next morning .
Just after we left the park we saw Meerkats again, just right beside the road.Unfortunately I already paked away the camera and as soon as I stopped they were heading straight to Botswana.
The time in KTP was awesome.We loved every single day.We had most of the sightings to our own.All people we met were really friendly ( the wave-back rate was nearly 99 %). The staff was extremely helpfull .
The camps were very well maintained, and it is really hard to pick a favourite one. From the main camps we liked Nossob very much.A beautiful area and the Bird Hide is always very rewarding.
The Wilderness Camps were all stunning, and they are all different.It just depends what you are looking for.
Kieliekrankie:
Very nice views into the beautiful landscape.Wonderful to see the sunset and sunrise.Has a feeling that you are right in the middle of nowhere.
Kalahari Tented Camp:
Very nice views into the dunes.Hyenas roam the camp quite frequently.
Urikaruus:
Maybe our favourite camp.The fact that you can sit on your balcony and have a look at the waterhole not too far away makes it very special. Predators often come to the camp during the night to visit the waterhole. (Ok , we missed the Leopards, but be sure we will see them the next time).
All throughout the whole Park you were still able to see the impact of the heavy rainfalls a few weeks ago.
But the roads all were quite good and we neaver had any difficulties with our VW Sharan.
As the grass was really high especially north of Nossob we were really glad to have a higher car, so that we were at least able to see a little bit.You would have had no chance with a sedan.
With all the reports we did read before we went to KTP we though we were going to predators heaven, well it was, but it was even much more than that.
We loved all the sightings, we were never before able to see so many Snakes, it was quite easy to see Raptors.But we especially loved all the small discoveries on the roadside.
The landscape is absolutely beautiful.
We had a very special time and are already looking forward to return to KTP in 2007 (staying nearly 4 weeks, because 10 days are just not enough
)
This will be the last pic of our trip to Kgalagadi Transfrontier Park.
The three Lion Cubs on top of a dune in the fading daylight.
I hope the pics and my reports show how much we loved beeing there.
Katy
-----THE END----
Last edited by
katydownunder
on Fri Jul 07, 2006 9:36 pm, edited 2 times in total.
---
Distinguished Virtual Ranger

Posts: 1269
Joined: Sat Feb 12, 2005 9:25 pm
Location: Back "home"?!...........
Thank you all for your comments.
I have to admit I thoroughly enjoyed writing the report , as it brought back all the beautiful days in KTP to life again.
It is so wondeful that it seems as if you all really liked my report and pics.
Now we are looking forward to our next trip in November to Kruger. But I promiss as we are staying more than
3 ½ weeks ( and there will be heaps of pics, believe me ) I am not going to show them all.
And moreover in our heads we are already planning our next trip to KTP.
If you still haven't seen enough of my KTP pics, there are even a few more
here:
I very much appreciate your comments, so thank you once again.

Katy
@ PP
Yes it was really nice to meet you and you never know maybe the next time we will be able to share a drink either in KTP or Kruger.
---
---
Who is online
Users browsing this forum: No registered users and 10 guests