*
A great big thank you to everyone who has contributed to this forum for all the effort put into reports and for the lovely pics.
*
All trip reports will be kept.
*
All 'chat' and the 'oohs' and 'ahhs' will be taken out the thread once the person posting the reports has had good time to read the replies. You will be given a few days warning by the moderators via PM before this clean takes place so you may save your report with the comments should you wish to do so.
*
Sms reports will be removed from the forum if a member posts a new full report on their trip upon return, otherwise the sms reports will also be kept.
*
All threads will then be locked - please PM a mod if your thread is locked and you wish to add to it.


*
Should you wish someone to post sightings for you while you are in the Parks, please send either
Jazil
,
restio
or me a PM so we can arrange for that to be done. If you are happy to post sms reports, please let us know so we can link up members who wish to send in sms reports.
----------------------------------------------------------------------------------------------
'How To' 101 - a simple forum tut
to assist with posting on the forums.
Resizing photos with IrfanView
Hosting photos on Flickr
and
with imgur
Resize your photos with Picture Manager
How to post videos
- Dalene
---
An easy and uncomplicated way of resizing your images for posting it on the forum.

Step 1
Download the
IrfanView
program if you do not already have it on your PC. To download just click the link above and choose a download site from the list. Follow the download instructions given
Step 2
Install IrfanView by following the instructions in the setup program
Step 3
The reason behind this step is that sometimes most of us will make a mistake and accidentally overwrite an original photo with an edited one and then we loose the original.
On your PC create a directory called something like "Photos for upload". What you then do is
copy
photos you want to upload to the Forum from their original location to this folder. Remember to place
a copy
in this folder and not move the original here.
Step 4
Open the IrfanView program
Step 5
On the
File
menu choose
Open
and in the "Look in" drop down list find the directory you created in Step 3. Click on the image you want to modify to highlight it and then click on
OpenStep 6
On the menu click Image and then choose
Resize/Resample
. You can also use the shortcut by pressing Ctrl+R
Step 7
The Resize/Resample image screen will now open.
Have a look at the image below.
First ensure that the tick box to the left of "Preserve aspect ratio" (indicated by an red arrow with 1 next to it) is checked.
Secondly set the maximum width for your new image at
640 x 480
and then click
OK
. The image will now be resized.
Step 8
From the
File
menu choose
Save As
. A screen will open where you can choose the file name. To the right of this screen an additional screen like the one below will open with the title
JPEG/GIF save options
.
On the slide bar under the JPEG option choose 70, never go higher than 80. (See image below)
In the area marked by the red rectangle you can choose to either show or omit other information regarding your photo that is kept by your camera. In the example below all options are omitted but in most cases these will be marked as default so you will have to choose to omit it. If you however do not know what all these term means just leave it as is.
On the left hand screen in the "Save as type" field at the bottom of the screen choose JPG – JPEG files.
Leave the File name unchanged
and click on the
Save
button.
A screen will pop-up asking you if you want to replace the existing file. Say
YES
. The old file will now be over written with the new information.
Step 9
After repeating Steps 5 – 8 with all the photos you want to publish to the Forum you can begin uploading the resized photos to your image hosting site.
If for some reason you cannot or are not allowed to download and install programs on the PC you use you can visit one of the sites below for an online image resizing facility
http://www.shrinkpictures.com/
https://www.google.co.za/url?sa=t&rct=j ... Q0cb1j7AMA
Using IrfanView to do batch conversion/resizing
I was asked to share the following information by a fellow forumite after he followed the instructions above and resized a couple of hundred photos individually.
IrfanView has the ability to resize a large number of photos in one go and this is how you do it.
1. Place copies photos you want to batch resize into one directory. The reason why I advice you work on copies is because it might save some tears in the event that you unintentionally save a conversion or change to an orginal file.
2. Open Irfanview.
3. Click
File, Batch Conversion/Rename
.
4. On the right hand side under
"Look in"
choose the directory with photos, mark them all and click the
Add button
.
5. You can choose the
Output Directory
where you want the resized photos stored.
6. In the
Output Format
block you choose if you want to save them as Jpeg, GIF, etc
7. Click the
Set Advanced Options
button
8. Under resize you have option on size settings. For the forum I choose the
Set Long Side To
option. Set it to either 600 or 350.
9. Click
OK
10. Make sure that the
Tick Box
above the
Set Advanced Options
button is marked.
11. Click the
Start button
and the program will start the batch conversion.
---
Distinguished Virtual Ranger

Posts: 7549
Joined: Sun Jan 16, 2005 3:19 pm
Location: Portsmouth, England
To put photos into Trip Reports (or indeed anywhere on the forums) they first need to be loaded onto an online hosting site.
Two of the most popular one ia
Flickr
. Free to use*.
We've now been told about another site that is alway straightforward to use -
imgur
. Again its free and easy to use.
The following 3 posts contain basic tutorials on how to load and link to these sites.
We hope you find them helpful. If you have any queries or comments please let us know. If you have problems with loading or posting photos, please ask saraf or any of the Moderators and we will try our best to help out.
How to use Flickr.
How to use Imgur
*Please note the free accounts mean you will get adverts on your pages. While using Photobucket to create the tutorial I came across some distasteful adverts.
---
Distinguished Virtual Ranger

Posts: 7549
Joined: Sun Jan 16, 2005 3:19 pm
Location: Portsmouth, England
How to.. Host your photos using
http://www.flickr.com/
1. First thing you have to do is Register on their website, it's free. You will need a Yahoo account but don't worry if you haven't got one, they are easy to create. With a free account you get 1 Terabyte of photo and video storage. There is a maximum limit of 200MB per photo.
2. Next upload your photos onto Flickr. The Upload button can be found on the top of the page on the right of the menu.
3. Select file you want to upload by clicking the select photos and videos button:
This displays a dialogue box which allows you to select the photos from your PC. Once you have selected your photo(s) click the Open button.
3.5. You can also drag and drop the photos directly from your PC.
At this point you can choose to edit the details of the photos by adding a title or description.
You then need to continue with the upload by clicking the Upload Photo button.
4. To share your photo:
Click on the photo to open it.
You should see a number of icons at the bottom right of the screen. Click the one with the arrow pointing left. If you hover over it with the mouse you will see it is labelled "Share this photo"
Click the BBCode link
Select a Medium size from the drop down list (please remember the forum limit is 800x600)
[/url]
The code you need is displayed in the box. It will be highlighted already so copy it then paste it into your post.
[/url]
And you should now have a photo in your post.
(PS. Make sure you have the "Disable BBCode" option unticked when posting)
Tutorial written by saraf.
---
Forum Assistant

FAC Member (2017)
FAC Member (2016)
Posts: 19820
Joined: Fri Apr 06, 2007 6:39 am
Location: Pretoria SA
To help forum members who are restricted in bandwidth, forum programming doesn't allow photos that are over 800x600 pixels in size. So pictures you would like to include in your Trip Reports (or other posts) need to be resized. Here's some basic instructions on how to do it.
1. Right-click on the picture you want to resize on your file. After the right-click, a drop-down will appear. Select "Open with", which will give you another drop-down. In this drop-down, select "Microsoft Office Picture Manager".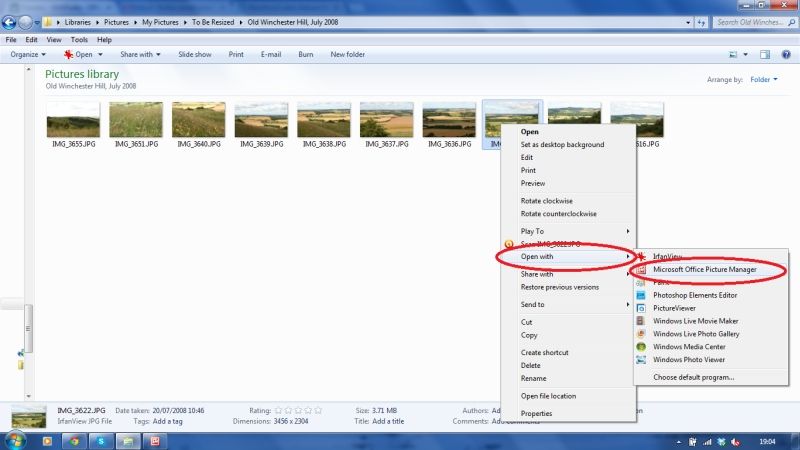 2. Select "Edit pictures" which will give you a drop-down where you could select "Resize".
3. Select "Predefined width and height", choose 800 X 600, click OK and save.
4. The pictures will now be resized and ready to upload to Photobucket.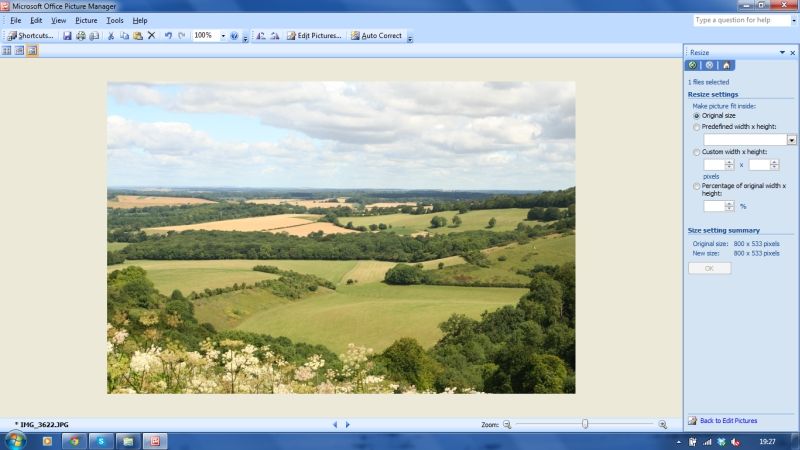 5. Close Picture Manager and save when prompted.
Tutorial written by Hilda, pictures by saraf
"Like a sunflower, always turn toward the light." Eleanor Brown.
---
Distinguished Virtual Ranger

Posts: 7549
Joined: Sun Jan 16, 2005 3:19 pm
Location: Portsmouth, England
As you know you cannot post photos on the forum directly from your PC. You first have to load them to an online Hosting site and then include a link to them in your post.
The techie guys have told us about a Photo Hosting site that is free and easy to use. It's called
imgur
and you can find it here:
https://imgur.com/
You will need to register to be able to upload photos but this is easy enough. You just need a username, password and email address. Or you can link to an existing Twitter, Facebook, Google or Yahoo account.
This is what you see when you first logon in:
To upload your photos
click on the
images
button at the top right and you will see something like this:
I recommend that you don't load full size images to a Photo Hosting site (or anywhere else on the web for that matter). There are nasty people out there out to steal your masterpiece. And besides they take ages to load. imgur will load only the size you tell it to, so the following neat feature saves messing around resizing before loading or editing afterwards.
Click on the
Auto Resize
link and you will get a choice of sizes. Recommended is the 640x480 or 800x600 (please remember that this forum
limits you to 800
anyway). Everything you load will be loaded at that size.
Next step is to select the image(s) you want from your PC or laptop and drag them onto the imgur page, like this:
To post on the forum simply click on the photo you want and you will see photo with a list along the right side.
Click in the box below
BBCode (message boards & forums)
header and Ctrl C (or right click and select Copy).
In your forum post you then just Ctrl V (or right click and select Paste). You don't need to do anything else, imgur does it for you. You should see something like this:
Click submit and you have posted a photo on the forum!!!!!
---
With the upgrading of the Forums during 2015 it became apparent that the old way of posting a video on the forums became redundant.
The following is an example of how to post a video since the "video" button was replaced by " youtube".
1. Select the "youtube" button at the top of your reply post;
2. You will see the following in your post: [youtube][/youtube]:
3. Open the video you want to post and select "Share" in youtube;
4. This will highlight the youtube Link address;
5. Copy the link from youtube and past it between the brackets of point no. 2 e.g. : [youtube]https://youtu.be/dcdz6qsE2jQ[/youtube];
6. The next step is to delete the existing link address from "https" until the character before the actual video code which starts with "d" above.
7. The link address will now look like this: dcdz6qsE2jQ; and
8. If you Preview your post the video will show like this:
Always be humble and understanding.
---
Dear all

SANParks has lifted the restriction on the amount of photos posted per page on the forums. We are now in an age where most who access the forums have good connections, and reasonable data cap.

Please do keep in mind that if you flood your travel tale with too many large pics, it could discourage others from reading it as it will take a while to open. Keeping the quality of your photos on internet to a lower resolution also helps with regard to protecting them from being used by other parties without permission.

The restriction on picture/attachment file size will also be lifted in the near future - we will inform you as soon as this is done. In the meantime please keep your photos to a max of 800pix wide.
- Dalene
---
Dear all

Please note that the restriction on file size has also been lifted. No need to resize your pics before posting them. (from any device; pc/mobile)

A note of caution - it is always a good idea to post photos of a lower resolution on the internet to protect your copyright to the photo.
- Dalene
---
With problems encountered by our members to post videos I thought it would be better to make use of screen snips to guide members to post videos on the forums. I hope the following tutorial will be of help:
STEP 1:
Open your reply post on the forums where you wish to post that will look like the screen snip below.
STEP 2:
Go to your youtube video account where you will find all your video Uploads that will look like the screen snip below.
STEP 3:
Choose the video you wish to share and click on the video. The video will open and at the bottom will show various buttons. Choose the "Share button" as can be seen in the screen snip below.
STEP 4:
When you click on the "share button", it will highlight the link address as can be seen in the screen snip below. Copy the link address.
STEP 5:
After you have copied the link address in your youtube account, the next step is to post it in your forum reply topic as indicated in the screen snip below.
STEP 6:
This is the most important step for your video to show on the forum topic. Remove the front portion of your video link address as shown in the screen snip below. It is important that only this part of the link address should be removed, which includes the / in the link address as indicated below.
You will now be left with a shared link address that looks like the screen snip below.
STEP 7:
During this step you should highlight the link address and then click on the "youtube button" that you will find in the Topic buttons as can be seen in the screen snip below.
By pressing on the "youtube button" your video link address will be completed as shown in the screen snip below.
STEP 8:
The final step is to make sure that when you post your reply that the video will play for everybody to enjoy. To test that the video will work, click inside your post to remove the highlight from the video link and follow this by selecting the "Preview button" that will be visible at the bottom of your post reply as can be seen in the screen snip below.
The preview of your video will look like the screen snip below and you are now ready to hit the "Submit button" for everybody to enjoy your video.
Always be humble and understanding.
---
---